Freo.Social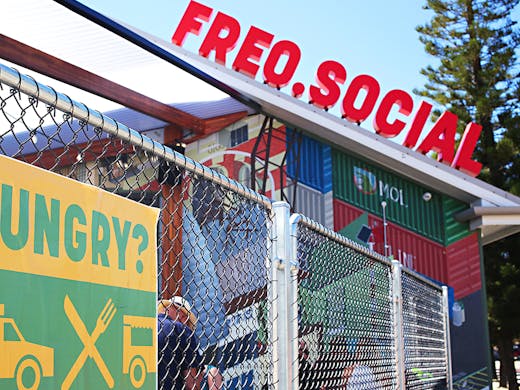 The Verdict
Freo.Social has taken over the old Drill Hall in Fremantle and it's bringing some incredible bands, eats and brews to town.
The hall can hold as many as 550 people and has undergone a $250,000 makeover with updates to the acoustics, the addition of a cutting-edge sound system and extra levels built into the space to enhance the viewing experience.
Otherside Brewing Co. is running the onsite brewery and there are four bars with over 50 taps chugging out the gold stuff. To keep the hunger pangs at bay, three food trucks will be at each gig serving the goods from rotating menus, so there'll always be something new to try be it Vietnamese, Mexican, pub grub or Jamaican grill.
One Sunday a month Freo.Social takes over the car park for Beer, BBQ & Blues where Otherside showcases special brews and the BBQ specials are sizzling all day.
The line up is always changing, get your tickets here.
Image credit: Elle Borgward
---