Hadiqa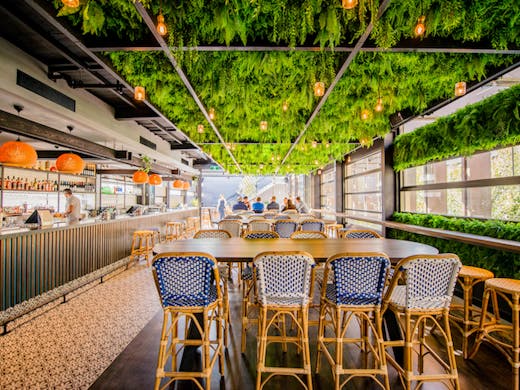 The Verdict
Want to save money off your final bill at some of Perth's best restaurants (including Hadiqa)? Feast your eyes on Urban Feast, the ultimate card for foodies. For just $100 you'll get $500 worth of value and will see you heading to some of the finest eating establishments in town. Find out more about Urban Feast here.
Sitting pretty at Hibernian Place, this Middle Eastern inspired restaurant mirrors the same beauty as the origin of its cuisine. Think Moroccan tiles, gorgeous greenery, natural light and some pretty impressive lights—once you've picked your jaw back up off the floor, make your way to a table and get prepared to drop it once again when you see the food.
The Turkish Delight Martini is all sorts of incredible. It tastes just like real Turkish Delight, only better, because it's alcoholic. If that's not floating your boat, the Marrakesh Mojito with pomegranate, lime and mint, or The Hadiqa Swizzle with gin, lemon and mint should do the trick.
When it comes to the food, it's downright impossible to choose just a few dishes, so go right ahead and get the Diffa (aka the chef's menu). It's only $50 a head and is the perfect way to taste a nice big chunk of the menu in one go.
If you really want to choose your own dishes, the cauliflower with tomato, saffron and verde sauce is, quite simply, perfection. No matter how full you are from everything else you've eaten, you'll polish off every last bite of this.
The potatoes (aka hot chips covered with a magical, garlicky spice mix and topped with feta) are another must-order, as is the lamb and the eggplant kebabs.
Desserts at Hadiqa are small and cheap, which means you can taste them all. The orange, blossom and spiced syrup dessert looks nice and all, but tastes crazy delicious—do not let looks deceive you here.
Once you're completely stuffed, head to the rooftop for another drink or three among the greenery.
In more good food news, Hadiqa and Goody Two's want to take you on a progressive culinary adventure from Morocco to Japan. Each Wednesday to Sunday from 6pm you can sign up for Morocco to Japan which kicks off with ice-cold Tanqueray gin and tonics, saganaki, our favourite Hadiqa potatoes, and your choice of kebab, all before heading down to the basement for a taste of Tokyo. At Goody Two's you'll be able to wrap your hands around two of their signature highball cocktails and your lips around some fried chicken, prawn toast and grass-fed beef cooked in the Bridger way. Finishing with yuzu doughnuts and uji matcha with white chocolate and raspberries, you can either roll home or burn it all off on the Goody Two's D-floor. Tickets are $100 plus booking fee, get yours here.
Image credit: Nancy Hanna
---