Hadiqa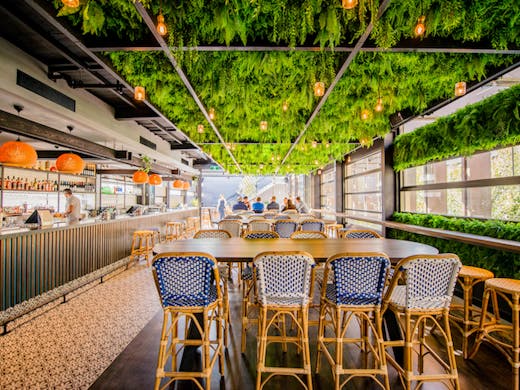 The Verdict
Sitting pretty at Hibernian Place, this Middle Eastern inspired restaurant mirrors the same beauty as the origin of its cuisine. Think Moroccan tiles, gorgeous greenery, natural light and some pretty impressive lights—once you've picked your jaw back up off the floor, make your way to a table and get prepared to drop it once again when you see the food.
The Turkish Delight Martini is all sorts of incredible. It tastes just like real Turkish Delight, only better, because it's alcoholic. If that's not floating your boat, The Hadiqa Swizzle with gin, lemon and mint should do the trick.
When it comes to the food, it's downright impossible to choose just a few dishes, so go right ahead and get the Bijou Diffa—four courses—or the Epic Diffa for a six-course feast. This is the perfect way to taste a nice big chunk of the menu in one go and satisfy everyone's cravings.
Desserts at Hadiqa are small and cheap, which means you can taste them all. The Turkish delight baklava looks nice and all, but tastes crazy delicious—do not let looks deceive you here.
Once you're completely stuffed, head to the rooftop for another drink or three among the greenery.
Image credit: Nancy Hanna
---