Halford Bar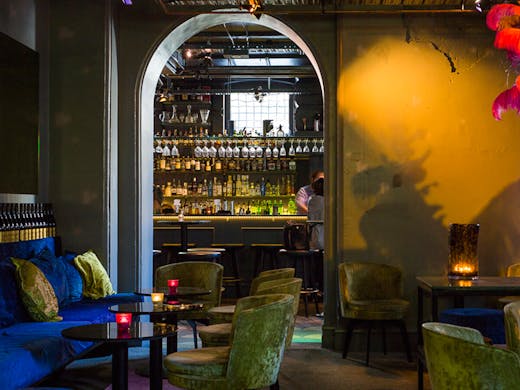 The Verdict
Tucked into the basement of the State Buildings in the heart of the Perth CBD, Halford Bar offers up all of the decadence our lives have been missing since the 1950s, not to mention a whole lot of delicious cocktails.
After finding a home in the elegantly restored safe room of the 1897 Titles Office, Halford is a late-night bar where champagne, spirits, wine, beer and fancy finger food come out to play four nights a week.
Halford's interior is nothing less than theatric, featuring plush velvet seating in jewel tones, marble countertops, feathers, candles and theatre lights, bolstered by the dulcet retro tunes coming from the speakers. Even the restrooms feature gold swan taps!
But, the sophistication doesn't end there. The cocktail list at Halford is a thing of beauty (literally and figuratively), and it's no surprise as the head barman Joe thought of every detail when devising the menu.
One of our favourite concoctions has to be the Cold Brew Martini — plantation rum, cold brew coffee, Mr Black coffee liqueur and ginger— this one will definitely get that heart rate up!
The Halford signature martini is a must-try, it's made with Tanqueray No.10 Gin, Lillet Blanc, apricot brandy and anchovy stuffed olives, and on summer days the Watermelon Spritz is your perfect companion—Tanqueray Gin, mint-infused dry vermouth and sparkling watermelon wine
Then there's the Strawberry Kickflip, a mocktail made with pistachio orgeat syrup, strawberries, ginger and rose, with the option to be spiked with Amontillado Sherry.
If you still need convincing, another of our favourite things about Halford is that the crew here offers table service, so there's no need to wait at the bar to be served.
Even the bar snacks are classy. We love the toasties (particularly the Hawaiian croque monsieur with bechamel goodness and the dessert perfect Nutella and banana) and the warmed goats brie with truffle honey, pear paste and fennel seed lavosh.
Halford Bar often run workshops of the boozy kind which are a great option for birthdays, check what's on here.
Image credit: Louise Coghill
---