HangOut On 20 Preston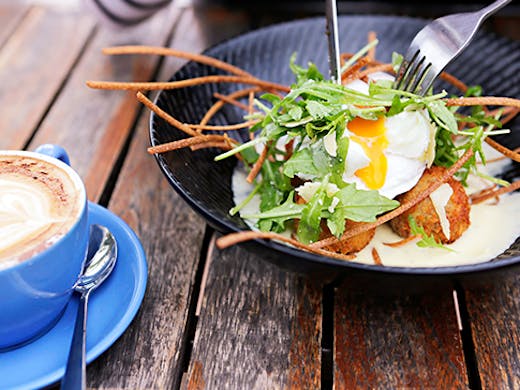 The Verdict
Como's HangOut on 20 Preston is a cosy little joint dishing up all sorts of delish food for brekky, lunch and dinner. The plush leather booths and fireplace will make you want to order one of everything on the menu (plus a bottle of red) and settle in for the night.
With a brand spanking new menu centred around Asian tapas-style dishes, you won't want to miss buttered king prawns with coconut and curry leaves, oven-roasted bao with your choice of duck or lamb or the slow-cooked pork belly with bourbon sauce.
But enough about the tapas, you absolutely cannot leave HangOut on 20 Preston without trying a few of the mains—most of which are still perfect to share, so no need to limit yourself to one dish! The Singapore chilli crab, curry laksa and their signature tower burger should all be on your hit list. But the best part? These guys also own Jersey Jack Gelato right next door so you can roll on in there after dinner and treat yourself to some of the best darn gelato in Perth!
Thursday night at HangOut is ladies night which means half price champers and wine #huzzah. But the fun doesn't stop there. You'll be treated to live music and $10 cocktails on Friday and Saturday and if the weather holds out there's live cooking in the garden on Sunday so you can watch your food being prepared and really work up an appetite.
Come day time, HangOut on 20 Preston is a pooch-friendly cafe whipping out rad breakfasts like pulled pork croquettes, honey glazed bacon and the coconana—a French crepe with toffee banana, roasted coconut and Jersey Jack's famous coconut gelato and chocolate sauce #ohmygod! And for those crazy kids who don't like breakfast at all? Well you can get that delish curry laksa AND the buttermilk fried chicken sliders for brekky. These guys sure do know how to please!
Image credit: Elle Borgward
---