Hey Griller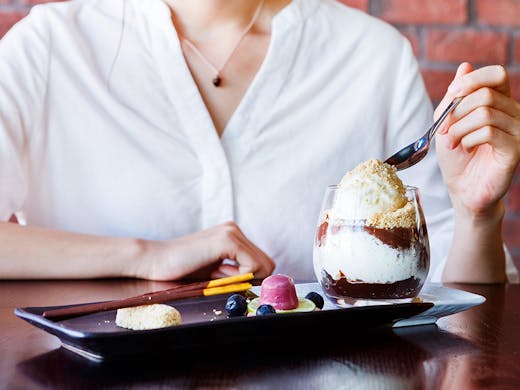 The verdict
Flaming steaks, char-grilled meats and torched marshmallow desserts are just a few of the incredible eats you'll find at Asian fusion restaurant Hey Griller in Victoria Park.
Tucked into Albany Highway, Hey Griller blends traditional Asian flavours with modern Australian food in unexpected ways.
Divided into entrees, salads, skewers and grilled sections, the menu is full of things you'll want to try, so go with a bunch of friends and share the lot!
Topped with sautéed squid, garlic sauce and caviar, the prawn toast is particularly delicious, as are the stuffed mushrooms and the pumpkin pops served with mango aioli and plum vinaigrette. Pair any of these with the calamari salad and you're off to a winning start.
When it comes to the skewers, you really can't go wrong. Whether you go for the tiger prawns, pork belly, lamb, chicken or a combination of all three, Hey Griller's chefs char-grill these to perfection. Choose from the South American inspired fusion skewers or the traditional northern Chinese-style cooked in a tasty mix of cumin and 13 spices, and don't overlook the tasty grilled corn or the mixed veggie skewers!
You'll find loads of flaming goodness on the Asian griller part of the menu. This is where you'll want to break off from the group and enjoy a main to yourself. There's the flame iron steak or flaming crispy pork belly, smoked pork ribs, a very delicious lamb shank and some naughty-licious sliders served in fried mantou buns (which can be made vegetarian if you ask nicely).
For dessert there are four serious good-uns to choose from, but the Bailey's cheesecake will completely steal your heart.
And in case you're starting to worry about what you're going to wash this all down with, don't. Hey Griller's bevvies list is long and filled with loads of beer (on tap and bottled), wine, cocktails and mocktails, so you're all set for a good night!
With so many delicious options to choose from, choosing what to order isn't the easiest thing to do, but the friendly crew at Hey Griller have your back and are happy to steer you in the right direction. Everything's delicious though so you need not worry. And they're currently running a promotion where the first two walk-in tables each day get a free main of their choosing!
Book now by clicking here or calling 0451 825 520!
Image credit: Louise Coghill & Emma Bryant
---