His Lid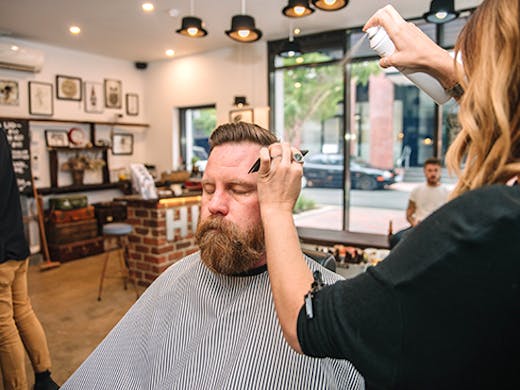 The Verdict
Winning the award for the coolest barber shop fit out in Perth (they've got top hat lights hanging from the ceiling!), His Lid in Subiaco know exactly what men want when it comes to getting their lid did!
Every standard service—which includes a hot towel treatment, cut and style—comes with your drink of choice, and it's not just the usual tea or coffee offering. His Lid is also passing around scotch, rum and beer to the blokes! The sleek and comfy black leather chairs, exposed brick and giant wooden mirrors make the scotch go down even better—as does the luxurious hot towel treatment!
Whether you're after a trim, shave, fade or complete re-style, the girls at His Lid have got 13 years of hairdressing and barbering under their belts. And it's certainly not all about the head hair, the team sculpt and shave beards like total pros.
Catering to the grooms of Perth, His Lid have got a killer pre-wedding package—taking care of every detail right down to sending out invitations to the groomsmen! The package includes hair cuts and shaves, hot towel treatment, facial scrubs, beard sculpting and shapeups, food platters, beers, scotch, champagne and rum. Bookings are essential, enquire here.
Lads, to make everything even easier, His Lid has a fancy shmancy online booking system so you can book a time that fits into your busy schedule. Nice! If you're looking for some inspiration for your next haircut, check out some of the lids that have been did here and get booking!
And how could we forget, they've also got a coffee window which is open to anyone—client or not—and their barista is brewing some top notch coffee, so be sure to hit them up for your caffeine fix next time you're in the area.
Image Credit: Nancy Hanna
---