Honey Creme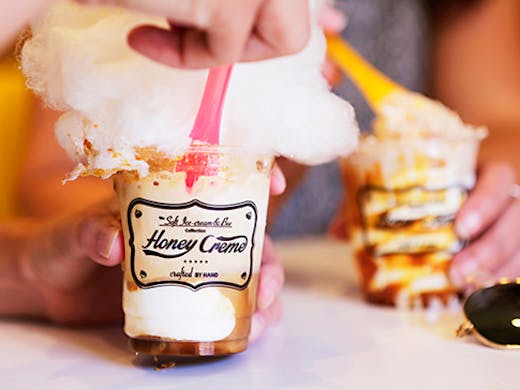 The Verdict
Ice cream sensation Honey Creme has taken the world by storm and Perth has been lucky enough to get the first store in Australia. Made with fresh local milk and sweetened with organic local honey, Honey Creme is certainly not your average soft serve ice cream.
Hailing from Korea, Honey Creme has stores in nine countries around the world and all of them seem to be just as popular as each other! With queues out the door at all hours of the day, you're going to want to get in early to try this.
Creamy and perfectly sweet, the signature honeycomb flavour is ice cream perfection. And while we love the simplicity of this, we think you'd be totally crazy to miss out on the other flavours they've got on offer. Think bacon and chocolate, organic cotton candy, popcorn, churros, macarons and, our personal favourite, the cereal milk. Yup, that's right, the crew at Honey Creme cook the cereal milk topping fresh each day. It's corn-flakey, buttery, sugary goodness at its very best and the smell alone is enough to have you salivating while you wait to get yours.
If you're a coffee fiend, you're going to want to try the affogatto. Whether you go for the plain affogatto or get yours topped with organic cotton candy, you can also choose how strong you want it so you can be sure to get the caffeine buzz you're after!
No matter what flavour you choose, all of Honey Creme's delights look as good just as they taste. Time to get to Barrack Street stat!
Image credit: Elle Borgward
---