IPPUDO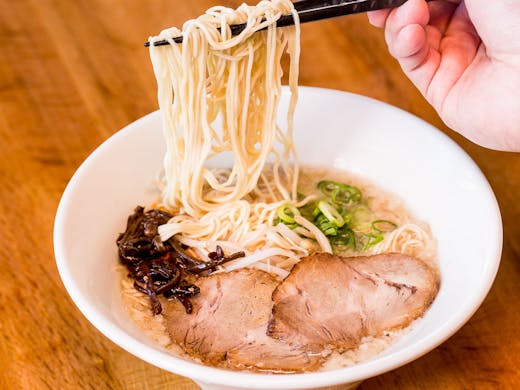 The Verdict
Perthm ramen restaurant IPPUDO is a laid-back, fast-paced ramen joint sitting pretty in Kings Square with a line out the front that snakes around the corner. But take it from us: the food is worth the wait.
If you haven't heard of the ramen masters IPPUDO, they've built a cult following on the back of bowls like their Shiromaru Motoaji tonkotsu ramen. Quite a mouthful, in more ways than one.
This is one of IPPUDO's signature bowls, recommended for all first-timers. Picture a creamy tonkotsu broth, a secret dashi, thin, straight noodles, tender slices of pork loin chashu, bean sprouts, black fungus and spring onions. The adjective 'porky' gets thrown around a lot in ramen circles, and this bowl is 'porky plus'.
As for the rest of the menu, there's your standard range of ramen bowls (the spicy Karaka-Men is particularly good), but don't be shocked to see very un-ramen like entrees flying through the pass. Ebi guacamole dip with gyoza tortilla chips, lightly pickled slices of chilli cucumber, even a wicked BBQ pork bao with umami sauce (highly recommend).
Ramen fiends, get ready to queue. This place is already drawing some serious crowds.
Image credit: Simon Shiff
---