Little Stables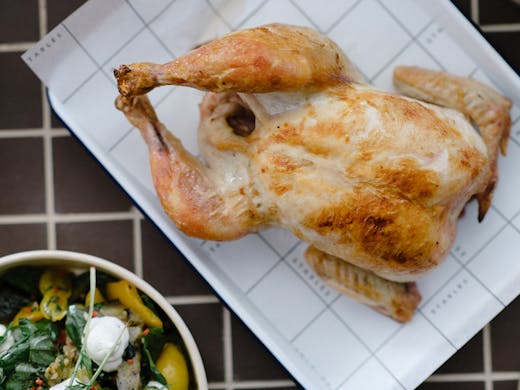 The Verdict
Little Stables is dishing out the kind of breakfast, lunch and dinner hard-working city-goers need in their lives.
Part of The Stables bar, you can swing by at brekky for pastries and an excellent coffee, pick up something to-go for lunch and stop by for a quick dinner and drink from the bar.
The rotisserie chicken is the name of the game at Little Stables, and they're serving them whole, halved or quartered, with your choice of sides (it'll be potatoes and gravy for us). They're also doing some classy chicken and gravy rolls with chicken crackling, herb aioli and iceberg lettuce.
If you're not a big fan of the bird, then their Cubano sandwich stuffed with Berkshire leg ham, Swiss cheese, pickles and mustard will delight, or if you're vego the house kimchi, coconut yoghurt, tempura zucchini, coriander and spring onion roll has your name all over it.
Their roster of salads change regularly and come winter (or even when the office A/C is blasting) their chicken bone broth pot noodles will warm your cockles nicely. After 4pm they shake things up, offering a petite, yet delicious menu that pairs perfectly with cocktails.
Speaking of cocktails, they're some of your more creative tipples. There's the Root & Soil made with peanut butter rum, coconut, pineapple and lime and the Leaf & Flower, a concoction of lavender gin, butterfly pea tea, lemon, honey and sage. They also stock the non-alcoholic spirit, Seedlip, and have got beers, spirits and wines galore.
Welcome to your new favourite spot in the CBD!
Image credit: Jillian McHugh
---