Mack Daddy's New York Slice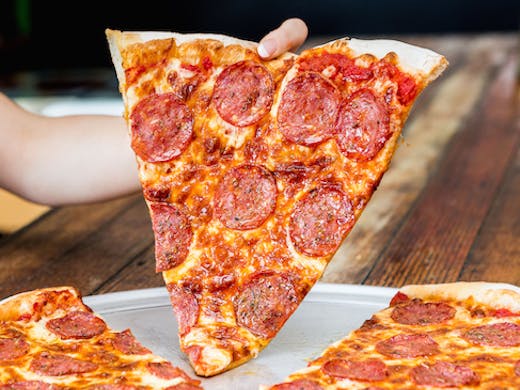 The Verdict
If you're looking for huge 22" pizzas sold by the slice, Mount Lawley's Mack Daddy's New York Slice pizzas are the biggest, cheesiest and most drool-worthy slices of pizza we've had.
The Big Tony's Pepperoni, The Honky and the Boom Boom Shroom are cult favourites, but these guys also cater to vegans with their massive Heritage pizza and our personal fave, the No Meat Just Balls.
If pizza for lunch and dinner isn't enough for you, you'll want to get a load of Mack Daddy's sell-out Bloody Sunday Bottomless Pizza Brunches. You can expect all the brunch pizza you can handle alongside bottomless bloody marys, espresso martinis and bloody bubbles. Not into cocktails and bubbles? Beer and wine are also on the menu.
These are scheduled events with the next ones happening Sunday 26 July, Sunday 9 August and Sunday 23 August. The last ones sold out in record time so book your spot asap.
As if that wasn't enough, these guys are also running a 22" pizza challenge every Thursday night until December which will see the winner score free pizza for an entire year. In honour of a Mack Daddy legend—the only person to eat an entire 22" pizza in store—who sadly passed away earlier this year, all you need to do is beat his time of 37 minutes. Get the details here.
Image credit: Emma Bryant
---