Mary Street Bakery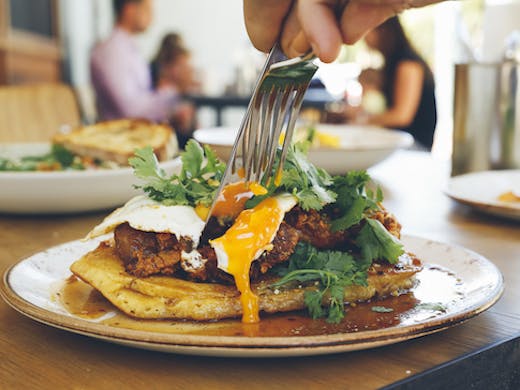 The Verdict
If it's not the doughnuts, the fried chicken with buttermilk pancakes is about all that is needed to convince you to stop by Mary Street Bakery.
But let's circle back to the pastries for just a minute. Their ever-changing cruffin creations are where it's at—from choc brownie cruffins to fig, pistachio and custard cruffins, there's no going wrong.
Situated at the end of the prettiest street in Highgate, this popular weekend haunt will have you rolling home with a smiling stomach, some seriously satisfied taste buds and an armful of pastries.
Your dreams are potentially about to come true. Mary Street Bakery is giving two people the chance to win free bread for an entire year. Yes, that's one loaf of bread per week (excluding fruit bread) for 12 months. To be in with a chance all you need to do is buy a loaf of any of MSB's legendary breads between 15 and 21 August and in return, you'll be handed a numbered golden ticket which will go in the big draw. Eat a lot of bread? Good for you, you get more golden tickets; you'll only get one entry per transaction though, so it's best to head into any of MSB's locations throughout the week to grab more bread and up your odds. The winners will be announced on 23 August and you can scope out the rest of the terms and conditions here. Good luck and may the carbs be ever in your favour.
Image credit: Louise Coghill
---