Neho Asian Tapas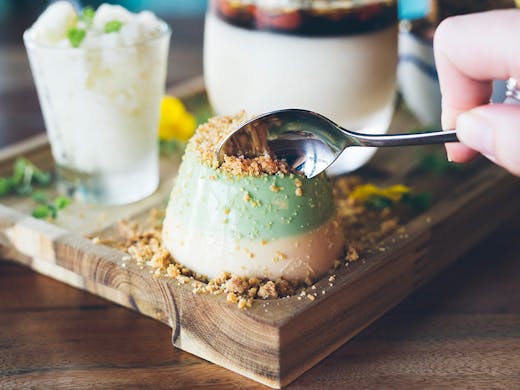 The Verdict
If you're looking for one of the coolest places for tasty noms in Victoria Park, look no further than Neho Asian Tapas. This bright, colourful and fun South-East Asian joint is a treat for the senses, and for the funny bone!
The crew at Neho Asian Tapas delight in all that is lost in translation and the restaurant is filled with signs that have been translated into "Chinese English", so you're in for plenty of LOLs—our favourite translations are "if you are stolen call the police at once" and "please present your octopus". Ha!
Decked out in neon accents, exposed brick, black and white graphics, newspapered walls and industrial lighting, taking a seat inside is best for soaking up the vibrant atmosphere. But if you like a side of fresh air with your dinner there are seats outside too.
When it comes to the menu, it's pretty tough to narrow down the selection because everything sounds, and is, amazing. Predominantly South-East Asian cuisine with a smattering of Chinese, Japanese and Korean here and there, the best way to do Neho is with a bunch of friends so you can order plenty of share plates and try a little bit of everything!
Our top picks from the small shares have to be the Macau pork sliders with crumbed pork, garlic aioli and pineapple relish, mushi tacos with truffled mushrooms, wonton crisps and teriyaki balsamic and the raw fish hweh—sashimi served with nashi pear, chojang, seaweed salt and furikake. And for the bigger plates, it has to be the char sui pork belly with a green apple and fennel salad and a citrus vinaigrette as well as the 36-hour rendang short ribs because they are melt-in-your-mouth-delicious.
There's also a selection of tasty salads on the menu like the green soba made with matcha soba noodles, cucumber, lotus chips and a sesame dressing and the yum woon sen (seafood salad) with poached prawns, herbs, glass noodles and a Thai lime dressing.
For dessert the best way to do things is to order the dessert trio, which gives you a sample of all three of Neho's delicious after dinner delights—a pandan-infused panna cotta with salted coconut crumble and lime coconut granita, a custard creme caramel cake with Thai milk tea ice cream and a tasty soy milk jelly with ginger syrup, longan, goji berries and toasted almonds. Drooling yet?
And if you're really not in the mood for choosing what to eat, leave it up to Neho's very reasonable feed me menu. For $55 you get a selection of around eight of the chef's favourite dishes. Heck yes!
Nothing beats the neon buzz of a visit to Neho Asian Tapas, book here!
Image credit: Louise Coghill
---