Ox Rabbit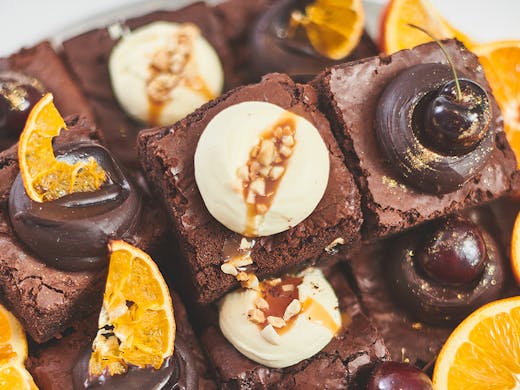 The Verdict
Next time you find yourself craving a sugar hit, do yourself a favour and jump online to stock up on a box or slab of crazy good brownies from Ox Rabbit.
Their brownie box is filled with concoctions like double stuffed Tim Tam and Caramello Koala—along with other surprises—and the slabs come in flavours like birthday cake and peanut butter pretzel, with a rosewater option for the sophisticated chocolate lovers out there.
If you're not sold on brownies, these guys also do cookies, cakes, mini cakes and loaded cookie sandwiches, and most can be scored with same-day delivery so you can satisfy your cravings quickly.
Their brownies are also stocked at a few places around town, so you can have your coffee and brownie while you're out and about—you can usually count on the guys at Cleaver Street & Co for your hit.
To celebrate all the cool dads out there Ox Rabbit is whipping up a batch of bespoke brownies in delectable flavours including a boozy brownie infused with orange whisky and a dark cherry and coconut-infused brownie. If you're looking to go all out for dad this year, their Father's Day cake will go down a treat. It's a triple dark Belgium chocolate cake with loads of juicy cherries that have been soaked for 72 hours in Cointreau.
You can scope out the collection on their website and delivery is free within the metro area. Plus, in the month of August if you spend over $50 you'll score a $10 gift card, while $100 will get you a $20 gift card; all ripe for spending on more brownies in the online shop.
Image credit: Ox Rabbit
---
You May Also Like
Bars & Pubs
North Fremantle, WA
North Fremantle has just scored a cracking new neighbourhood bar from co-owners…