Palace Arcade | Victoria Park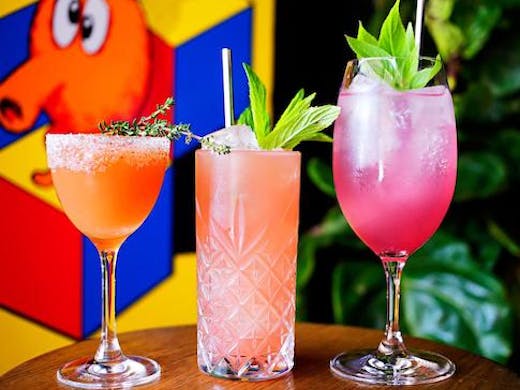 The Verdict
Palace Arcade has become multiplayer, opening a second location in Victoria Park. With nationally recognised bartender Kaden Pool slinging boss-level beverages, Chef Michael Windsall in charge of the New York-style pizzas and owner Saran Bajaj's collection of more than 50 retro arcade games, there's no reason not to grab your gang and get your game on.
Like its sibling in Northbridge, the Victoria Park location is serving up humongous 16-inch and 22-inch pizzas sold whole or by the huge slice. Hungry for the classics? Go for a Manhattan Margherita with Mick's special sauce or try out the Palace Pepperoni. Catering for everyone, the pizzas can also be tailored to the needs of vegan, vegetarian and gluten-free gamers. Keep your eyes peeled for specials such as the cheeseburger pizza and the 'Pretty Fly For a White Pie'. Go to the next level with sides including wings covered in honey and garlic (our favourite), mac and cheese bites, jalapeno poppers or tater tots with cheese and bacon.
Why not pair your legendary feed with a drink from the extensive bar menu? If you're feeling fancy, opt for a Flamin Galah' cocktail with bombay gin and Adelaide Hills vermouth or the Cheat Mode with coffee bean infused vodka. There are also local craft beers on tap and plenty of wine, ginger beer and ciders to choose from.
Old school loose change isn't needed here; charge up a game card and play classics such as Space Invaders, Donkey Kong, Street Fighter, Asteroids and more on rotation from Bajaj's private collection.
On Wednesdays, get more bang for your buck with a Super Session; spend $20 on food or drinks and receive unlimited games between 4pm and 11pm.
Image credit: Elle Borgward
---
You May Also Like
Bakeries & Delis
Highgate, WA
Located directly across from Hyde Park on William St in Highgate, Chu Bakery is…
Bars & Pubs
North Fremantle, WA
North Fremantle has just scored a cracking new neighbourhood bar from co-owners…