Sakura Sake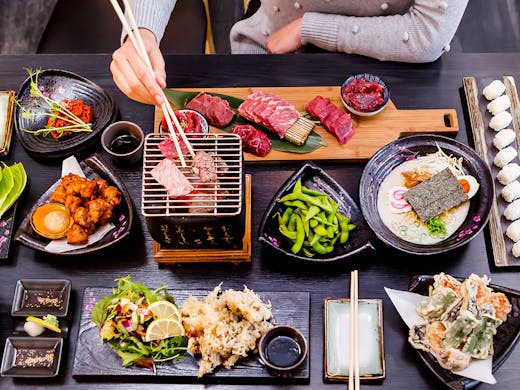 The Verdict
For some of Perth's best Japanese eats to dig your chopsticks into, head to Sakura Sake in Northbridge.
Tucked behind a row of cherry blossom trees and delicate lattice awnings on James Street, Sakura Sake is decked out in a modern Japanese style with exposed brick, wood panelling, paper walls and comfy booth-style seating—there's even a big cherry blossom tree inside.
Once you've planted yourself in one of the booths, ordering your meal is as easy as selecting what you want on the iPad at your table. Before you know it bowls of steaming ramen will be making their way to your table ready for you to slurp up. Welcome to the future.
You certainly won't go hungry here, with the menu divided into sushi, izakaya, nigiri, aburi, bento, donburi, noodle dishes and salads. Drinks wise, there are over 20 different kinds of sake to choose from (they even have a sake trolley), as well as wine (including Japanese plum wine), cocktails and Japanese tap beers.
When it comes to sushi, nigiri and aburi, our top picks include the Sakura boat platter (sashimi served on a boat, does life get any freakin' better than this?), the signature aburi platter (the salmon is so fresh and delicious) and the dragon roll (soft shell crab and avocado addicts will love this one). But if you're going with a group, you've got to order the one-metre-long platter filled with just about every Japanese delicacy you could ever desire!
Sakura Sake's nabe and noodle dishes are incredible too. The soy beef nabe is exactly the kind of soupy dish you want when you're feeling a little under the weather, filled with veggies and thinly sliced beef, and don't even get us started on the gyoza ramen.
Everyone loves a bento box and the teriyaki salmon is the real winner here, and a pot of green tea or bowl of miso never goes astray.
And if you're a fan of DIY dining, head to Sakura Sake, stat! Their new premium BBQ combo menu includes two bowls of ramen, chicken karaage, fried soft shell crab, kimchi, sushi rice, edamame, veggie tempura and prime cuts of beef ready for grilling at your table. It's only $89 for the lot and can be shared between four (or two very hungry people).
If you're looking for your next birthday party venue, you've found it. Sakura Sake now has several function spaces which you can hire out. Pair that with some metre-long platters and sake and you have yourself a night to remember!
With top-notch service, some of the prettiest dishes and the best Japanese eats this side of Tokyo, make a booking at Sakura Sake now, you won't regret it!
Image credit: Louise Coghill
---