Samson's Paddock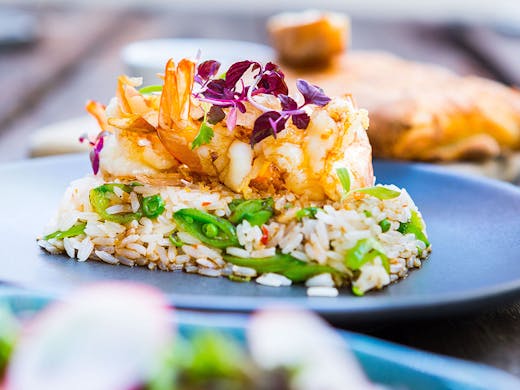 The Verdict
One visit to Samson's Paddock and you'll be plotting your move to Mosman Park just so you can call it your local. The restaurant and bar has a long association with hospitality, sharing the name and location of a popular mid-1800s watering hole. Today, this charming spot on Glyde Street teams delicious seasonal share plates with good beer and an exceptional wine and whiskey list.
Serving modern Australian cuisine in a rustic setting, the two-tiered alfresco is one of our favourite places to hang out with mates from spring through winter, thanks to plenty of shade and two open fireplaces. But when it's date night, we're all about the red exposed brick interiors, industrial lighting and cosy atmos inside.
It's hard not to list everything on the menu as a standout, as it's all exceedingly delicious, but if we had to play favourites, the goats' cheese gnocchi with mint, parsley, pesto sauce, macadamia and beetroot would be one of them. We're also mad about the lamb backstrap served with crispy polenta, eggplant, paprika and pepper sauce...oooh and the wagyu rib fingers with kimchi and chilli. And the perfect way to finish off any meal? Defs their black sesame Crème Brûlée served with vanilla ice cream.
If Ron Swanson is your spirit animal, you'll be chuffed to know that Samson's Paddock offers some incredible steak and whiskey pairings. Ranging from $28 to $120, our favourite has to be the Paddock to Plate, which offers up some of the world's best single origin and single malt whiskies. And if cheese is what you're after, you've come to the right place. They serve everything from comte and garrotxa to brie and manchego, and if you can't decide you can get them all for $30. Throw in some charcuterie and wine and you're all set.
The wine list features WA's best drops, as well as bottles from South Australia, Victoria, Italy, Argentina and France. The local and international beers won't disappoint either. Their whisky list is epic, and you can even order a deconstructed whisky board—each served with a matched chocolate truffle.
There's a whole lot of local love going around at Samson's Paddock, and after 5pm every day the crew serves anything you can order by the glass at half price (and yes, that includes the top whisky shelf).
So what are you waiting for? Hit up your new favourite (or wannabe) local now.
Image credit: Emma Bryant
---