Social Manna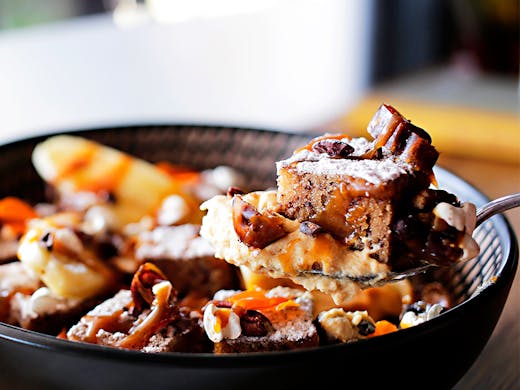 The Verdict
There's no doubt about it, you will suffer from choice paralysis at Social Manna in Victoria Park, there are just SO MANY good things on the menu. Will it be a decadent banana bread bowl with whipped dulce de leche, puffed chocolate buckwheat, banana chips and salted caramel or the apple-filled mini breakfast doughnuts covered in apple custard and cinnamon oat granola? Or maybe the egg benny bao or the pulled salt beef hash? See what we mean? It's practically impossible to hone in on just one.
If you're after lunch-style fare, their larder eats offer up plenty of tasties. There's plenty of sausage rolls, pies, quiches, toasted focaccias, salad bowls and stuffed croissants to keep you full.
Brewing up Pound Coffee beans any way you like it, even dogs are welcome here, proof being their very extra dog 'a' chino featuring liver sprinkles.
Back to the human fare, you can grab all your alternative lattes, like turmeric and beetroot, with no surcharge for specialty milks, as well as juices, smoothies, elixirs, soda pop and milkshakes. In short, everyone is taken care of, and well at that.
Open every day of the week, stop by Social Manna and prepare to make some tough choices... or just order everything.
Image credit: Elle Borgward
---