SoHo Lane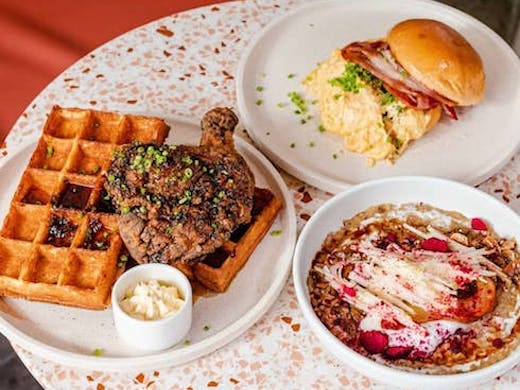 The Verdict
Laying down roots in the redeveloped Alexander Buildings on the corner of Beaufort and Walcott street in Mount Lawley, SoHo Lane delivers light 'n bright community vibes, killer coffee and upbeat New York inspired decor with its contemporary pink-hued interiors, forest green coffee bar and stunning terrazzo feature wall.
Co-owners owners Matt Miller and Trindy Adler lived in New York for more than a decade, so no surprise you'll also find a nod to America in the menu—think hangover-friendly dishes like their fried chicken and waffles (prefarably with added truffles) and brisket and pastrami bagel alongside all-day Aussie brunch classics.
On the coffee-side, you'll get to try their very own unique blend with Micrology Coffee Roasters, paired with texturised milk made with an Ubermilk milk machine. They also have daily batch brews with a rotation of guest roasters and single origins.
And while we're speaking of coffee, to celebrate the launch of their new winter menu and 6 months in the Mount Lawley hood, SoHo Lane are slinging free 6oz coffees from 7am 'til 12pm this Friday 16 July (limited to one per person, milk upgrades extra). Honestly, who could say no to a free cup of outlandishly good jo?
Image credit: Danica Zuks
---