Stone Jetty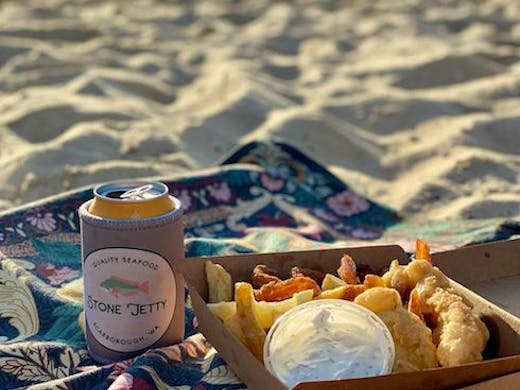 The Verdict
Ah, fish 'n' chips. We never get tired of them. In fact, our passion for this seafood classic has been ignited even further by the opening of Stone Jetty, located on Brighton Road in the beachy burb of Scarborough.
What's so awesome about this place is that you get 2-in-1—a fishmonger and fish 'n' chips shop. Owned and operated by the Younger family, Stone Jetty's roots come from the Abrolhos Islands, where the family were well-versed in crayfishing. What's more is this place supports Australian and New Zealand seafood by sourcing their produce from the most localised spots possible.
Bonus points to Stone Jetty for being a STONE's throw from the beach—you're spoiled for choice as to where to eat your dinner! Located right around the corner from Skol, Scarbs' latest Scandinavian themed bar, you won't go thirsty.
Head down to the fishmongers to pick up goodies for your next BBQ on Tuesday to Friday from 9am 'til 6pm, or Saturday to Sunday from 8am 'til 2pm. Alternatively, treat yourself to a gourmet grilled swordfish steak and chips for lunch Tuesday to Friday, or dinner Thursday to Sunday.
Image credit: Stone Jetty
---
You May Also Like
Bakeries & Delis
Highgate, WA
Located directly across from Hyde Park on William St in Highgate, Chu Bakery is…
Bars & Pubs
North Fremantle, WA
North Fremantle has just scored a cracking new neighbourhood bar from co-owners…