tbsp. (CLOSED)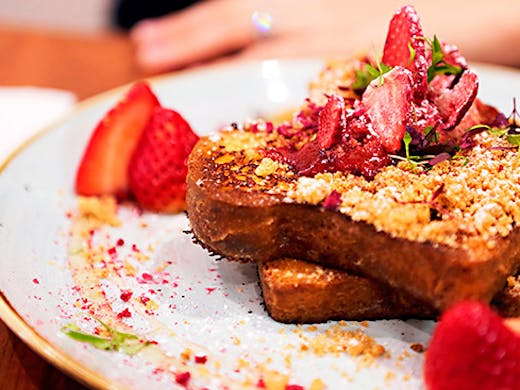 The Verdict
Editor's note: tbsp. is now closed.
Brunch is a thing of beauty at buzzy Bayswater cafe, tbsp. Tucked off King William Street, the crew at this lovely, light-filled cafe dish out some of the tastiest (and Instagrammable) brunch goodies.
Aside from a few of the standard options like eggs on toast and muesli, most items on the menu are served with an Asian twist, thanks to the mastermind behind the menu, head chef Brian Kong. Think pan-fried Korean rice cakes with spicy pork ragu, slow-cooked egg, spring onions and pickled wombok and black sesame pancakes with creme fraiche, maple syrup, matcha crunch and seasonal fruits.
Menu favourites are easily the pulled brisket benedict with slow cooked eggs, brioche French toast and the fried chicken sandwich served in a brioche bun with gochujang slaw and pickled cucumber—which will probably be the yummiest fried chicken sandwich you will ever wrap your mouth around.
When it comes to coffee, the gang at tbsp really knows their stuff. While they've got all of the regular brews that most of us can't stop ordering, the uber talented baristas are always on hand to offer suggestions for how you can take your coffee addiction to the next level.
Serving everything from house blends and single origins to cold drip and pour over coffee, if you're up for trying something different it has got to be the coffee tonic—a 50/50 blend of cold drip coffee and Capi tonic water served over ice. The sweet and sour coffee combo is unlike anything you have tasted. Summer looks a whole lot cooler with this bad boy!
If you're not a coffee drinker, tbsp have you covered—and in a big way. They've got tons of tasty teas, matcha lattes, taro lattes and cold-pressed juices to go around, not to mention a pretty special liquid concoction sure to help you relax—an iced lavender lemonade.
But it's not all about the food and drink at this lovely little Bayswater cafe. The staff at tbsp are not pretentious in the slightest, they are passionate about everything they serve and are always happy to have a good chinwag with you while you wait for your morning brew.

For delicious comfort food, top notch hospitality and relaxed vibes, tbsp is the place to be. Hot tip? These guys get pretty packed on the weekends, but if you have to line up, it'll totally be worth the wait. In the meantime, check out their Instagram account and get ready to drool!
Image Credit: Elle Borgward
---