Ten Acre Block (CLOSED)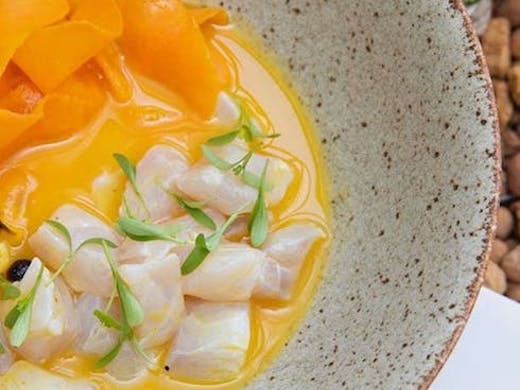 THE VERDICT
Editor's Note: Ten Acre Block has now closed.
Ten Acre Block, a vegan restaurant which is as healthy as it is ethical popped up in Perth in July with plans to stick around for five weeks only. Luckily for us, it's been so gob-smackingly popular that they've decided to keep it going for a bit longer.
To be honest, we're not all that surprised it's been extended considering it's come to us from Alejandro Saravia, the Consulting Executive Chef at one Perth's best restaurants, Uma at the Pan Pacific.
Saravia is big on using local and indigenous ingredients, and that's exactly what you'll get at Ten Acre Block, along with the use of imperfect fruit and vegetables that can too often end up going to waste.
'I was keen to develop a menu that showcased the versatility of non-meat based ingredients as well as having fun with the dishes' says Saravia, and you can expect some flavours you never would have expected from plant-based food on the five-course menu.
Pan Pacific's Director of Food and Beverage Jeremy Burt has curated a vegan-friendly and local wine list along with three delicious cocktails to wash your feast down with, like the cucumber martini made with freshly pressed juice. We're thirsty just thinking about it.
Image credit: Supplied
---