The Arbor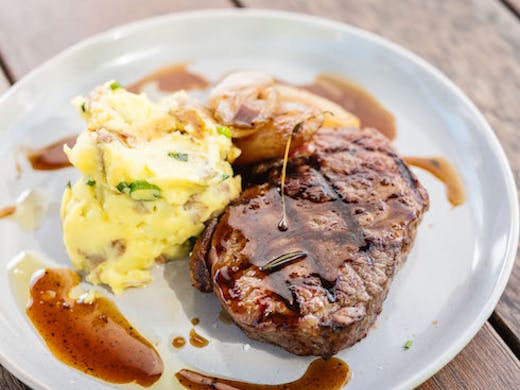 The Verdict
Is there any place better to take in Fremantle's stunning views than The Old Synagogue's beer garden, The Arbor? Overlooking Fremantle Oval, The Arbor is one of four venues within the historic site which was originally home to Western Australia's first synagogue.
Decked out with lush greens and dazzling light fixtures, The Arbor is the place to be any day of the week. Although there is one day that is a cut above the rest.
On Thursdays, The Arbor cranks up its wood fired charcoal grills to put on a steak night like no other. For $15 you'll get the ultimate bang for your buck—we're talking 250 grams of juicy sirloin steak, fries, salad and your choice of sauce. What a steal. But that's not all—you can upgrade your steak to a 300g scotch fillet or a 250g eye fillet, and you can even swap out your chips and salad for options such as baked potato and sour cream, mashed potato and confit shallots, hummus, green beans and chickpeas or a roast vegetable medley with spinach cream. Basically what we're saying is that this is THE place to be on Thursday nights if you want to chop and change your way to the perfect steak and sides combo.
Now, if you're not here for the steak, the rest of the modern pub food menu will satisfy all your cravings with a range of burgers, pizzas, salads, charcoal steaks and Portuguese chicken as well as vegan and vegetarian options.
Whatever you choose to feast on, just be sure to take a moment to admire the beautiful scenery—sunsets at The Arbor are really something else—and sip on something from the extensive drinks menu including local craft beers, wine and cocktails (including entire sections of the menu dedicated to spritz and gintonicas) by the glass or jug.
Image credit: Elle Borgward
---