The Galway Hooker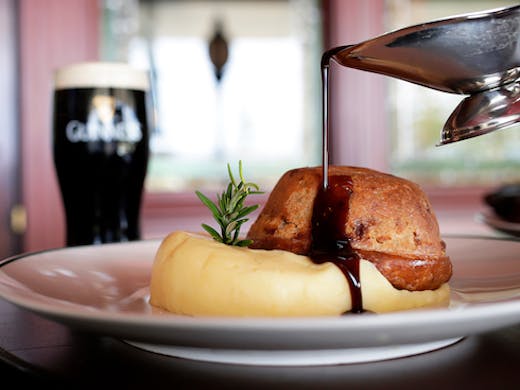 The Verdict
If you're looking for beach views and Irish brews, The Galway Hooker in Scarborough is the place to be. If it weren't for the coastal scenery, the legends behind Durty Nelly's would have you fooled into thinking you were in Ireland. They've got a collection of 70 types of Irish whiskey, a cool room entirely dedicated to Guinness (kept two degrees warmer than other alcohol, in case you were wondering) and all of the interior decorations shipped in from Ireland–including The Galway Hooker boat right in the middle of the pub paying homage to its namesake.
All of the menu items are best served with a pint of Guinness or nip of Jameson's Caskmates Stout, but there are plenty of cocktails on offer for those of you who prefer to keep your drinks on the bright side.
Dig into the beef and Guinness pie served over mashed potato with gravy or grab yourself a serve of hearty Irish pork sausages. They've also got all the classics like burgers, fish and chips and juicy steaks, plus salads and a mind-numbingly good goat cheese and caramelised onion tart. Did we mention there's an entire section of the menu dedicated to potatoes? Don't go past the chips with curry sauce.
If you've for a sore head from the night before, go ahead and order the full Irish breakfast and add a Barry's tea, a berocca, or go all out and get the Magners cider if you're in need of some hair of the dog.
There's live entertainment every night from Wednesday to Sunday so keep an eye on their website for all the details.
Image credit: Elle Borgward
---