The Guildford Hotel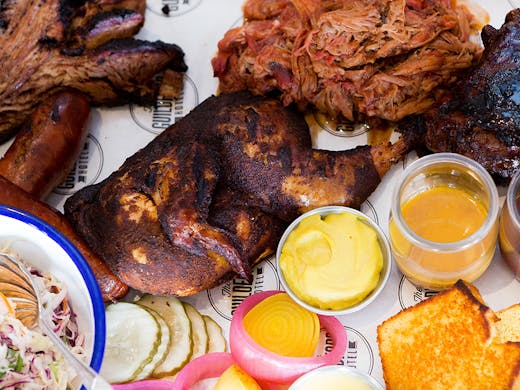 The Verdict
Crazy cocktails, two-foot steak sandwiches, gooey cob loafs and bottomless fries—it sounds too good to be true, but all of this deliciousness is available in one of Perth's oldest establishments, The Guildford Hotel.
Nearing its 140th birthday, this heritage beauty has undergone a stunning renovation in recent years and we're so ready to move to Guildford the next chance we get, but for now, we're going to hang out there every single weekend.
During the week, The Guildford is the perfect place for chilled out lunches and dinners; take your pick from the stunningly restored dining room or the gorgeous beer garden. The menu is divided into one handed and two handed eats, burgers and sangas, the pitmaster's selection and sweet treats—and there's a LOT of good stuff on there so choosing is no easy task.
We are mad about their smoked, slow cooked BBQ meats and the best way to enjoy them is by ordering the Whole Damn Lot platter which includes one kilo of smoked meat goodness (think: beef brisket, lamb shank, a half chicken and jalapeno, pork and cheddar sausage), seasonal slaw, cornbread and pickles.
Drinks-wise, they've got all the good local and New Zealand white, red and pink wines, as well as sparkling from France and Italy, plenty of beers on tap (and more in the fridge) and delish cocktails.
If you're keen to learn the tricks of the BBQ trade be sure to head down to one of The Guildford's BBQ masterclasses in the beer garden. They run every couple of months, tickets cost $65 per person and include a feasting dinner, Feral beers and dessert. Book here.
Come winter, you can head to The Guildford for Winterville and snuggle up by the fireplace while you enjoy a Christmas in July-style smorgasbord with all the trimmings. To top off the holiday vibes, the three-course feast is paired with warm 'n wonderful interactive drinks. Stay tuned for dates and bookings.
What are you waiting for? Call your friends, lovers, grandma or second cousin and get to The Guildford, stat. We guarantee you will never want to leave.
Image credit: Emma Bryant
---