The Rechabite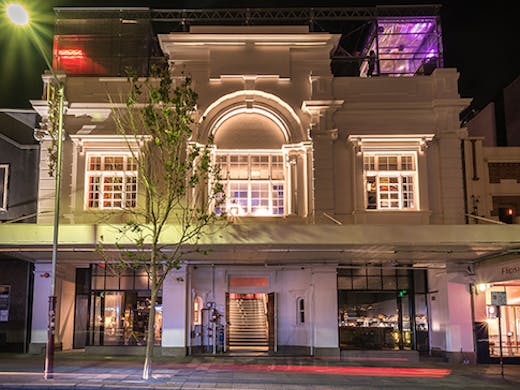 The Verdict
Rechabite Hall, one of the founding buildings along the William Street strip in Northbridge, was once a vibrant dance hall. It then sat dormant, gathering dust, until Marcus Canning, the founder of Fringe World, Rooftop Movies and The Bakery, got it back into tip-top shape in 2019.
It's now home to four separate venues and we couldn't pick a favourite if we tried.
Double Rainbow is a bar and kitchen that sits on the ground floor and has Perth legend Danny Sanchez (previously of The Flour Factory and Hadiqa) heading up the kitchen. Then there's the Goodwill Club in the basement serving up plenty of dive bar vibes, the Rechabite Performance Hall and, last but not least, Hello Rooftop Bar which goes off all year round.
In fact, this winter they are lighting up the firepit so you cosy up with a Campfire Sour which is made with whisky butterscotch and aquafaba and comes complete with marshmallows you can toast. Of course, there's also some delicious mulled wine on offer to keep you warm.
Image credit: Supplied
---