Top Dup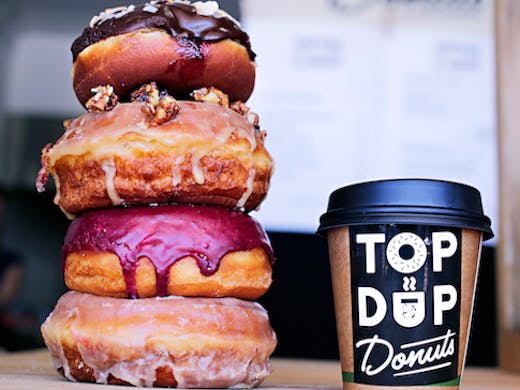 The Verdict
After becoming famous for their artisan doughnuts which they delivered all over town, Top Dup took the plunge and opened their very own retail space in Willagee. Think filled doughnuts with flavours like choc honeycomb, salted crème caramel, white choc coconut pistachio, blood orange curd with sherbet mallow and blueberry cheesecake, plus brownie bikkie sambos and coffee from a range of local roasters.
This little outfit still delivers their highly instagrammable delights to a bunch of locations in Perth, Fremantle and the surrounding suburbs so keep an eye on their social media for flavour combos and delivery drops for a taste.
This month they're also treating us to two epic limited-time treats that you'll have to rush on if you're keen to get your hands on.
First up, some very nostalgic finger buns. Think buttery brioche finger buns topped with your choice of raspberry and coconut (deluxe raspberry buttercream, toasted coconut flakes and freeze dried raspberries) or milk choc sprinkles (house-made milk choc ganache and 100s and 1000s). They'll be serving limited numbers of these beauties daily at their Willagee store from Tuesday 27 April onwards.
Plus, don't miss their mind-blowing collab with The Honeycake. They've pulled out a drool-worthy croughie (that's their version of the popular doughnut x croissant mash up) featuring their signature 100-layer dough filled and topped with The Honeycake's infamous honey creme, topped with a slice of The Honeycake and crushed walnuts. This epic treat is available for ONE WEEK ONLY people, so you better hop to it. Swing by Top Dup Willagee next Thursday 29 April, Saturday 1 May or Sunday 2 May to try get your hands on these over the top croughies—just note it's first in, best dressed, so you better get in early.
Image credit: Elle Borgward
---