Urban Bunches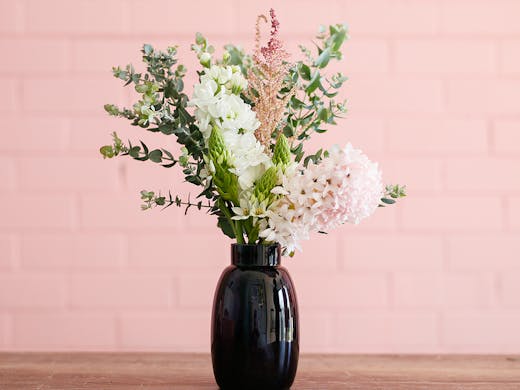 The Verdict
Urban Bunches is a Perth flower and gift delivery service with a really big difference.
Firstly, the blooms and boxes they put together on the daily are absolutely stunning. Everything is locally grown and in season, and you'll get a lot more than a generic bunch of roses. Plus, they don't charge exorbitant prices—you can get a bunch of blooms from as little as $29.99.
Delivering to over 100 Perth 'burbs, you won't find any rubber bands, cellophane or plastic in Urban Bunches arrangements and everything can be composted, recycled or reused. This is a huge step away from the supplies traditional florists use and a big win for the environment, with a lot less floral foam clogging up landfill for years on end.
Offering a daily bunch in three sizes, luxe bouquets (for that extra special occasion, or apology), gift boxes and goodies you can add to sweeten up any order, there's something to suit all celebrations. Urban Bunches also stock our favourite choccies from Bahen & Co, Sweetlicks Rose Jelly Bears, Pound Coffee beans, Crafters Union wines and PF & Co Candles.
To make things even better, Urban Bunches offers a rewards system that earns you discounts, so there's something in it for you and the person you're spoiling.
So, the next time you forget to buy someone a birthday or anniversary present ahead of time, head to the Urban Bunches website, click a few buttons and a beautiful bunch of blooms will be delivered to their doorstop within hours, and you can take all the credit!
Image credit: Louise Coghill
---