Yin Yang Wok & Soup Bar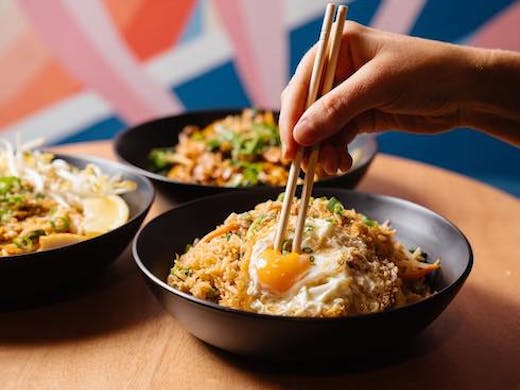 The Verdict
Housed inside Fremantle's FOMO lies Yin Yang Wok & Soup Bar, an addition to the hub's Asian-inspired Street Eats Alley.
Headed up by talented chef Eric Ngo, Yin Yang Wok & Soup Bar have mastered stir fry noodle dishes, such as crowd favourites pad thai and mee goreng, as well as broth soups, including laksa, tom yum and wonton noodle soup, rice dishes (we're eyeing off the nasi goreng) plus sizzling hot and spicy seafood plates.
We tried the laksa noodle soup for lunch on a winter's day, and boy did it deliver. The large, warming bowl of perfectly spiced coconut soup was full of veg, chopped fresh chilli and thick egg noodles. The fragrant soup was so yummy we had to stop ourselves lifting up the bowl and slurping it all down at once.
We opted for tofu in our laksa, but you can also choose chicken, beef or seafood. We dipped our tasty tofu puffs in homemade chilli oil for an extra kick. Yin Yang Wok & Soup Bar's dishes are made fresh to order—you can see your noodles or soup being whipped up right before your eyes.
Next time you're in Freo, be sure to pop by Yin Yang Wok & Soup Bar for a comforting soup or one of the tasty rice or noodle dishes—they're perfect for a winter's lunch (or dinner Friday to Sunday). FOMO is a foodie and entertainment precinct in Walyalup Koort, inside the old Myer building and a short stroll from the Fremantle train station.
Image credit: Supplied
---