Drinks delivered to your doorstep. What a wonderful concept. Unfortunately (or fortunately) it's become a bit of a necessity amid the COVID-19 crisis, and we're sure hoping this trend is here to stay. If your bar cart is running dry and the fridge is looking depressingly bare, the Sunshine Coast has plenty of options to top you up.
Whether you enjoy craft beer, gin or a cocktail mixer, we've dug up the very best booze delivery and subscriptions the Sunshine Coast has to offer.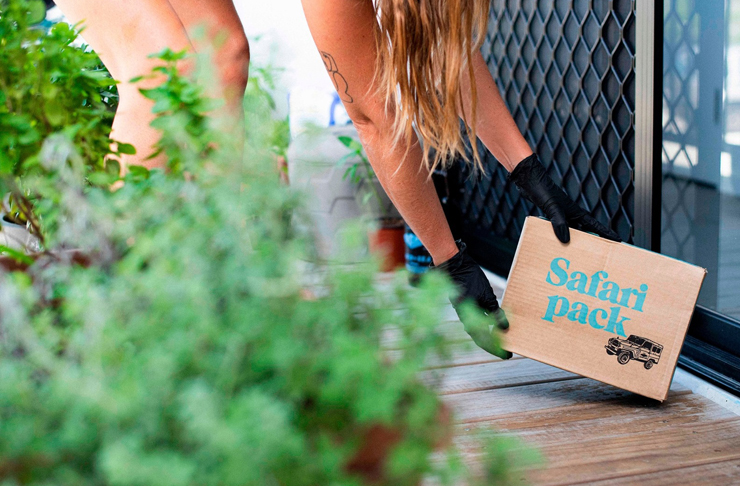 Local Delivery
Brouhaha Brewery
Our favourite brewery in the hills is delivering their sensational beers to Sunshine Coast doorsteps (from Bribie Island all the way to Noosa) every Tuesday, Thursday and Saturday, so you'll never be without a cold one. With all deliveries being made by Brouhaha's own staff in their refrigerated truck, there's a good chance you'll be able to pop open a can as soon as it lands. But, that's not all these guys are sending out of their Maleny brewery. You can also order mouth-watering 'heat and eat' meals and locally-sourced pantry essentials, including produce boxes, for a tiny $5 delivery fee. We're sold.
Land & Sea
Craving a drop of Land & Sea goodness? We feel you. Thankfully, the good Land & Sea crew are delivering straight to your door and we couldn't be more excited to stock our fridge with their goodies. We're a sucker for their First Point Pale Ale, so that's a good place to start, and you may as well add in a block of their beer soap, because it pays to be clean.
Your Mates Brewing
From their tanks to cans to straight to your doorstep, Your Mates Brewing is delivering the freshest of local beer across the Sunshine Coast. To guarantee delivery, order before 2pm the day before their Tuesday, Thursday and Friday drop-offs. Not sure which beer is your fave? Order The Whole Crew carton where you'll get to sample a mixed box of Larry, Donnie, Sally and Macca.
10 Toes
When 10 Toes Brewery opened, they had two goals: Build brewery. Make beer. They've more than succeeded in both. And now, with the coronavirus pandemic on our doorstep, they've ticked another to-do off the list with a website and delivery option. Hallelujah! So local you can taste the Sunshine Coast air in each sip, do yourself a favour and order a weekend's worth here.
Volando
If tequila is your weakness and you don't already know about new Sunshine Coast tequila brand, Volando, then now's the time to make the introduction. Delivering Australia-wide, their launch spirit, Volando Blanco Tequila, is smooth and balanced with a passing scent of caramel and baked agave—perfect for iso-life while you dream of a vacay in Mexico.
Boiling Pot
Soothe the sore spot of not being able to down a brew in Boiling Pot's leafy courtyard with a contactless delivery of their epic beer. DM your order to the team via their Facebook page, before their Thursday delivery-run and you'll be able to stock your fridge just in time for another weekend at home.
Heads Of Noosa
Get some of the best Sunshine Coast beer delivered for free when you hit up Heads of Noosa. Spreading their love of good times from Caloundra to Cooroy (eastern side of highway) you can check out all their offerings here, but whatever you do, make sure you add to cart some of the award-winning Japanese Lager.
Bagnum
A collab between local legends Built To Spill and Urban List, Bagnum is an easy-to-pour bagged wine that is every bit classic as it is boujee. Each Bagnum holds a whopping 1.5L of juicy Aussie wine from Sparrow & Vine with three wine varietals on offer: a Bagnum Sangiovese Rosé, a citrusy Semillon Bagnum (white) and a Nero D'Avola Bagnum (red).
Packing a heap of green cred too, Bagnums are packaged in an eco-friendly and fast-chilling AstraPouch—which has an 80 per cent lower carbon footprint than its typical glass iteration. It even has a smart nozzle that activates just by the tap of your finger (read: no leaks) and makes sure your Bagnum stays fresher for longer—sans cork contamination and potential oxidation. The limited-run Bagnum range can be purchased through Built To Spill at $44 a pop and delivered straight to your door. Order yours here.
Jimmy Brings
If it's fast booze delivery you're after, Jimmy Brings is your new best mate. Maybe your stocks have diminished mid Zoom party, maybe it's 5pm on a Friday and you've just realised there are zero weekend beers in the house. Jimmy Brings promises to drop off your drinks in under 30 minutes, and they have a big range of booze to choose from too. Prep for your espresso martinis, Negronis and G&T's with their stacked library of spirits, liqueur and mixers available; shop classic beers like VB and XXXX, get crafty with brews from the llikes of White Rabbit, Mountain Goat or Bent Spoke, or keep it clean with Jimmy's selection of natural and organic wines.
Subscription Services
Whisky Loot
Whisky Loot is about more than just guzzling whiskey—it's about education. For $59 a month or quarter, depending on your preference (a month, of course, these are trying times), you receive three 60ml tasting bottles of premium whiskey, tasting notes and a journal to start your notes. You can pick from a few types or regions, for instance, there's the American Box or the Traditionalist Box, to name two. Sign up here.
Unico Zelo
Unico Zelo is bringing the good vibes and the creativity with an extra special "Coronavino Care Package". Intrigued? Of course you are. Basically, it's a carefully and playfully selected mixed dozen delivered to your door, with 20% off and free shipping to sweeten the deal. Check it out here.
Good Pair Days
Built for the Netflix generation, Good Pair Days is all about discovering tasty, affordable wine from the comfort of your own lounge room. Through powerful (read: fun) personalisation tech (yes, it's a quiz), you'll be delivered new wines you're guaranteed to love, minus all the weird wine jargon. The packaging and tasting notes are super cute (and sustainable), so why not have a try here.
Gin Society
Gin Society is a membership program which not only includes a bi-monthly delivery of gin, but also cocktail recipes, articles and content, event invitations, and a luxe gift for first-time subscribers, which includes a crystal glass, cocktail spoon, jigger and strainer. Membership costs $95, paid every two months coinciding with the delivery of a premium bottle of gin from a small batch distillery. Don't expect Hendrix or Bombay Sapphire to be sent your way, you're going to be sent artisanal creations like Rivo foraged gin from Lake Como (wow) and Sheep Whey Gin made from Tasmanian native botanicals. Check it out.
Now that your fridge is stocked with boozy goodness, why not earn some brownie points and brighten someone's day with the Sunshine Coast's coolest gift delivery services?
Editor's note: Urban List editors independently select and write about stuff we love and think you'll like too. Urban List has affiliate partnerships, so we get revenue from your purchase.
Image credit: Land & Sea and Justin Aikin