Ask anyone what their five favourite cuisines are and we'd bet our lunch money that Italian makes it onto everyone's list. So with great palatable praise comes great responsibility, to not only deliver delicious meals to the masses, but to pay homage to the traditional recipes—some which have been handed down and perfected through countless generations.
Finding authentic Italian requires due diligence. Lucky for you, we've done the legwork and sorted the stayers from the players. You can say grazie mille to us later. Unbuckle your belt, here are 13 of the best Italian restaurants on the Sunshine Coast.
Lucio's Marina
Tewantin
This family-owned waterfront seafood trattoria and aperitivo bar effortlessly combines freshly caught seafood with premium local produce from the Noosa Hinterland, dishing up an exquisite menu that will keep you coming back, again and again. Lucios' Marina pays homage to northern Italian flavours, with a menu that will transport you to coastal Italy with a nod to local produce. You can't leave without trying the exquisite pesce del giorno, which consists of blue eye trevalla with seaweed butter on fregola sarda, peas and mint. As hard as it may be, try to save room for dessert, which will have you struggling to choose between lemon myrtle panna cotta and 'three milk' cake with Italian meringue.
Bocca Italian
Bokarina
When renowned Sunshine Coast hospitality icon, Tony Kelly, announces he is opening his eighth dining venue, you know it's going to be good. His latest venture, you ask? A stunning beachfront Italian restaurant in Bokarina. Bocca Italian is situated on a prime beachfront location at Bokarina Beach and emulates refined yet casual dining vibes. The 150-seater restaurant boasts panoramic ocean views, a sleek fit-out and even has a 14-seat private dining room for those more intimate occasions. Bocca Italian has a strong focus on fresh produce, serving only the best of the best in their signature pastas and pizzas, the latter of which come piping hot out of a stone base Moretti pizza oven imported from Italy.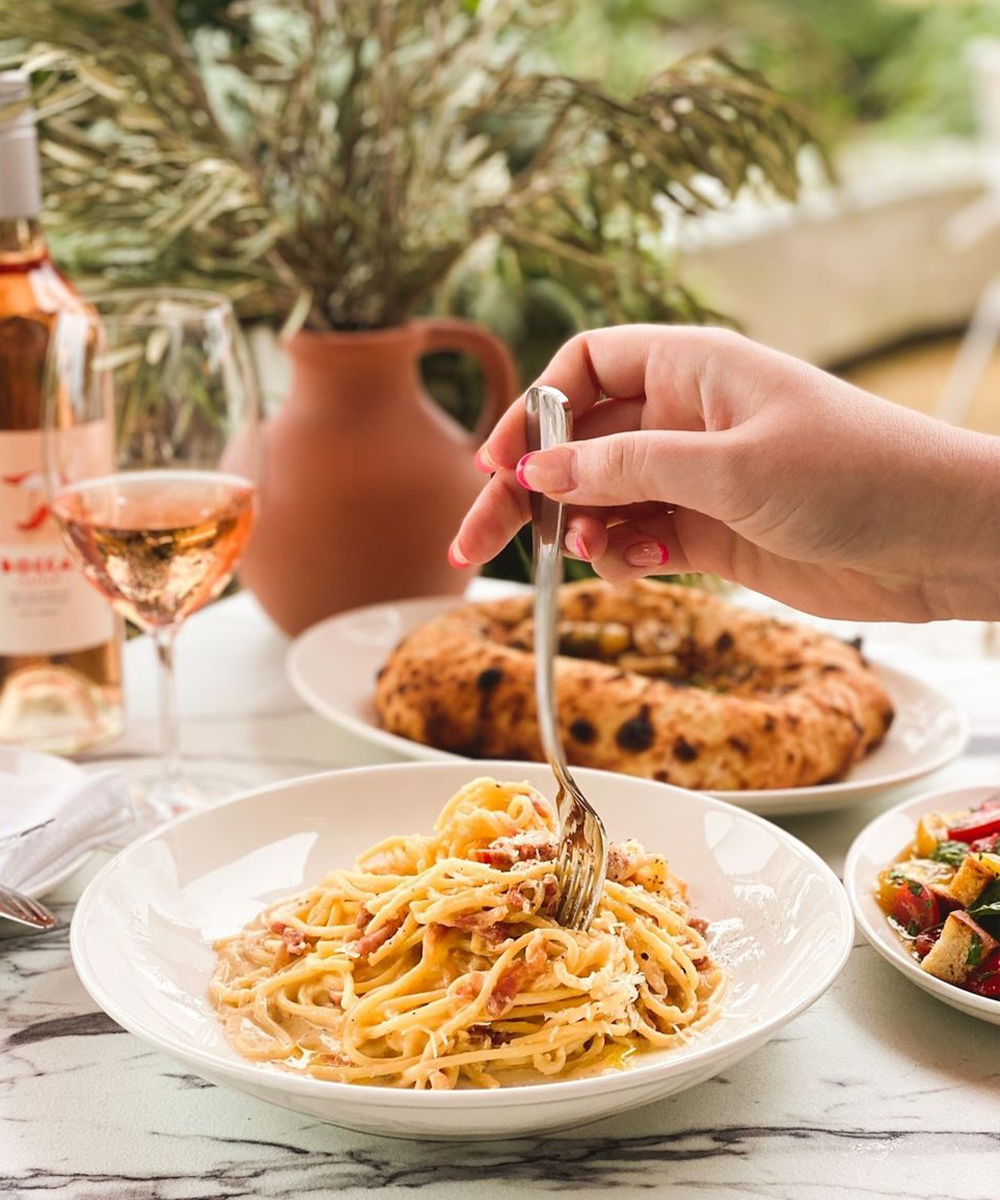 Bombetta
Noosa Heads
Channeling contemporary cool vibes, it's no secret Bombetta is a crowd favourite among the best Italian restaurants on the Sunshine Coast. Brought to you by the former owners of Gaston in Hastings Street, Bombetta is renowned for its Italian Stallion 11 inch, featuring mascarpone, parmigiano reggiano, confit garlic, artichokes, sliced prosciutto, lemon oil, rocket and house chilli flakes. Or if you're chasing a casual bite to eat, their antipasto plate is always a tastebud pleaser, as is the sizzling garlic prawns with chilli, oil, parsley, lemon and crusty ciabatta. Hands down, Bombetta is one of the best Italian restaurants to grace us on the Sunshine Coast.
Liliana's Trattoria
Maroochydore
The words 'authentic Italian' get thrown around alot, although venues often don't warrant the title, which comes with high expectations. Liliana's Trattoria is a rarity in this sense. Liliana's Trattoria is a sweet Italian joint located in the heart of Maroochydore, serving classic generational, homestyle Italian dishes inspired by Nonna Liliana. Liliana's touch is ever present throughout the menu—from her crumbed and fried pork shoulder and beef meatballs, to Italian focaccia filled with crescenzi cheese, to her beef cheek ragu gnocchi, to the extensive array of woodfired sourdough pizzas made in-house.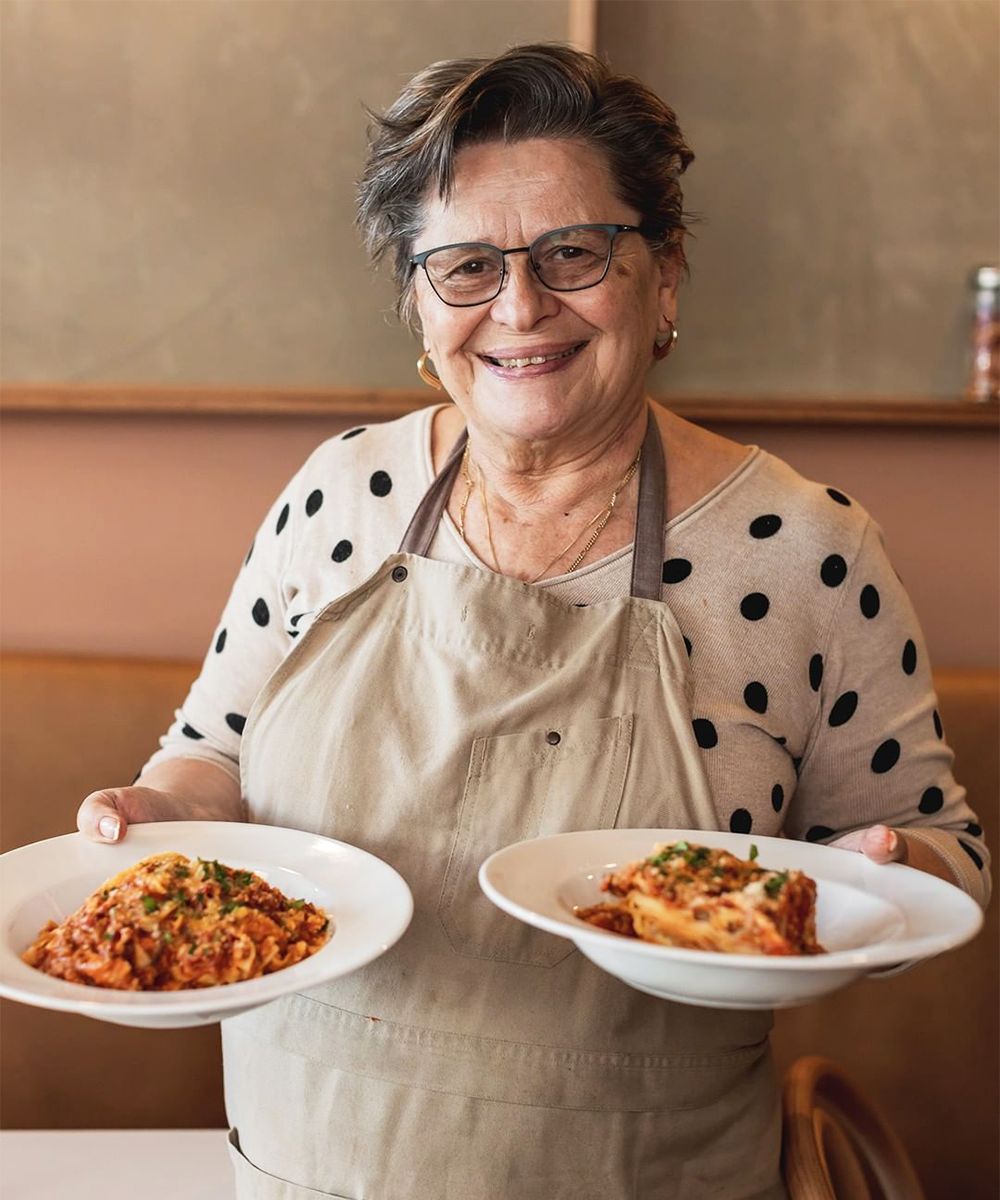 Locale Noosa
Noosa Heads
With so many sensational dishes on their menu, Locale is one of the best Italian restaurants located in the heart of Noosa on Hastings Street and is somewhere you need to frequent to really appreciate their offerings. Lucky for you, we're seasoned professionals and can point you in the right direction. We recommend the squid ink 'handkerchief' pasta with Mooloolaba king prawns, calamari, garlic, lemon, butter, basil and pistachio; and the slow cooked lamb neck, juniper, parsnip puree, cavolo nero, gremolata, peppers and vincotto.
Bella Venezia
Mooloolaba
Bella Venezia is the mamma of Italian dining here on the Sunshine Coast, opening in 1983 and recently winning first place in Australia's 'Top Everyday Eats' competition, according to Tripadvisor's 2021 Travellers Choice awards. And while the restaurant has undergone a facelift in the past year, their menu has largely stayed tried and true, just the way we like it. After all, if it ain't broke, don't fix it. It's hard to pick a favourite, with such a lengthy menu, but we can confirm that the slow-cooked beef cheek ragout with hand-cut pappardelle and monnalisa pecorino is a rich and glorious offering, best served with a glass of Shiraz. And the Florence pizza honours its namesake, laden with Italian tomatoes, spinach, sauteed mushrooms, pumpkin, roast capsicum and garlic aioli. It's no surprise Bella Venezia is rated as one of the Sunshine Coast's best Italian restaurants.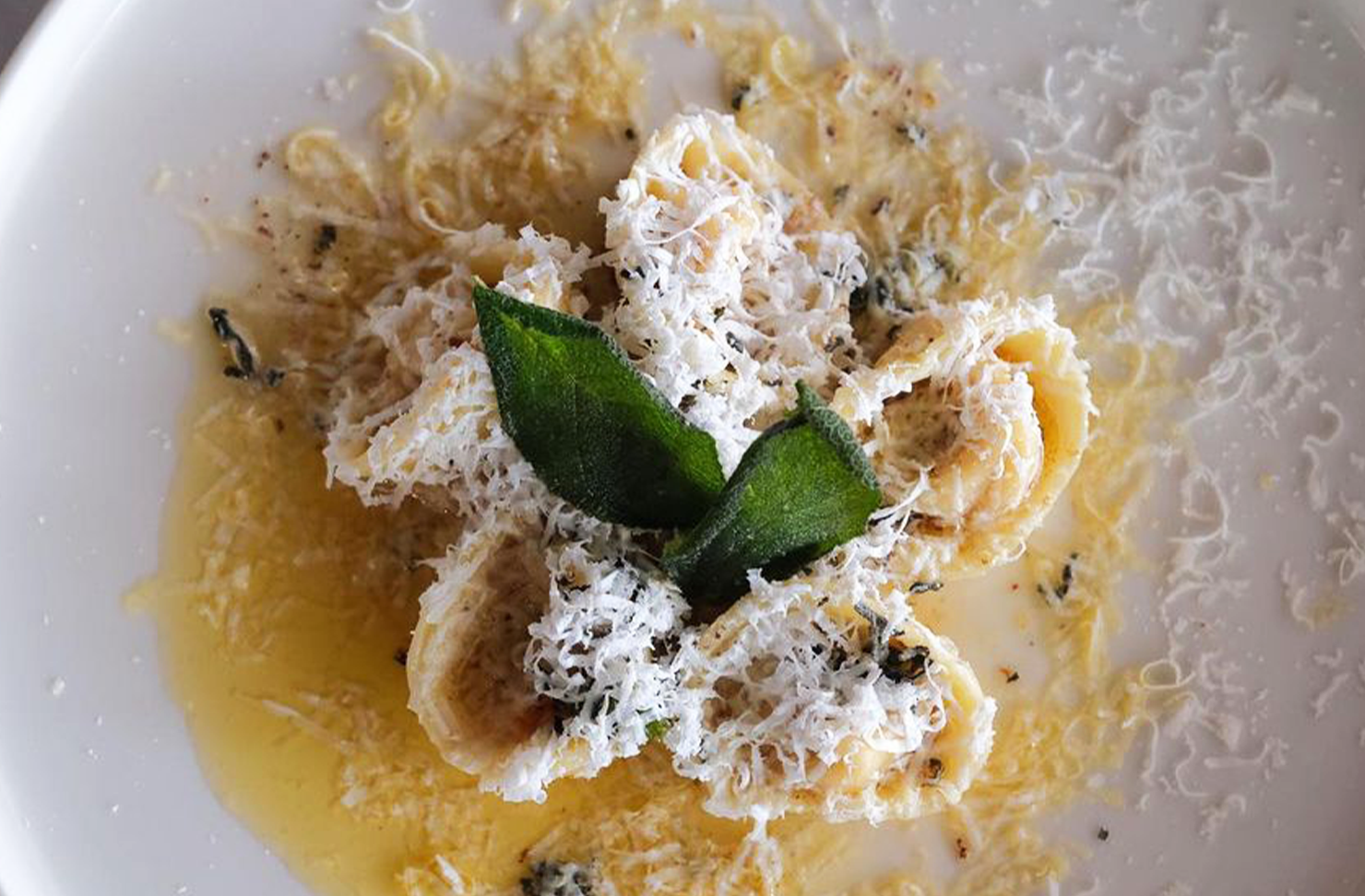 250 Grammi
Noosaville
Dining at 250 Grammi is reminiscent of an indulgent Sunday lunch in Naples, digging into generous servings and passing the plates around; it's all about a shared dining experience. So in keeping with this share-style dining, we recommend ordering abundantly from the menu, starting with the antipasti e stuzzichini selection, where the majority of ingredients have been imported from Italy, to make this experience truly traditional. It's this kind of attention to detail, which makes 250 Grammi one of the best Italian restaurants on the Sunshine Coast. That and their lemon sorbetto with vodka and prosecco. Go on, you know you want to order it.
Il Vento
Craving the depth of flavour that only a wood-fired oven can provide? Pay a visit to our friends at Il Vento—they're one of the incredibly ccool restaurants killing it at the Wharf precinct. Keep it simple with their authentic wood-fired margherita pizza, chow down on their wood-fired focaccia with mozarella, garlic and parsley or our personal favourite is the linguine con gamberetti with wild-caught prawns. Once done stuffing your face, if there's still room for dessert, you must devour their signature cannoli with ricotta, pistachio and honey. Hands down, one of the best Italian restaurants on the Sunshine Coast.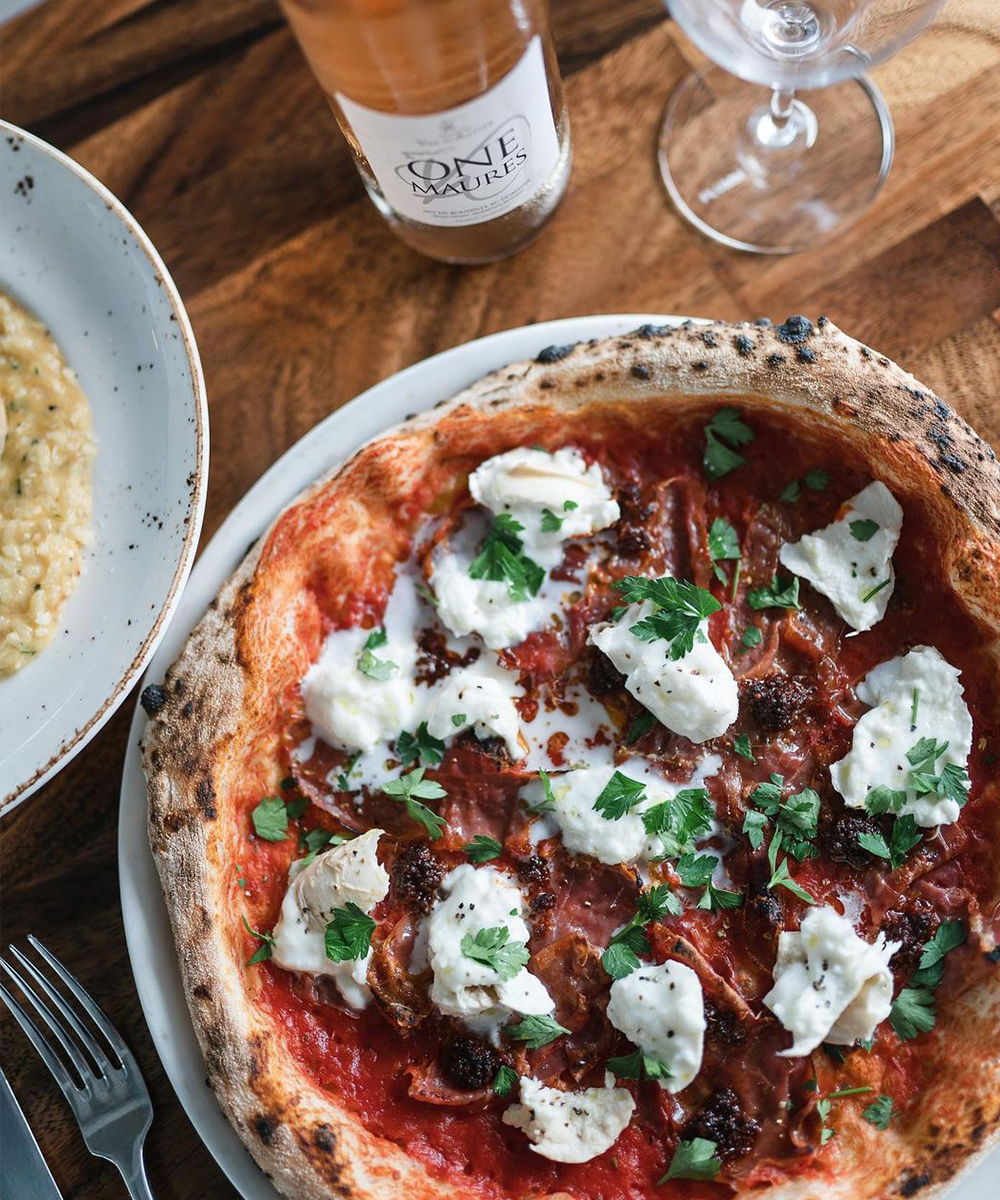 All' Antica
Buddina
Owners Shane and Helen have garnered quite the loyal following over the past 25 years with their traditional approach to Italian cuisine here on the Sunshine Coast. Stepping into All' Antica, it exudes a relaxed familiarity akin to a family-owned restaurant in a side street in Rome, and that's exactly what keeps us coming back for more. Forget about pretentious platefuls, All' Antica delivers on quality homemade food using a combination of local produce and imported ingredients direct from Italy to showcase the country's deliciously diverse regions.
Noosa Waterfront Restaurant & Bar
Noosaville
Italian food prepared by an actual Italian chef, you know you're in for a tantalising treat. Hailing from Milan, Andrea Ravezzani is a decorated chef and has brought his talents to the shores of Noosa and we're so glad he did. At Noosa Waterfront Restaurant, you won't find your standard run of the mill pizza and pasta offerings. Andrea is all about modern, contemporary dishes inspired by the culinary regions of his motherland, the only difference is these quality handmade dishes hero our locally-grown ingredients. Our fave way to enjoy Andrea's cooking is by settling into a degustation dinner or long lunch, overlooking the picturesque Noosa River, where each course is paired perfectly with wine. It sounds almost too good to be true, but that's what you get when you're dining at one of the best Italian restaurants on the Sunshine Coast.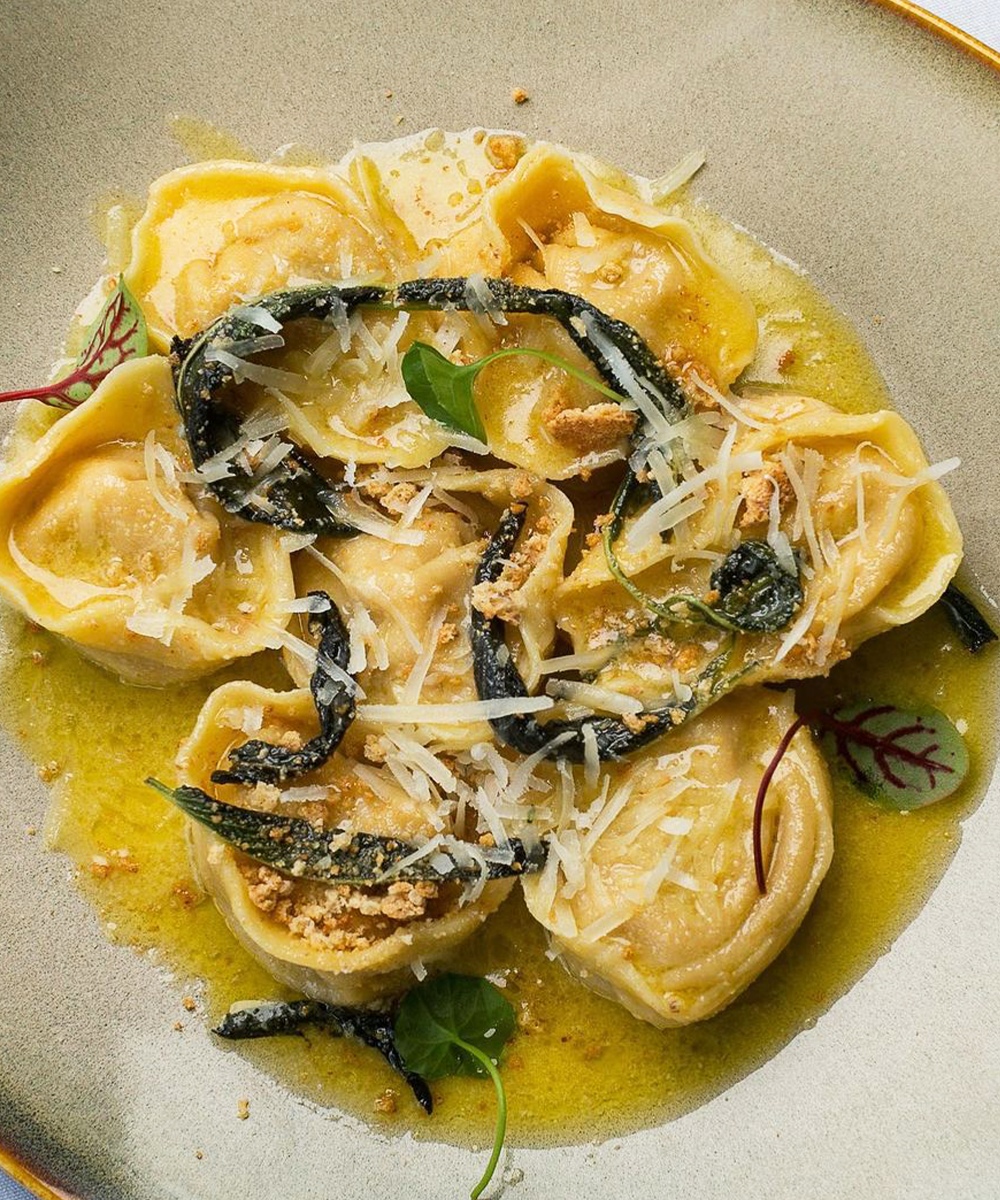 Bertoni's
Noosaville and Maroochydore
Another epic Italy export is the good ol' parmigiana, which Aussies have grown to love and take it on as their own, conjuring up some impressive flavour combinations. Here on the Coast, Bertoni's takes the title, boasting eight tasty toppings, including the classic with Napoli sauce, prosciutto and mozzarella; the Hawaiian take with BBQ sauce, shredded ham and pineapple; creamy mushroom, béchamel and spring onion; and the catch of the day, loaded with prawns, fish and scallops. If parmas aren't your style, they also have a hearty pizza and pasta menu—one thing is for certain, you won't leave Bertoni's hungry.
Amici Restaurant And Pizzeria
Caloundra
Gather your foodie friends and park yourself at a table at Amici. Born from the ethos of food shared among friends, this Italian restaurant in Caloundra is all about good times. There's loads of scrumptious dishes on the menu, but it's impossible to pass up their spaghetti marinara—fresh cut salmon, prawns, calamari, baby octopus, scallops and mussels in a garlic, cayenne, white wine and Napoli sauce.
Mr Mancino
Coolum
They don't come sweeter and more authentic than Mr Mancinco. This family-run restaurant in Coolum Beach prides themslves on doing things 'just like Nonna made it' and this ethos is present in every aspect of the restaurant. The casual venue has extensive pizza and pasta options, with some of our favourites including burnt butter, pumpkin and sage pasta, truffle pizza and the slow-roasted lamb shoulder.
Image credit: Lumea Photo & Amy Higg Photography for Urban List | Bocca Italian, Liliana's Bombetta, Belle Venezia, Il Vento & Noosa Waterfront Restaurant