There's nothing better than a sweet little holiday with your furry best friend. Mornings on the beach, salty afternoon swims, snuggles around the fire in the evening.
Let's be honest, when you're dreaming about the perfect vacay moment, it's your forever friend curling up at your feet after a big day that really puts the stars in your eyes. To make it easy for you, we've rounded up 10 of the best pet-friendly accommodation spots on the Sunshine Coast.
The Lizard Lodge
Verrierdale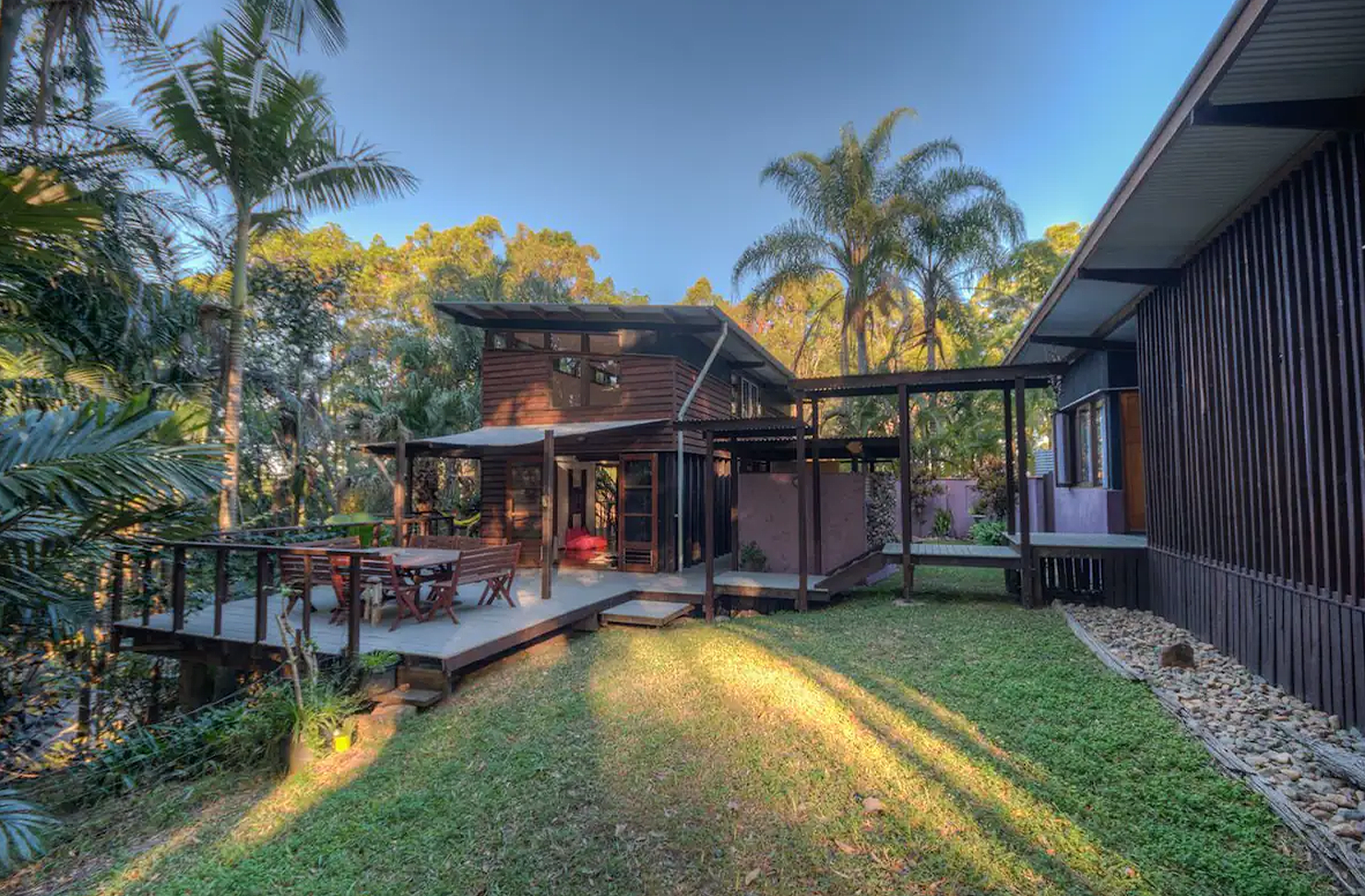 If you're after a rustic retreat set amongst the trees, you'll find that and more at The Lizard Lodge. Sprawled across two pavilions, the lodge features four spacious bedrooms, a country-style kitchen and a wrap-around deck, perfect for those afternoon barbecues. Sleeping up to 10 guests, this is the perfect place for a family getaway, complete with your four-legged friend. Book here.
Home in Coolum Beach
Coolum Beach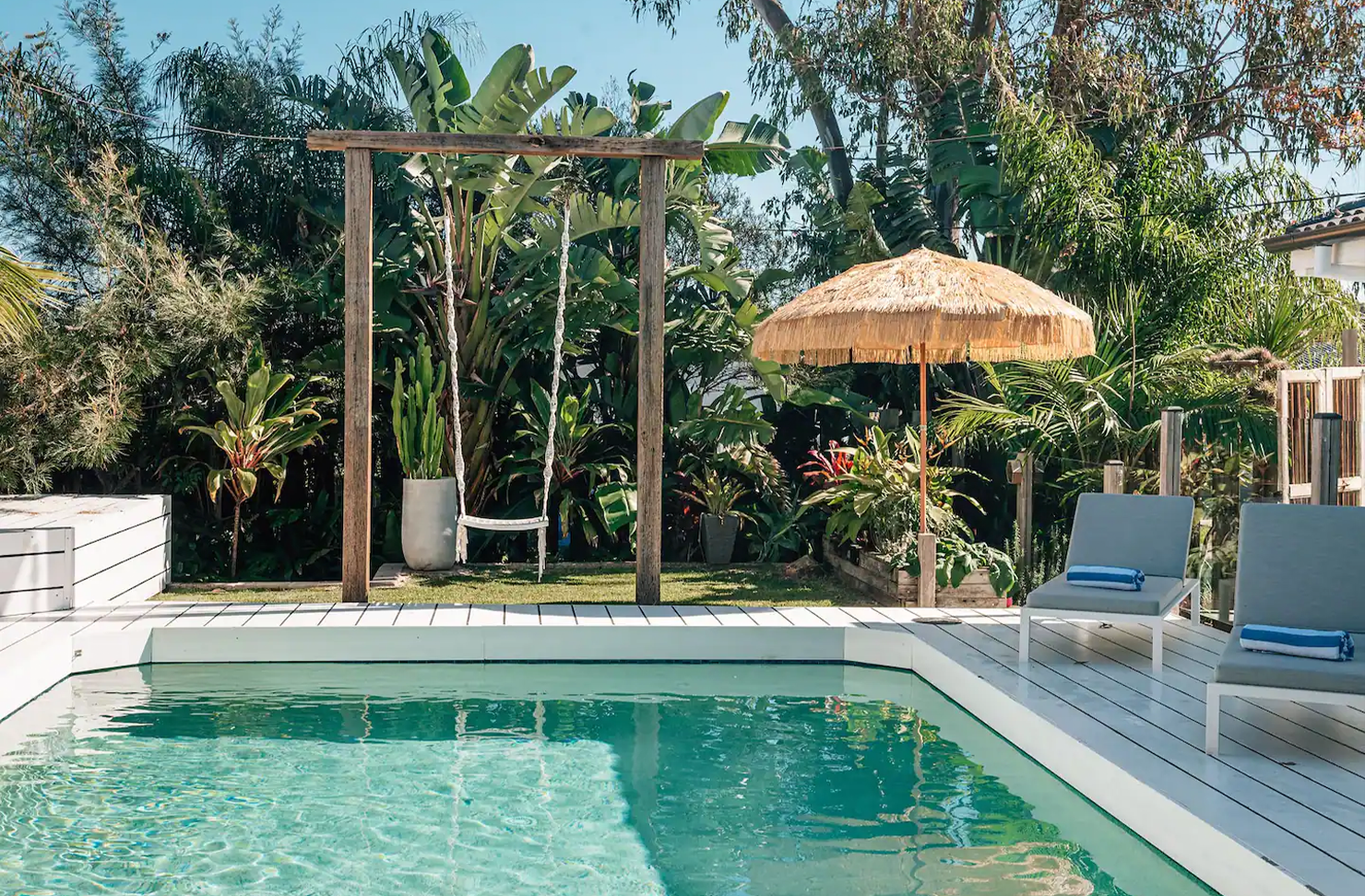 As you step into this stunning pet-friendly home in Coolum Beach you'll be greeted with a bottle of wine on arrival and it just gets better from there. Two streets back from the beach you'll find this hidden oasis perfect for you and your pets to relax and unwind. Designed for luxurious holiday comfort, this home features a large patio and outdoor daybed, a pool with a swing and of course, a lush private courtyard. The modern interior ensures this is a home away from home for you and the six lucky guests you'll have to bring along. Book here.
Treehaus
Valdora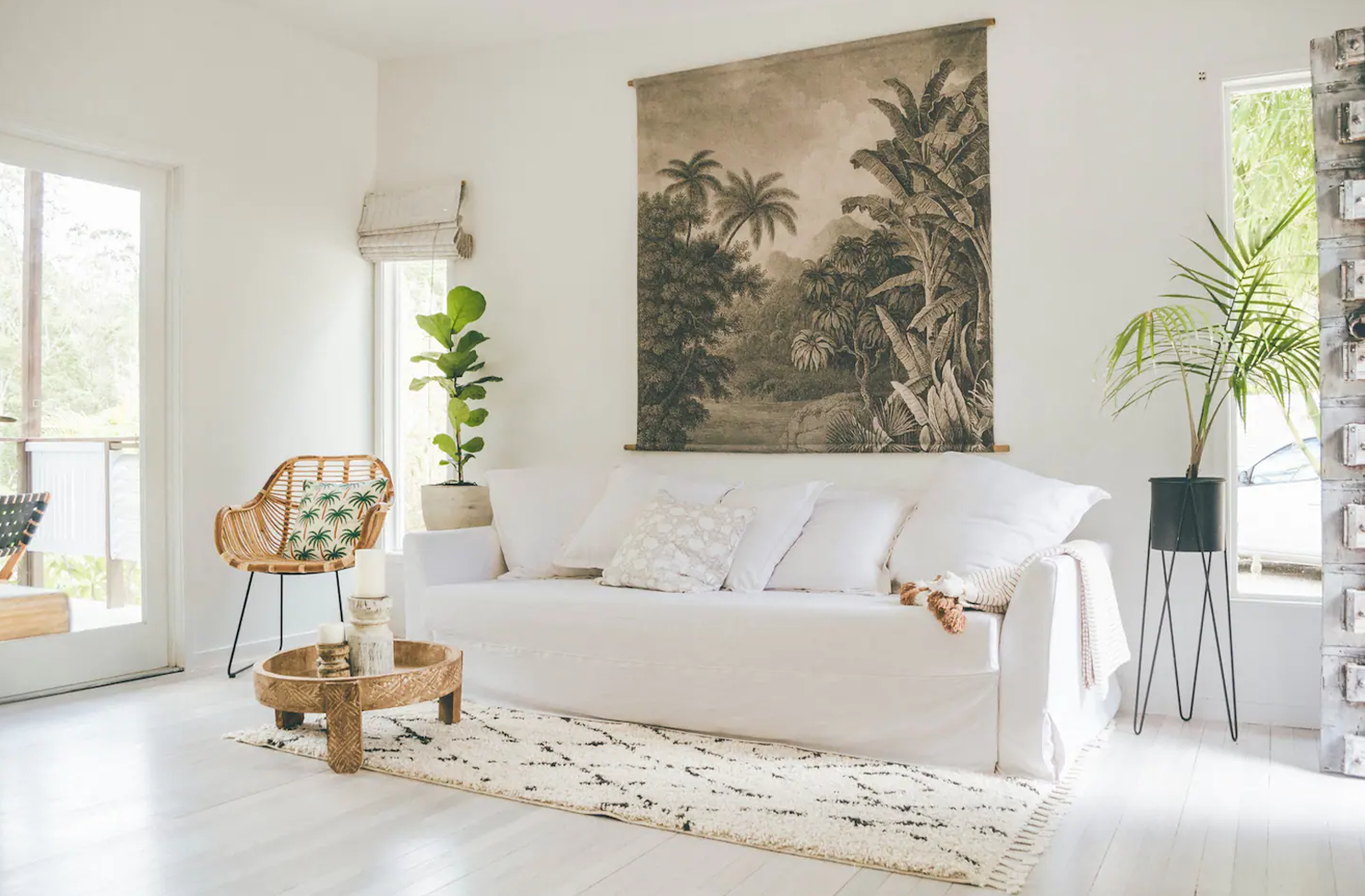 If you (or your pup) are a bit of a bohemian, then you're going to love this inclusion in our list of best dog-friendly accommodation on the Sunshine Coast. Treehaus is a luxury bush retreat, tucked in Valdora, behind Coolum Beach. A white boho-infused studio with loads of zen, this is a great central base to explore the best of the region. While it's not particularly set-up for pets, if you've got a laid back, little indoor dog, this could be the ultimate getaway for them, and you. Make sure to enquire with the owner first. Book here.
Seaview Shack
Moffat Beach
With plenty of space for families and their fur-babies too, Seaview Shack is the epitome of an Australian 1950s beach shack—with a modern upgrade. At the front, there is a two-bedroom shack that's a little piece of 1950's Australian beach culture and at the back, is a modern one-bedroom loft. Perched on a hill and only 300 metres from Moffat Beach, even though everything is close by, you're probably not going to want to leave this place. Oh, and there's a sauna, hot pool and plunge pool, which gets bonus points from us. Book here.
Little House On The Hill
Noosa Heads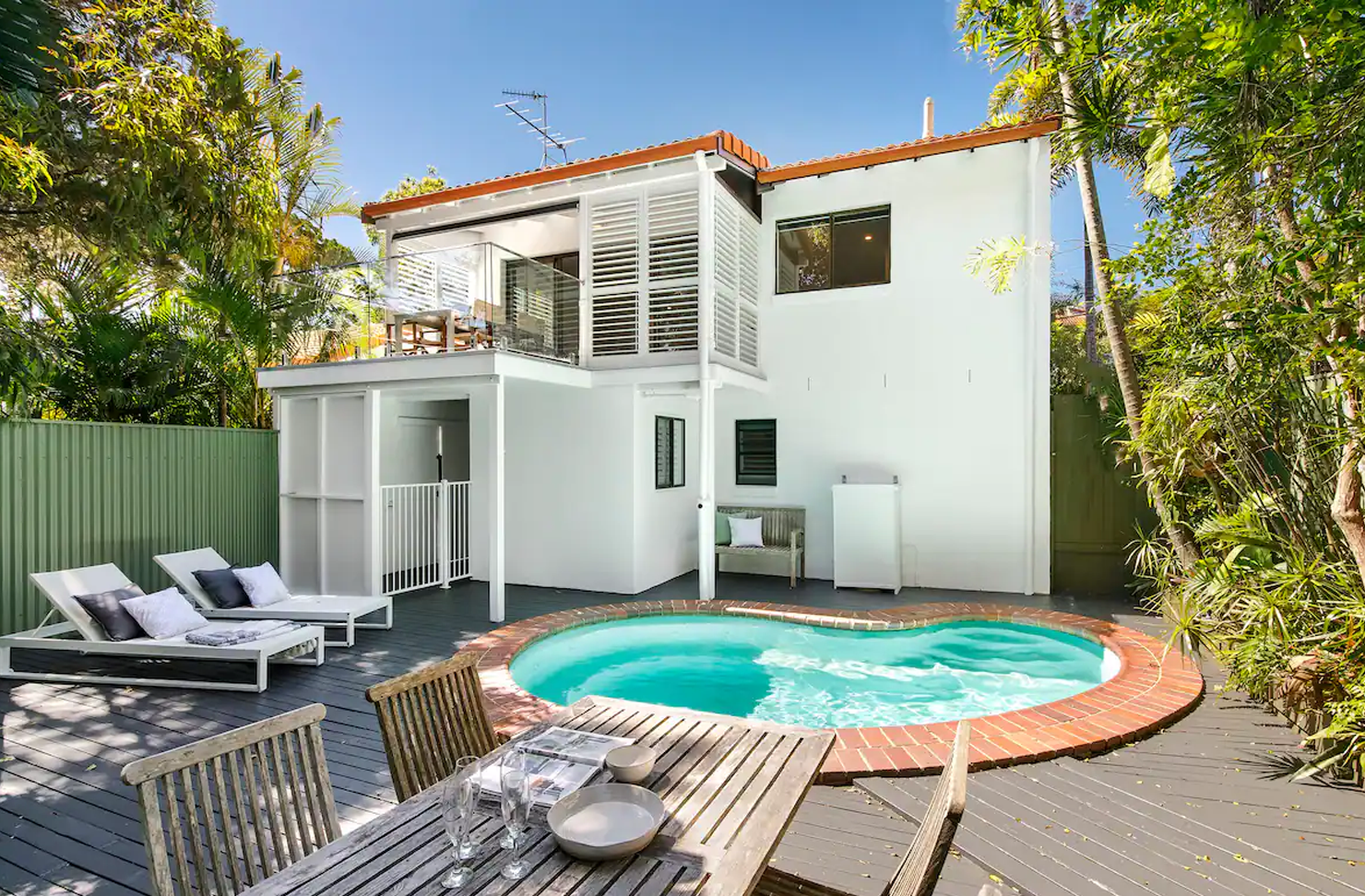 This two-bedroom townhouse will ensure you and your friends know only the finer things in life when it comes to vacaying in Noosa. Little House on the Hill is a spacious split-level villa that boasts upstairs balcony dining as well as a recently renovated pool and a lush tropical courtyard. It's also fully air-conditioned, has unlimited Wi-Fi and is only a ten-minute walk to Noosa Junction. No one in the family needs to miss out at this pet-friendly Sunshine Coast accommodation. Book here.
Cottonwood Cottage
Mudjimba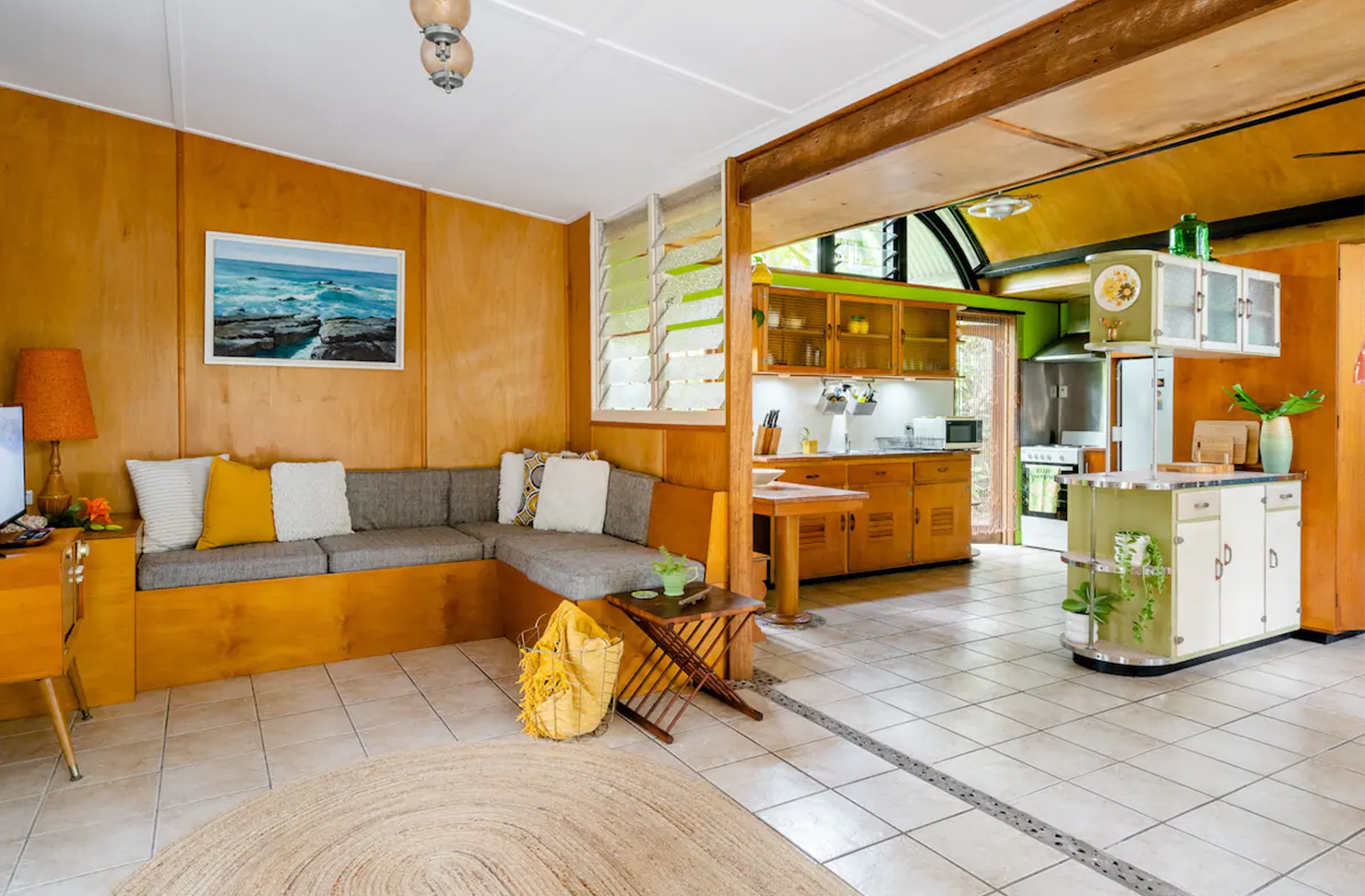 If you're looking for a quirky little 1950s cottage, close to the beach and perfect for you and your furry best friend. Cottonwood Cottage is the answer. The unique cottage house is packed full of charm and 1950's style and we can't get enough. This sweet beach getaway features one bedroom, a spacious living room and a large backyard for you and your pet to relax on the Sunshine Coast in style. Take a short walk to local cafes and shops for your morning coffee and puppuccino before heading to Mudjimba Beach—also dog friendly. Book here.
Behind The Dune
Alexandra Headland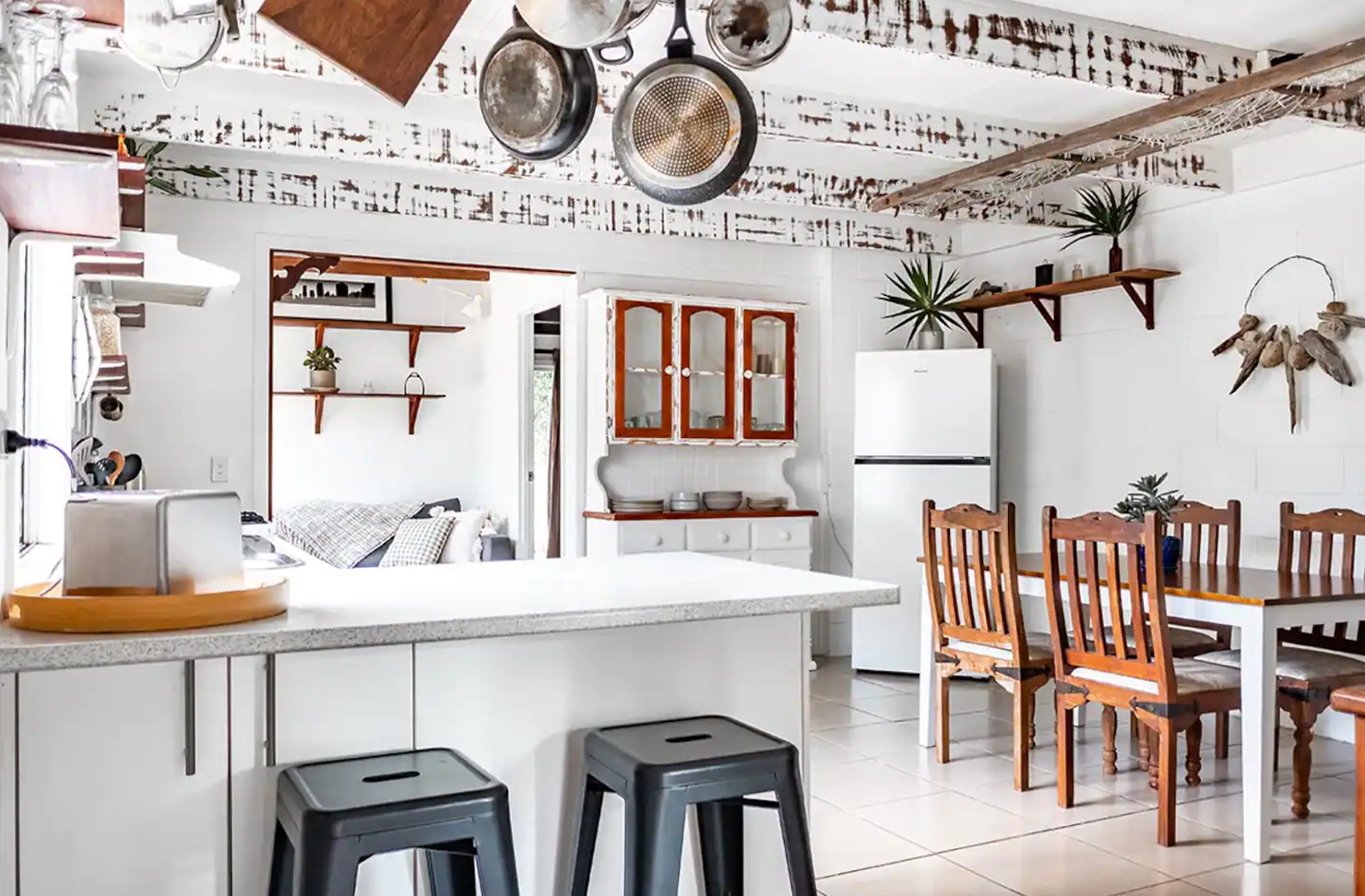 If you're looking for a central location in the heart of the Sunshine Coast, you won't beat Behind The Dune in Alex Heads. This two-bedroom Airbnb gives us home-away-from-home feels with exposed timber beams, wood furnishings, a hot outdoor shower, a vintage outdoor bath and a secure pet-friendly courtyard. A short walk to Alexandra Beach will take you directly to delicious beachside dining, cafes, parks and the local surf club. Book here.
Wild Duck Farm
Peachester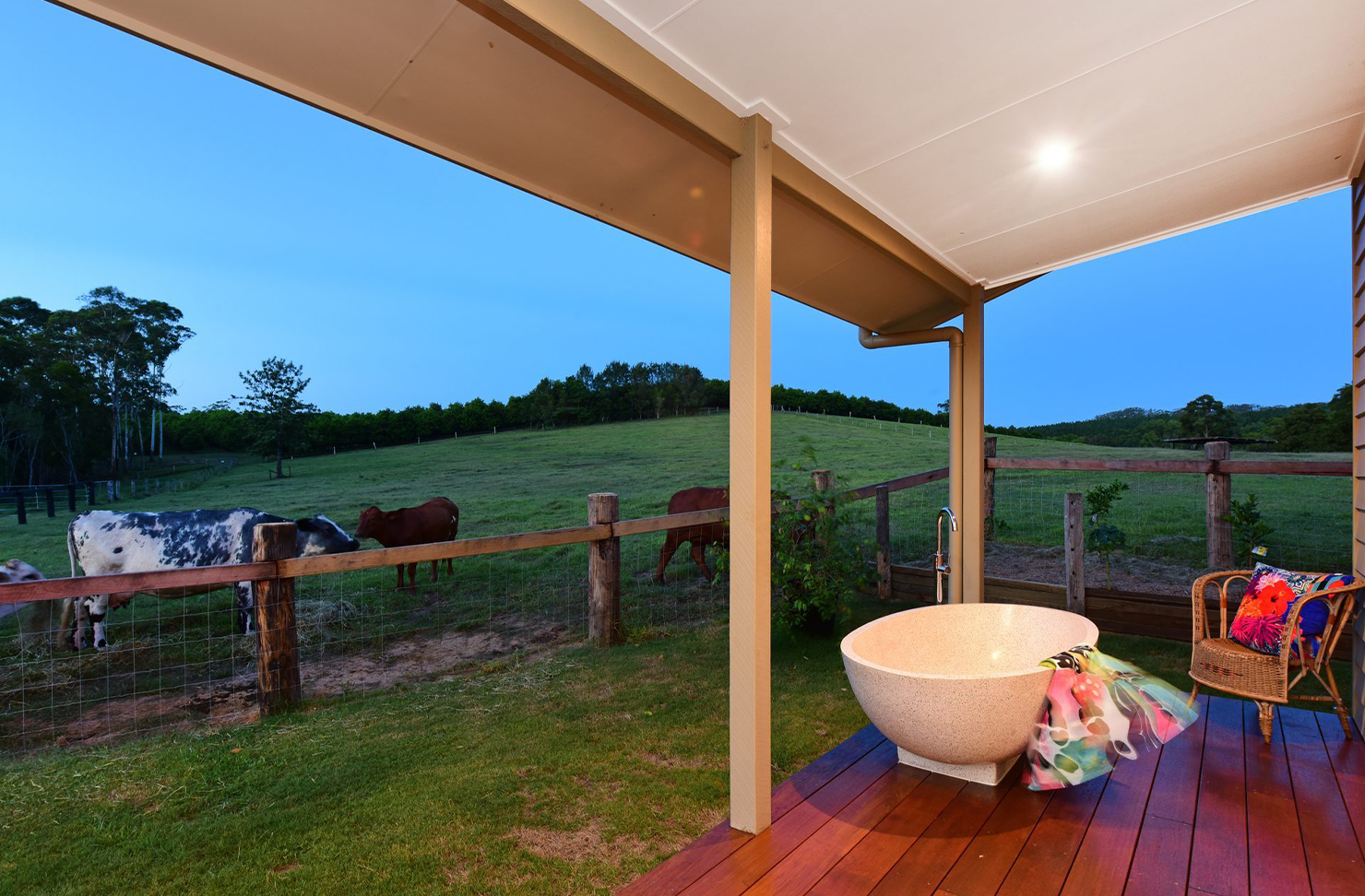 So you're sick of the 9 to 5 grind but know that come Monday you'll need to be once again at the ready? Wild Duck Farm could be your perfect weekend pick-me-up. A short 40-minute drive from Maroochydore could have you tucked away in this modern 35-acre rainforest-meets-farmland cabin. This private luxury farm stay will have you rested and rejuvenated as you gaze out towards the adjoining horse paddock, soak in the outside stone bathtub or rugged up in front of the outside fire pit—or cosy indoor fireplace. Complete with dog-proof fencing surround means your furry friend can join, but this Sunshine Coast farm stay hosts one couple and no children. Book here.
Sunny Beach Haven
Moffat Beach
This two-bed Sunny Beach Haven home, minutes walk from Moffat Beach and fully fenced, is the perfect beginning to your pet-friendly family holiday. It features a huge deck to host the family BBQ, a spacious kitchen and lounge area as well as a large backyard to keep the pets happy. It'll be even easier to switch into full holiday mode knowing all family member's needs have been met. Take the kids for a short walk to the beach or to Tooway Creek—an ideal gentle swimming spot for little ones. Or check out the off-leash dog beach slightly north of the creek. Book here.
Jacaranda Cottages
Maleny
Jacaranda Cottages in Maleny is the perfect Sunshine Coast hinterland retreat. Nestled in lush dairy farm country, six gorgeous and affordable cottages are spread across six acres, perfect for families and your fur babies too. Think: fireplaces, spas, cosy patios and rural views, and you'll start to get the idea. Book here.
Has this sparked your wanderlust? Hit up our list of best Sunshine Coast Airbnbs for more inspiration.
Image credit: Airbnb and supplied