If there's one thing we're seeking in a Sunshine Coast getaway, it's that one-of-a-kind roof over our head; the type of roof that separates our holiday from the next person's, and maybe throws a little Insta-envy in the face of our social followers, too.
Whether it's the ocean-view mansion or the hinterland homestead, when you're looking for somewhere to fuel your Airbnb lust, you'll want to have our list of the best 10 Sunshine Coast Airbnbs on standby. You can use the time we've saved you sifting through thousands of properties to pack those bags.
The Cottage Of Conondale Station | Conondale
Lovers of farm life, welcome to Conondale Station, a blissfully small but modern farmhouse cottage within one of the Sunshine Coast's largest working cattle farms; 930-hectares to be precise. Praising minimalistic design in support of lush valley views, Conondale Station provides the perfect getaway solution with its use of natural linens, recycled timbers, cotton and wool rugs, Mukti bathroom supplies, and a fireplace for chilly nights. Rise, shine and inhale the fresh country air as you enjoy complimentary breakfast provisions of freshly-baked bread, milk, farm eggs and locally-sourced Montville coffee. We know what you're thinking, and to confirm; yes, Conondale Station is as impressive as it sounds.
While you're there: Cruise along the backroads to Kenilworth, making sure you stop by Kenilworth Bakery to try your hand at devouring the infamous 1kg doughnut.
Waternest | Noosa
You've experienced waterfront locations but now it's time to push the envelope with a Sunshine Coast getaway at Waternest, a floating houseboat that remains docked right upon Noosa River for your stay. Between sunrise and sunset, enjoy hours embracing the riverside lifestyle with stand-up paddle boarding, BBQing, or checking out Noosaville's best restaurants and cafes within walking distance. This is one Sunshine Coast Airbnb you'll never forget.
While you're there: Put your feet on solid ground and wander down to Noosa Waterfront Restaurant for an Italian feast.
Poinciana House | Noosa
Poinciana by name, and by nature, this four-bedroom abode sits beneath one of the most majestic looking Poincianas you'll ever lay eyes on. If that isn't enough to set the tone for your Sunshine Coast escape, the open-plan living area, tiled bathrooms and sun-kissed pool will have you kicking back in no time. Make use of the bodyboards, surfboards and stand-up paddle boards generously supplied by your hosts, and be sure to venture out to nearby Hastings Street to dine at some of the best restaurants in Noosa.
While you're there: Dine at El Capitano's on Hastings Street; their pizza is to die for.
Mudjimba Beach House | Mudjimba
A humble nook of the Sunshine Coast, Mudjimba is often overlooked when it comes to holiday planning time. A not-so-typical beach house, designed for ultimate chill, Mudjimba Beach House is a lead runner in the accommodation stakes. Think splashed white walls, polished concrete, loads of foliage, hip décor, turntables and an indoor ping pong table. *Breath* Then, there's the massive deck, outdoor shower and BBQ. Clearly the hosts of this Sunshine Coast Airbnb want you to have a good time. Scrap that, they want you to have the best time.
While you're there: Grab your morning coffee from Island Surf & Espresso and when the afternoon rolls around, sip on a cocktail to live tunes at High Tide.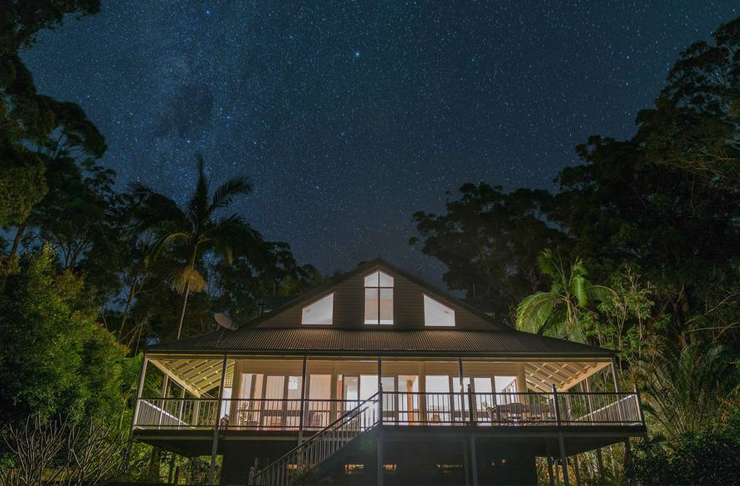 Amity House | Doonan
It's in Doonan where you'll find yourself checking into Amity House, a 1.4-acre property surrounded by lush bushland between Noosa and Peregian. The stylishly appointed four-bedroom Queenslander caters for you and nine of your besties with its sweet living space, mod-con kitchen, wrap-around veranda and outdoor pool area. One thing's for sure, it'll be a trip full of smiles and big belly laughs; you know, the ones brought on from quality time playing cards, board games and toasting marshmallows by the fire. Ahh, life is bliss when Amity House exists.
While you're there: Jump in the car and check out nearby coffee roastery Flying West.
The Pool House | Mooloolaba
When you plan to spend your Sunshine Coast holiday in Mooloolaba, you really want your home base to align with the cool-calm personality of the area, and one-bedroom coastal loft, The Pool House achieves exactly that with its internationally-curated furnishings from Morocco, Indonesia and the Greek Islands. Every nook of this Mooloolaba Airbnb boasts incredible character, from the lush forest green lounge, Armadillo rugs, SMEG appliances and natural bedlinen, through to the library loft accessible via ladder. The dining room overlooks a generously-sized pool, and further afield, the outdoor firepit sets the scene for sunset vinos and cheese.
While you're there: Get your brunch on at Velo Project or explore all the new restaurants at the Mooloolaba Wharf precinct, including Rice Boi, Ninth Street and Il Vento.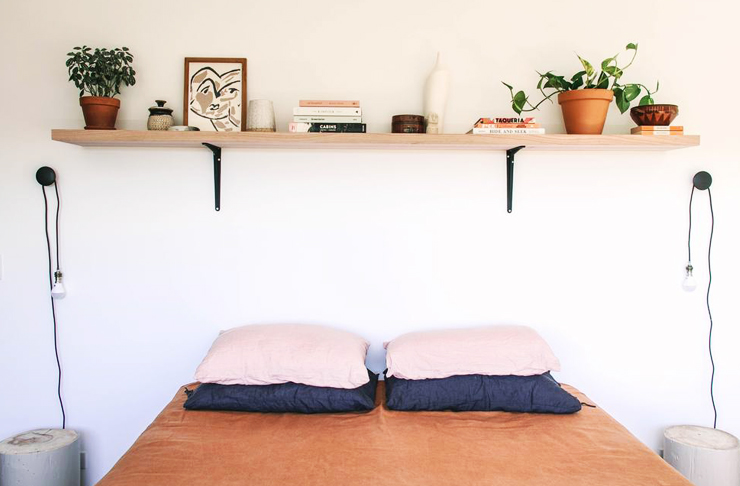 The Longhouse | Sunrise Beach
What do you call a place that makes time slow down and days feel longer? Well, The Longhouse seems right, and we're 100-percent for it. With a design line-up of earthy tones, linen sheets, woven baskets, feature artworks and lush plants, The Longhouse will undoubtedly sweep you off your feet. Spend days on the shore of Sunrise Beach, and starry-skied evenings BBQing up a feast on the back deck.
While you're there: Hit Noosa Junction and shop 'til you drop at Clo Studios and Abby Rose Bikinis.
Wildflower House | Noosa
Okay, you want sleek contemporary design that's two minutes from the crashing waves and sandy shores of Sunshine Beach. Well, you've got it at Wildflower House in Noosa. It's fresh, light, airy and exactly the kind of dwelling you'll wanna return to following a day of Sunshine Coast adventure. The master bedroom is an absolute dreamboat of a space featuring a four-poster bed, whilst the double bunk bedroom features a fun layout bound to amuse peeps, young and old. With a bus stop across the street, typically you'll find yourself meandering Hastings Street boutiques, but it won't be too long before finding yourself at home, wine in hand, for a sunset session on the back deck.
While you're there: Don't leave without feasting on the weekend yum cha at Embassy XO.
The Barn At Hill House | Eerwah Vale
Grab your best trackies and flannel, we're taking you to the valley of Eerwah Vale where you'll be nourished by the rustic charm of a restored 110-year old dairy. Life's going to want to slow down as you soak in the courtyard bath house, forage for vegetables in the garden, or lose moments sharing stories by the outdoor fire, all amidst a backdrop of rolling hills and hinterland views.
While you're there: Make the most of your visit and stop into Eumundi Markets for the freshest foodie supplies, aswell as Berkelouw Bookstore for a new pageturner—something tells us you're going to need one.
Little Red Barn | Doonan
Let the semi-rural vibes of Little Red Barn whisk you into a state of total relaxation with the epitome of a barn-styled, open-plan living area surrounded by lush Sunshine Coast hinterland. Located in 'The Golden Triangle' between Noosa, Eumundi and Cooroy, The Little Red Barn features three bedrooms plus a master with freestanding cast iron bath taking up space on the verandah; talk about wow factor. Spend the cooler months fireside with a bottle of wine and the warm seasons dunked within the concrete water tank swimming pool.
While you're there: If you feel like leaving the bath, pull up a stool at Copperhead Brewery in Cooroy and sink a few beers.
Feel like holidaying further afield? Here's our list of beautiful roadtrips you need to take from the Sunshine Coast.
Image credit: Airbnb