If there's one thing we're seeking in a Sunshine Coast getaway, it's that one-of-a-kind roof over our head; the type of roof that separates our holiday from the next person's, and maybe throws a little Insta-envy out there.
Whether it's the ocean-view mansion or the hinterland homestead, when you're looking for somewhere to fuel your Airbnb lust, you'll want to have our list of the best Sunshine Coast Airbnbs on standby. You can use the time we've saved you sifting through thousands of properties to pack those bags. We've got your next staycay sorted with 15 of the best Airbnbs on the Sunshine Coast in 2023.
Soul Beach House
Alexandra Headland | Sleeps 6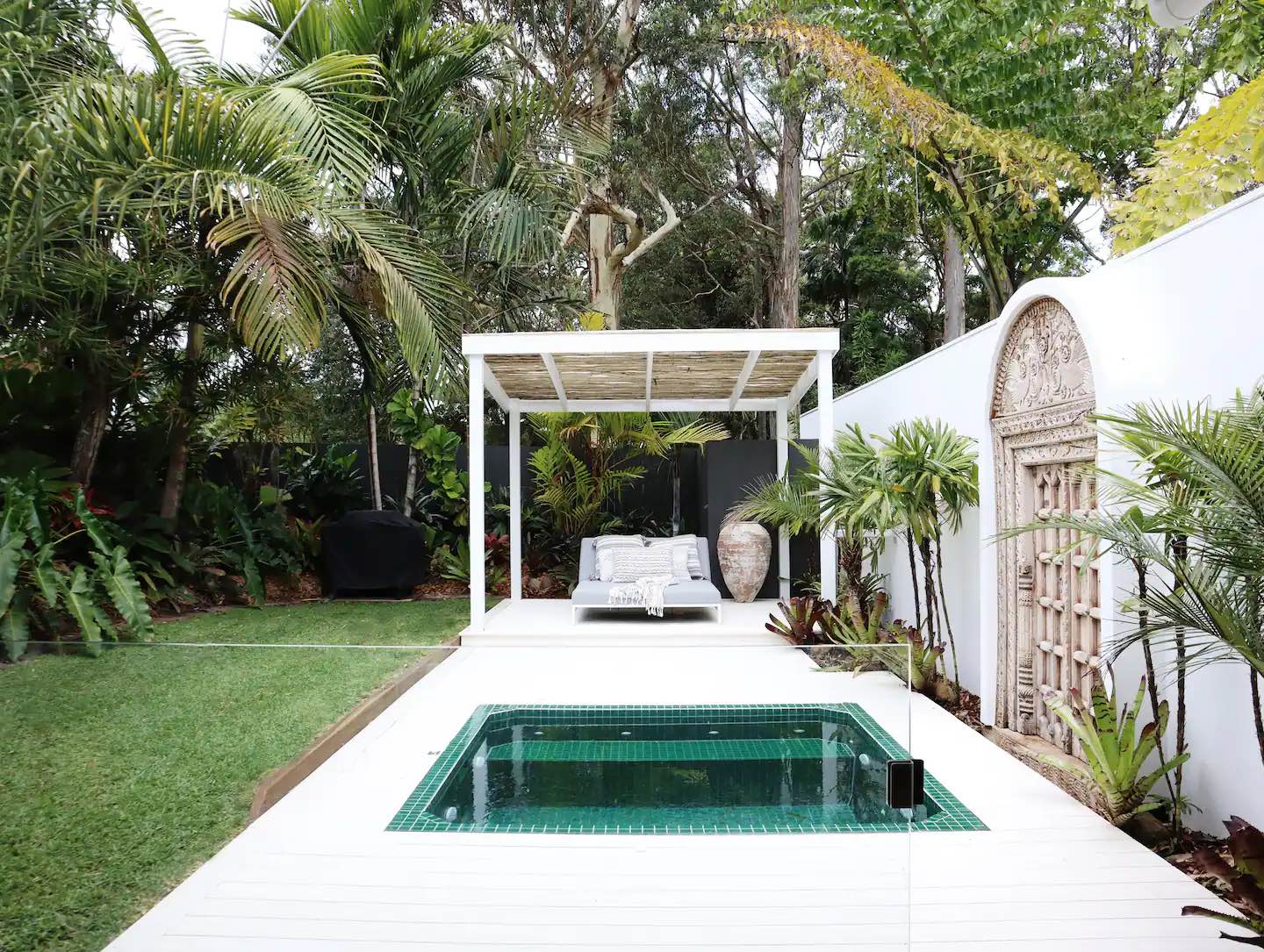 We've got three words for you—magnesium plunge pool. Yep, you heard us right. Ultimate relaxation starts at Soul Beach House's luxe getaway stay with their magnesium plunge pool, daybed pavilion, and the soothing sounds of the waves rolling in. Imagine starting your day with a walk to the beach, followed by a dip in the pool (and yes, it's heated), then spending the arvo sipping wine and snacking on cheese or whatever your heart desires really—it's your holiday, treat yourself.
Soul Beach House hosts one king and one queen bed as well as two single beds making it the perfect space for a getaway with your fam or friends. The Sunny Coast truly meets Palm Springs at this oasis, and it'll have you wanting to stay for—well, forever. Book here.
Oasis Floating Airbnb
Noosa | Sleeps 2
If you've always wanted to live out your island dreams in a floating villa, but never had the time for a trip to the Maldives, we've found an Airbnb that might just be your ideal weekend getaway. Just up on the Sunshine Coast is Oasis, a luxury eco villa floating on the Noosa River and only accessible by rowboat.
Wake up on this tiny houseboat and you'll find yourself in complete privacy, with only pelicans for neighbours. With space enough for a queen bed, kitchenette, dining table, bathroom and a large deck where you can enjoy the sunsets, the villa is almost completely enclosed in floor-to-ceiling windows. Book here.
The Cottage Of Conondale Station
Conondale | Sleeps 6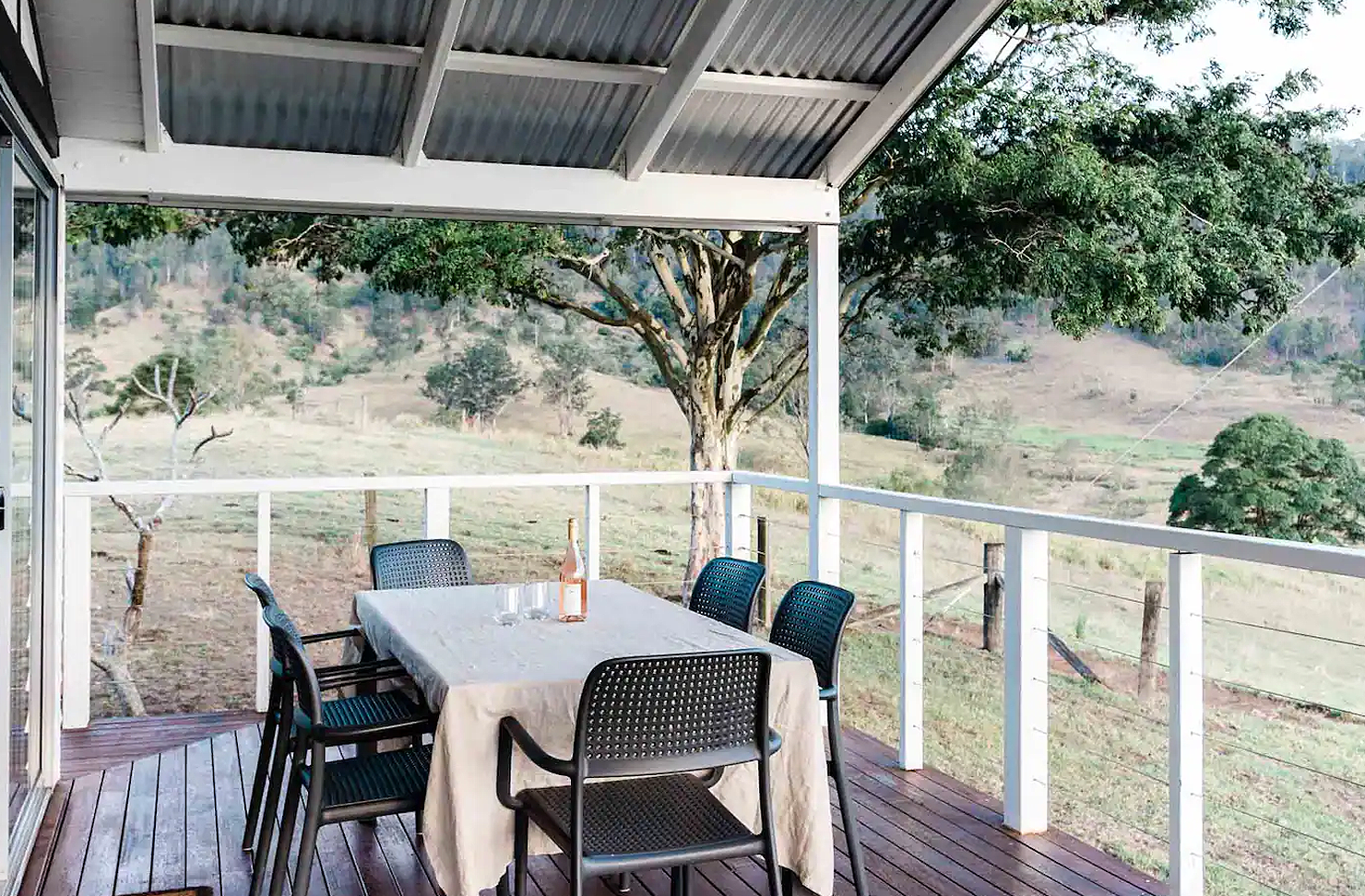 Lovers of farm life, welcome to Conondale Station, a blissfully small but modern farmhouse cottage within one of the Sunshine Coast's largest working cattle farms; 930-hectares to be precise. Praising minimalistic design in support of lush valley views, Conondale Station provides the perfect getaway solution with its use of natural linens, recycled timbers, cotton and wool rugs, Mukti bathroom supplies, and a fireplace for chilly nights.
Rise, shine and inhale the fresh country air as you enjoy complimentary breakfast provisions of freshly-baked bread, milk, farm eggs and locally-sourced Montville coffee. We know what you're thinking, and to confirm; yes, Conondale Station is as impressive as it sounds. Book here.
The Sunshine Bungalow
Sunshine Beach | Sleeps 2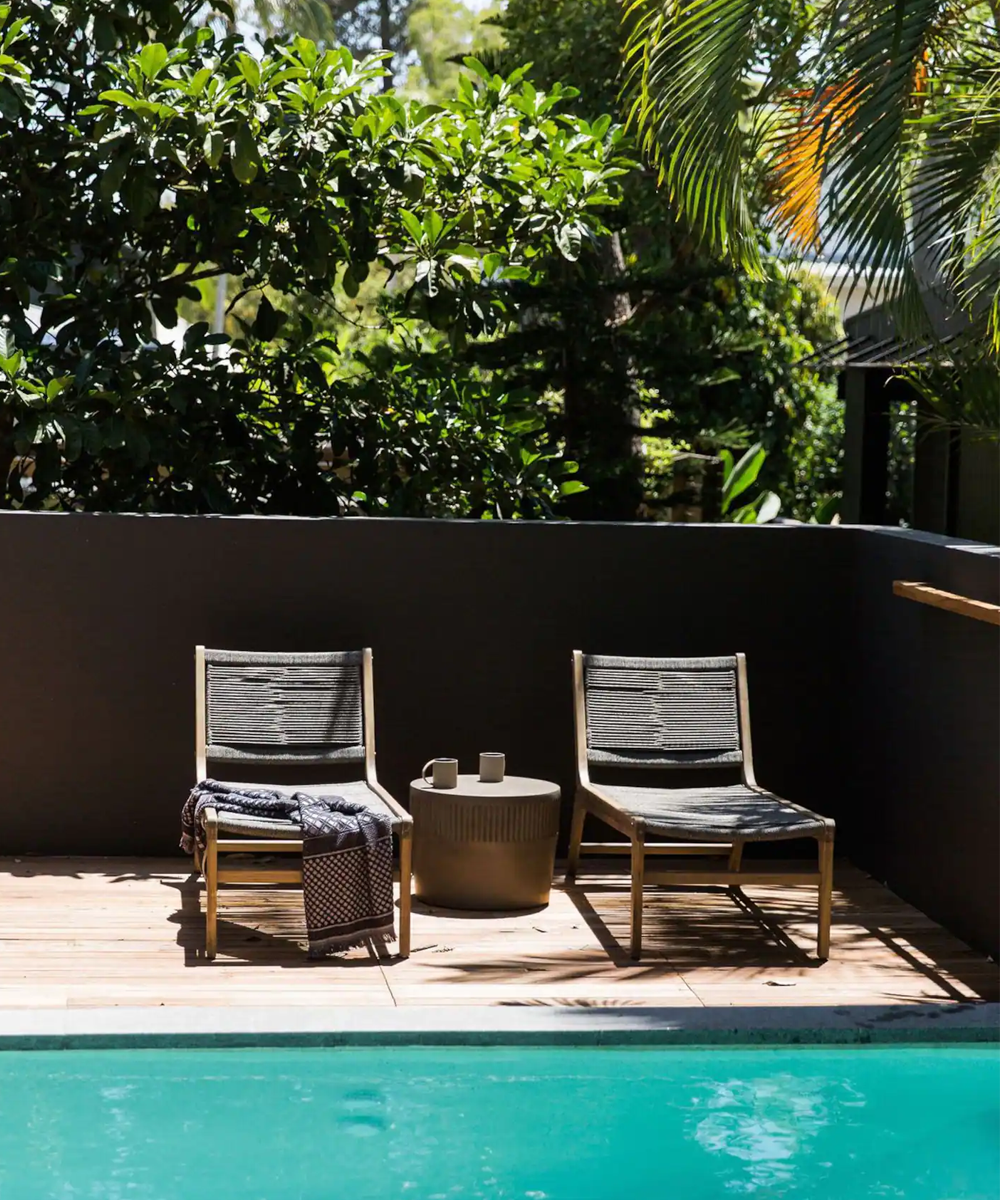 Tucked away in the heart of Sunshine Beach with room for just you and your beau (or bestie), The Sunshine Bungalow is nothing short of the ultimate summer oasis. Home to an incredible outdoor patio, luxe designer furnishings and a stunning outdoor pool, you'll have everything you need to switch off from the work week and soak up those summer rays.
And when it comes time for the sun to go down, turn on the outdoor lights and keep the party going with a poolside BBQ out on the deck. Soon enough, you too will be singing about those magical summer nights. Book here.
Noosa Treetop Eco Retreat
Noosa | Sleeps 2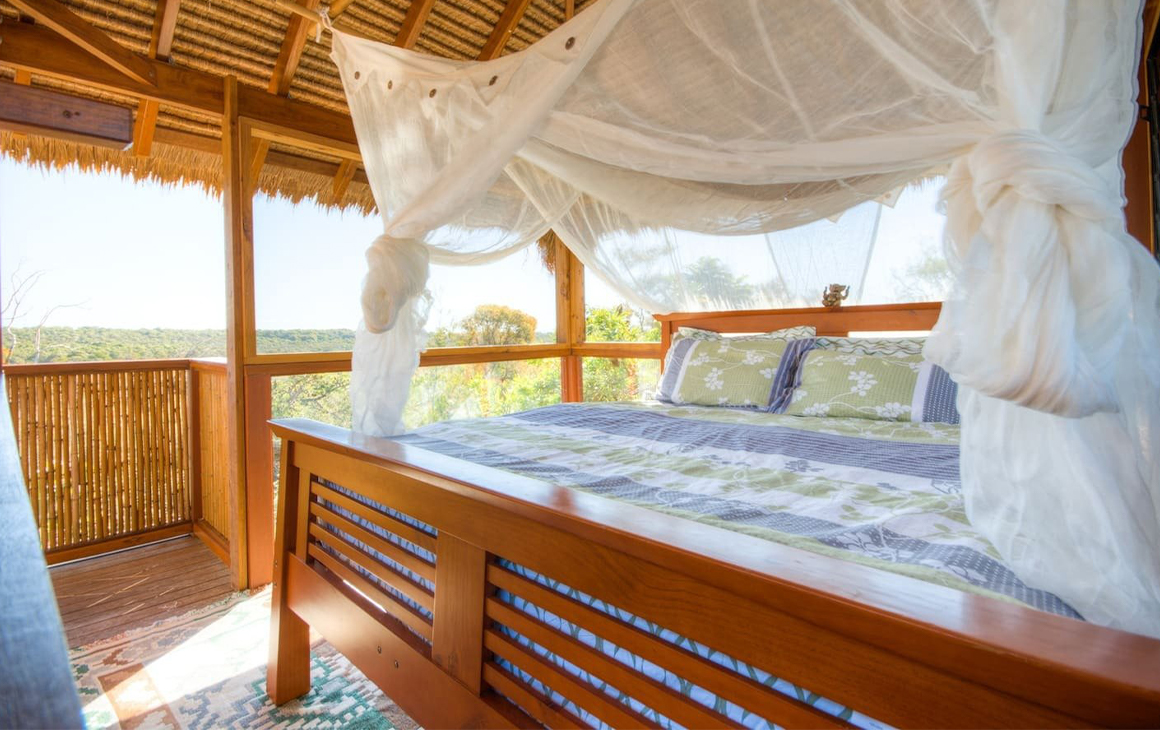 Ever wanted to stay in a treehouse? Now's your chance. The Noosa Treetop Eco Retreat promises a stay unlike any other. The bedroom is enclosed with glass, timber and bamboo and sits high above the ground, giving you incredible views of the sunset from the comfort of a king size bed.
Guests are treated to an outdoor candlelit bath, and can even book an in-house professional massage or yoga class.The beach and shops are all within walking distance, and on Wednesdays and Saturdays you can make the drive to Eumundi to visit the famous Eumundi Markets. Book here.
Eh Frame
Sunshine Beach | Sleeps 4
You might not be able to escape to the wooded forests of Canada right now, but we've got the next best thing. Walk through a winding forest path bordering on national park, and you'll reach the stunning Eh Frame. Inspired by the Canadian mid-century A-frame design, this unique Airbnb boasts exposed timber beams, a beautiful sleeping loft bedroom, top-of-the-range appliances and vintage decor.
Nestled in Noosa National Park, you'll be surrounded by the resident koalas and feel like you're immersed by nature, while still being close to the sleepy Sunshine Beach village. Eh Frame hosts two queen beds, so it's perfect for a two-couple getaway or even just an adventure with your pals. Book here.
Poinciana House
Noosa | Sleeps 10
Poinciana by name, and by nature, this four-bedroom abode sits beneath one of the most majestic looking Poincianas you'll ever lay eyes on. If that isn't enough to set the tone for your Sunshine Coast escape, the open-plan living area, tiled bathrooms and sun-kissed pool will have you kicking back in no time.
Make use of the bodyboards, surfboards and stand-up paddle boards generously supplied by your hosts, and be sure to venture out to nearby Hastings Street to dine at some of the best restaurants in Noosa. Book here.
Shackpalace Noosa Home
Noosa Heads | Sleeps 2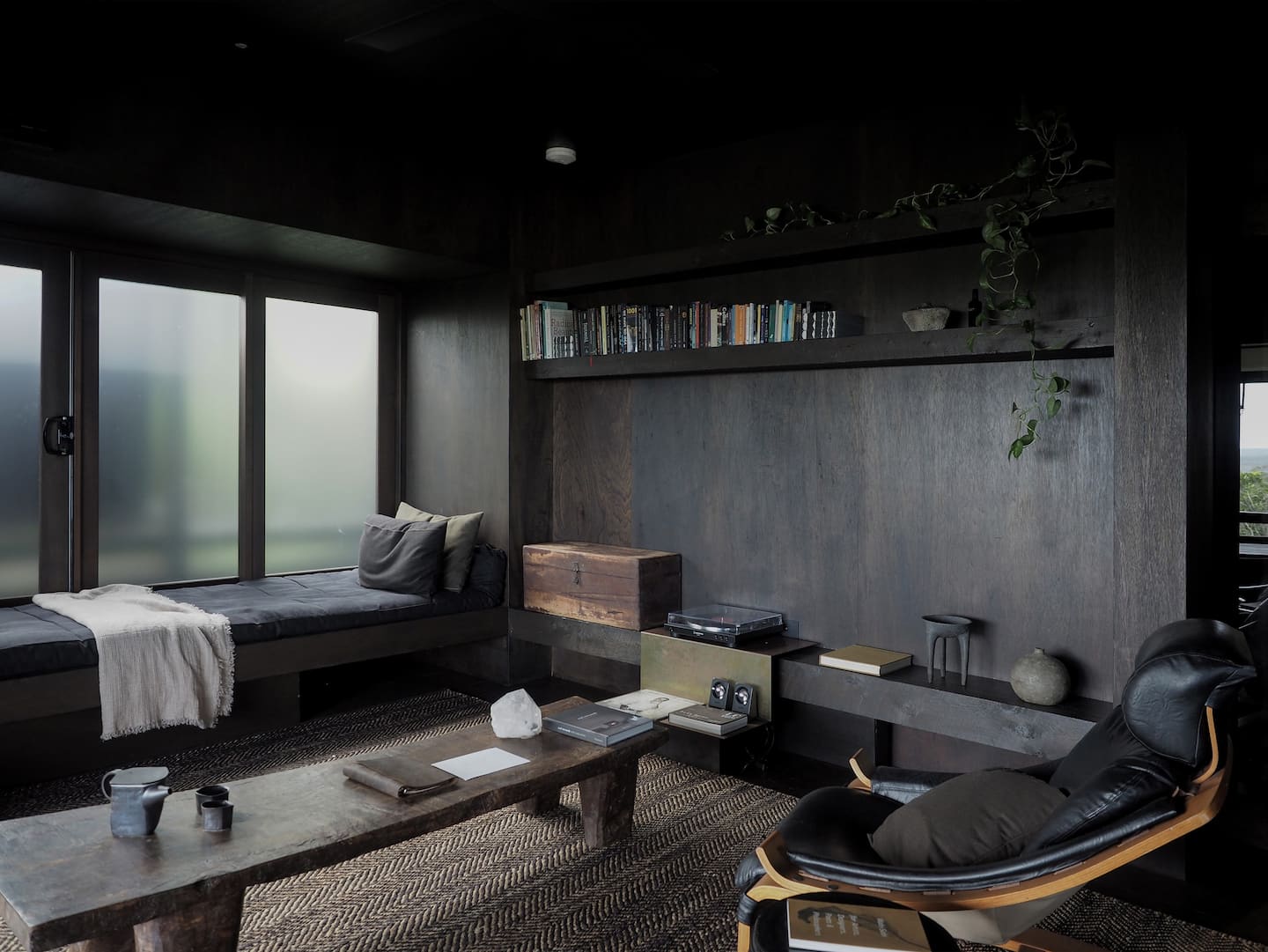 When you imagine architectural perfection, what comes to mind is probably something close to Shackpalace in Noosa Heads. Inside these modern walls are the sleekest interiors you'll ever see. The dark wooden furniture and liquorice-coloured walls create a truly immersive holiday experience where you'll feel calm, cosy, and disconnected from the world.
You can also admire the mountain views from the connecting deck and open-air showers. Shackpalace—aka dreamy beachside sanctuary—embodies zen which is exactly what the doctor ordered for your holiday. Book here.
Sparkling Pool Oasis
Noosaville | Sleeps 2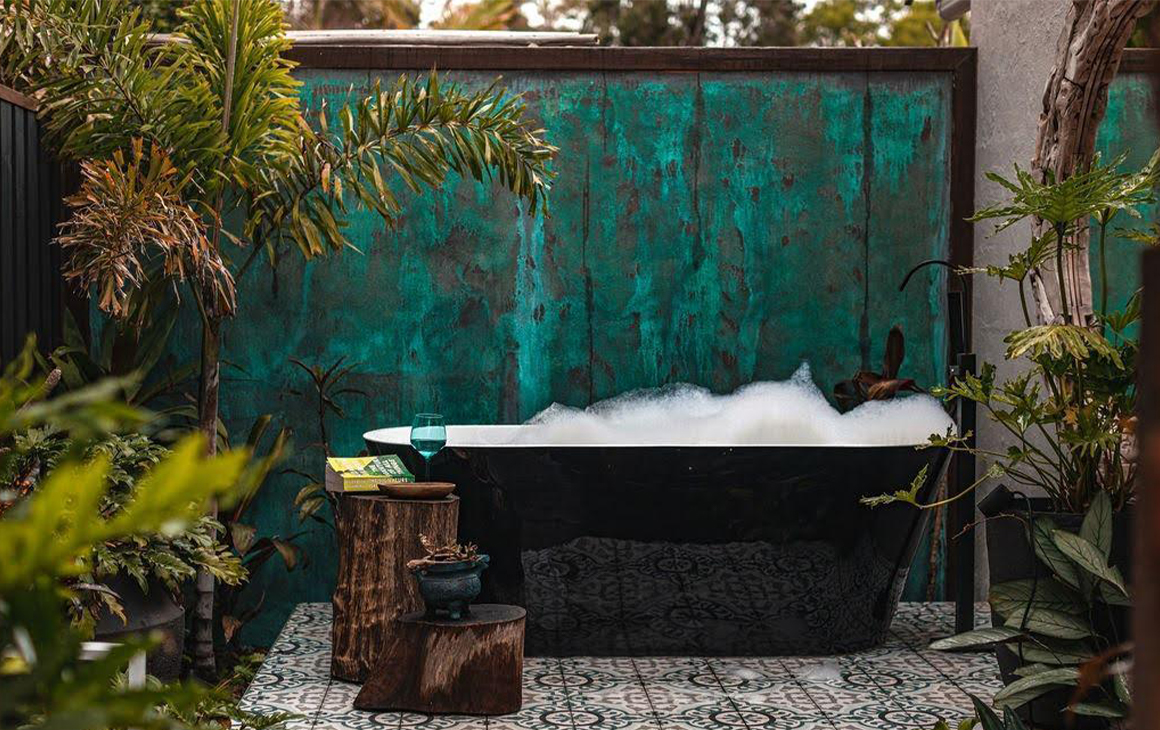 If you're looking for a getaway with your special someone then look no further than this picture-perfect guest suite in the heart of Noosa. The two-bedroom guest suite offers not just a stunning outdoor bath tub where you can relax under the stars, but a full private pool and outdoor shower.
There are plenty of hammocks and day beds to soak up the sun and leave all the stress of work behind for the weekend. We're about two seconds away from booking this top Noosa Airbnb out for the next three months so you better hurry if you want to beat us to it. Book here.
Hale Douglas
Sunshine Beach | Sleeps 2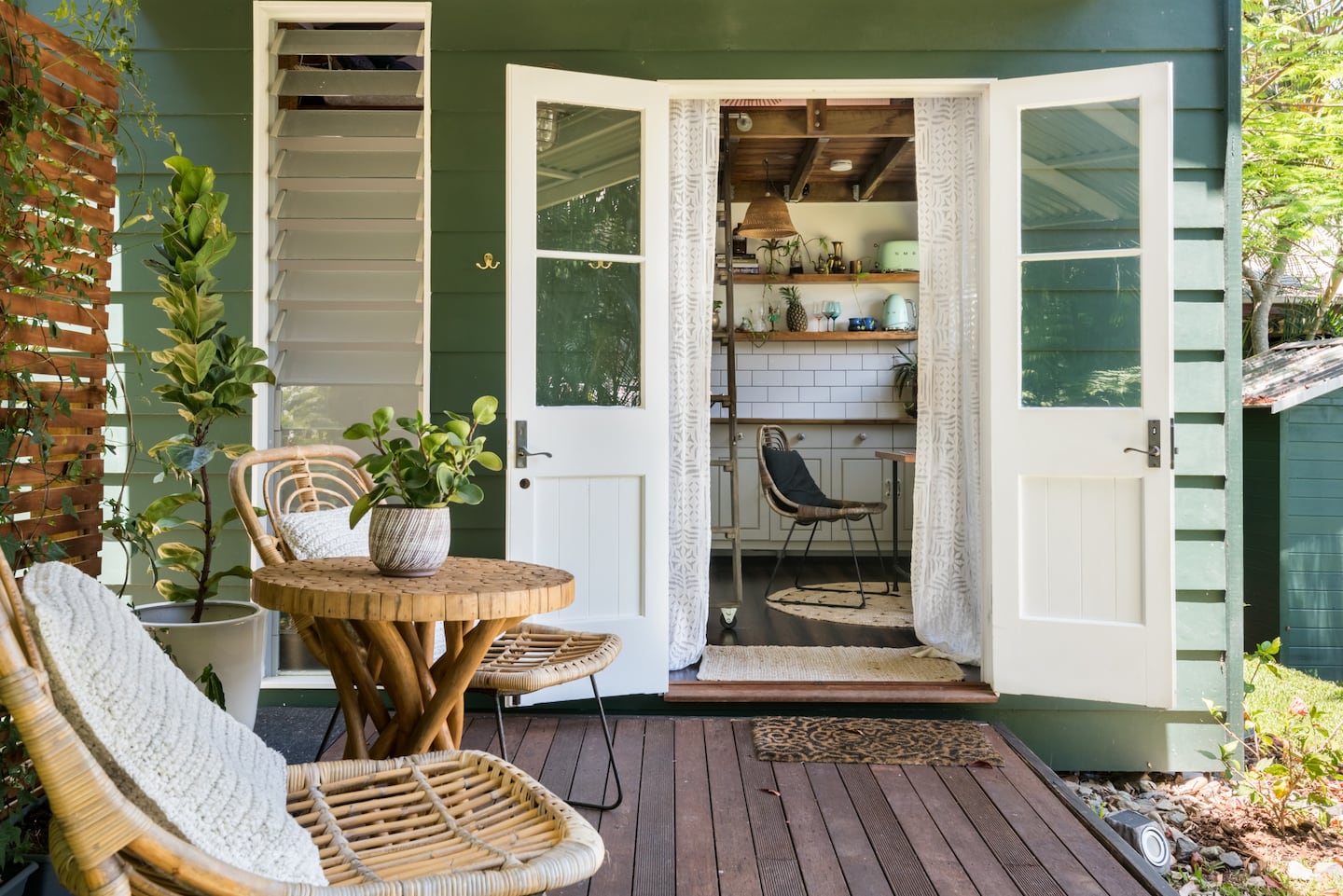 Tiny houses are all the rage right now, and thanks to Hale Douglas, it's no wonder why. The home has a retro Hawaiian surf theme, so prepare for plenty of pineapples, surfboards and hula skirts. Highlights include a well-placed skylight, adorable kitchen and plenty of top-range modern appliances to match the green colour theme.
Trust us, a stay at Hale Douglas is just what the doctor ordered—provided they're prescribing a mid-week vacay in a tranquil summer oasis. That's what's on our scripts, anyway. Book here.
The Palm & Pool House
Mooloolaba | Sleeps 8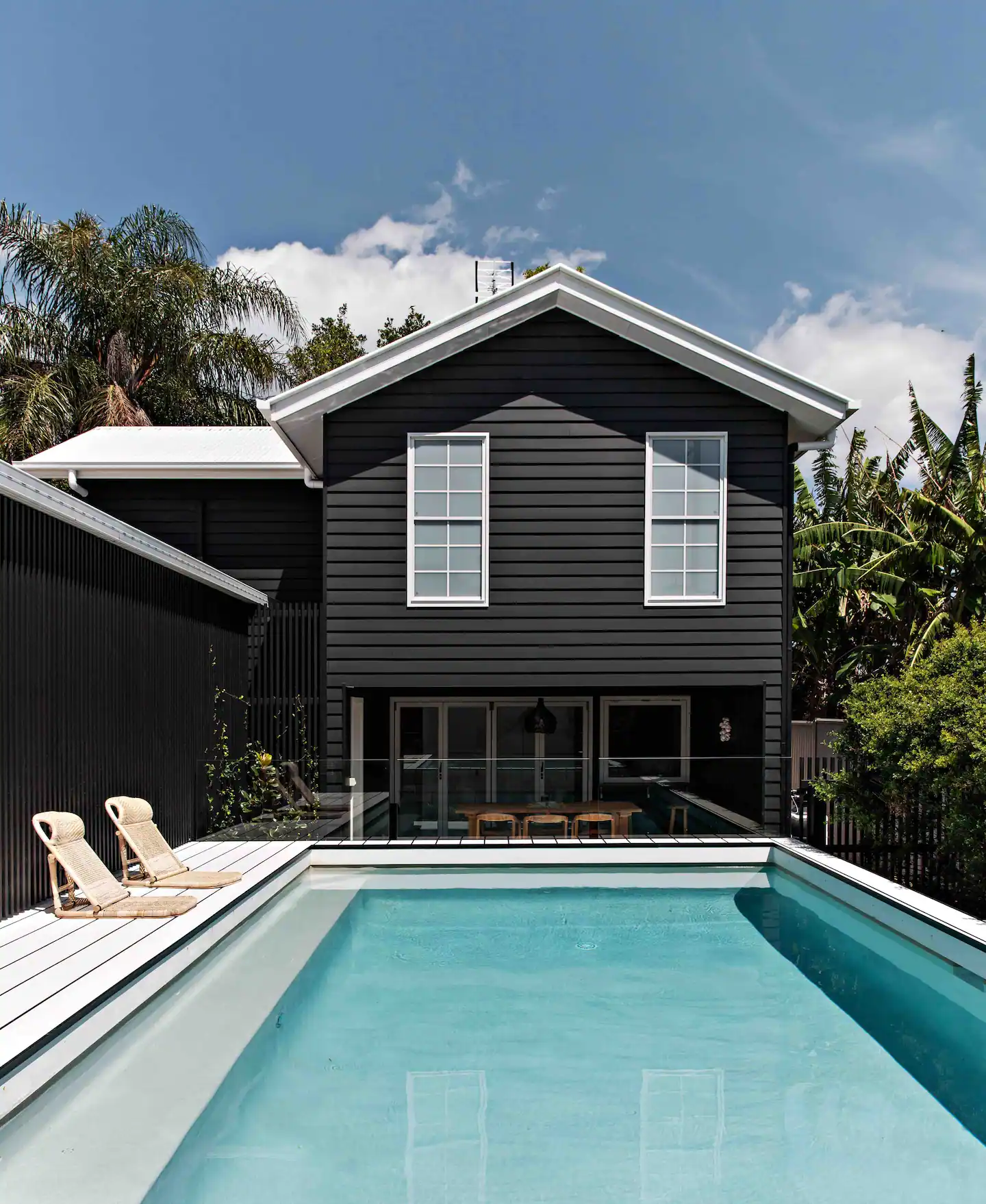 When you plan to spend your Sunshine Coast holiday in Mooloolaba, you really want your home base to align with the cool-calm personality of the area, and one-bedroom coastal loft, The Palm & Pool House achieves exactly that with its internationally-curated furnishings from Morocco, Indonesia and the Greek Islands.
Every nook of this Mooloolaba Airbnb boasts incredible character, from the lush forest green lounge, Armadillo rugs, SMEG appliances and natural bedlinen, through to the library loft accessible via ladder. The dining room overlooks a generously-sized pool, and further afield, the outdoor firepit sets the scene for sunset vinos and cheese. Book here.
Wildflower House
Noosa | Sleeps 12
Okay, you want sleek contemporary design that's two minutes from the crashing waves and sandy shores of Sunshine Beach. Well, you've got it at Wildflower House in Noosa. It's fresh, light, airy and exactly the kind of dwelling you'll wanna return to following a day of Sunshine Coast adventure.
The master bedroom is an absolute dreamboat of a space featuring a four-poster bed, whilst the double bunk bedroom features a fun layout bound to amuse peeps, young and old. With a bus stop across the street, typically you'll find yourself meandering Hastings Street boutiques, but it won't be too long before finding yourself at home, wine in hand, for a sunset session on the back deck. Book here.
The Barn At Hill House
Eerwah Vale | Sleeps 5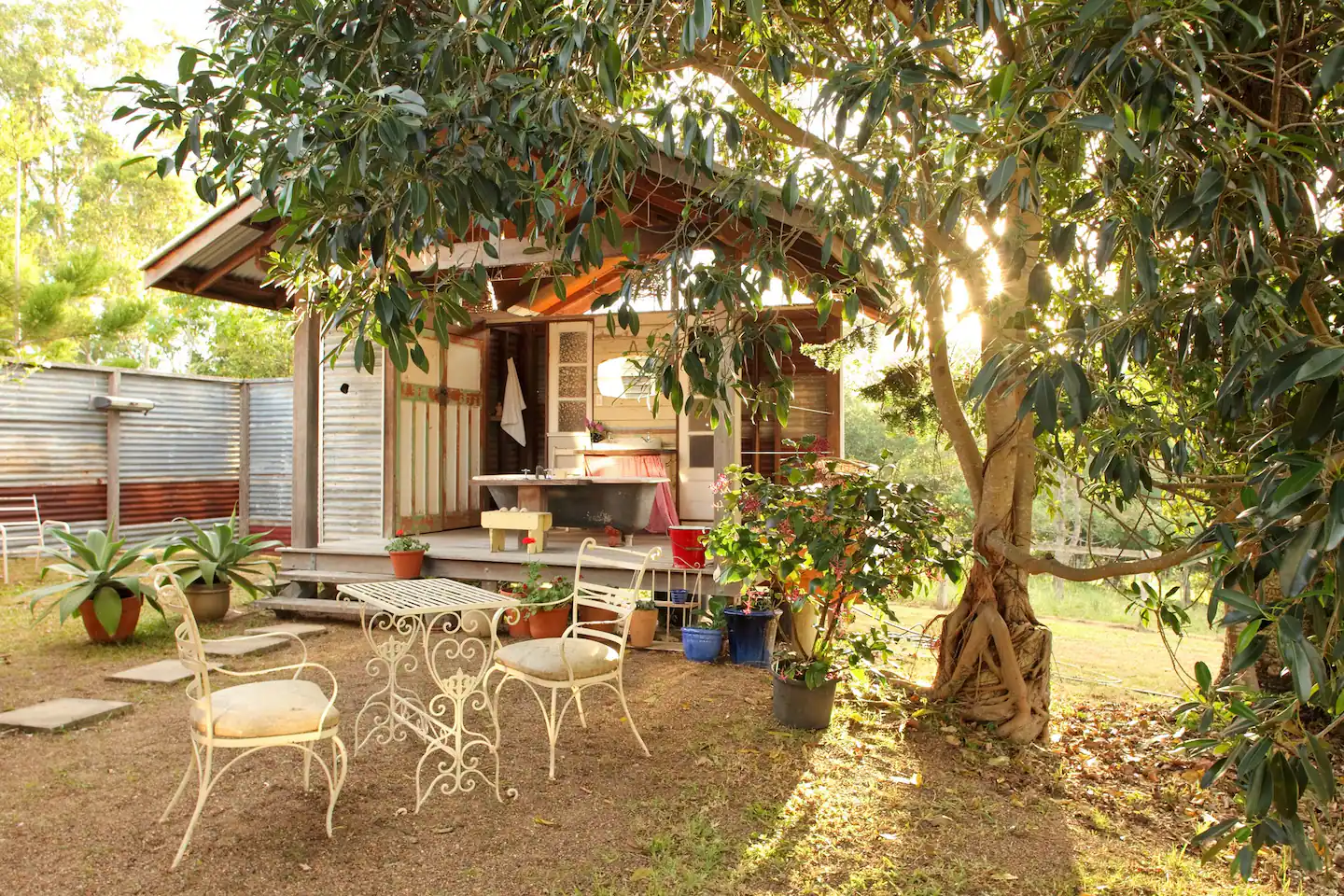 Grab your best trackies and flannel, we're taking you to the valley of Eerwah Vale where you'll be nourished by the rustic charm of a restored 110-year old dairy. Life's going to want to slow down as you soak in the courtyard bath house, forage for vegetables in the garden, or lose moments sharing stories by the outdoor fire, all amidst a backdrop of rolling hills and hinterland views. Book here.
The Woods
Sunshine Beach | Sleeps 4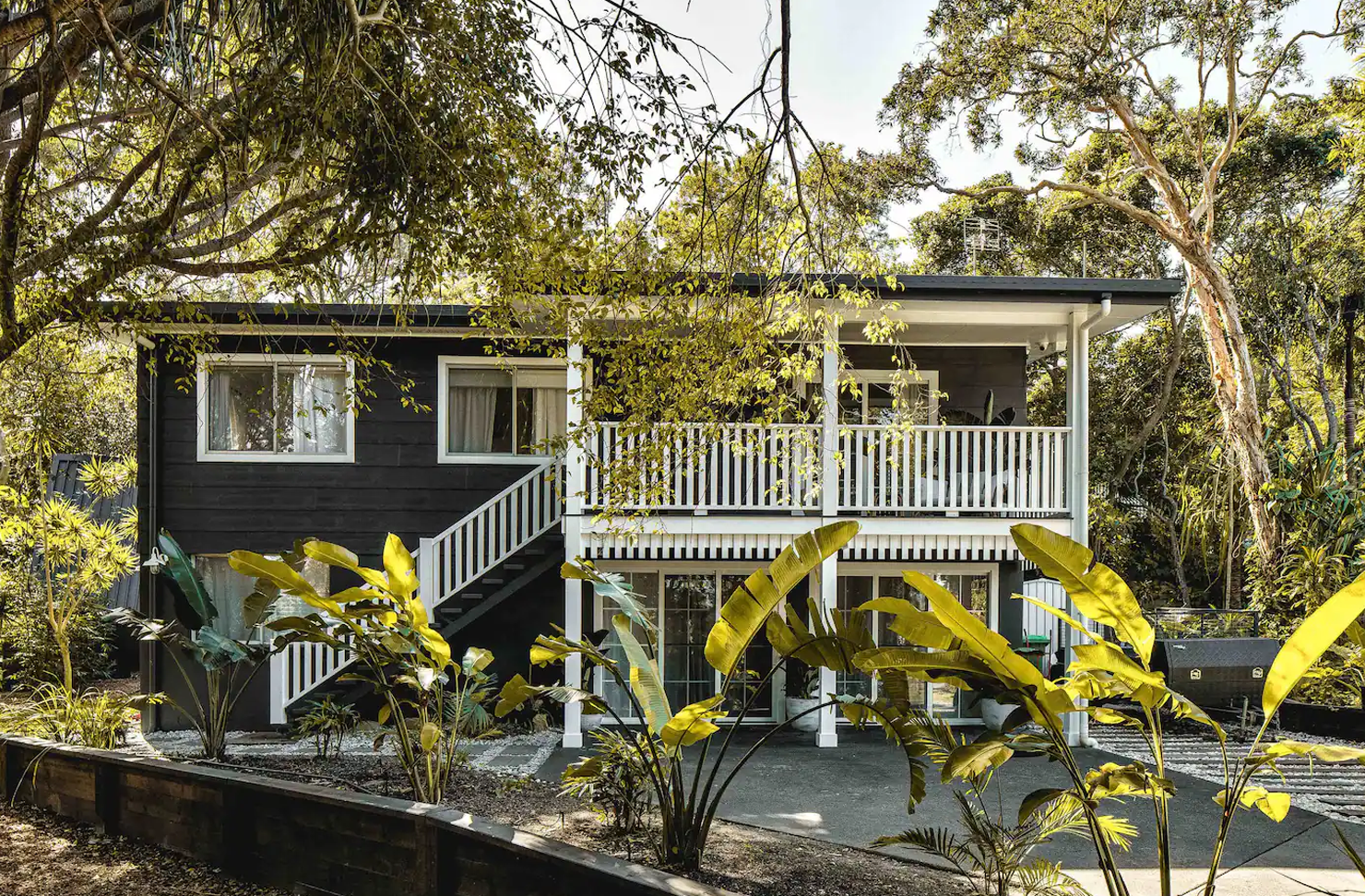 Treat yourself to a luxurious four-person rainforest retreat courtesy of The Woods, a goregous dog-friendly Airbnb home on the edge of the Noosa National Park. Spend your days curled up in the reading nook or exploring the nearby walking trails, before stretching out for a nap in the dangerously comfy king size bed.
Since the Airbnb is surrounded by plenty of plant-life, be sure to say hi to the koalas and kangaroos that come for a visit during your stay—just keep the doggos away for their own safety. Book here.
Little Red Barn
Doonan | Sleeps 6
Let the semi-rural vibes of Little Red Barn whisk you into a state of total relaxation with the epitome of a barn-styled, open-plan living area surrounded by lush Sunshine Coast hinterland. Located in 'The Golden Triangle' between Noosa, Eumundi and Cooroy, The Little Red Barn features three bedrooms plus a master with freestanding cast iron bath taking up space on the verandah. t
Talk about wow factor. Spend the cooler months fireside with a bottle of wine and the warm seasons dunked within the concrete water tank swimming pool. Book here.
So you've looked through the best Airbnbs on the Sunshine Coast and you feel like holidaying further afield? Here's our list of beautiful roadtrips you need to take from the Sunshine Coast.
Image credit: Airbnb
Editor's note: Urban List editors independently select and write about stuff we love and think you'll like too. Urban List has affiliate partnerships, so we get revenue from your purchase.