If you really want to get to the crux of a place, you've got to skip the big chains for a jaunt at the local market.
Lucky for you (and everyone else), the Sunshine Coast is a smorgasbord of produce people, talented creatives, and impressive cooks who gather most weekends to share their goods with basket-toting folk. Fresh, local, real, meaningful, unique, artisan, organic, street, hipster and frikkin' good coffee are in. And so are mornings (or evenings!) whiled away at the markets.
There's nothing more revitalising than heading out with our woven basket, Boomerang bag or eco net bag and filling it with local produce, cute handmade goodies and kombucha til' the cows come home. Even if kombucha's not your thing, a good food truck in the vicinity is guaranteed. And you'll be hitting them and all the other market stalls up with gusto and grace, all while supporting a real local business. And that makes us feel oh so good!
Don't know where to start? We've strolled around the best markets on the Sunshine Coast to bring you the ultimate hit-list.

Nights On Ocean
Maroochydore
Jot this one down in the diary or you'll miss it! Happening on the second Friday night of each month, Nights on Ocean transforms the quaint cafe-lined Ocean Street into a bustling hub of food stands, pop-up bars, and fashion stalls. As soon as it's over, you'll be counting down the days until the next one. Perfect for a date night with a twist, this is one of the best markets on the Sunshine Coast.
Marcoola Market
Marcoola
Getting h-angry on a Friday night 'cause you don't know what you want to eat? We've all been there! Save the whining and get to the tiny seaside town of Marcoola where a vacant block in the middle of town turns into a relaxed, fairy-light covered food fiesta. Once a week, you can enjoy Mexican, Thai, Bavarian, Japanese—all in the one place. We're next level obsessed with the Marcoola Markets and you will be too.
Junction Twilight Markets
Noosa
Can there ever be enough Twilight Markets for us to peruse? I think not. We love the new vibe they've got going and the Noosa Junction and we especially hang out for our Friday night at the Junction Twilight Markets. Food trucks, fairy lights, live music, local artisans and happy hour drinks all night long… seriously what more could we ask for? Except maybe for them to make the fun happen more than just once a month?? Definitely one of the coolest markets to pop up on the Sunshine Coast of late.
Yandina Markets
Yandina
Fancy yourself a green thumb? This is where you'll find your fellow plant-loving friends first thing on a Saturday. Tucked off the coast, Yandina Markets features the occasional antique seller and second-hand book stall scattered between clusters of lush, cheap greenery. Load the car without spending up big, and get all hipster-y with indoor plants and succulents. Oh yeah!
Eumundi Markets
Eumundi
A tourist hotspot but most certainly still worth the write-up. We love the electic crowd that alway gather here. The iconic Eumundi Markets are only for those that can handle crowds and never-ending lanes of stalls. But there is a HUGE upside. There's seriously everything at the Eumundi Markets you could ever want. Produce, homewares, plants and clothes. Whatever you need, you'll find it here at the Eumundi Markets. Need an intermission? Duck across the road to Humdrum Espresso for a super smooth coffee or if it's beer o'clock, an icy brew at local institution, Joe's Waterhole is your best bet.
Dagun Growers Market
Dagun
Shop organic veggies by day and eat pizza by night. The Dagun Growers Market start at 3pm every Saturday and the stalls are all packed with a broad range of local, freshly-picked and spray-free seasonal fruit and vegetables all sourced from within a 70 km radius. Live music starts at 6pm and the Choo Choo Bar will keep you watered and merry until it's time for home. Who knew Dagun had such good vibes?
Hinterland Harvest Market
Woombye
Ok this ones a goodie for us Organic types. Held in Woombye every Saturday from 6am in summer and 7am during the colder months, pretty much everything sold at the Hinterland Harvest Market is locally grown, spray-free and organic. Making this little Sunshine Coast market pretty unique. Their whole goal is to strengthen the relationship between the farmers, consumers and the local food systems. And we think they're doing a pretty good job of it too! Stick around for some live music and cooking demos and spread the word so we can support our organic farmers and make chemical-free food normal again!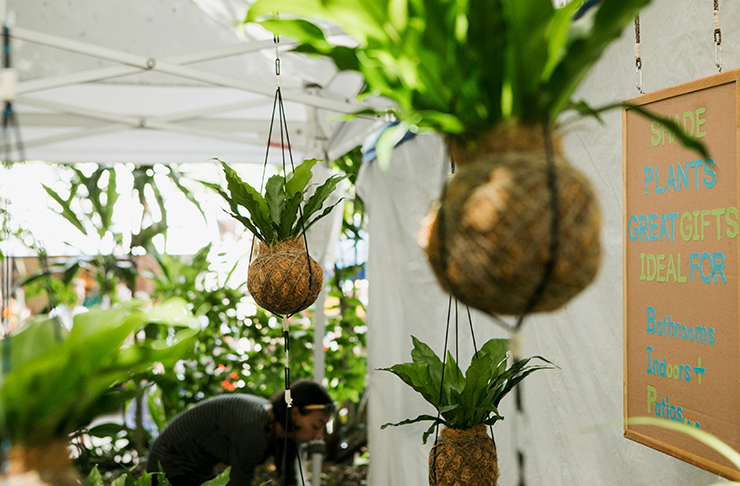 Cooroy Farmers and Artisans Market
Cooroy
Cooroy Farmers Market only just recently popped onto the market this year (see what I did there?) and as with all things Cooroy does, it's a gem. Happening on the 1st, 3rd and 5th Saturday of each month, apart from the beautiful fresh local produce (non-local produce is not welcome), we love checking out all the artisan stalls. Enjoy the live music and grab a tasty bite knowing that everything at this market is local and, as we say in South Africa, lekker (which means lovely in case you didn't get that). Ps. Don't forget your own bags as you won't find any plastic there!
Kawana Waters Farmers Market
Kawana
If you like your markets minus the hip-ness, Kawana Waters Farmers Market is as down to earth as they come. Held every Saturday at Kawana State Primary School, we suggest hitting a coffee stall for a steaming brew before filling up your net bags with fresh produce, creamy cheeses, and everything picnic-worthy.
Pomona Country Markets
Pomona
Held on the 2nd and 4th Saturday of every month, the Pomona Country Markets are your token small country town visit for the month. Grab yourself a classic brekky and java, fill your basket with lots of lovely fruit and veg, browse the bric a brac and then go for a wander around the beautiful countryside that Pomona has to offer. A morning well spent!

Vegan Markets
Nambour
The Vegan Markets popped onto the scene January this year and when they did there was a collective squeal of excitement across the Sunshine Coast. And it wasn't just the local piggies in the farmyard who were squealing. Even the non-vegans amongst us were excited. Generally held once a month on a Sunday, you can get your fill of cashew cheese, pizza, Asian, donuts, cupcakes and anything else you can think of. All vegan! Drool. We're already hanging out for the next one.
Sunshine Coast Collective Markets
Coolum
Ok, so the Sunshine Coast Collective Markets aren't just any random market. These guys are the biz. With an epic collection of local Sunshine Coast designers, musicians, artists, foodies, creators, vintage wares and lifestyle lovers, you're in for a serious Sunday treat. Held at the Coolum State Primary school on the 4th Sunday of every month, you're guaranteed to only find quality wares and seriously good food. A must visit if you're looking for a great Sunday market on the Sunshine Coast!
Noosa Farmers Market
Noosa
The creme de la creme of Sunshine Coast farmers markets, Noosa Farmers Market pulls together local produce peeps, beauty and health products made in the region, and an ever-changing list of street food vendors. Sure, this is one of the best markets on the Sunshine Coast but it's also home to some of the best breakfasts in Noosa, so we're warning you: do not eat beforehand. You will regret it.
Peregian Beach Markets
Peregian Beach
More of a creative's market then a foodie's haven, Peregian Beach Markets falls on the first and third Sunday of every month. If buying gifts is on your weekend to-do list, then make this your new open-air shopping destination. Homewares, fashion, vintage knick-knacks… it's all here!
Fishermans Road Market
Diddillibah
If you're looking to go back to old old school where e'rrebody not be sipping on triple mocha latte caramel frappuccinos then Fishermans Road Market is your jam. A good ol' solid cappuccino with a bacon and egg roll on a Sunday morning would do quite nicely. Plus you can get your weekly veg shop in - all in just your trackie and uggs. #winning.
Ok so now you're out and about you might as well hit up our fave coffee spots on the Sunshine Coast here. Maybe you'd rather hit up the best hikes on the Sunshine Coast here. We've also rounded up the best secret lookouts on the Sunshine Coast here for you to check out.
Image Credit: Ariana Gillrie, Amy Higg and Claire Plush for The Urban List