Mooloolaba is home to some of our favourite eats on the Sunshine Coast—whether they're peppered along the main Eplanade overlooking the ocean, tucked away near the Spit, or rewriting the culinary experience at the Wharf precinct.
In Mooloolaba you'll find something for everyone; some of our top foodie finds are transporting your tastebuds to countries all over the globe including Southeast Asia, Italy, Greece, America and the Mediterranean. So whether you're visiting or a local, here are 20 of the best restaurants in Mooloolaba you should have dined at by now.
Spice Bar
If you love modern Asian cuisine, Spice Bar needs to be on your priority list. This stunning restaurant, perched high in Mooloolaba, offers gorgeous ocean views during the day, and at night, exudes a modern luxury making your dining experience something truly special.
With a menu designed to share, it allows you to try multiple dishes and really sample the culinary delights of one of the best restaurants in Mooloolaba. Indulge with a five, seven or nine-course degustation or order from the a la carte menu—our favourites are garlic chive open dumplings, the braised pork belly and confit duck with edamame. Truly sublime.
RB Dining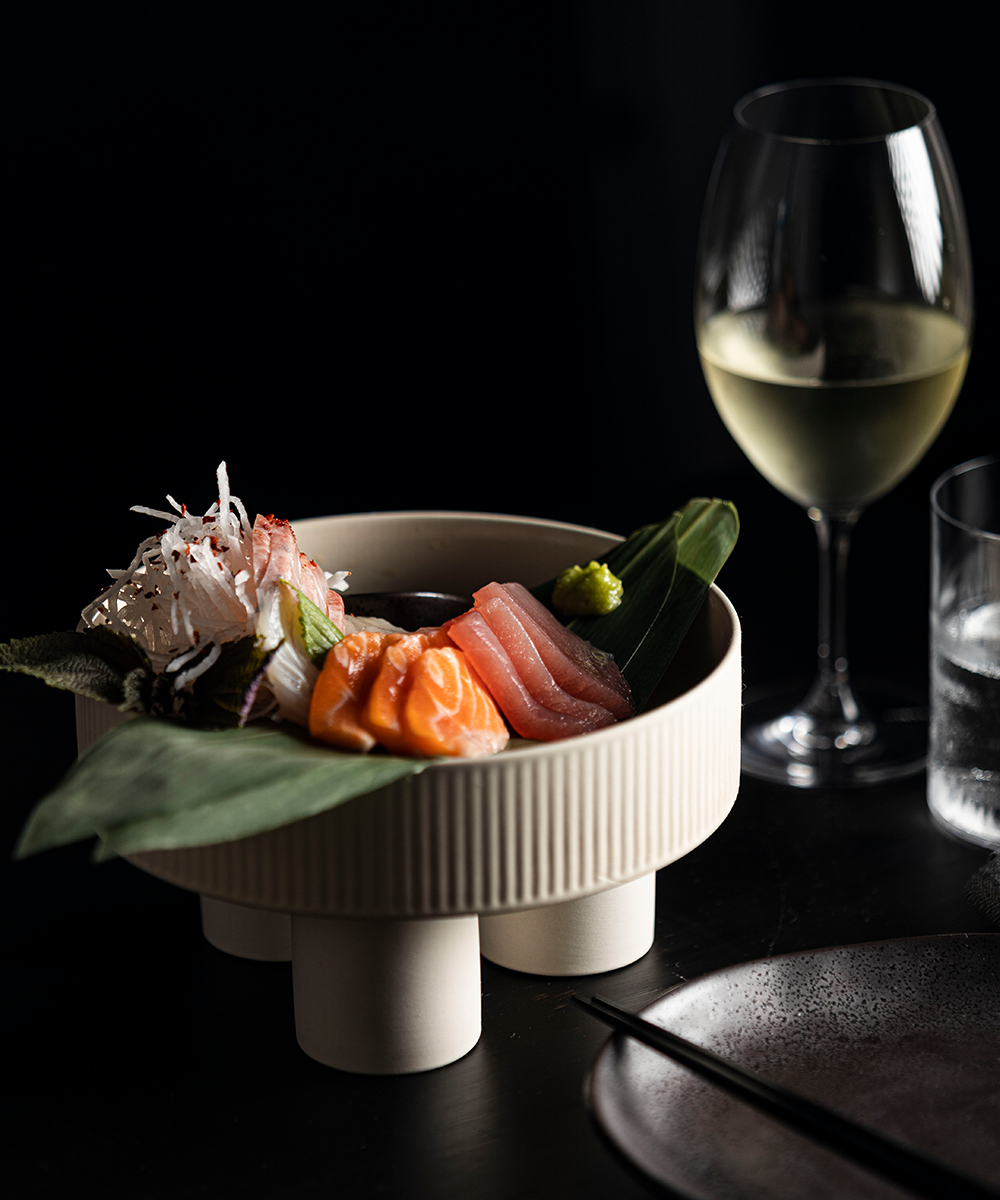 When it comes to opening stellar restaurants on the Sunshine Coast, it's undeniable that the Tony Kelly Restaurant Group has the Midas touch. With renowned venues like Riceboi, Riceboi Upstairs, Giddy Geisha, Piggyback, Spero and more under their belt, there's little doubt that their latest venture, RB Dining was going to be phenomenal.
RB Dining is Tony Kelly's tenth Sunshine Coast restaurant; the modern-Asian fine dining restaurant is located upstairs at The Wharf and was inspired by the multitude of Riceboi fans requesting a venue with bookings. Ask and Tony Kelly shall deliver. RB offers a fine dining experience but it still prides itself on delivering the same powerhouse flavours that diners have come to appreciate at sister restaurant, Riceboi. The modern Asian menu showcases elevated snacks, raw dishes, small share plates and larger dishes, and even has dedicated gluten-free and vegan menus.
Pier 33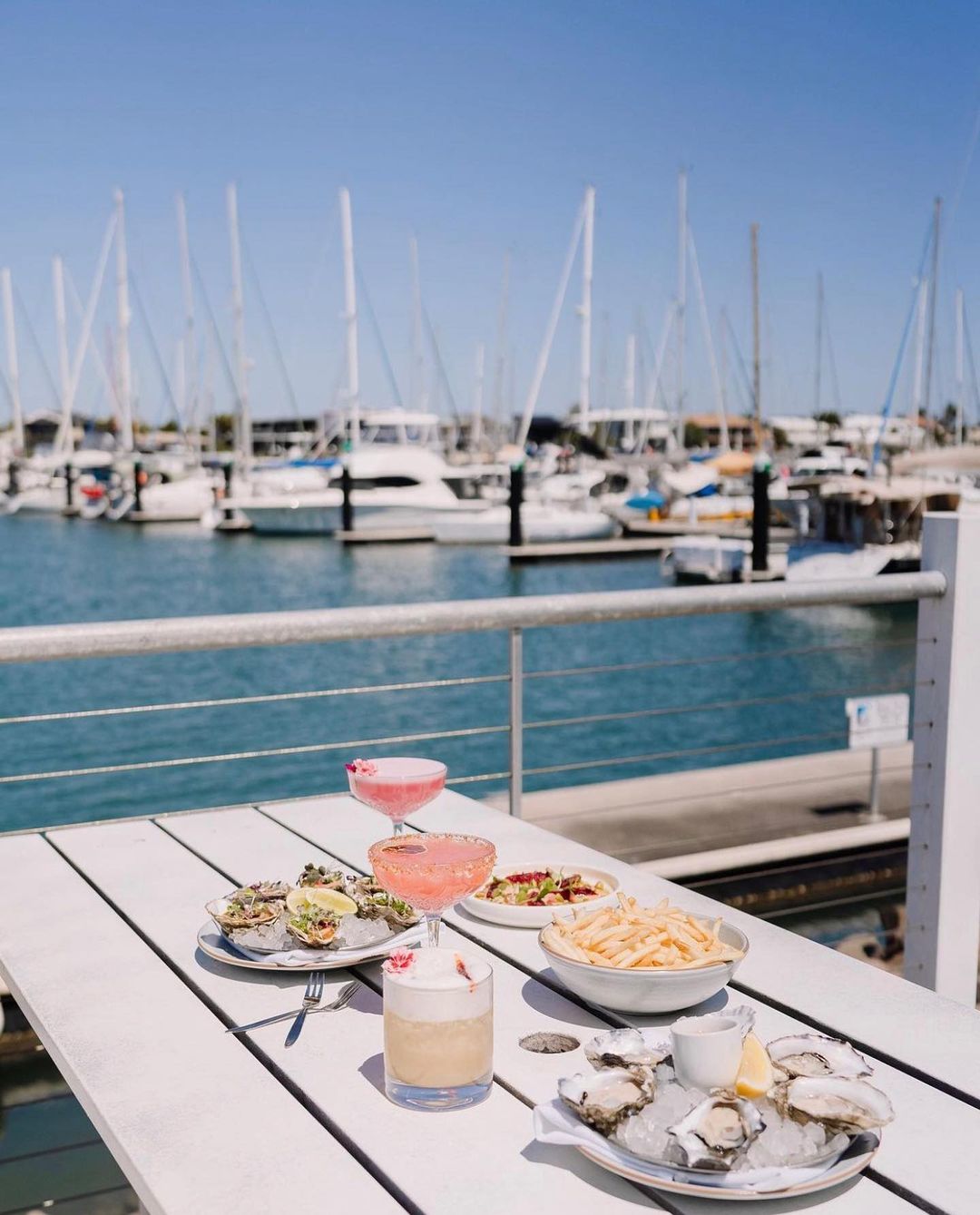 Pier 33 is the epitome of laidback luxe, with its Hamptons-inspired decor complementing the stunning Mooloolaba Marina. With a range of dining locations available, you can sit down and enjoy a meal in the restaurant, or find a spot on the lush lawn or outdoor settings and order snacks, signature cocktails and seasonally curated wines from their panoramic island bar.
Regardless which menu you order from, fresh seafood is always the star here—particularly the oysters, which you can enjoy a la natural or dressed with flavours of sesame and soy, pickled ginger and cucumber. If you're looking for one of the best restaurants in Mooloolaba for a special occasion, this might just be the spot.
Bella Venezia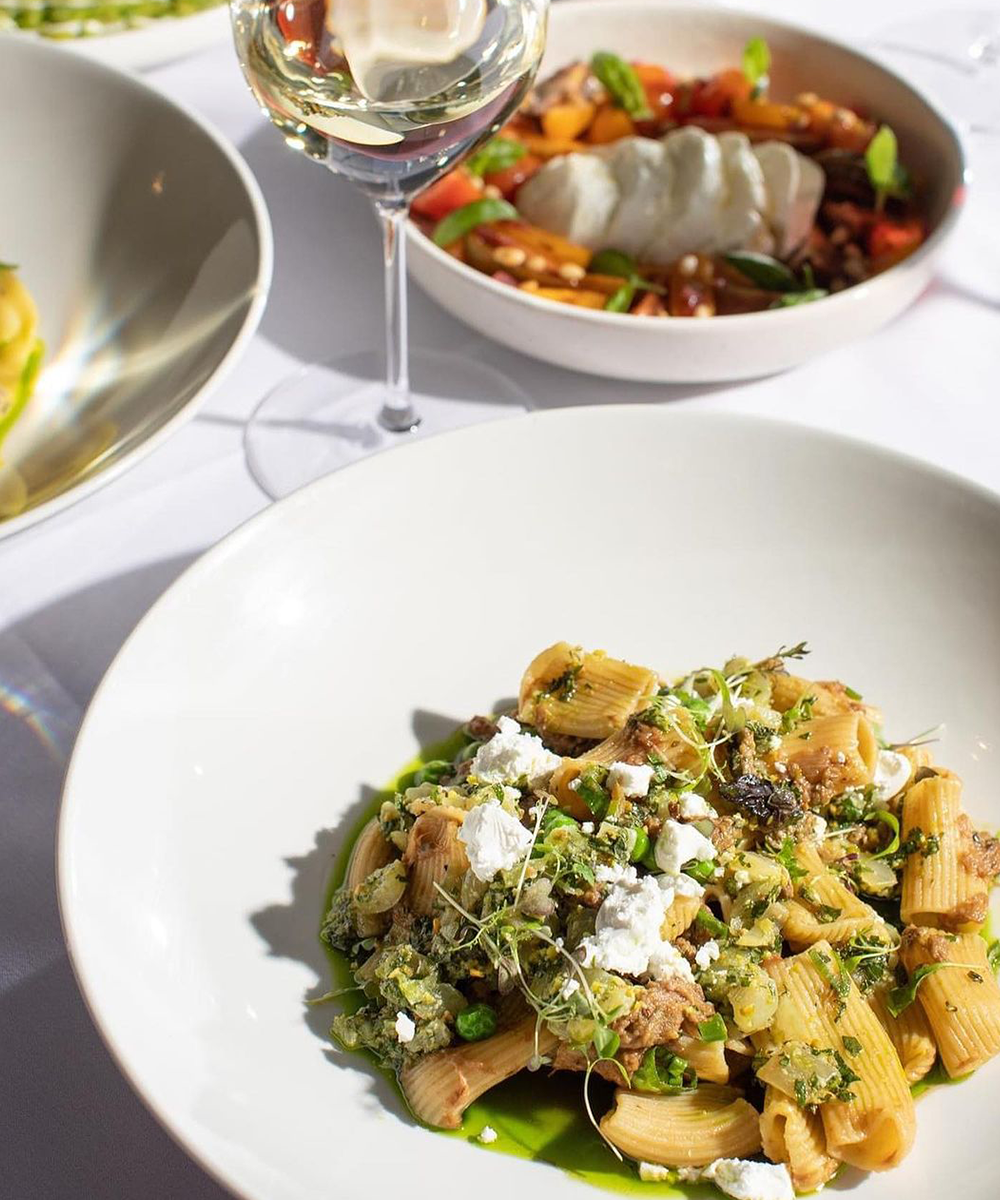 Bella Venezia is the big mamma of Italian dining here on the Sunshine Coast, opening in 1983 and winning multiple AFGF Chef Hat awards, among their plethora of other accolades. And while the restaurant has undergone a facelift, their menu has largely stayed tried and true, just the way we like it. After all, if it ain't broke, don't fix it.
It's hard to pick a favourite, with such a lengthy menu, but we can confirm that the slow-cooked beef cheek ragout with hand-cut pappardelle is a rich and glorious offering, best served with a glass of Shiraz. And the Mooloolaba king prawn pizza honours its namesake, laden with prawns, Italian tomato, rocket, fennel, chilli and mozzarella fior di latte. It's no surprise Bella Venezia is rated as one of Mooloolaba's best restaurants.
Backlane
As the name suggests, Backlane Bar & Street Food is just a short hop, skip and jump behind the main Mooloolaba esplanade. A fun and casual dining experience, Backlane is a prime destination for your next group date night hang.
With vibrant octopus artwork that overlooks either bench-style shared seating or breezy street tables, you'll easily find something to dig into on this tapas-style menu. Our top picks are the lamb kofta meatballs, corn ribs or soft shell crab bao, all washed down with a Backlane zombie cocktail.
Pavilion Mooloolaba
Located just a stone's throw from Mooloolaba's stunning shoreline, Pavilion Mooloolaba boasts uninterrupted sweeping views of the ocean, balmy sea breezes and an intimate, laid back vibe. The dreamy interior oozes Mediterranean vibes, with terracotta hued feature tiles, creamy white tones and splashes of greenery.
The share-style menu is simplistic, yet refined, much like the Pavilion itself. Start with housemade focaccia bruschetta, dukkah-dusted calamari and lobster sliders before moving onto their famous 72-hour fermented base pizzas. As expected, their drinks are divinely to-die-for, with all your favourite classics and a few extra special ones thrown in for good measure. Any drink is immeasurably better when drunk while gazing out at gorgeous sea views, with a cool sea breeze rolling in.
The Dock Mooloolaba
Easily one of the most well known and best-loved restaurants in Mooloolaba, if not the Sunshine Coast, The Dock Mooloolaba commands a prime waterfront spot on The Wharf Mooloolaba. Pull up a chair on the breezy waterfront deck or venture inside into the industrial-chic restaurant with exposed brick walls and pops of greenery.
The produce-driven, seasonal menu stays true to Executive Chef Chris Sell's ethos that 'fresh and local is best'. The Dock specialises in wood-fired grilled meats like MB9+ wagyu striploin with roasted chat potatoes and smoked onion puree. There's also plenty of options for vegetarian, vegan and gluten-free friends.
Rice Boi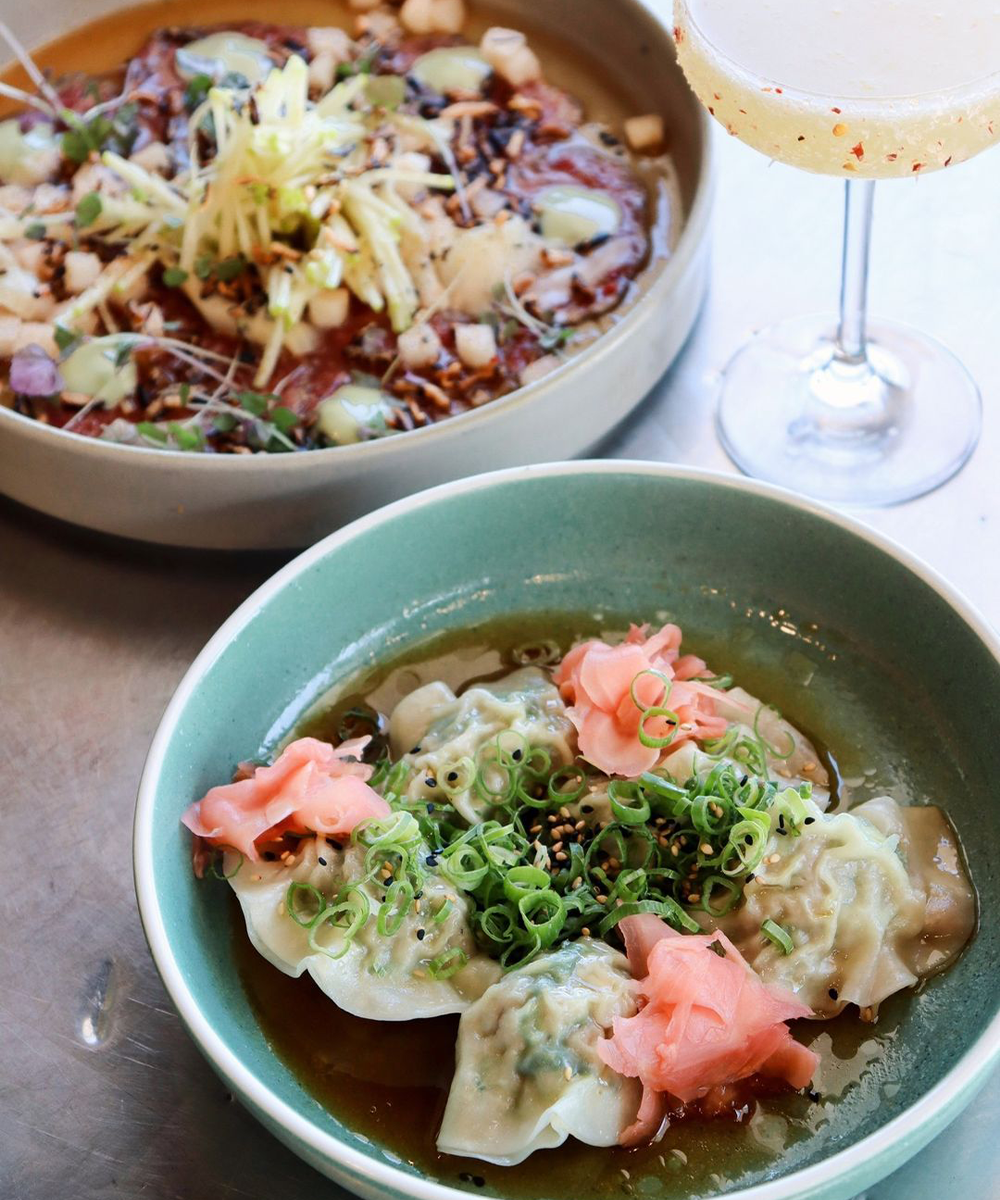 Channelling the essence of a Japanese izakaya dive bar, Rice Boi dishes up the goods when it comes to modern Asian street-style food. If you have a thing for baos than Rice Boi can hook you up with duck, pork or chicken sumo loaded buns.
Or, if you're after a heartier dish, you can't pass up their chicken karaage ramen in roast chicken broth with baby corn, egg, nori, spring onion, bamboo and naruto. Open Thursday to Sunday, the second-storey dive bar 'Rice Boi Upstairs' offers the full menu, as well as delicious cocktails and wine, live music and a wicked view of the Mooloolah River.
Augello's
This tried and trusted modern Italian joint, overlooking the gorgeous Mooloolaba beach, has to be one of Mooloolaba's best restaurants. Augello's has been an iconic dining landmark on the stunning beachfront Mooloolaba tourist strip since 1995, so you know it's going to be damn good.
With an extensive pizza, pasta and wine list menu, you'll struggle to choose the alfresco-style dining downstairs or the upstairs balcony dining. between. Friendly and relaxed, Augello's is almost like coming home to the comforting embrace of your Nonna and Nonno's home-cooked meals.
Spero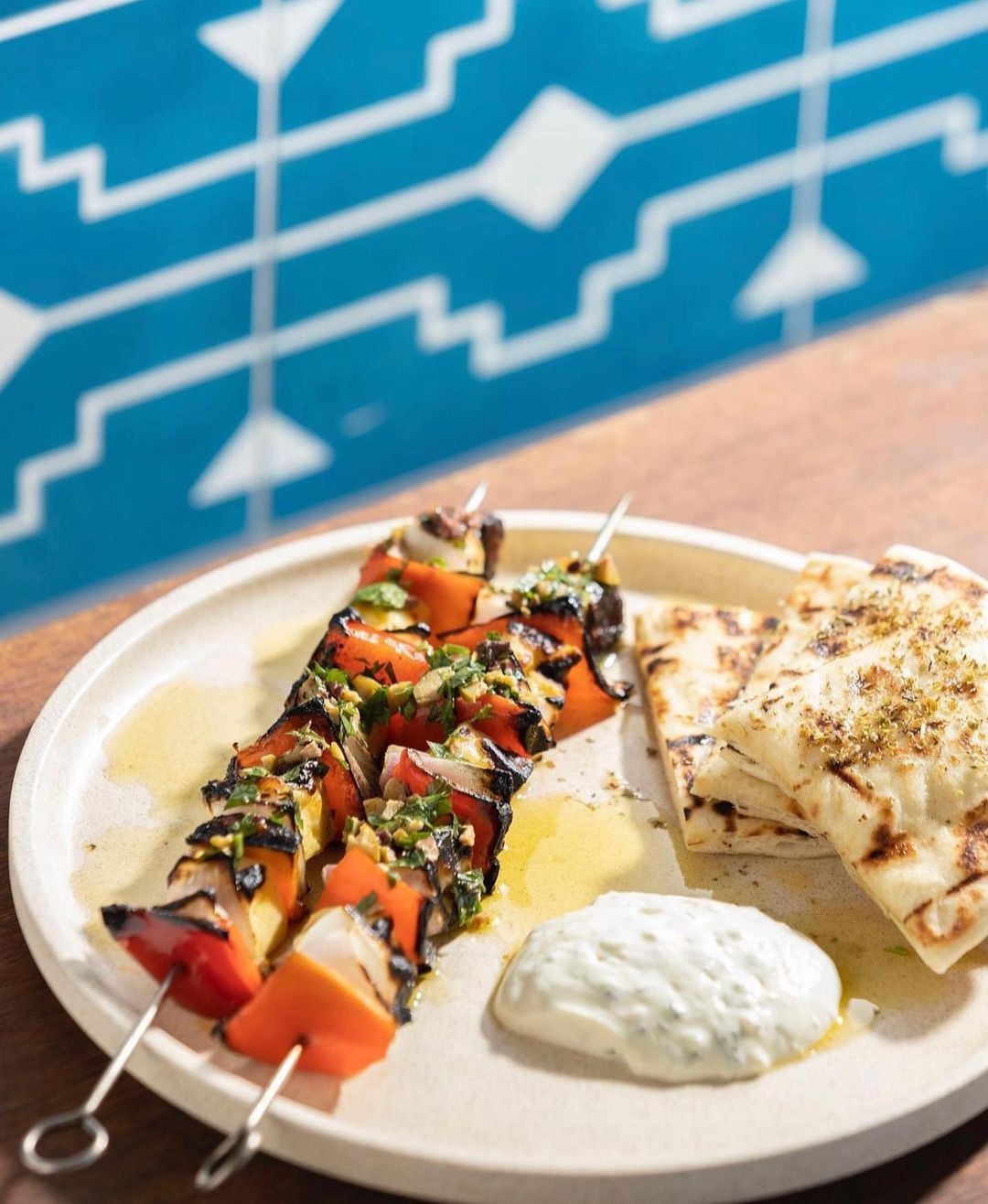 Spero at The Wharf is brainchild of Sunshine Coast restaurateur Tony Kelly, who has delivered a string of highly successful local restaurants over the years. This time he has teamed up with chef Mitch Smith and restaurant manager Elyza Molloy, previously at sister restaurant Rice Boi, to bring you a Greek offering plucked straight out of Greece.
You can expect to find calamari, lamb moussaka, gyros, pork belly baklava and spanakopita on the menu, as well as introducing other delicious dishes, including confit lamb shoulder with a pomegranate glaze, tzatziki, lemon potatoes and olive oil. While the food is guaranteed delight, the decor is also certainly easy on the eye, with a show-stopping tiled bar laden with potted plants.
Prawn Star Mooloolaba
This restored fishing trawler provides a truly unique experience, where you can enjoy fresh, locally caught seafood cooked onboard a bespoke timber fishing trawler. Located in the bustling foodie hub of The Wharf Mooloolaba, Prawn Star Mooloolaba serves only the best of wild-caught Australian seafood, and trust us when we say it's some of the finest ocean treasures we have ever tasted.
Dive into sea delights like crayfish, bugs, oysters and tiger prawns or treat yourself with one of their divine sharing platters, which showcase the best of our local seafood. If you're after seafood on the go, you can order ahead and take away your sumptuous seafood, but we do highly recommend taking a seat at the bespoke dining experience, or you'll be seriously missing out.
Il Vento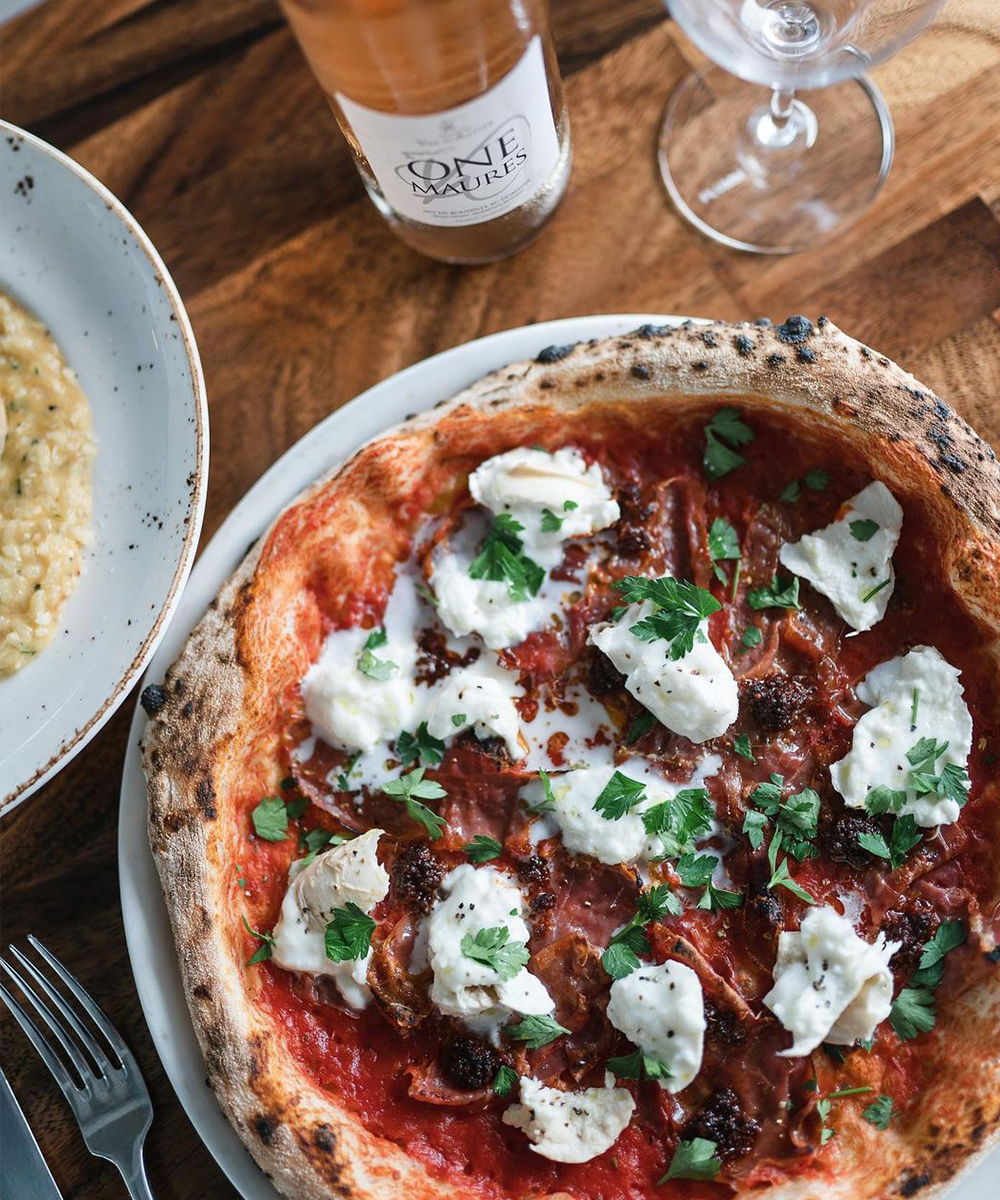 Craving the depth of flavour that only a wood-fired oven can provide? Pay a visit to our friends at Il Vento—they're one of the incredibly ccool restaurants killing it at the Wharf precinct. Keep it simple with their authentic wood-fired margherita pizza, chow down on their wood-fired foca
ccia with mozarella, garlic and parsley or our personal favourite is the spaghetti con gamberetti with wild-caught prawns. Once done stuffing your face, if there's still room for dessert, you must devour their signature cannoli with ricotta, pistachio and honey. Hands down, one of the best restaurants in Mooloolaba.
Sakana Sushi Bar
The most highly rated sushi restaurant in Mooloolaba, we couldn't possibly write about the best restaurants in Mooloolaba without including Sakana Sushi Bar. Unassuming and tucked discreetly into the side of its sister restaurant Fish on Parkyn, Sakana is a Mooloolaba institution for a reason. Dive into the fresh sashimi, nigiri sushi, futomaki and assortment of other traditional Japanese dishes, which use high quality seafood from the docks straight behind Sakana and are designed to be shared with great company.
See Restaurant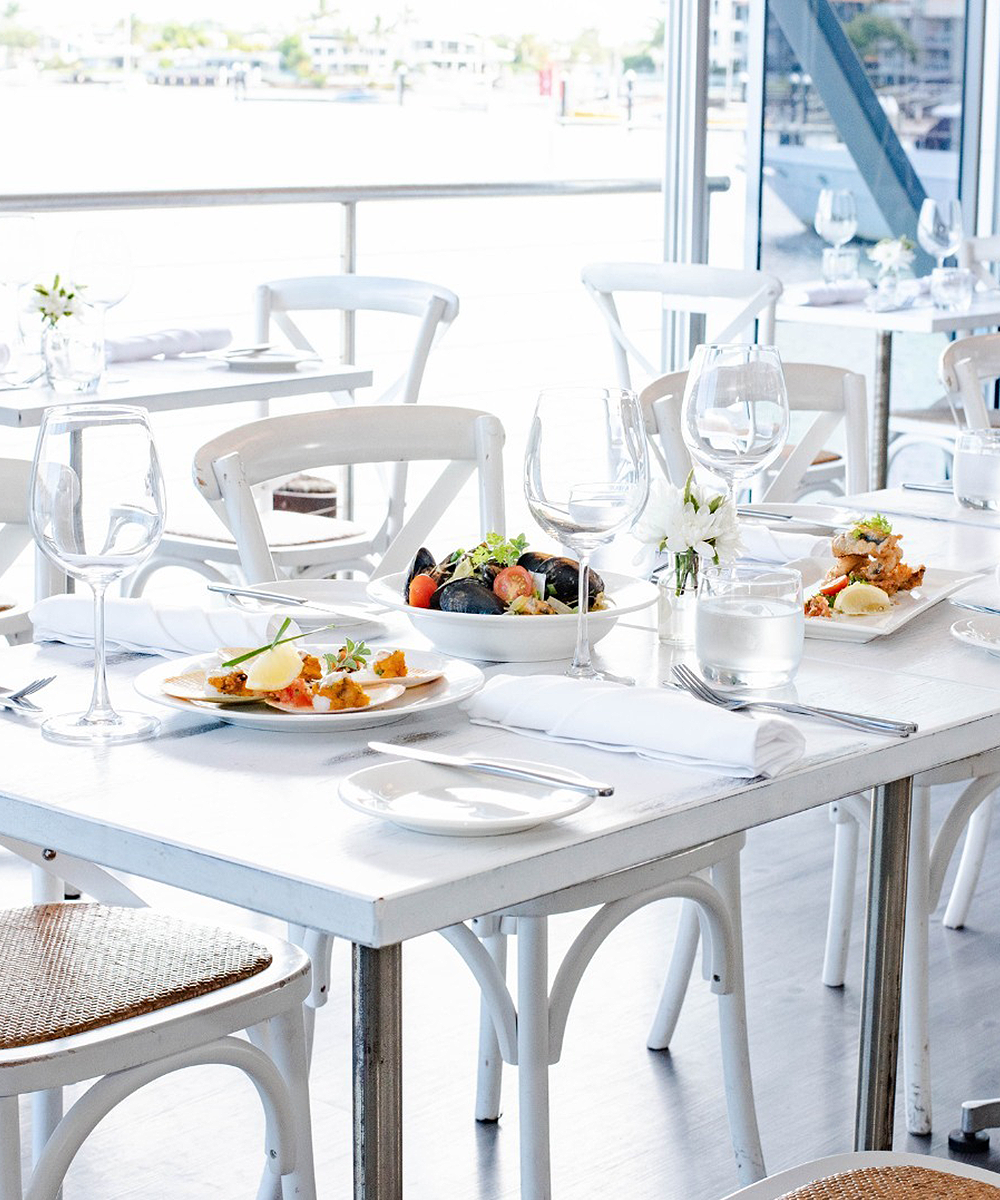 The only over-water restaurant in Mooloolaba, class and sophistication is emulated in every aspect of See Restaurant. Lauded chef Antonio Puelma has a strong focus on serving fresh seafood with Chilean influences and the extensive menu is every bit as delicious as it sounds.
We're talking about delights like coconut-crumbed Mooloolaba king prawns with Peruvian salsa, duck breast scallopini with chestnut and Congo potato puree, and whole puttanesca baked snapper with creamy polenta and rich tomato sugo. See Restaurant is easily one of the best restaurants in Mooloolaba, if not the Sunshine Coast.
Dirty Moes
Born from a love of the American southern culture of slow-cooked soul food shared with the ones you love, Dirty Moes delivers unpretentious eats on the daily and is easily one of the best restaurants in Mooloolaba. So it's no surprise you can come to expect 'Low 'n' Slow' platters of succulent, fall-off-the-bone meat.
Wash it down with a glass of hand-crafted beer, whiskey or their famous sticky date espresso martini. Wednesday night is brisket night at Dirty Moes and every Thursday, they bring out the big guns with an epic selection of burgers.
Nouc Cham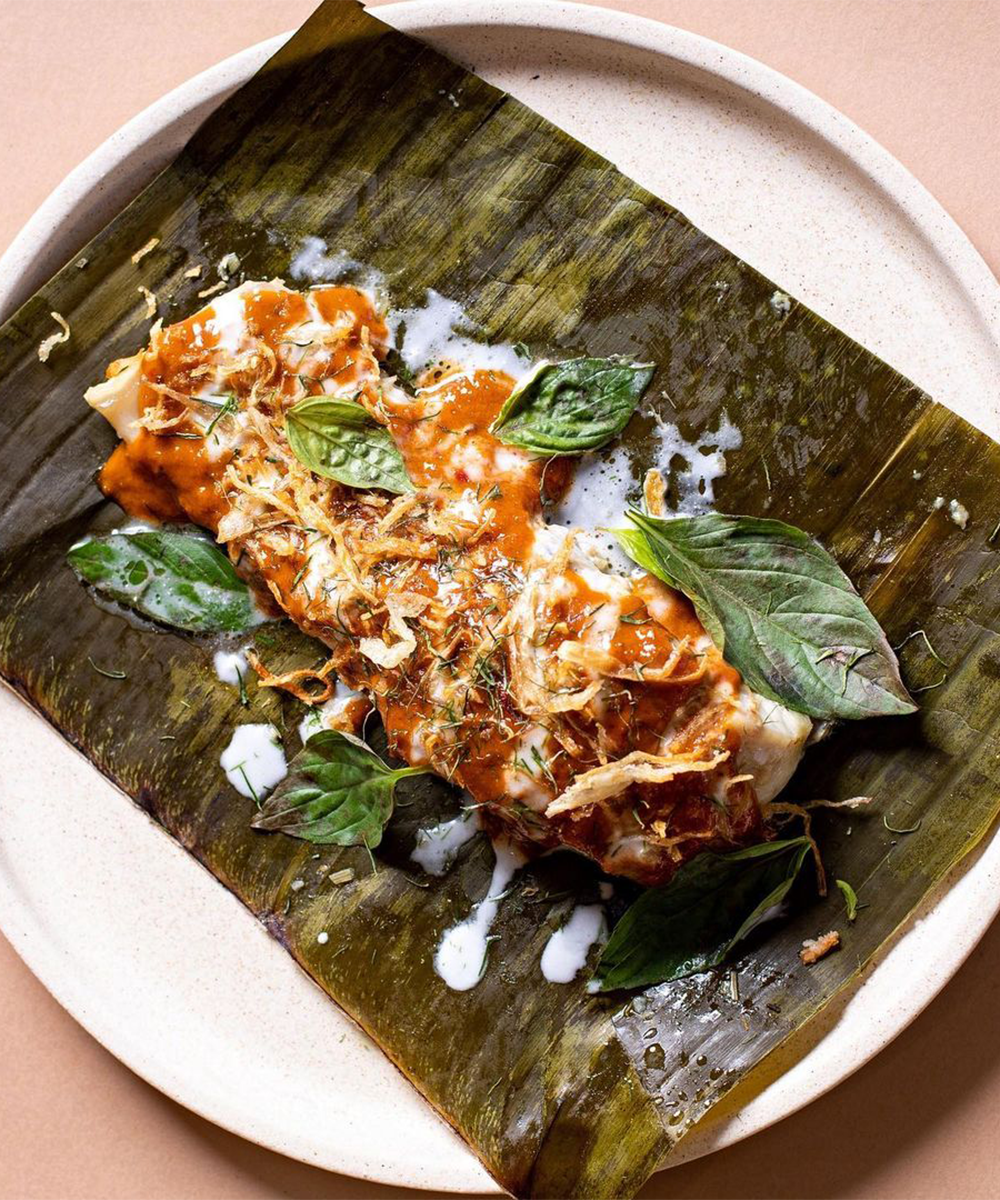 It can be a challenge to find authentic Vietnamese on the Sunshine Coast, but the team at Nouc Cham are the good folks filling the pho-sized hole in our stomach. This authentic Vietnamese restaurant boasts an extensive menu that will transport you right to the bustling streets of Hanoi.
Start small with wagyu beef la lot skewers, soft shell crab rice paper rolls and kingfish sashimi before moving onto share-style meals like roast pumpkin and tempura snake bean rendang curry and mandarin slow-cooked duck legs. Plant-based friends are well-catered at Nouc Cham for with plenty of vegan and gluten-free options.
Kinnho Teppanyaki
There's something about various vegetables, meats and rice balls flying through the air that makes teppanyaki so appealing.
Bring out your inner child (and practice your catching skills) at this highly entertaining and casual teppanyaki joint in Mooloolaba. Kinnho Teppanyaki is, hands down, one of the best teppanyaki spots on the Sunshine Coast and boasts an array of set teppanyaki courses, in addition to appetizers and banquet menus.
Beach Bar and Grill
If ever there was a great spot for a cruisy afternoon hang with a local craft beer in hand, it's got to be Beach Bar and Grill.
With a laid-back sports bar atmosphere, decked-out modern industrial interior, open windows and hanging lush greenery, this Mooloolaba hotspot is sure to become your new local very soon. With a delicious pub-style menu that can feed even the hungriest of beachgoers, make sure to check out their daily cheap deals. Friday night ribs anyone?
Ton Khao Bistro
So you've had one too many serves of fish and are ready to discover a different kind of Mooloolaba fav. Let us introduce you to Ton Khao Bistro. This top-tier Thai restaurant is located close to the Mooloolaba Esplanade and we promise no matter what you try, you can never go wrong.
Let them hook you up with mouth-watering favourites such as laksa noodle soup, cashew nut stir fry and beef massaman. Ton Khao Bistro is a top Mooloolaba restaurant for a flavorsome night out or mid-week takeaway treat.
Looking for more delicious eats? Grab your chopsticks and check out the best Japanese restaurants on the Sunshine Coast.
Image credit: Lumea Photography for Urban List & Supplied