Mooloolaba is home to some of our favourite eats on the Sunshine Coast—whether they're peppered along the main esplanade overlooking the ocean, tucked away near the Spit, or rewriting the culinary experience at the newly-revitalised Wharf precinct.
And while we've lost some of our favourite Mooloolaba spots due to COVID-19, there are plenty of restaurants in the area who still need our help in keeping them on the map. There's something for everyone; some of our top foodie finds are transporting your tastebuds to countries all over the globe including Southeast Asia, Italy, Greece, America and the Mediterranean.
So whether you're visiting or a local, here are some of the best restaurants in Mooloolaba to check out right now.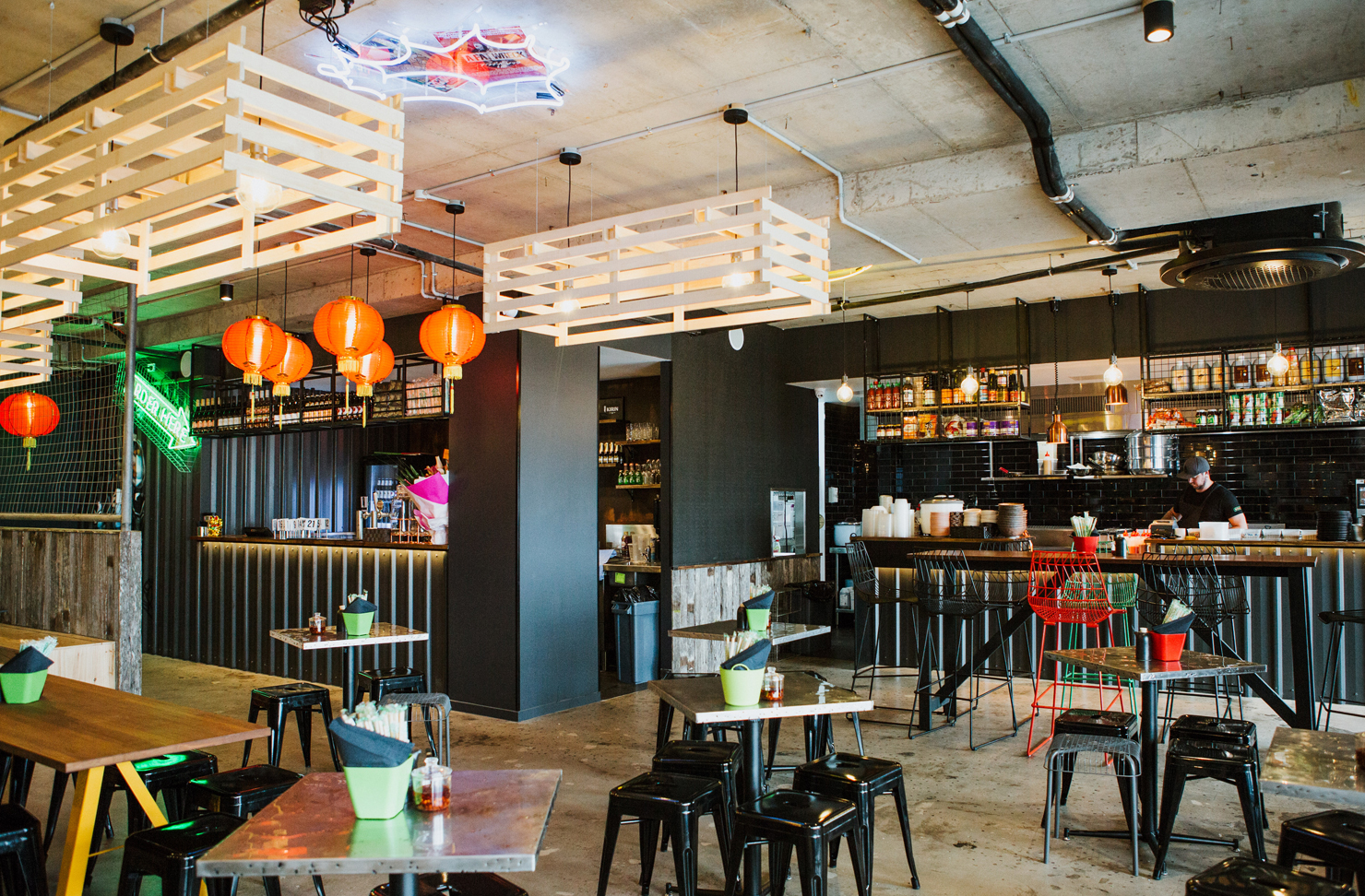 Spero
Spero at The Wharf is the latest project of Sunshine Coast restaurateur Tony Kelly, who has delivered a string of successful local restaurants over the years. This time he has teamed up with chef Mitch Smith and restaurant manager Elyza Molloy, previously at sister restaurant Rice Boi, to bring you a Greek offering plucked straight out of Corfu Town in Greece. You can expect to find calamari, lamb moussaka, gyros, pork belly baklava and spanakopita on the menu, as well as introducing other delicious dishes, including confit lamb shoulder with a pomegranate glaze, tzatziki, lemon potatoes and olive oil. While the food is guaranteed delight, the decor is also certainly easy on the eye, with a show-stopping tiled bar laden with potted plants.
Spice Bar
If you love modern Asian cuisine, Spice Bar needs to be on your priority list. This stunning restaurant, perched high in Mooloolaba, offers gorgeous ocean views during the day, and at night, exudes a modern luxury making your dining experience something truly special. With a menu designed to share, it allows you to try multiple dishes and really sample the culinary delights of one of the best restaurants in Mooloolaba. Among our favourites are Hervey Bay scallops with soy ginger sabayon, edamame with yuzu salt, and lamb shank red curry. Delish.
Bella Venezia
Bella Venezia is a cornerstone of the Mooloolaba dining scene, opening in 1983. Having undergone a stunning transformation at the end of last year, Bella Venezia now offers a fine-dining experience to complement their existing lunch and dinner service. Boasting traditional flavours, popular menu items include the Linguine ai Gamberoni–Mooloolaba king prawns, fresh chilli, garlic, local cherry tomatoes, lemon zest, white wine, house made linguine and extra virgin olive oil; and of course tiramisu, with espresso-soaked sponge fingers, amaretti biscuits and mascarpone.
Rice Boi
Channelling the essence of a Japanese izakaya dive bar, Rice Boi dishes up the goods when it comes to modern Asian street-style food. If you have a thing for baos then Rice Boi can hook you up with duck, pork or chicken sumo loaded buns. Or, if you're after a heartier dish, you can't pass up their chicken karaage ramen in roast chicken broth with baby corn, egg, nori, spring onion, bamboo and naruto. Given that Rice Boi is undeniably one of the best restaurants in Mooloolaba and super popular among the locals, the opening of Rice Boi 'Upstairs' has been a welcome addition. Open Thursday to Sunday, this second-storey bar offers the full menu, as well as delicious cocktails and wine, live music and a wicked view of the Mooloolah River.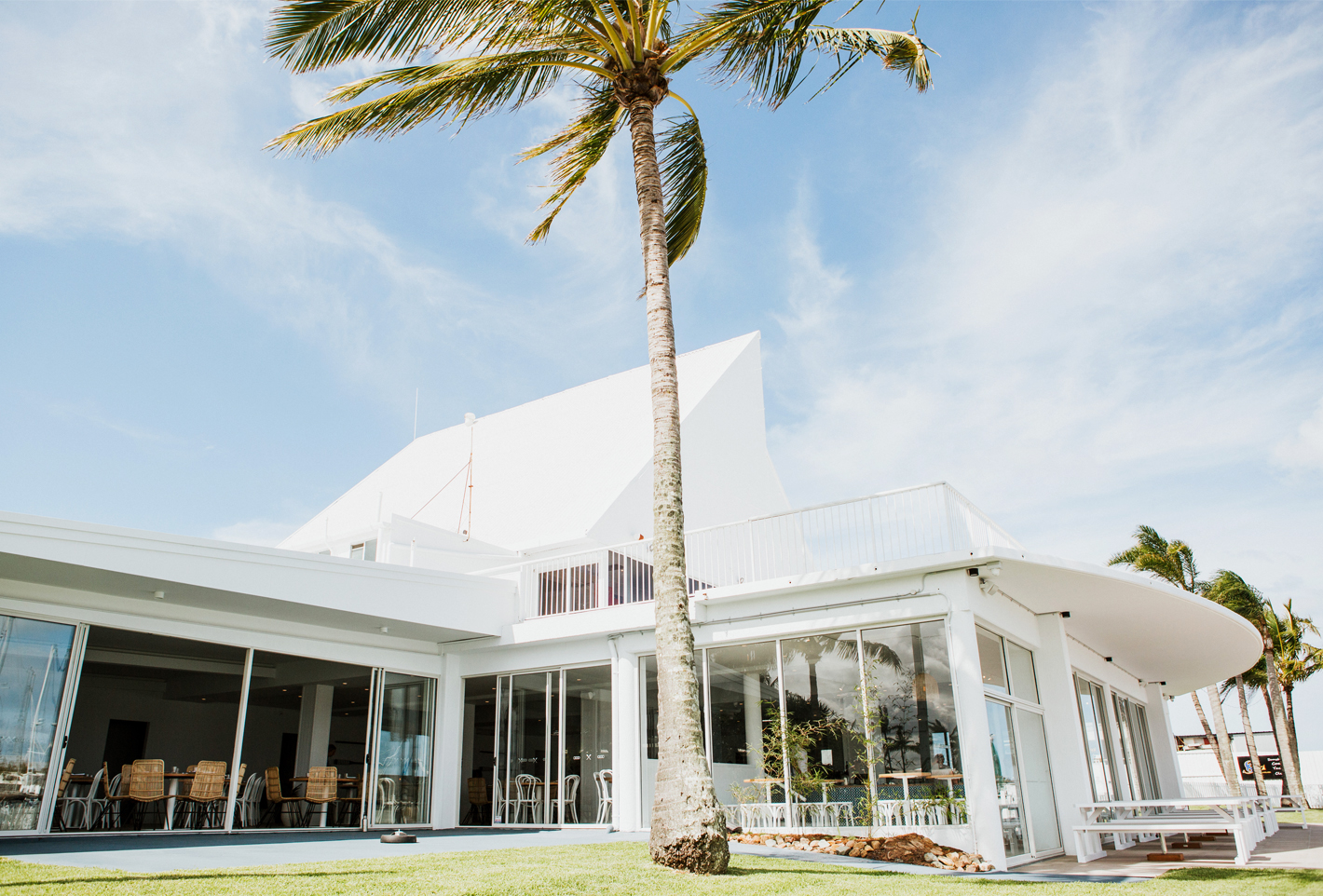 Pier 33
Pier 33 is the epitome of laidback luxe, with its Hamptons-inspired decor complementing the stunning Mooloolaba Marina. With a range of dining locations available, you can sit down and enjoy a meal in the restaurant, or find a spot on the lush lawn or outdoor settings and order snacks, signature cocktails and seasonally curated wines from their panoramic island bar. Regardless which menu you order from, fresh seafood is always the star here—particularly the oysters, which you can enjoy a la natural or dressed with flavours of sesame and soy, pickled ginger and cucumber. If you're looking for one of the best restaurants in Mooloolaba for a special occasion, this could be it!
Saltwater Fish & Chippery
When you think about heading to Mooloolaba for a bite to eat, quite often fish and chips will come to mind—enter Saltwater Fish & Chippery. This casual seafood restaurant has a charming nautical-themed decor and is situated on the deck at The Wharf. With locals and tourists drawn to the picturesque location and classic flavours, it's here that you'll find some of the best fish and chips on the Sunshine Coast, and of course the chip butty–piping hot chips sandwiched between two slices of fresh white bread lathered with salted butter. Alternatively, you can sit down and stay a while, ordering from their bistro-style menu with dishes such as blue swimmer crab spaghettini, seafood risotto and Mooloolaba prawn roll.
Dirty Moes
Born from a love of the American southern culture of slow-cooked soul food shared with the ones you love, Dirty Moes delivers unpretentious eats on the daily and is easily one of the best restaurants in Mooloolaba. So it's no surprise you can come to expect 'Low 'n' Slow' platters of succulent, fall-off-the-bone meat. Wash it down with a glass of hand-crafted beer, whiskey or their famous sticky date espresso martini. Wednesday night is brisket night at Dirty Moes and every Thursday, they bring out the big guns with an epic selection of burgers.
Flaming Sushi House
If you're one of those people who like being spoilt for choice when looking at a menu, then you'll find your happy place at Flaming Sushi House (previously Bamboo House). This BYO restaurant offers almost every type of Japanese dish you can think of and it won't break the bank. With most Don bowls and giant sushi rolls coming in at under $15, your pocket change will go a long way here.
Image credit: Amy Higg for Urban List