With so many venues being added to Noosa's restaurant scene, restaurateurs have to try even harder to make their venue stand out amongst the sea of other established and well-renowned venues. These days, it seems the requirements for all new Noosa restaurants include a creative food menu and extensive booze list, 'gram worthy interior design and a chic location.
From fine dining with waterfront views to casual eateries dishing up mind-blowing international cuisine, Noosa takes its food very seriously (and our stomachs are grateful for it). Read on for, in no particular order, 27 of the best restaurants in Noosa for 2023.
Season Restaurant Noosa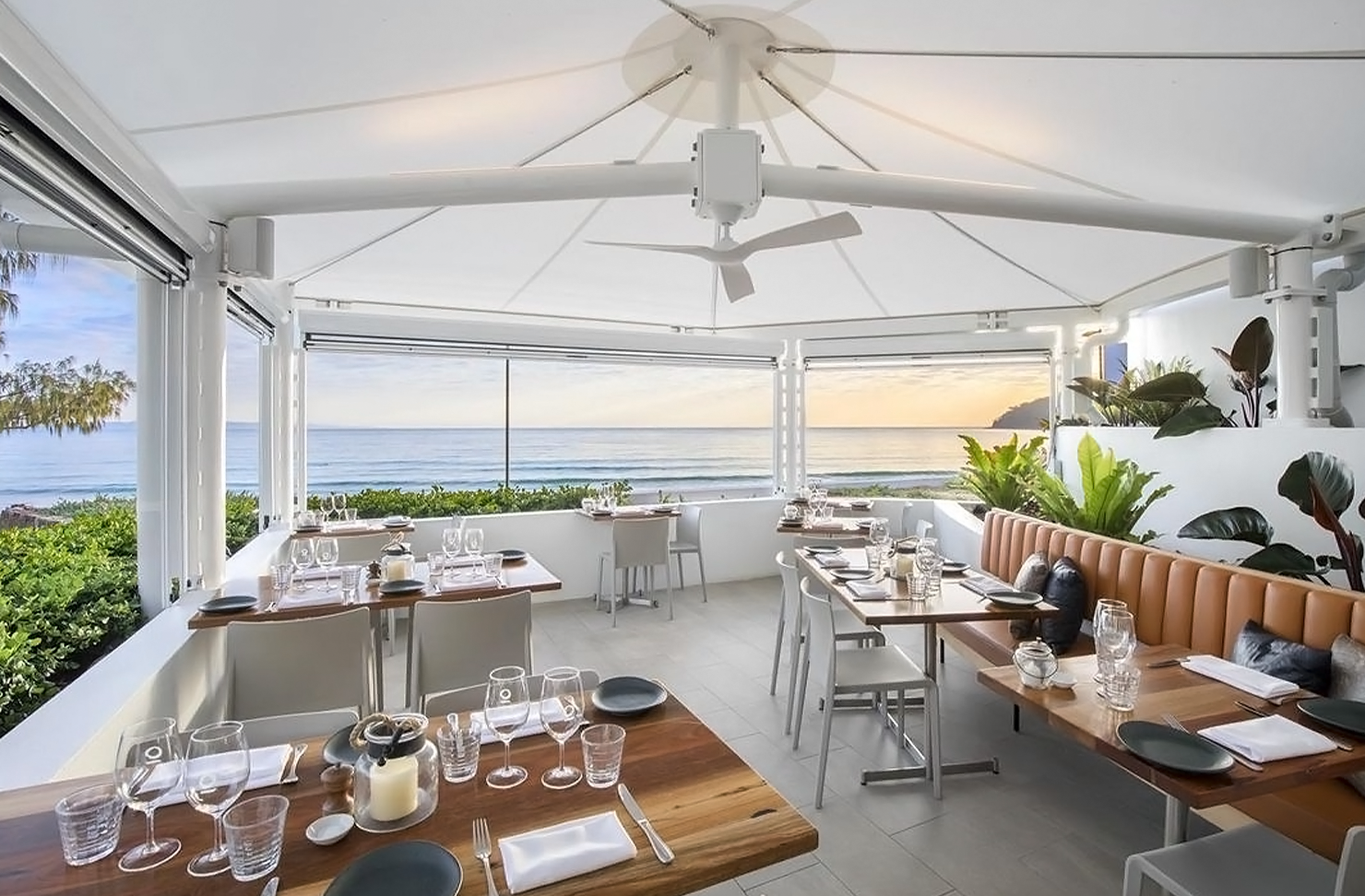 So close to the water you can hear the waves and almost feel the sand between your toes, you'll find Season Resturant Noosa. Sandwiched between iconic Hastings Street on one side and Noosa Main Beach on the other, Season is ready and waiting with a local lager in hand for your relaxed beach side hang. Their seasonal menu uses the best local produce and showcases delights like seared scallops in sweetcorn foam, salt and pepper cuttlefish and divine pork, lemongrass and prawn wontons.
Frenchies Brasserie
It would be impossible to write about Noosa's best restaurants without included Frenchies Brasserie nestled on Thomas Street in Noosaville. The Parisian-style restaurant serves up exceptional French-style dishes paired with exquisite wines, and they certainly know it. The extensive menu may seem overwhelming, so we recommend you visit Frenchies at least twice, if not three times...the limit does not exist. The duck leg confit, char-grilled prawns with garlic butter and warm apple tatin are all standouts.
Paradise Arcade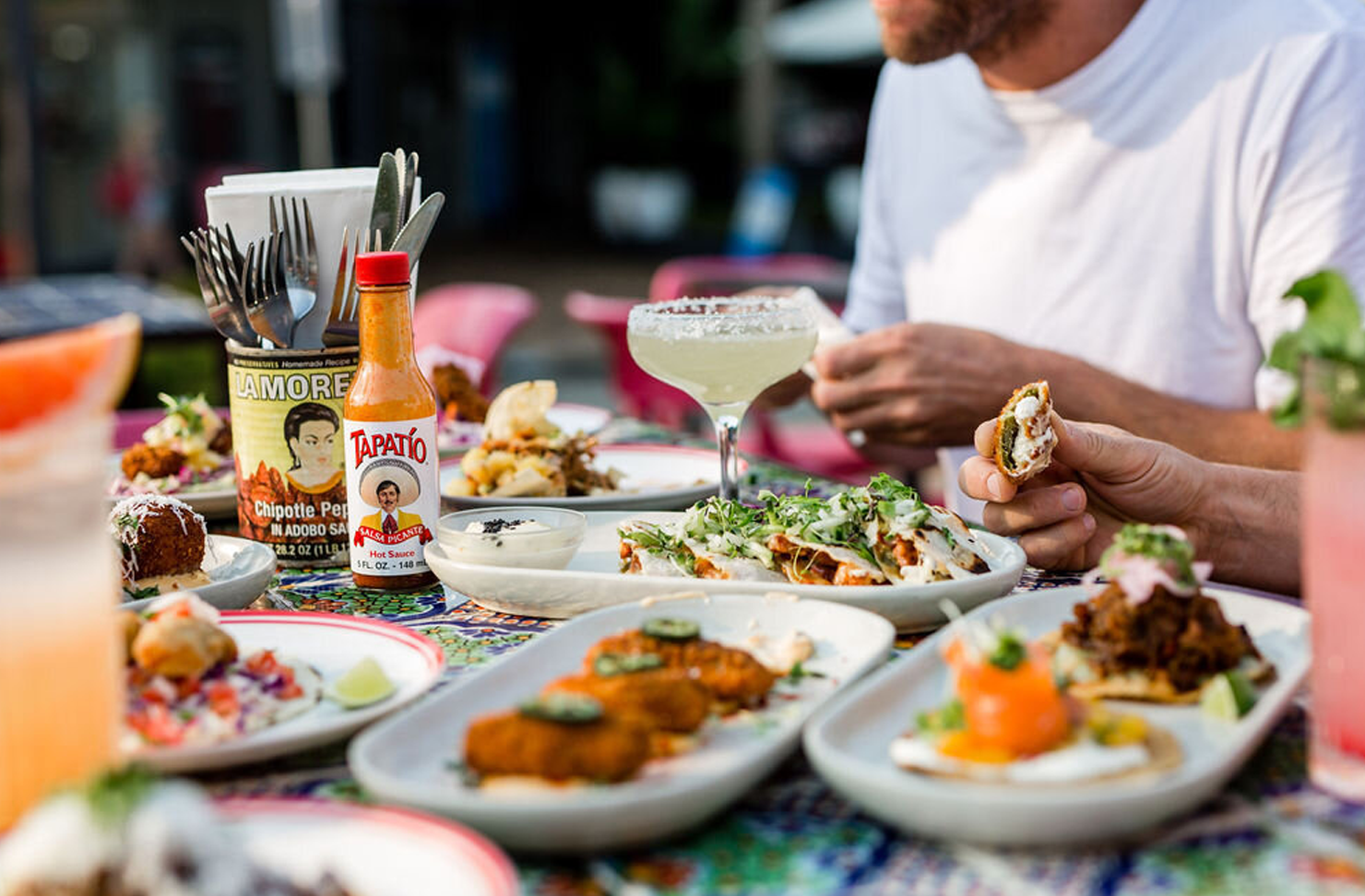 Cali-Mexican inspired restaurant Paradise Arcade will have you feeling like you've taken a mini vacation to the sunny beaches of Mexico. Serving amazing share plates, authentic tacos, tostadas, burritos, tacos and bowls, these guys are also renowned to make one of the best margaritas on the Sunshine Coast. Pull up a stool inside or unwind alfresco under palm trees and festoon lights.
Lucio's Marina
After the iconic, family-owned Lucio's in Paddington closed in 2021 after 40 years of operation, the Galletto's family search for a new home brought them across the border to the Sunshine Coast. The waterfront seafood trattoria and aperitivo bar effortlessly combines freshly caught seafood with premium local produce from the Noosa Hinterland, dishing up an exquisite menu that will keep you coming back, again and again.
Lucio's Marina pays homage to northern Italian flavours, with a menu that will transport you to coastal Italy with a nod to the original Lucio's menu. You can't leave without trying the exquisite saffron pappardelle with braised wagyu shank ragú and bone marrow emulsion.
Bang Bang Noosa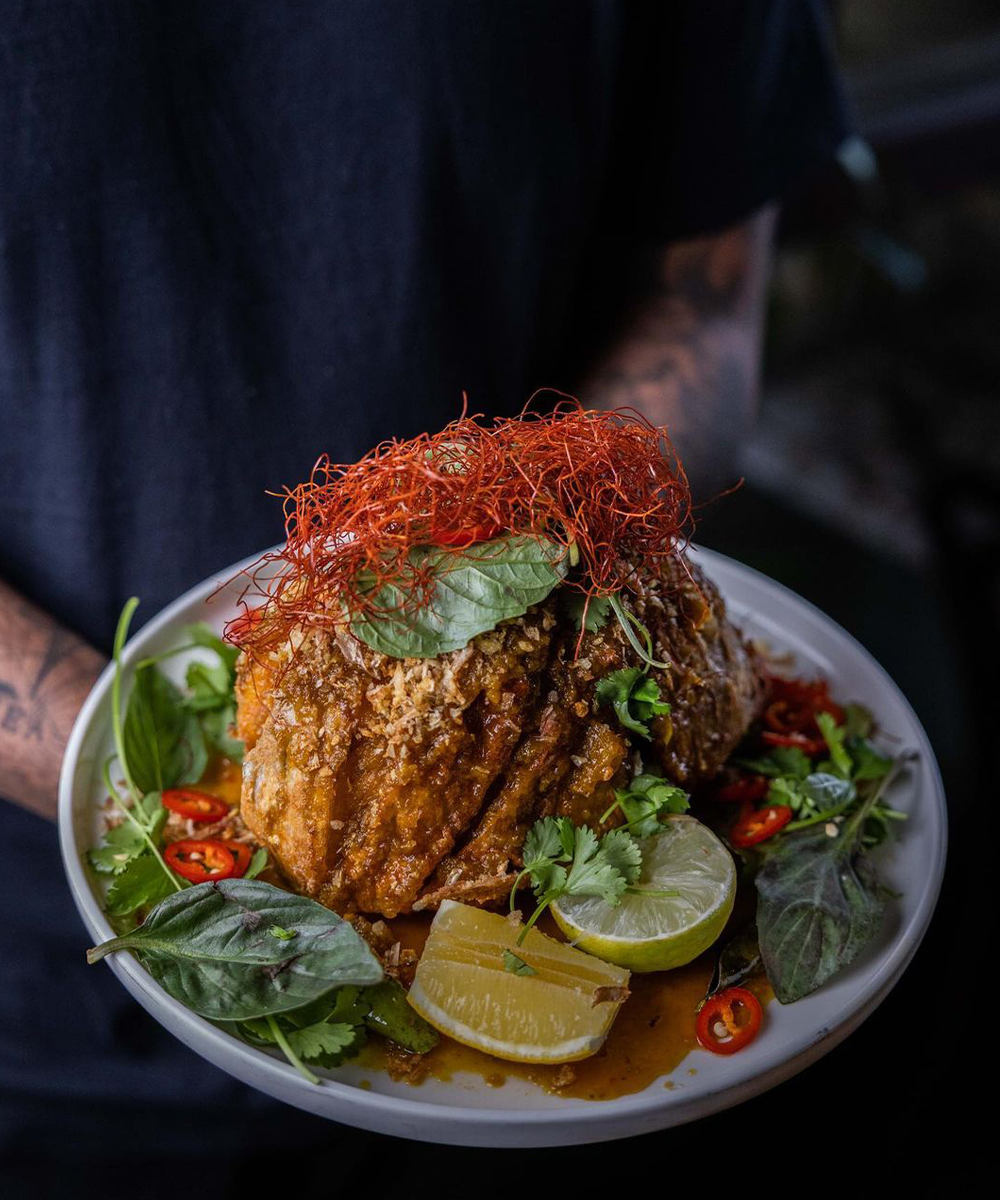 With exotic chandeliers above, lush greenery surround and an open marble bar, Bang Bang Noosa serves up ultra-cool vibes before you've even had a chance to crack open the menu. Bang Bang showcases up-market South-East Asian cuisine, a share-style menu and an extensive wine and signature cocktail list.
Your taste buds will delight over braised beef massaman in a rich creamy coconut curry and kipfler potatoes and BBQ barramundi grilled in a banana leaf over coals with fresh coconut and ginger. Enjoy a Crouching Tiger or Miyagi's Margi cocktail to truly transport you to another land.
ALBA
Translated as 'white' or 'sunrise', ALBA embodies the true essence of Noosa—it's light, it's breezy, it's refined and it perfectly encapsulates the natural elements of its coastal surrounds. The dreamy space boasts a cafe, providore, pizzeria and a laid cocktail back bar which transforms into a stylish restaurant as the sun sets.
ALBA by Kuruvita pays homage to the abundant Sunshine Coast produce, with premium local ingredients and global flavours taking centre stage. Graze your way through the elegant, Asian-inspired menu or order the tasting menu paired with matching wines. There is also an exquisite vegetarian tasting menu.
Miss Moneypenny's
Located on Hastings Street, Miss Moneypenny's coastal colour palette is dreamy and the styling is elegantly timeless and very classy. Serving up a diverse range of international-standard cocktails and Mediterranean and Middle Eastern-inspired Modern Australian dining, this place has the best of both worlds, a great location and even better food and drinks.
With social dining at its heart, the artistically executed menu boasts delights like chargrilled king salmon served strikingly atop charred chunks of wood, slow- cooked lamb shoulder with cucumber raita and Middle Eastern spiced pumpkin with spiced ras el hanout, sherry glaze, pickled enoki mushroom, cous cous and grain salad.
Mr. Drifter
Possibly one of Noosa Junctions' best-hidden gems, Mr. Drifter cocktail bar offers a modern twist on Tiki and has one of the coolest cocktail menus we've seen in a long time. How's this for your average gin and tonic—house-infused purple gin, Tahitian lime juice, soda, black tea lemon and orange foam.
With a rustic timber interior, hanging vintage postcards and exposed brick walls, Mr. Drifter's laid-back vibes are unmatched. Specialising in street foods from India to Indonesia, wrap your hands around a sticky pulled pork hawker roll or drool over their signature Malaysian roti bread.
Sails
For a long, lazy lunch with 180-degrees of Laguna Bay, then you can't go past Sails. Combining laid-back coastal cool with just the right amount of class and elegance, Sails Noosa takes beachside dining up a notch. With a menu full of fresh local produce and an extensive wine list that has won three Australian Wine List of the Year awards, you're guaranteed to be spoiled for choice.
Rickys River Bar & Restaurant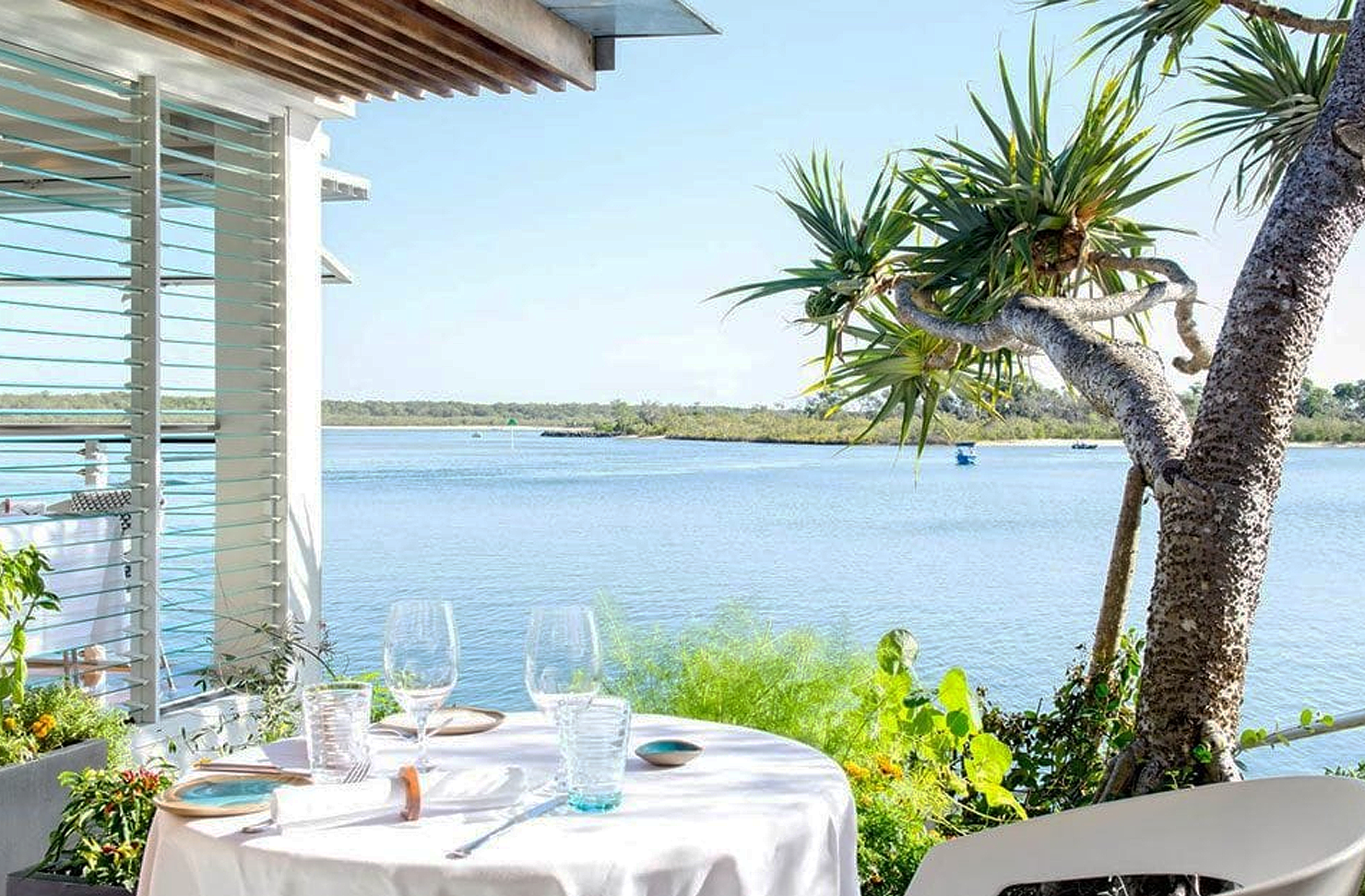 Super plush with all the trimmings, Rickys River Bar & Restaurant is a sleek waterfront establishment that will become the prime reason you and your stomach make the regular pilgrimage to Noosa (if you don't already live there, that is).
Rickys beautifully encapsulates the chic yet laidback Noosa lifestyle with their seasonal menu that includes delights like spanner crab spaghettini, roasted duck breast with salt-baked beetroot, and ricotta and goat's cheese gnudi with grilled zucchini and pine nut cream. Hands down, one of the best restaurants in Noosa when you're looking to seriously impress.
Locale
Nestled down the Noosa National Park end of Hastings Street, Locale is a must-visit when working your way through the best restaurants on the Sunshine Coast. Pop in for a moody cocktail at the dimly-lit bar and we guarantee you'll be staying through dinner, dessert and an espresso nightcap. Serving authentic Italian dishes, including freshly-made pastas, antipasti and a slow-roasted lamb shoulder that will change your life, this sophisticated restaurant feels like a hidden slice of Italy in a bustling resort town.
Noosa Beach House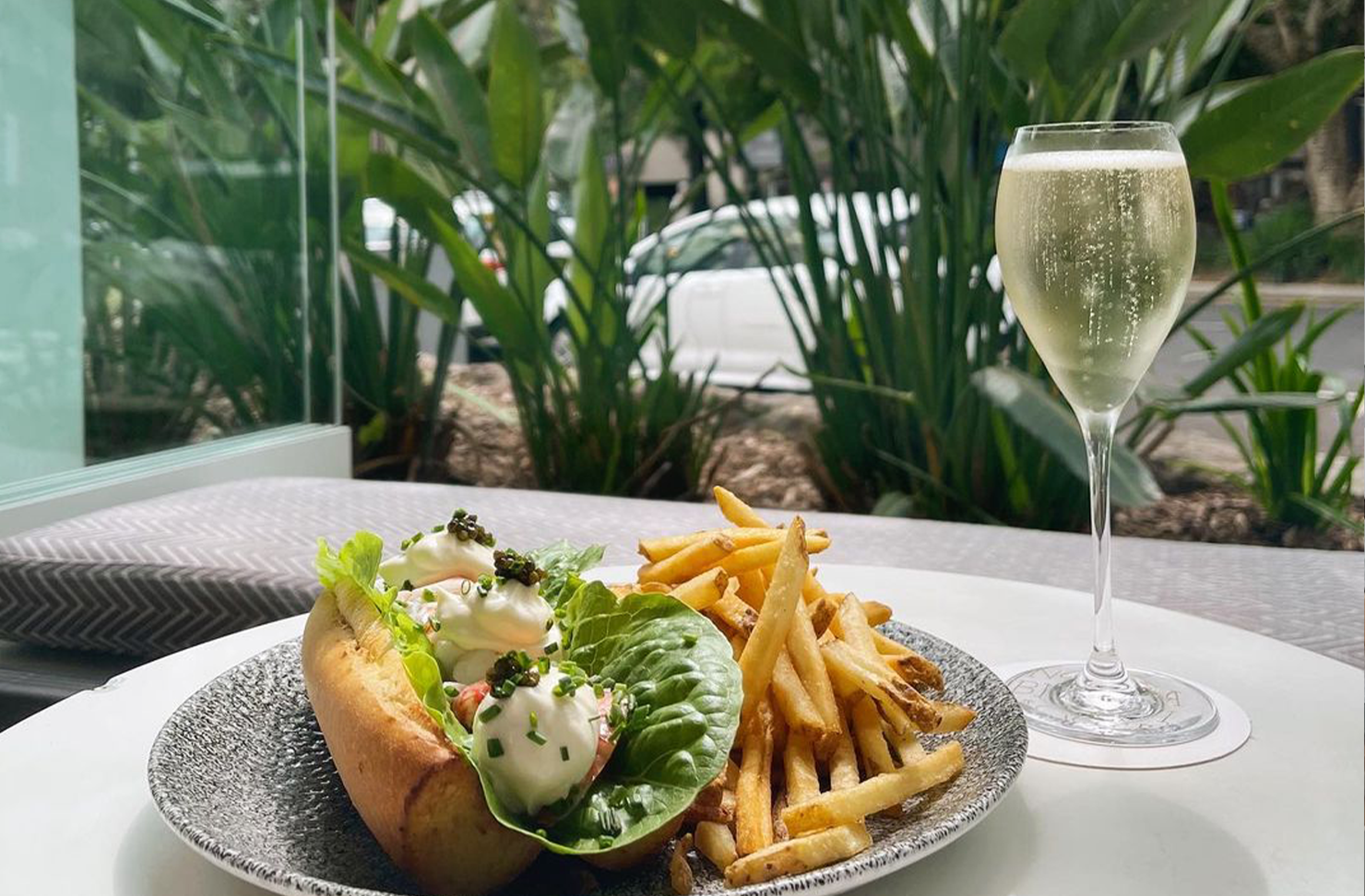 Noosa Beach House offers modern-style coastal cuisine in a chic dining experience like only Noosa knows how. As the name suggests, this contemporary coastal restaurant is perfect for those summer afternoon champagne and oyster lunches, after a long day of lounging on Noosa's main beach. Inspired by local ingredients to create a modern European menu, dive into the generous Beach House seafood platter or perhaps grilled giant octopus, piquillo peppers, potato mousseline and bottarga.
Embassy XO
Suckers for Yum Cha will almost certainly already know about Embassy XO. Serving up some of the best Yum Cha and modern Asian cuisine on the Sunshine Coast, it's a local favourite—for many delicious reasons. With a la carte, banquet, yum cha and bar menus, there's all kinds of moreish eats up for grabs. It also doubles as a wine bar, so lovers of a good drop can get their fix too. Winning.
Humble On Duke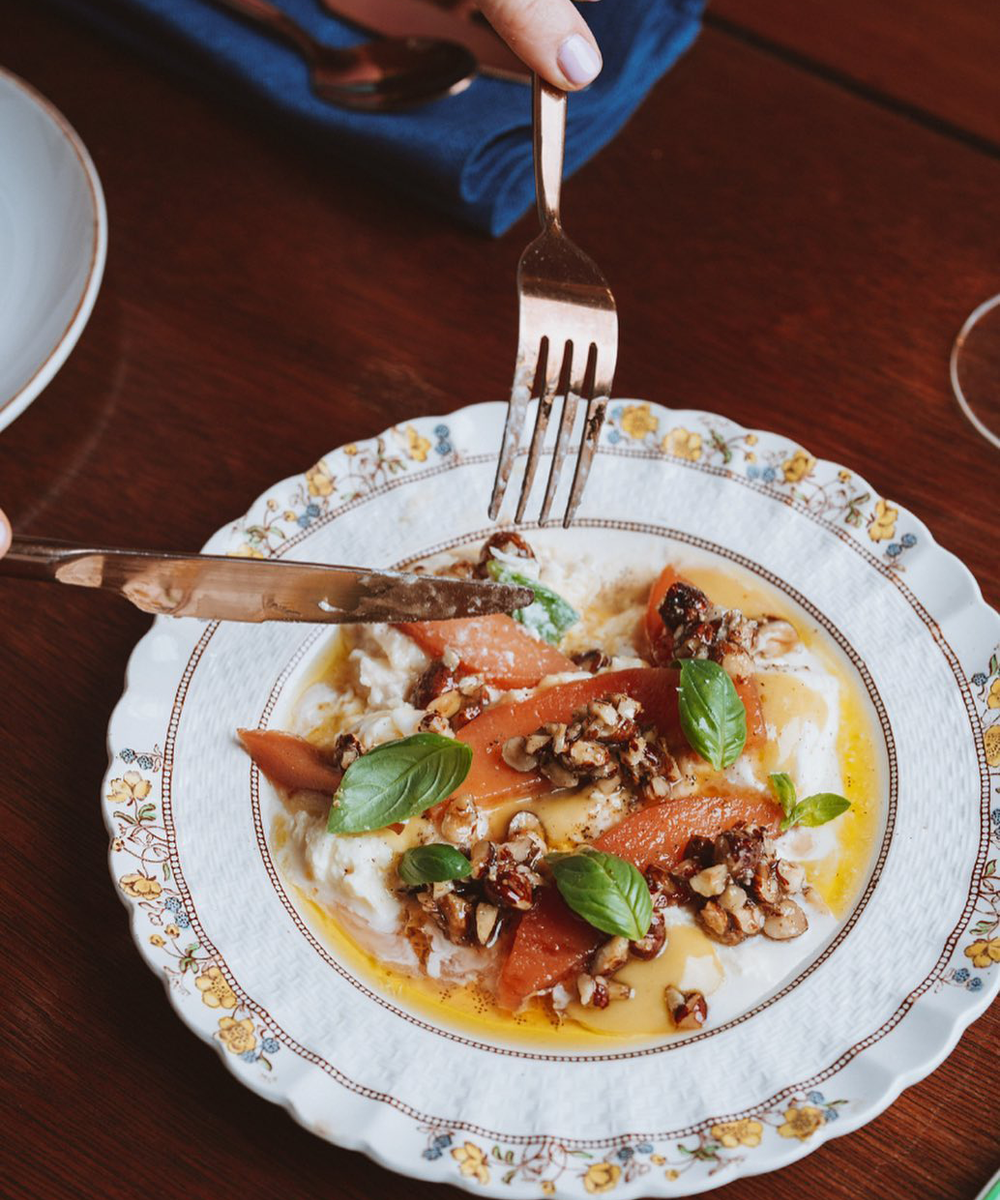 Colourful, creative, authentic and just the kind of delightful dining spot we need in our lives right now. Meet Humble on Duke, the intimate—and yes, humble—14-seater restaurant that has set tongues wagging in the Sunny Coast hospitality scene with its delicious cuisine, creative twists (blue cheese ice cream, anyone?) and genuine passion for dishing up good, honest food.
Humble on Duke mixes it up with their ever-changing weekly menu, but you can rest easy knowing it's always going to be top-notch. Modern Australian flavours take centre stage and are boldly accentuated with Middle Eastern and Mediterranean spices. Continents and flavours combining on a plate make for a truly delectable experience.
Gusto Noosa
Located opposite Noosa River and under a breezy summer terrace, you'll find Gusto Noosa. Gusto Noosa serves up top-quality produce that takes full advantage of their prime position along the water, all wrapped up in an idyllic European style bistro. One of our favourite places to hang out away from the hustle of Hastings street, Gusto can tempt just about anyone with their Moreton Bay bug linguine, crispy confit duck spring rolls or a sneaky hot baguette with truffle butter. Breeze down on Wednesday evenings for live music to help sail that mid-week slump away.
Sum Yung Guys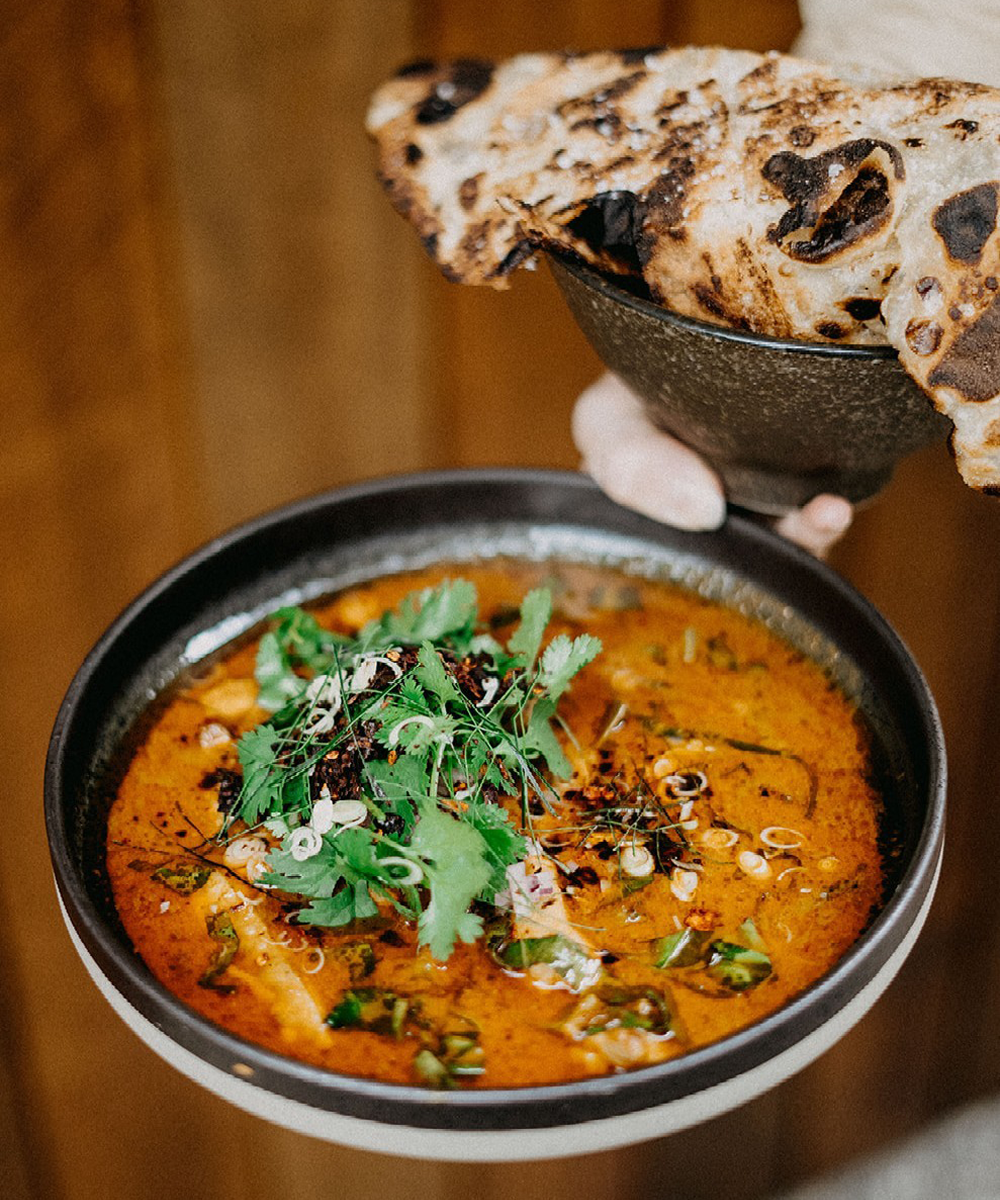 The lads at Sum Yung Guys are extremely passionate about serving up modern Asian cuisine, and it shows through the drool-worthy menu. Featuring the likes of 'Crying Tiger' short ribs, Mooloolaba prawn toast, soy braised eggplant and aromatic curries, be sure to cap off your dining experience with the pandan-acotta. You'll be tricking your taste buds into thinking you're on a resort holiday in Asia with the first few bites. Easily one of the all-time best restaurants in Noosa.
Moonstruck
Once you step inside Moonstruck's snug interior, you're immediately enveloped in the warm lighting and glinting mosaic marble floors that emanate old-school European cafe vibes. You'll notice right off the bat that a big part of Moonstruck's charm is in all those unique, well-thought out details.
Besides amazing boutique roasted coffee—courtesy of Boy himself—and an unique range of gin, Moonstruck's menu will not let you down when it comes to food. If you're after a quick breakfast or lunch you can dip in and grab a coffee, a pastry or a classic Reuben sandwich. If you're looking to stay a bit longer, you can indulge in a share plate or one of Moonstruck's cheese and charcuterie platters, of which there are vegan and vegetarian options.
Light Years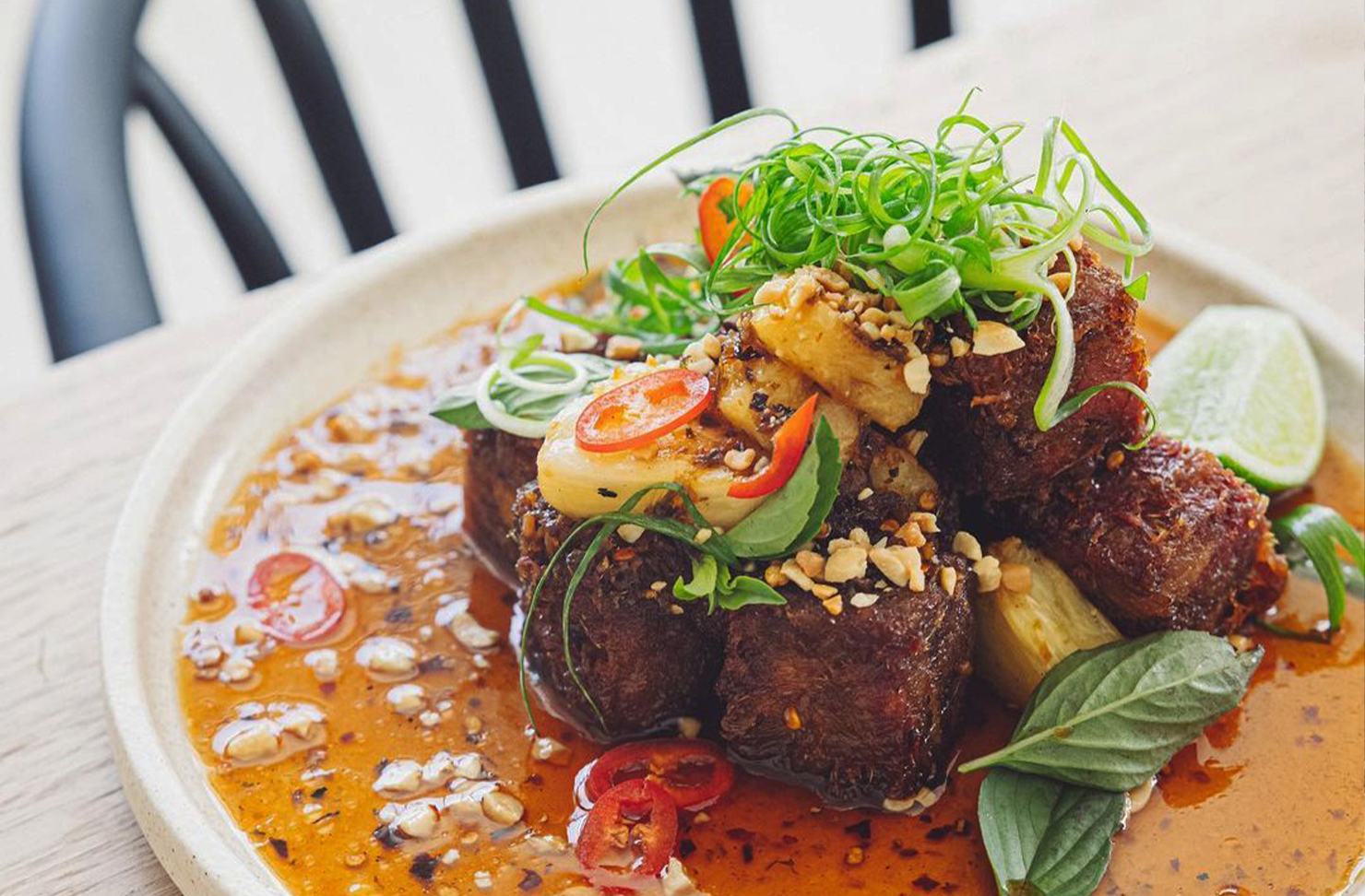 If you're after an effortlessly cool and relaxed dining setting, some truly delicious Asian-inspired eats and delicious cocktails, then Light Years should be your next stop. Their menu is designed to be shared, so you can sample a lot of the goods in one sitting. And when it comes to the goods, well, you'll be spoiled for choice. Think bao buns and dumplings, crispy pork belly, twice-cooked crispy skin chicken, and kaffir lime and coconut panna cotta.
La Vida Restaurant
This top Noosa restaurant along the bustling thoroughfare of Hastings Street is one of the only places offering both casual and luxury private dining. Specialising in European-style seafood both locally caught and from our friends in Tasmania, La Vida's handcrafted menu offers the best in unique and flavourful seafood options.
Think: house-made Tasmanian smoked trout pate, coral trout crudo and a to-die-for seafood marinara. Pair all that with a bottle of delicious white wine in your own intimate and cosy hideaway and you'll forget that you're right in the hustle of Noosa.
Pucca
If coastal Indian street food, cooked with European techniques and local produce, sounds like your kind of jam, then head straight for Pucca. Sitting in the heart of Noosa Junction, the restaurant fit-out screams old-school Indian luxury hotels, with lots of rattan chairs in the huge outdoor area, lush greenery and a cool, white interior.
Satisfy your tastebuds with standout dishes like Dad's Puchkas, where you'll get a mountain of pani puri—perfectly round, hollow little puffs of fried crispiness—delivered to the table, along with a spiced chickpea filling. To top it all off, Pucca is home to a boutique gin bar, meaning once you're here, you're not going anywhere else for the night.
El Capitano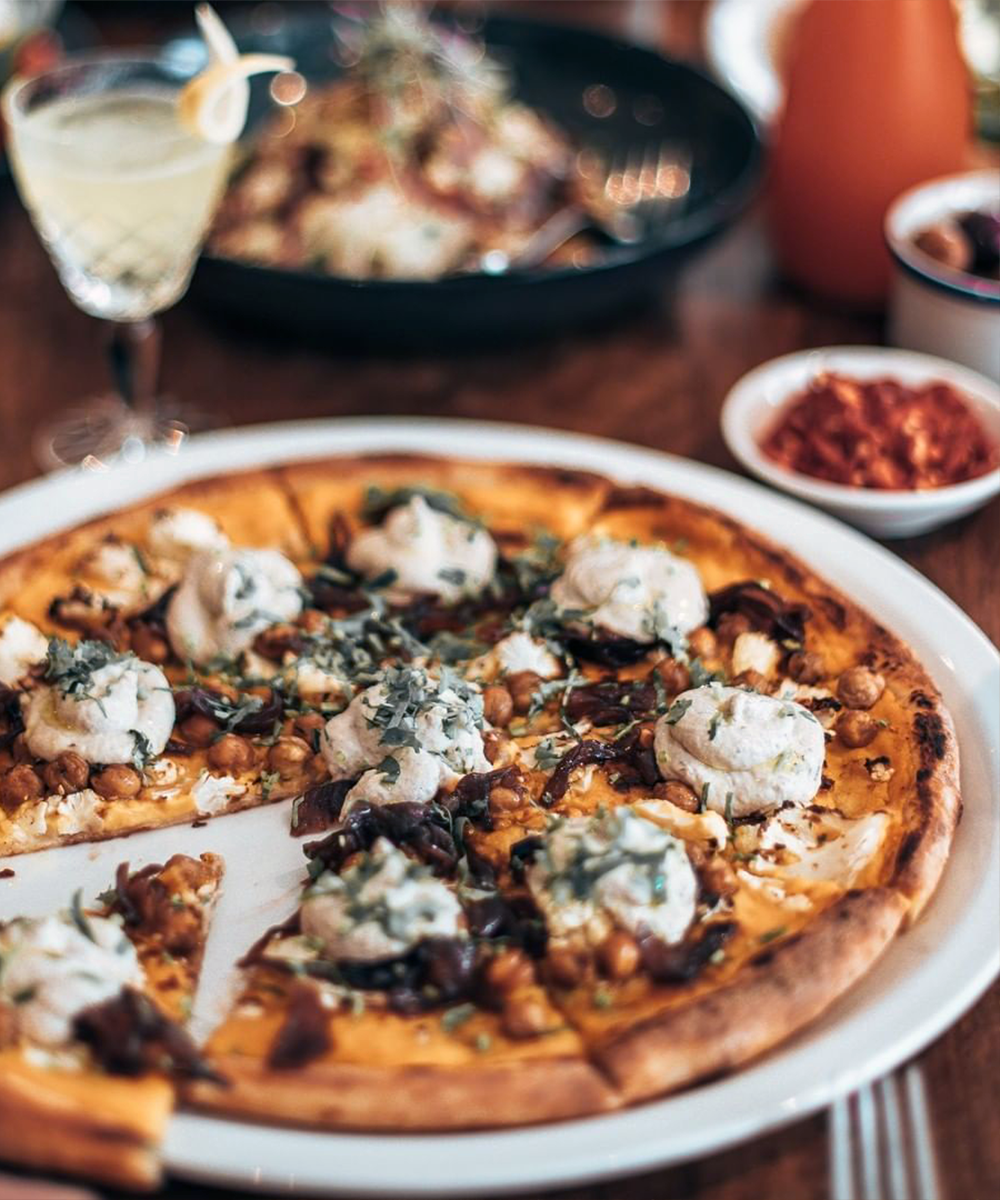 If pizza is your thing, then look no further than El Capitano, Noosa's coolest pizza joint. Mosey on in with your mates after a day at the beach and prepare yourself for mouthwatering plates of handcrafted meats and mozzarella, 72-hour fermented sourdough pizzas and all the Aperol spritz your heart desires. Top it all off with a spiced mango daiquiri and a strawberry coconut sundae for the ultimate treat.
Bistro C
Relaxed beachside dining at its best, Bistro C is all about good food, good drinks and good times. Open for breakfast, lunch and dinner, the folks at Bistro C are serving up culinary delights at all hours of the day. From prawn and spanner crab dumplings to confit duck leg, Bistro C's menu is as versatile as it is delicious. Oh, and their cocktails are nothing short of incredible.
Noosa Waterfront Restaurant and Bar
If you've never been to the Noosa Waterfront Restaurant, then you really need to schedule it in. Tucked away from the busyness of Hastings Street, this gem offers views of Noosa River, delicious Italian-inspired cuisine and a dining experience that is both casual and luxurious. They make their own pasta in-house, offer gluten-free pastas and pizza bases and use local produce as much as possible. A top contender for the best Italian, nay best restaurant, in Noosa.
Lanai Noosa
Noosa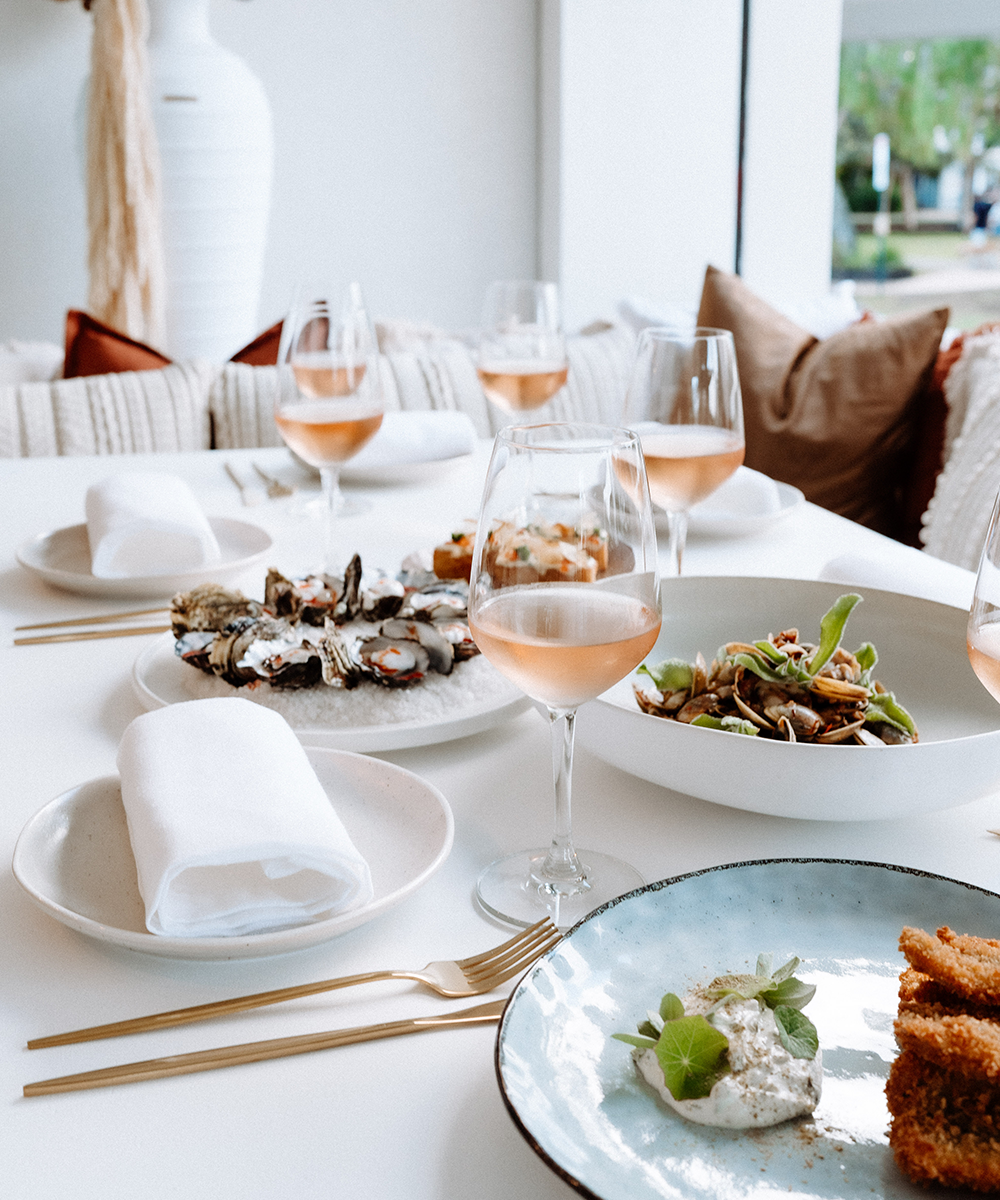 There was a palpable sound of hearts breaking when Noosaville stalwart, Thomas Corner Eatery closed its doors in 2022. The well-known waterfront dining establishment has been transformed into Lanai Noosa, a sophisticated seafood-centric restaurant which truly embodies the essence of Noosa's casual elegance and boasts scenic views of the Noosa River.
Lanai has a strong focus on sharing and connection, which is reflected in the shareable menu—from small nibble platters to large share plates which champion sustainably sourced seafood, native ingredients and locally crafted artisan products.
Bombetta
If you love Italian, then pay local favourite Bombetta a visit. Offering traditional Italian for both takeaway and dine-in, it's not hard to see why everyone raves about this Noosa Junction hotspot. The only thing bigger than their pizzas is their extensive wine list, which features some Italian drops that pair perfectly with their delicious Italian eats. Be sure to leave room for their Noosa gelato tubs (which you can order takeaway) to finish on a sweet note.
Sumi Open Kitchen
With an expansive open kitchen, a night at Sumi Open Kitchen will be as tasty as it is entertaining. On offer is the 'Trust the Chef' menu, which is a six course omakase menu of delicious Japanese-inspired cuisine with a sake pairing. So, all you have to do is sit back, relax and watch the chefs do what they do best while you wait for your culinary surprise. Due to the set menu style, this restaurant is not vegetarian, vegan or gluten-free friendly.
Sushi Yah-Man
The folks at Sushi Yah-Man may play reggae, but they are very serious about their Japanese food. Bringing their favourite food and music together into the one place has helped them create the ultimate relaxed, fun and delicious foodie experience. An authentic Japanese iakaya restaurant that doubles as a sushi bar, Sushi Yah Man is the ultimate destination for anyone who loves their Japanese food.
Is all this delicious food making you feel like you need rest and reset, while you nurse your food baby? Take it slow and rejuvenate at the Sunshine Coast's best day spas which are worth a visit.
Image credit: Jac Lee Media, ALBA, Ariana Gillrie, Bianca White , Hayley Williamson and Lumea Photography