From white linen fine dining to cosy neighbourhood eateries, there are a lot of contenders for the Sunshine Coast's best restaurant.
Regardless of what you're in the mood for, one of these places should have you sorted. It's a tough list to narrow down, but here are 16 of the best restaurants on the Sunshine Coast.
Humble On Duke
Sunshine Beach
Colourful, creative, authentic and just the kind of delightful new dining spot we need in our lives right now: meet Humble on Duke, the intimate—and yes, humble—14-seater restaurant that has already set tongues wagging in the Sunny Coast hospitality scene with its delicious cuisine, creative twists and genuine passion for dishing up good, honest food. Humble on Duke mixes it up with their ever-changing weekly menu, but you can rest easy knowing it's always going to be top-notch. Modern Australian flavours take centre stage and are boldly accentuated with Middle Eastern and Mediterranean spices, a combination which makes for a truly delectable experience
Honeysuckle
Buderim
It's no surprise that Honeysuckle has been making a splash; there isn't a restaurant like it in Buderim, offering both sit-down lunch and casual fine dining at an affordable price. To offer a bit of much-needed variety in a cafe-laden area, Honeysuckle serves up Yum Cha style lunches at $25 per person that'll take your tastebuds on the ride of their life. You can make your way through dishes like Wagyu beef gyozas, prawn and pork shumai, Korean BBQ beef skewers, crispy eggplant with black vinegar caramel and lots more. At night, you can expect a more casual fine dining menu, with the likes of Singapore chilli spatchcock, Sticky beef cheek or Jeyuk spicy BBQ Pork. Honeysuckle is also fully licensed, which means you can sip on local sparkling, wine or beer while you wolf down some of the best dishes in Buderim.
Kiki Bar & Eatery
MAROOCHYDORE
Kiki Bar & Eatery left us hoisting our jaw from its beautiful herringbone black and white tiled floor the moment it opened. A second venture for ex-Spice Bar owners, this restaurant and bar is sleek and sexy; a direct representation of their contemporary menu offerings, which include marinated olives, steak frites, and deli cheese and meats with condiments. But what Kiki does best is provide a plethora of tipples with classic cocktails including espresso martinis and Cosmopolitans, eight different gin varieties, select wine and craft beers and our personal fave—kombucha on tap. If you're looking for one of the best new restaurants on the Sunshine Coast, this is it.
Sum Yung Guys
Sunshine Beach
Sum Yung Guys is the masterpiece of four local lads, including ex-Masterchef contestant Matt Sinclair. Opening in 2017, this Sunshine Beach restaurant has built such an impressive reputation that there's now a waitlist to dine here. Serving up incredible, share-style pan-Asian dishes, we recommend gathering a group of your favourite foodies and taking on the banquet, a "best of" hit list from the menu, featuring the likes of King Prawn Toast, Beef Rendang and Sour Yellow Curry.
Locale
Noosa Heads
Nestled down the Noosa National Park end of Hastings Street, Locale is a must-visit when working your way through the best restaurants on the Sunshine Coast. Pop in for a moody cocktail at the dimly lit bar and we guarantee you'll be staying through dinner, dessert and an espresso nightcap. Serving authentic Italian dishes, including wood-fire pizzas and a baked pumpkin and ricotta gnocchi in a sage cream that will change your life, this sophisticated restaurant feels like a hidden slice of Italy in a bustling resort town.
Spice Bar
Mooloolaba
If you love modern Asian cuisine, Spice Bar needs to be on your priority list. This stunning restaurant, perched high in Mooloolaba, offers gorgeous ocean views during the day, and at night, exudes a modern luxury making your dining experience something truly special. The Asian-inspired menu is something worth raving about and the incredible degustation options are a great way to get a full Spice Bar experience. Otherwise, don't go past the duck okonomiyaki, or the pork belly, or the beef cheek rendang…oh hell, just get it all!
Orleans
Maroochydore
For when you would like to leave the region but can't quite afford a private jet for the night, Orléans is one of the best restaurants on the Sunshine Coast for a romantic date night. A fusion of New Orleans and French cuisine, walking into this bar slash restaurant totally feels like you're stepping into a fine little bar in Melbourne, and that's a big win in our books.
Spirit House And Hong Sa Bar
Yandina
Dining at Spirit House is almost like being transported to a private Asian rainforest retreat, only without the airfare. It's not just the aromas of incredible Thai and Vietnamese-inspired food, but the whole setting. A tropical garden walkway leads you to the restaurant; an ornate building perched over a private tranquil pond and surrounded by bamboo. The menu boasts dish after dish of punchy flavour combinations and is based on the Asian concept of a shared table. Our suggestion is to order as many different dishes as you can, as long as it includes the whole crispy fish with tamarind chilli sauce. Insider tip: Arrive early and sip on a cocktail at Hong Sa Bar; Spirit House's destination bar on the same pocket of land.
The Long Apron
Montville
Rarely are resort restaurants worth tooting the horn about, The Long Apron however, completely defies that logic. Set among the lush hilltop gardens as part of Montville's Spicers Clovelly Estate, this European-inspired restaurant has an inviting charm that welcomes you right on in. Presenting courses that are fresh and modern whilst drawing from classic techniques, the care and thought that has gone into creating each dish is obvious. A few of our current favourites? Try the coal-grilled baby octopus with a ginger reduction, chickpea and pickled persimmon, and the perfectly-roasted full blood Angus beef, served with grilled baby gem lettuce and spent grain cracker.
Paradise Arcade
Noosa Junction
Margarita on tap, authentic grilled fish tacos and giant Frida Kahlo murals are always a good idea, which is why we're forever-crushing on Noosa's Cali-Mexican inspired restaurant, Paradise Arcade. Pull up a chair under festoon lights and palm trees, or cosy up in the lofted interior, then gorge on mouth-watering share plates, tacos, tostadas, bowls and way more.
Dirty Moes
Mooloolaba
Born from a love of the American southern culture of slow-cooked soul food shared with the ones you love, Dirty Moes delivers unpretentious eats on the daily and is easily one of the best restaurants on the Sunshine Coast. So it's no surprise you can come to expect 'Low 'n' Slow' platters of succulent, fall-off-the-bone meat. Wash it down with a glass of hand-crafted beer, whiskey or their famous sticky date espresso martini. Wednesday night is brisket night at Dirty Moes and every Thursday they bring out the big guns with an epic selection of burgers.
Rickys
Noosa Heads
Rickys is one of the Sunshine Coast's most iconic restaurants and for good reason, the food and views are unbeatable, and the waitstaff are super attentive. Here, you can expect tables dressed in white linen and a faultless modern Australian menu, thick with seafood options and ingredients sourced from their very own Noosa Hinterland farm. If you really want to take this fine-dining experience next-level, you can even arrange to arrive in style via ferry, straight to Rickys wharf. Now that's special.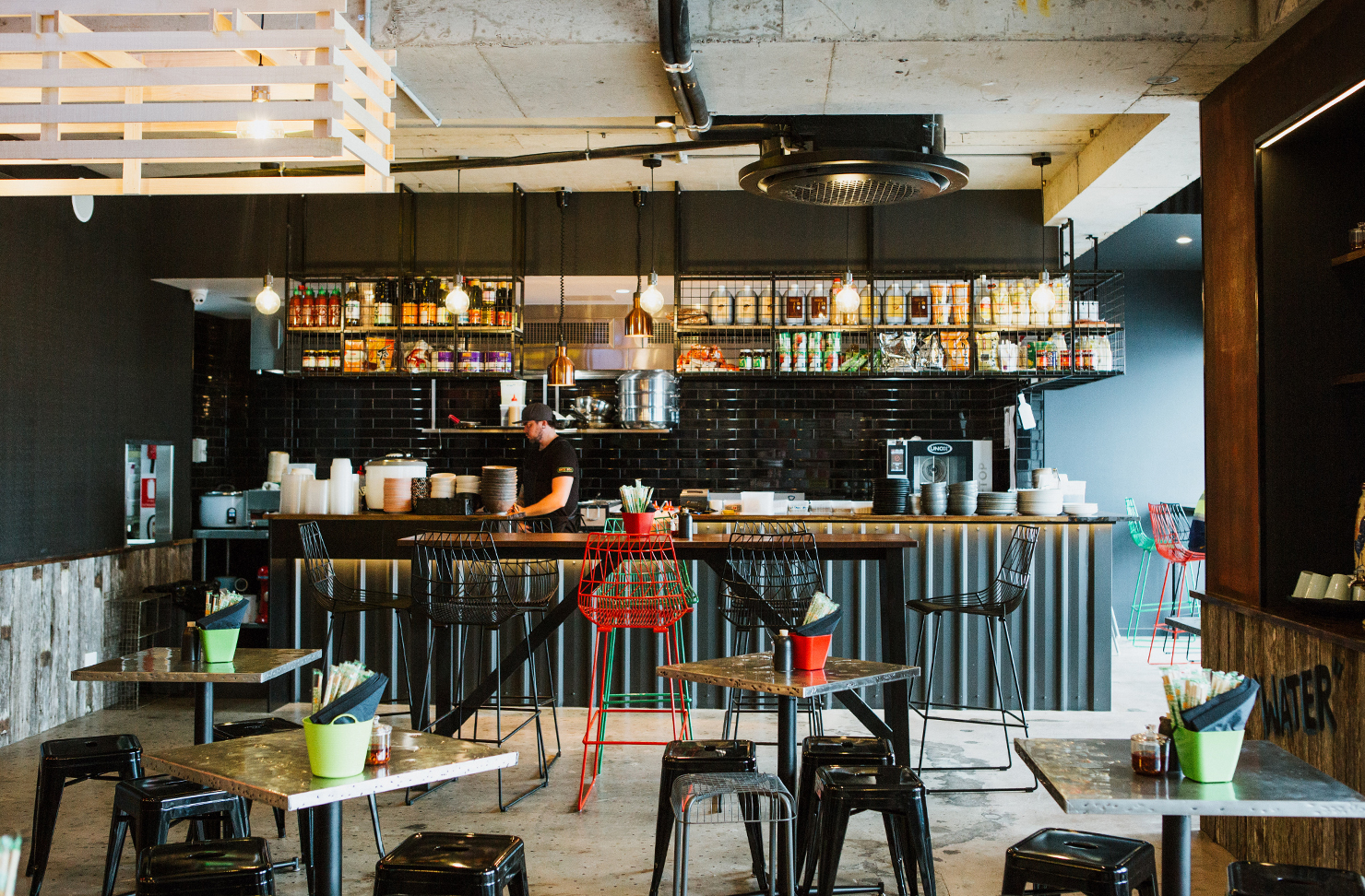 Rice Boi
Mooloolaba
Grunge, neon lights and lanterns, Rice Boi feels like an underground city bar that's mistakenly landed on the Sunshine Coast—but that's exactly what we love about it. Channelling the essence of a Japanese izakaya dive bar, Rice Boi dishes up the goods when it comes to modern Asian street-style food. Undeniably one of the best restaurants on the Sunshine Coast, this Mooloolaba joint hums every day of the week, serving up delicious ramen, bao, curries and some of the tastiest pork belly we've ever wrapped our mouths around.
Embassy XO
Sunshine Beach
Suckers for yum cha probably already know about Embassy XO. Serving up some of the best yum cha and modern Asian cuisine on the Sunshine Coast, it's a local favourite. With a la carte, banquet, yum cha and bar menus, there's all kinds of moreish eats up for grabs. It also doubles as a wine bar, so lovers of a good drop can get their fix too. Winning.
Sails
Noosa Heads
For a long, lazy lunch overlooking Noosa Main Beach, you can't go past Sails. Combining laid-back coastal cool with just the right amount of class and elegance, Sails takes beachside dining up a notch. With a menu full of fresh local produce, straight-out-of-the-ocean seafood and a decadent wine list that has won three Australian Wine List of the Year awards, you're guaranteed to be spoiled for choice.
Harry's On Buderim
Buderim
The quaint Harry's On Buderim is a fine dining restaurant offering modern Australian cuisine within a charming 120-year-old homestead. With two-hatted chef and owner, Stuart Bell at the helm, the menu uses the freshest local produce and ingredients. The veranda offers guests a true outdoor Queensland dining experience with views over the open parklands and rainforest. Trying to impress someone? They've even got an elegant fireplace here to snuggle up by.
Now that you've eaten your way around the best restaurants, hit up our list of the Sunshine Coast's best bars.
Image credit: Amy Higg for Urban List and Rickys