Maroochydore is teeming with restaurants, cafes and bustling hole-in-the-walls. With so much on offer, it's sometimes hard to know where to wine and dine. Whether you're craving a laidback long lunch, a romantic pull-out-all-the-stops dinner or a casual spot to become your new go-to, Maroochydore has got you covered.
From authentic Japanese joints to riverside dining to luxe modern French cuisine, here 11 of the best restaurants in Maroochydore you need to try in 2023.
Market Bistro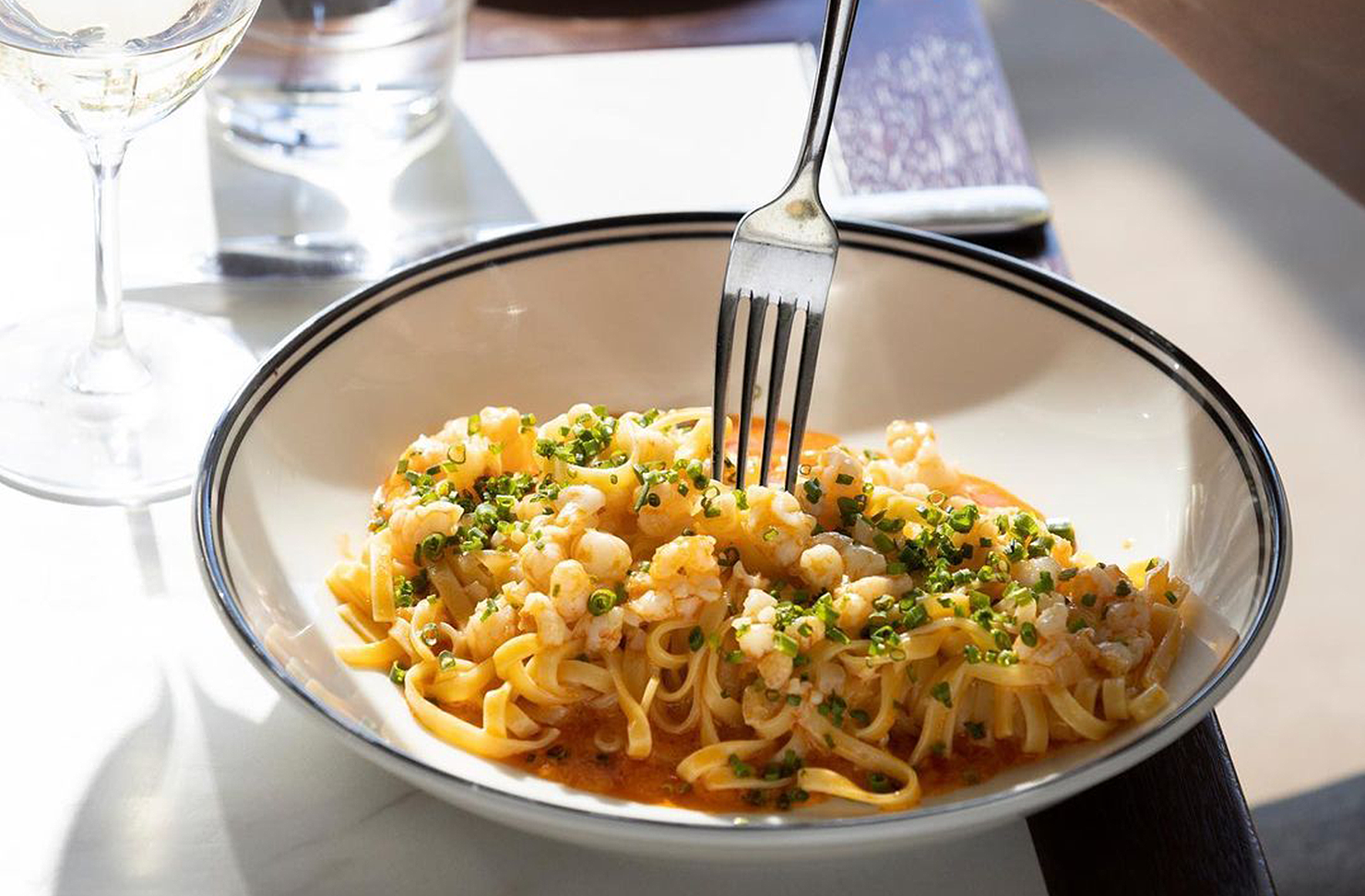 If there was ever a place for top-notch fine dining in Maroochydore, look no further than Market Bistro. With floor-to-ceiling glass windows, plush couches and soft green finishes, Market Bistro is your stylish and contemporary European neighbourhood-style bistro. With a constantly revolving wine list, you'll be glad you ordered that delicious second glass of fine red wine to go alongside your roast Mooloolaba king prawns or their hand-made ravioli stuffed with confit duck leg. A local tip is that you can purchase a bottle from their Wine Store before dinner, for retail prices, and then have it ready and waiting as you sit down for dinner in the Bistro. We got you.
The Boat Shed
This is an oldie but a goodie. Situated on the fringes of the Maroochy River, the sweeping views of the river at The Boat Shed are unbeatable, which is why it's one of our favourite spots to sit back and relax with an aperol spritz in hand. Enjoy their modern Australian menu over a lazy lunch or celebratory dinner. Think: crumbed Mooloolaba king prawns, char siu pork belly with roasted prawns and cashew pesto pasta with smoked tomatoes. If you're chasing a more casual vibe, then lay down a picnic rug in the park and pick up fish and chips from The Boat Shed's hole-in-the-wall takeaway.
Liliana's Trattoria
The words 'authentic Italian' get thrown around alot, although venues often don't warrant the title, which comes with high expectations. Liliana's Trattoria is a rarity in this sense. Liliana's Trattoria is a sweet Italian joint located in Maroochydore, serving classic generational Italian dishes inspired by Nonna Liliana. The inspiration behind the trattoria, Liliana Kain has a passion for sharing her long-held traditional family recipes and for creating food from the heart for her family—and now for the Maroochydore community. Liliana's touch is ever present throughout the menu—from her crumbed and fried pork shoulder and beef meatballs, to Italian focaccia filled with crescenzi cheese, to her beef cheek ragu gnocchi, to the array of woodfired sourdough pizzas made in-house.
La Canteena
Tucked away off Ocean Street, in one of the coolest courtyards on the Sunshine Coast, La Canteena's high walls and black cast-iron entryway will make you feel like you're sinking sangria in the city. Except you're not. Head here for a weekend escape when you want to chill out to a DJ spinning tunes, ice-cold cocktails, and some seriously moreish Mexican eats. Yep, these guys do damn good tacos and nachos. And their wings? Next-level. La Canteena also do regular Bottomless Fiestas with bottomless tacos and margaritas, so keep an eye on their socials.
Junk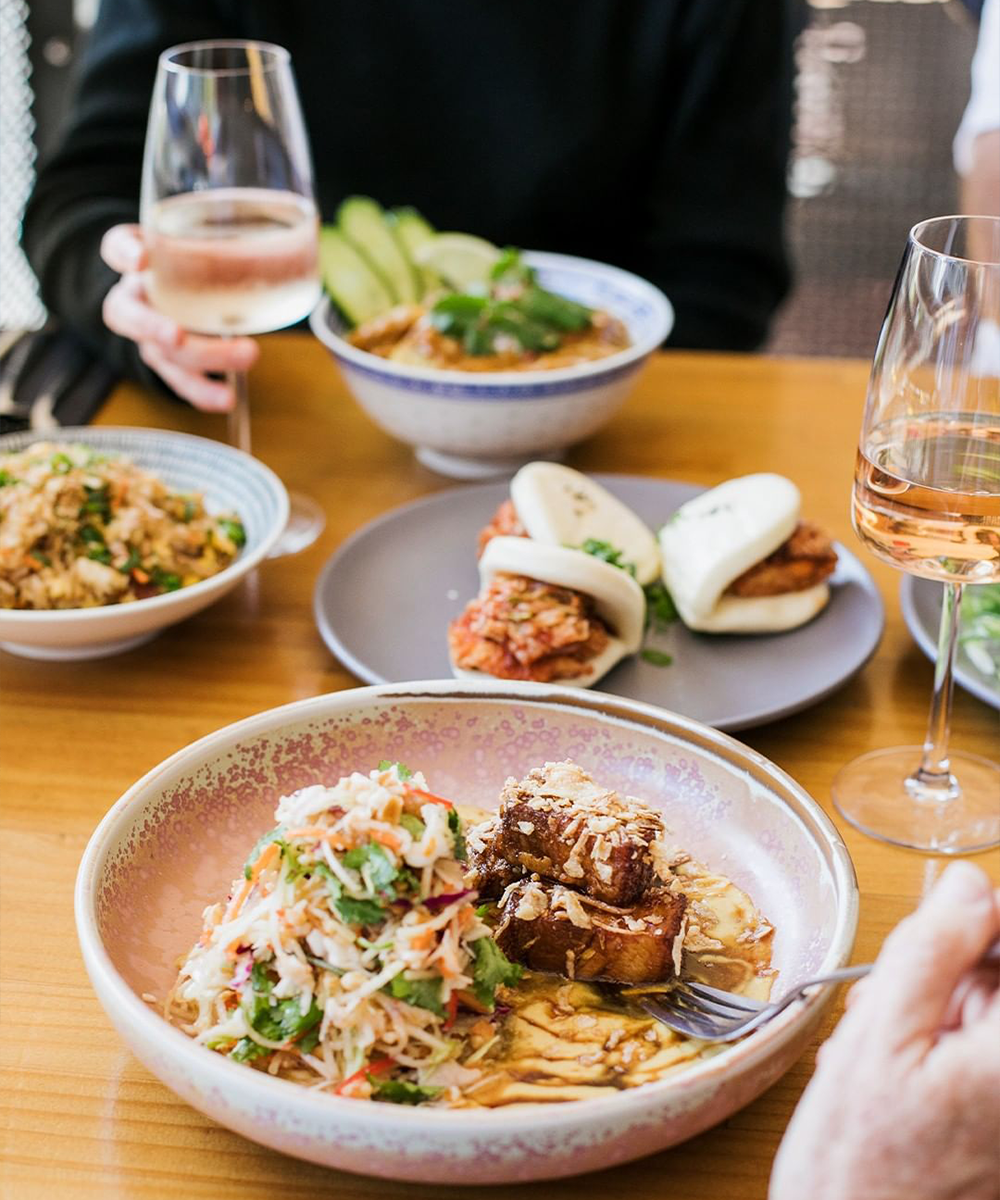 Serving a remix of Thai, Vietnamese, Malaysian and Chinese street-style cuisine, Junk is always a winner when heading out for a cheap meal in Maroochydore. Best enjoyed share-style, grab your mates and load up on their chicken katsu bao with crispy fried chicken breast, Gangnam spiced fries with nacho cheese sauce and don't forget to grab a few bowls of crunchy lotus chips. Pop by between 11:30am and 3pm any day and you can grab one of their delicious bento boxes for a quick and delicious lunch. Hands down, one of the best restaurants in Maroochydore.
Giddy Geisha
From the well known and highly successful restaurateurs that brought us both Junk and Rice Boi, we welcome another Asian-fusion favourite in Giddy Geisha. The first thing you'll notice is the grungy urban surroundings, swiftly followed by the drool-worthy smell of whatever is cooking in the kitchen. Giddy Geisha serves a funky mix of street food and refined Asian dishes. Chow down on some crying tiger beef, crispy pork and prawns or one of their tasty sashimi dishes while you cheers your mates with a deliciously quirky cocktail.
Soka
Maroochydore's well-loved Soka (originally Chako) will elevate your evening with casual fine dining, which is an intriguing blend of Japanese and charcoal-prepared cuisine. Take your pick from Soka's extensive charcoal char-grilled menu, which boasts delights like smoked wagyu karubi with onion salad and wasabi dressing or chargrilled eggplant with den miso and black tea broth. Up the ante and go all out with the chef's four-course banquet for just $75 per person.
Corbins
Corbins has become a culinary leader here on the Sunshine Coast, serving top-notch Asian-fusion cuisine in the heart of Maroochydore. Munch on small bites, like korean fish bao with coriander mayonnaise or satisfy your hunger with share plates of tempura eggplant with miso, nori and bonito or twice-cooked pork belly with sweet and sour sauce. They also serve up two incredible degustation menus, with their very reasonable pricing between $45 and $65. It's no wonder this restaurant slips into our list of the best restaurants in Maroochydore.
Orléans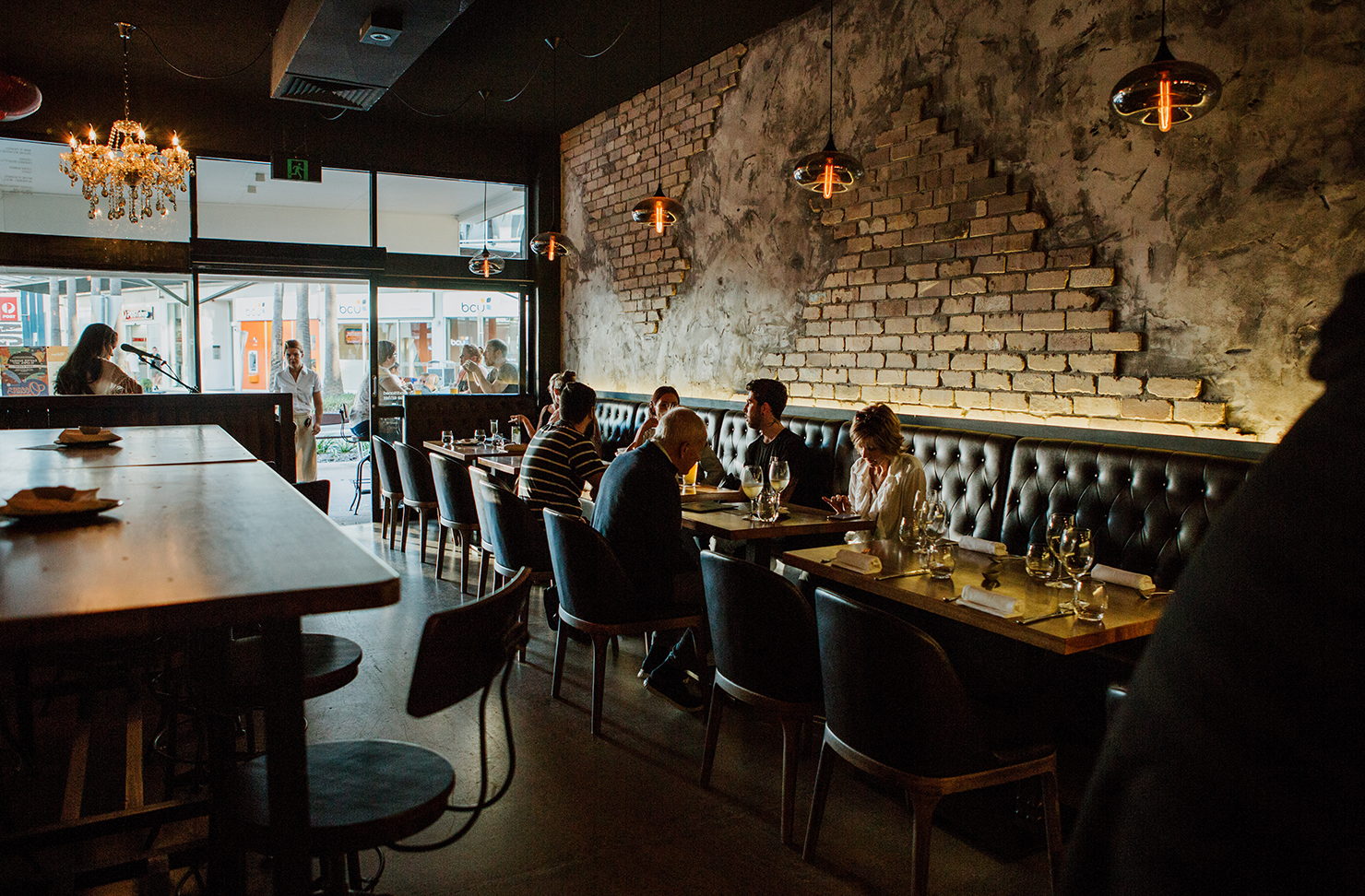 Orléans is luxurious and modern, drawing inspiration from traditional New Orléans cuisine and finished with a modern French Orléans twist. On the menu, you'll find New Orléans classics like cornbread, sticky beef cheek with potato and truffle souffle and seafood gumbo, as well as roast duck a l'orangé and gnocchi parisienne. This luxe restaurant also boasts a four-course tasting menu, for vegetarians and omnivores alike. Orléans truly serves a memorable culinary experience and is one of the best restaurants in Maroochydore for a romantic night out.
Umami Ramen
Located along busy Aerodrome Road, sandwiched between a row of shopfronts, you could easily pass this eatery by, and that would be a real shame. Umami Ramen is the first dedicated Japanese ramen shop on the Sunshine Coast; it's as authentic as it comes and the regularly packed restaurant is testament to that. Specialising in rich and creamy tonkotsu pork broth, their tender char-siu pork will melt in your mouth. We highly recommend their spicy red ramen, which is served with homemade miso paste and chilli oil or if you're vegetarian or vegan, you're well catered for, with a ramen soup made with four varieties of mushrooms and kelp. Umami Ramen also makes a wicked chicken karaage rice bowl. Our chopsticks just can't move fast enough.
Sushi Dragon
This is, without a doubt, one of the best sushi spots you'll find on this side of Maroochy River. Sushi Dragon is an authentic Asian cuisine restaurant conveniently located on Ocean Street. The low fluorescent pink lights and modern urban grunge definitely up the cool factor here for those weekly sushi dates. A must if in the mood for a cool beer and a plate—or three—of fresh salmon and avocado rolls, tempura prawn nigiri or our favourite seared salmon.
Image credit: Market Bistro, Liliana's, Soka, Junk, Amy Higg and Chevaune Hindley for Urban List