Now that we can finally start making travel plans again (even if it is just within Queensland), we are dying to get out of the house and explore everything the Sunshine State has to offer. But so is the rest of Queensland, meaning our usual go-tos are guaranteed to fill up fast. If you're looking to get away, why not venture off the beaten track and explore what regional Queensland has to offer?
You're guaranteed a chance to relax and recharge away from the hustle and bustle of city life, plus you'll be surrounded by natural beauty—provided you can bring yourself to leave the hotel, of course. If you're after the perfect post-COVID pick me up, check out the eight best regional hotels Queensland has to offer. We recommend booking fast, before we beat you to it.
Saltbush Retreat
Longreach
If you've been looking for a chance to get a taste of the outback without compromising on comfort, we've found the perfect place for you. Saltbush Retreat offers guests three tiers of accommodation—all rooms come equipped with the basics, but the 4-star slab huts and luxurious 4.5-star homestead stables promise an immersive outback experience. There's plenty to do during the day, including visits to the local Dinosaur Museum and Stockman's Hall of Fame, but when you're looking to wind down, dust off the day's adventures with a relaxing soak on the outdoor bath terrace. It's no wonder Saltbush has been named one of the best hotels in Queensland.
Daintree Eco Lodge
Daintree
Incredible views? Check. Stunning location? Check. Luxurious facilities? Check. Need we go on? The Daintree Eco Lodge is an idyllic introduction to rainforests of North Queensland. At this tranquil retreat, you'll awake to the sounds of birdsong, invigorate your senses with a dip in a natural swimming hole, and admire the wonders of nature as you embark on one of the many bushwalks. If you're looking for excitement, book a crocodile-spotting cruise on the river nearby, and end the day with a visit to Julaymba restaurant, where you'll be treated to finger lime mojitos and rock lobster. BRB, just have to make a booking...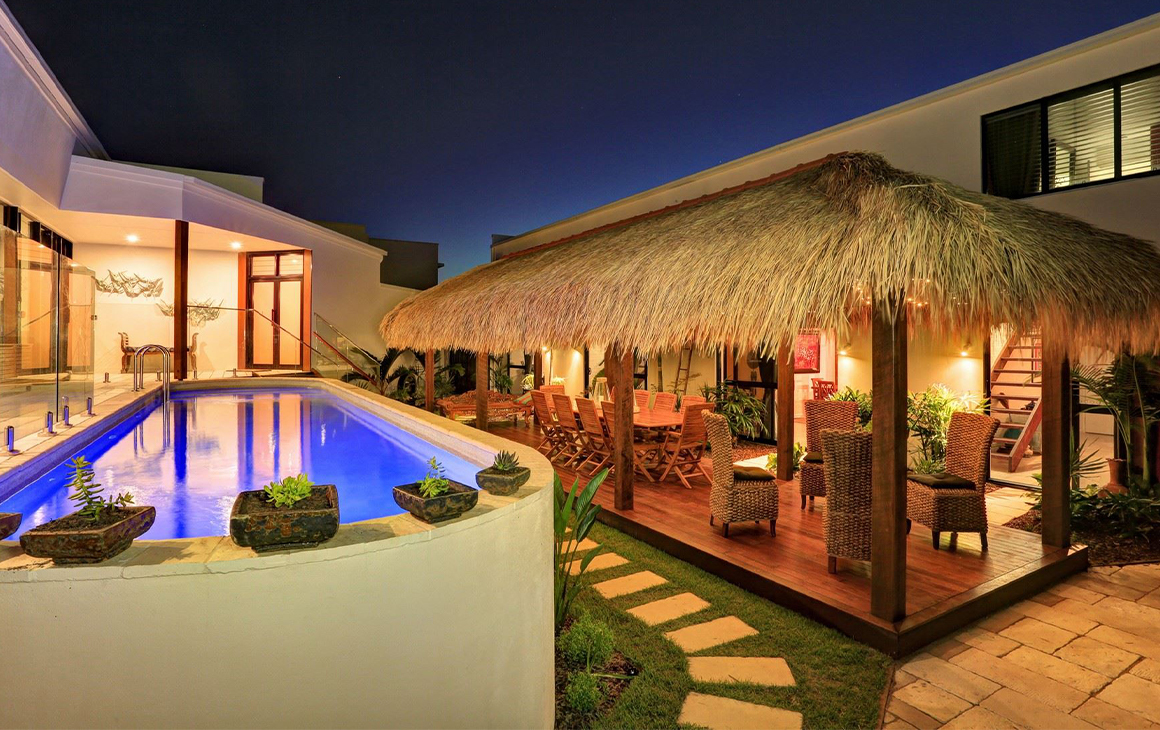 Zen Beach Retreat
Bargara
The last few months have left us all pretty wound up, so a stay at Zen Beach Retreat is just what the doctor ordered. This premium boutique retreat is perfectly positioned for rest and relaxation, with villas just steps away from the Great Barrier Reef beachfront. The beach boho vibes will make you feel like you've escaped to Bali, and you can snorkel with sea turtles, enjoy world-class seafood or explore what ocean wellness has to offer. No matter what you choose, you're guaranteed an unforgettable experience you'll be bragging about for years to come.
Thala Beach Reserve
Port Douglas
Whether you're looking to get back to nature or soak up some sun, Thala Beach Reserve combines classic seaside activities with innovative new adventures. Sign up for a kayak tour for a chance to spot dolphins, dugongs, turtles and stingrays, or check out Australia's only coconut tour, where you'll get to eat and drink from the young green coconut while learning all about its health benefits. Experience the wonder of a night sky free from light pollution by joining in on a stargazing tour, or learn about the local fauna on a free bird and butterfly walk. In terms of accommodation, there's something for everyone, with suites overlooking the Coral Sea and bungalows providing an immersive rainforest experience.
O'Reilly's Rainforest Retreat
Canungra
O'Reilly's Rainforest Retreat is one resort on this list that needs no introduction. Queenslanders have been enjoying the wonders of O'Reilly's since it first opened almost 100 years ago. But don't let its history have you fooled—the retreat offers modern luxury accommodation coupled with breathtaking views of the surrounding mountains and rainforest canopy. There's plenty around to keep you entertained, including a guided glow worm tour, a segway safari, and even a flying fox adventure. Be sure to check out the Tree Top Walk while you're there for an unforgettable walk amongst the canopy. An oldie but a goodie, O'Reilly's has earned its place as one of the best stays in Queensland.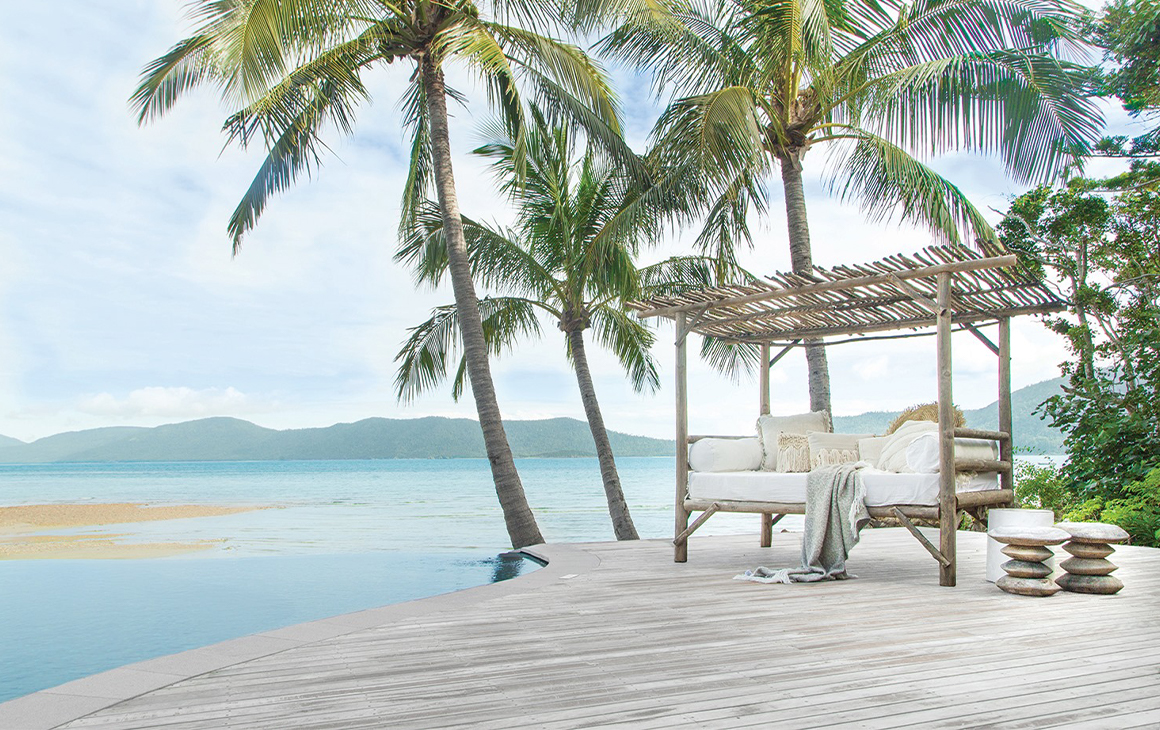 Elysian Retreat
Whitsundays
You know all that money you saved from staying in during iso? Well, we've found the perfect place to spend it. Elysian Retreat is the most secluded island escape in the Whitsundays, and the first solar powered resort on the Great Barrier Reef. Only 20 guests are allowed on the island at any given time—and this was before anyone had heard of coronavirus. You'll have access to a three hectare private cove, as well as paddle boards and kayaks to explore the rest of the island. Book yourself in for a personalised organic spa treatment, or a morning yoga class overlooking the ocean.
Spicers Hidden Vale
Grandchester
Nestled amongst the fertile farmlands of the picturesque Lockyer Valley sits Spicers Hidden Vale, a luxury retreat offering guests an idyllic country escape. Breathe a breath of fresh country air as you step onto the property, and take in the retreat's beautifully restored cottages with views of the valley's surrounds. Experience the bush at its best with paddock to plate dining at Homage Restaurant, or take in the tastes of the region with a Cheese and Wine Tour. If you can bring yourself to leave your luxury accommodation, be sure to take part in a Koala Safari or Guided Mountain Bike Tour.
Gilberton Outback Retreat
Einasleigh
Gilberton Outback Retreat is the ideal environment for a digital detox—if you've got the coin to pay for it. Perched on a bluff overlooking the Gilbert River, this luxurious getaway offers uninterrupted panoramic views of the surrounding rugged landscape. The 5-star luxury retreat is situated on a seventh generation working cattle station amongst the goldfields of far North Queensland. All activities, meals and tours are inclusive, including their 4WD Buggy Safari and Gold Mining and Fossicking Tour. There's plenty to see and do in the area; we recommend a trip to Cobbold Gorge, or an Outback Tour From Above. Retreat to your room to nibble on your complimentary welcome platter as you sip champagne while donning a luxurious fluffy bathrobe and slippers.
Want to stay a bit closer to home? How about a stay in one of Brisbane's best hotels?
Image credit: Hannah Puechmarin for Saltbush Retreat, Zen Beach Retreat, Elysian Retreat