Vegan food on the Sunshine Coast has evolved; no longer when seeking a wholesome meat-free meal are you left tossing up between hot chips, garden salad or a combo of the two. Granted they're both great options, but there are just so many more ways to slice, dice, chop and spin vegetables into tasty creations on a plate.
Whether you claim to be vegan, vegetarian or you're an omnivore looking for a nutritional top-up, here's where to find the best vegan food on the Sunshine Coast.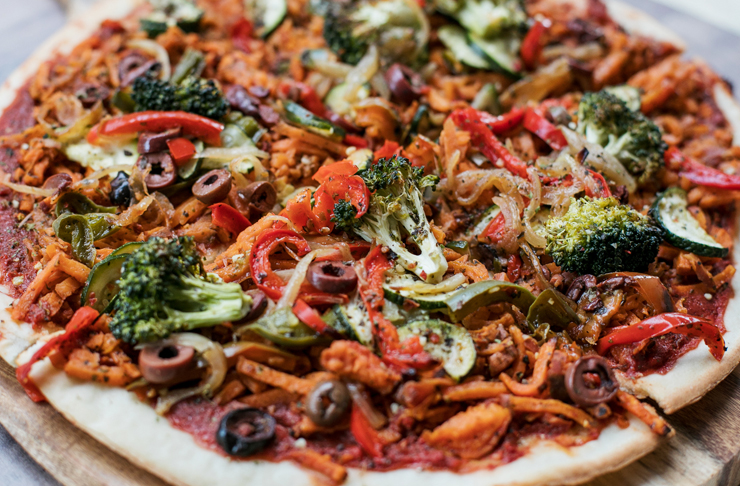 Soul Kitchen Bakery
Buderim
Eclectic and quirky, this much-loved, all-vegan Buderim bakery offers everything we've come to know and love at a 'usual' bakery sans the animal products. The range of vegan and gluten-free products at Soul Kitchen Bakery are extensive with both savoury and sweet offerings to be gorged on. Think: doughnut holes, Oreo cheesecake, Snickers cupcakes, lemon meringue pies, ginger nut cookies, blueberry lemon muffins, burnt caramel blondies and their very special Soul Brownies. You can even order a whole damn cake.
Umami Ramen
Maroochydore
Any vegan on the Sunshine Coast can vouch for the level of difficulty in locating ramen based on vegan broth. It's near impossible, unless you know about Umami Ramen in Maroochydore and their creamy broth of mushrooms, soy milk and kelp-based seasoning topped with grilled lotus root, fried onion, wood ear mushroom, bok choy and baby corn.
COVID-19 Update: Currenty open for dinner from Wednesday to Friday, 5pm to 8pm; and lunch and dinner on Saturday and Sunday, 11.30am to 2.30pm and 5pm to 8pm respectively.
Elixiba
Maroochydore
Bridging the gap between health and your social life, Elixba dishes up some of the tastiest vegan food on the Sunshine Coast. This slice of plant-based paradise in Maroochydore has a strong focus on wholesome made-from-scratch meals, including soul warming starters, brilliant burgers and bountiful bowls. The humble burger that started it all features an all-star line up of 'the best plant-based patty' with caramelised onion, salad and juicy tomato smothered in a cheezy, smoky BBQ sauce. You'll know where to find us when lunch time cravings hit.
COVID-19 Update: Takeaway is available. Or, until June 12 you can dine-in (if you're one of 10 lucky people) on the set banquet—$50 per person will get you a filling five-course banquet and an alcoholic drink of your choice. Bookings are essential.
VEEf
Around The Sunshine Coast
While it's not technically a place you go to eat vegan food, if you're happy cooking it at home, head to your nearest supermarket and snag some VEEf burger patties. Created on the Sunshine Coast by award-winning chef and ex-head honcho of Lola's Pantry, Alejandro Cancino, the VEEf patties have take the country by a large plant-based storm. They're so delicious, your meat-eating mate will be dropping by for dinner all the time.
Coconut Head
Noosa Heads
Maintaining a clean reputation, free from refined sugars and processed food, Coconut Head is a healthy little spot that's found its niche within the Sunshine Coast community by delivering superfood smoothies and bowls to the masses. Located directly opposite Noosa Main Beach, Coconut Head provides everything any herbivore en route to the beach needs, and our drink of choice; the Greena Colada with its banana, pineapple, mango and kale blend is simply delish.
COVID-19 Update: Open 9am to 3pm for takeaway.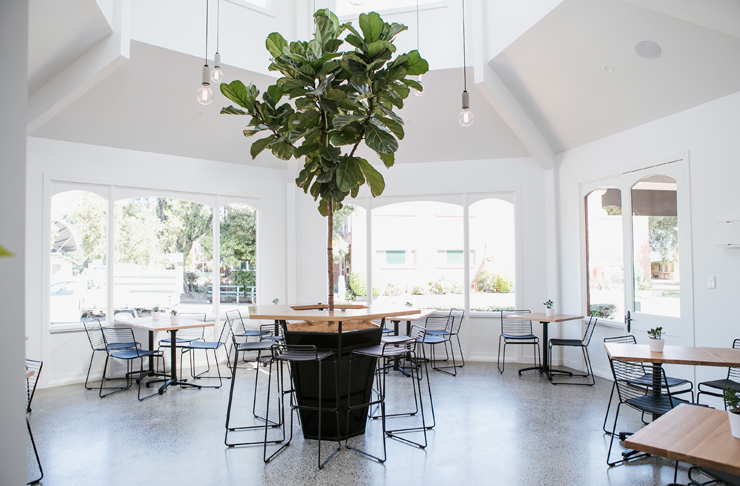 Cafe Vie
Buderim
Dive into the benefits of a plant-based menu at Cafe Vie in Buderim where worshipping vegetables is a common thing. The team is consistently knocking out meals that are so playfully creative, you won't be able to hide your first-bite blushing cheeks when chomping down a menu of cheesy tofu scramble burgers, jackfruit steamed buns and unreal burgers. We're totally into this plant kinda thing.
COVID-19 Update: Cafe Vie have re-opened for dine-in for 10 people at any one time until June 12. Drop by 7am to 3pm daily for both dining in and takeaway.
Cafe Nurcha
Buderim
Located within Maroochydore's Coastal Wellness Centre, Cafe Nurcha is your one-stop shop for nourishing plant-based food and vibes that are always spot-on. The whole cast is here, including an all-day breakfast menu, lunch, pizza and if you want our tip; whatever meal wins your vote, side it with Nurcha's famous loaded wedges. You can never go wrong with garlic and thyme potato chunks topped with smoky jackfruit, rainbow slaw, aioli and chilli jam.
COVID-19 Update: Currently open Monday to Friday from 8.30am to 5pm and Saturday and Sunday from 8.30am to 4pm.
VanillaFood
Noosa Heads
Providing the means to get you happy dancing in your seat, VanillaFood is a beautifully designed, wholesome cafe in Noosa Junction, busting out a menu free of preservatives, additives, refined sugars, artificial colours and flavours. Whilst they do serve eggs, bacon and the like, you'll find more than enough vegan options to fulfil your plant-loving heart's wildest desires, and we think their vegan gnocchi served with garden peas, coconut feta, toasted hazelnuts, fresh lemon and micro greens should fast-track its way to the top of your Sunshine Coast vegan food list.
COVID-19 Update: Now open Monday to Saturday from 7am to 2pm. Bookings recommended.
New Earth Cafe
Coolum Beach
New Earth Cafe is a plant-powered cafe blending all the elements of raw, organic, gluten and dairy-free diets to satisfy even the most stubborn diner. Based in Coolum, the entire menu, including nut milks, breads, wraps, and sweets are made onsite to ensure you receive the finest quality vegan meals when stopping in. Where else can you find vegan-friendly protein pancakes, cooked or raw, with your choice of choc berry, apple caramel, snickers or savoury pesto toppings?
COVID-19 Update: Monday to Saturday from 7am to 2pm, dine-in or takeaway.
Kunara Cafe
Forest Glen
When you grace the bustling hub of Kunara Cafe with your presence, you'll be rewarded with high-quality, vegan-friendly food created in a certified organic kitchen and served within the grounds of their Forest Glen nursery and store. The meals aren't only delicious, they're abundantly nutritious and cater to all the dietary conscious folk among us, including those who enjoy vegan, vegetarian, gluten-free, dairy-free and paleo friendly meals. Do yourself a favour and complete your meal with a Cocowhip dessert.
CK Wholefoods (Temporarily Closed)
Mooloolaba
Mooloolaba's CK Wholefoods is the place to visit when you're hanging out with a crowd that doesn't entirely share your vegan views. They are a coffee bar, eatery and grocer that proudly supports local growers and farmers whilst delivering healthy alternatives in the meat and non-meat formats, including one helluva Vegan Veggie Poke Bowl full of seasonal greens, vegetables, toasted grains, avocado, lemon olive oil and your choice of protein. They're currently in between locations, having locked in a move to a new premises before coronavirus struck, so we can't wait to see their new space when it opens.
If you prefer cooking up a feast in the comfort of your own home, round up your fresh produce at the best markets on the Sunshine Coast.
Image credit: Amy Higg for Urban List