Yoga is a one-stop shop for all your fitness needs; with a reputation for building strength and flexibility, reducing stress and anxiety as well as hitting the natural reset button for your emotional and mental wellness, there's really no excuse not to do it!
If you want to get your stretch on at some of the best yoga studios on the Sunshine Coast, assume Child's Pose and get reading.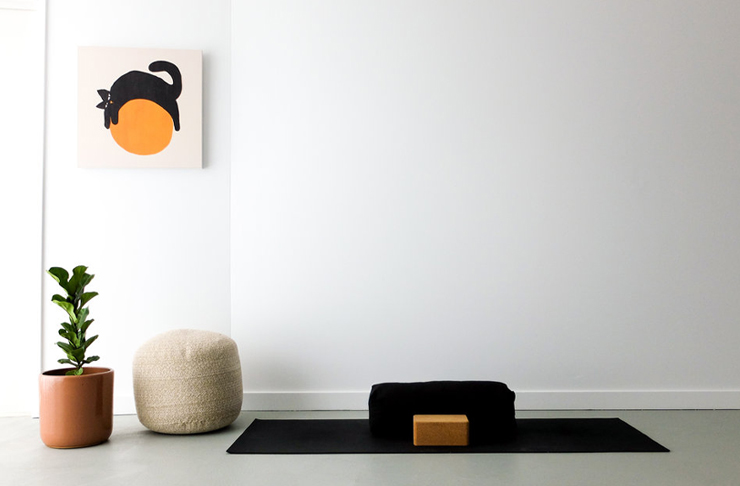 Exalto Flow
Warana
A yoga studio dedicated to the asana practice, Exalto Flow is one of the newest yoga studios on the Sunshine Coast. And it's a beauty. Located in Warana, you'll find multiple classes each day, including Vinyasa, gentle flow, flow state, vinYIN, restorative and even meditation. Approaching yoga as a way of living, this studio is part of a larger health and wellness hub—also providing personal training, acupuncture, nutrition consultations and more.
Noosa Flow
Noosa
If you're on the hunt for a killer yoga and Pilates studio on the Sunshine Coast, Noosa Flow is the most beautiful space we've set foot in. With tonnes of natural light bouncing around and loads of indoor plants, you'll feel refreshed before you've even found your zen. From Vinyasa flow and Yin flow, to pre-natal flow and a special mums and bubs yoga class, whatever it is you're chasing, you'll most likely find it here.
New Standard Yoga And Fitness Centre
Caloundra
As a holistic wellbeing centre, there's plenty of chances to find your zen at New Standard Yoga and Fitness Centre. One of the best yoga studios on the Sunshine Coast, these guys offer an incredible range of classes catering especially for parents, with child-minding available, as well as baby-friendly classes, meaning you can actually fit in a workout with your little mate in tow. When you're done, hop next door to The Woke Yoke, an eco-aware cafe pouring quality coffee roasted by Clandestino, and serving nourishing food.
Downward Dog Hot Yoga
Noosa
Things heat up fast at Downward Dog Hot Yoga at Noosa Marina, so be prepared to sweat. Taking place in a 33-degree room, each class aims to teach modern inspired lessons without forgetting the traditional aspects of yoga. Raise your heartbeat with power yoga, practise your fluidity with Vinyasa flow or focus on balance postures as well as building strength, endurance and flexibility in the Surfer's Yoga session. There's weekly and monthly passes available, but if you want to try before you buy, we suggest grabbing the local special intro pass, where $50 will get you two weeks of unlimited classes.
YogaJak
Mooloolaba
For the guys that don't fancy learning the yoga ropes in front of a sea of women who have already got it nailed, we can hardly blame you. Which is why we're loving YogaJak—a men's yoga studio on the Sunshine Coast where you will be guided through the basics while increasing your movement, flexibility and strength. It's taught by a dude, for dudes.
Zenko Yoga
Buddina And Noosa
Found in Noosa and Buddina, Zenko has a name as one of the best yoga studios on the Sunshine Coast. With regular classes spanning power flow, gentle flow, yin, restorative yoga and slow flow, you'll also find teacher training and wellness retreats on offer here. Zenko offers new student seven-day passes starting at $30—meaning you can trial each session for a week before taking the membership plunge.
Bikram Yoga Sunshine Coast
Caloundra
If you've shied away from yoga in the past because you "won't sweat" during the workout, the Bikram experience is for you. Bikram Yoga Sunshine Coast offers the original hot workout which entails 90 minutes of stretching, flexing, balancing and posing in a purpose-built heated room. Bikram offers a range of extra health benefits for the practicing yogini—including a deeper stretch from a warmer body, a mentally challenging environment (not dissimilar to working out inside a sauna) as well as toxin-releasing qualities from the large quantities of fluid you'll be losing during the session. If the Bikram challenge sounds like your cup of tea, classes are held in Caloundra. Cap your workout off with a cold-pressed juice by the ocean once you're done.
Yoga Vida
Mooloolaba
If you pick your Sunshine Coast yoga studios based on reputation, then you're probably already familiar with Yoga Vida in Mooloolaba. Keeping Sunshine Coasters fit and relaxed for over 10 years, this premier studio is massive, so you'll always find a spot to lay your mat. Catering to all levels, from total novices to advanced yogis, a packed timetable with plenty of teachers leading the way, means you're bound to find the right yoga class for you.
Image credit: Dane Wetton and Exalto Flow