Summer is all about basking in the sun, relaxing in the pool, soaking up the beachside vibes and dancing long into the night. Well, now you can do all these things in one place with the most hotly anticipated venue launch of the season—say hello to Cali Beach Club.
Cali Beach is Australia's first luxury beachside rooftop precinct and is unlike any other venue in Australia. The brand-new entertainment destination towers four stories above street level and is spread over an expansive 5000 square metres of prime rooftop space, boasts a spectacular outlook over Surfers Paradise beach and unparalleled views of the Surfers Paradise skyline. Located just a stone's throw from the bustling heart of Surfers on Elkhorn Avenue, Cali Beach has impeccably blended the vibrant energy of the Gold Coast with the sleek style and sophistication of European beach clubs.
How decked out is it, you might ask? Think four (yes, four) glistening pools surrounded by luxe poolside cabanas, four bars, two world-class restaurants, a beachside outdoor cinema and a giant beach volleyball sandpit. Excuse us while we pick our jaws up from the floor. Almost $10 million was spent bringing this landmark entertainment precinct to life and luxury resonates in every aspect of Cali Beach; from the slick dining venues to the seemingly endless sun lounges to the open-air luxe showers, it sets itself leagues apart from the Gold Coast's plethora of dining options.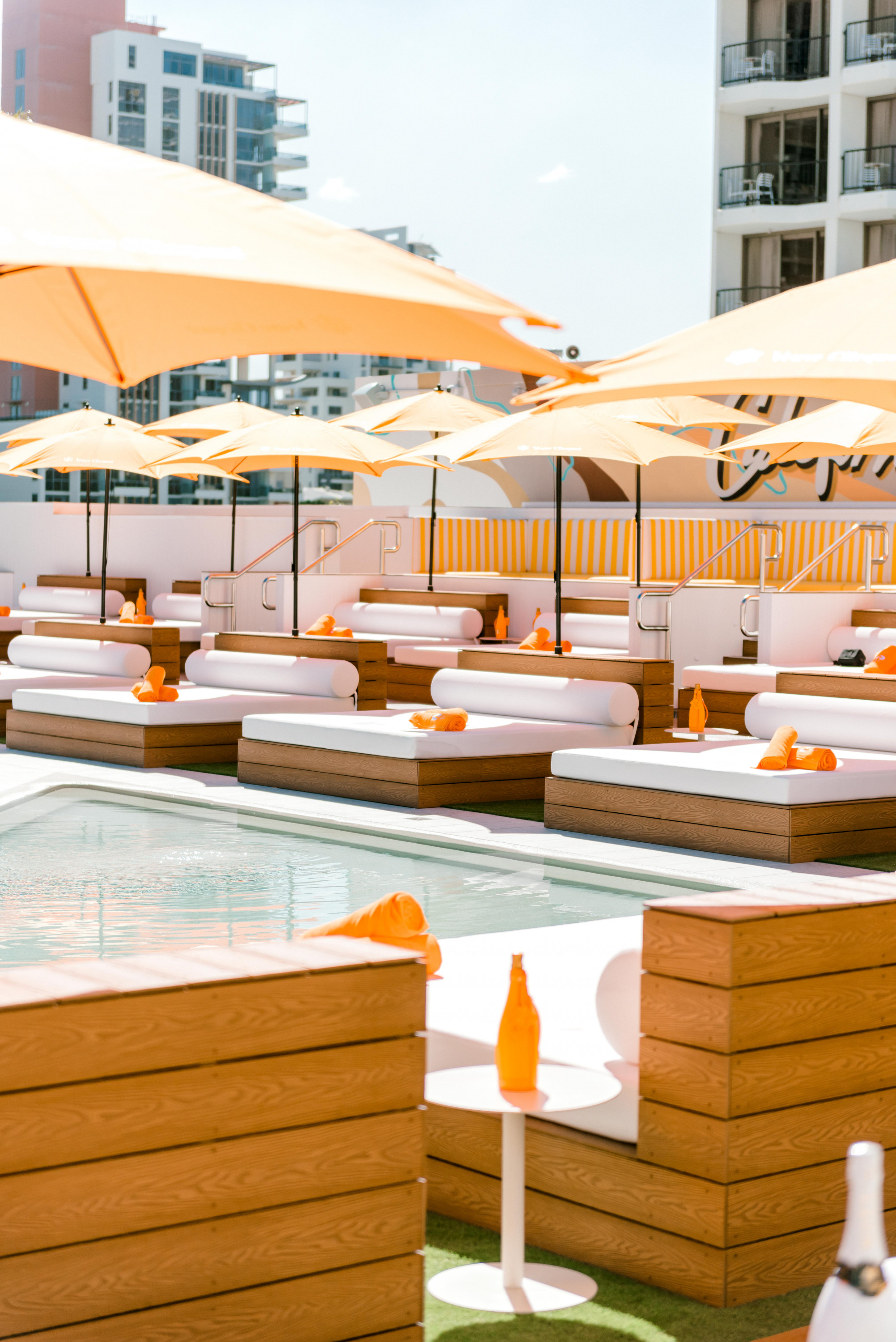 Step into the impressive 26-person glass elevator which will glide you up to the top levels in style, where you'll be greeted by Cali Beach Club in all its sunkissed glory. From the four glistening pools to the lines of sun lounges and the bright orange sun umbrellas, you don't quite know where to look. Soak up the expansive ocean views, let the sweet DJ tunes wash over you and know that this is The Place To Be this summer. We're already planning our summer days here, soaking up the stunning beachside vista, throwing back ice-cold cocktails and basking in the vibrant atmosphere.
Artesian Hospitality are the good folks bringing this mega entertainment precinct to our shores and Artesian Managing Partner, Matt Keegan sums it up perfectly: "Cali Beach marks the start of something special for hospitality and entertainment offerings in Queensland. Our goal was to bring the ultimate poolside day and night experience to Australia and that's exactly what we have done."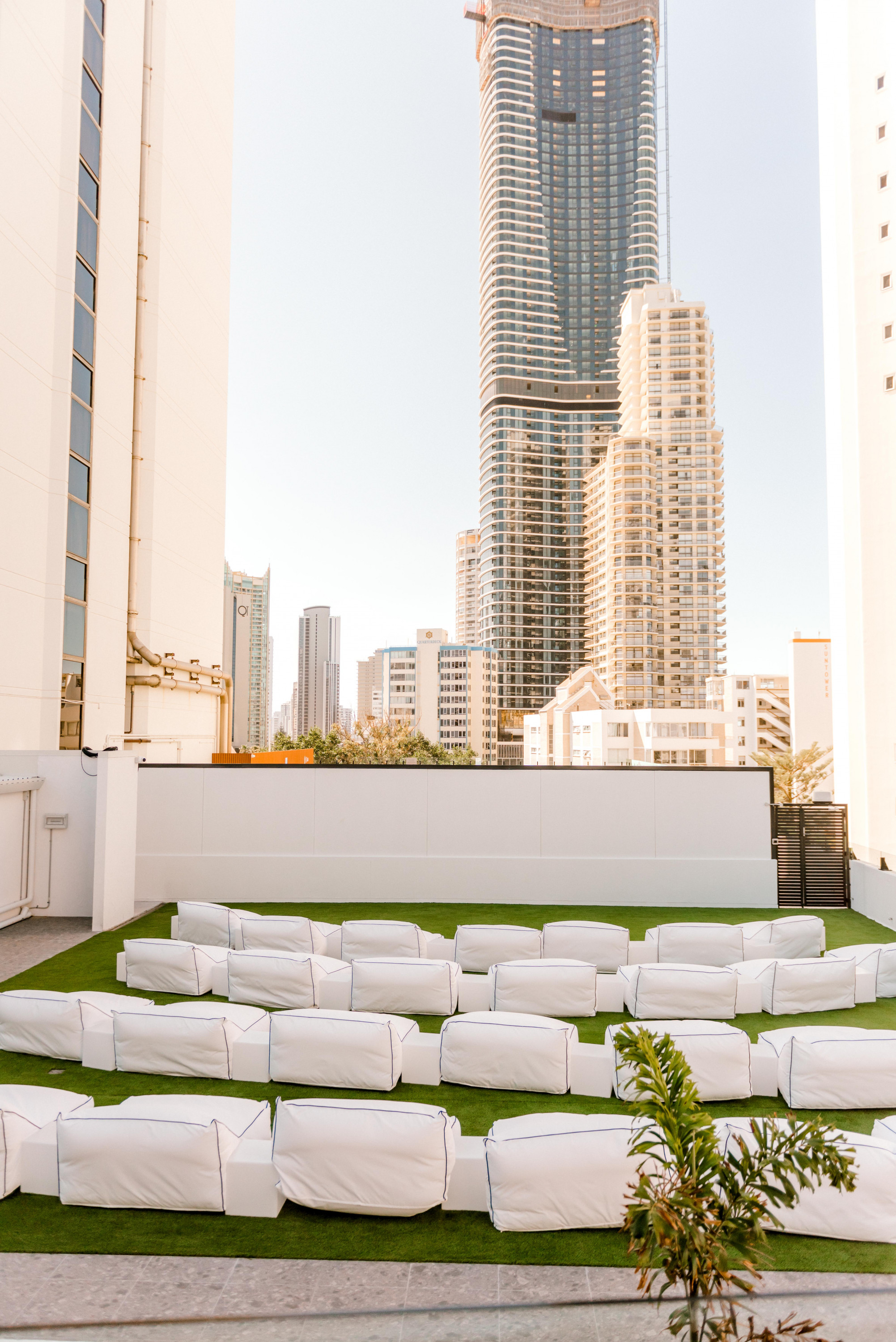 As if the stunning beachfront views, luxurious fitout and extensive drinks menu were not enough, another jewel in Cali Beach's burgeoning crown is their incredible lineup of national and international resident DJs and artists who will be hitting the stage with sizzling tunes all summer long. You can expect some of the hottest acts around to bring the heat to Cali Beach Club and rumour on the street is that many performances will be exclusive, so if you're not here, you're missing out. Sipping a bevvie on the oceanfront rooftop while dancing to groovy DJ sets sounds like our summer plans, sorted.
Cali Beach Club will swing open its doors just in time for you to bask in the sunshine and welcome summer in the right way (that's on the rooftop with a cocktail in hand, of course). The venue will open to the public on Friday 24 September from 5pm and official opening celebrations will kick off poolside on Saturday 25 September at 11am, so fire up the group chat and make your way to the Gold Coast's hottest new destination.
THE DETAILS
What: Cali Beach Club
Where: 19A Elkhorn Avenue, Surfers Paradise
When: Open Friday 24 September, from 5pm
For more information, click here.
Looking for more epic events to fill your September social cal with? Get excited, SWELL Festival is back and the ten-day outdoor sculpture exhibition is kicking off this weekend.

Image credit: Kaitlin Maree Photography for Urban List