As Sunny Coasters, it's in our nature to gravitate towards the sun and the beach. (Seriously—how much longer till summer again??)
But, although we love the beach so (sooo very!) much, it would be foolish to forget the other lush and beautiful areas on the coast that we could totally enjoy—especially during the cooler months, when all we want to do is curl up under a blanket on the sofa and binge-watch till we can beach it again.
There are a bucket load of placid and tranquil gardens awaiting your discovery. And you don't have to hike up a mountain or pack your survival guide to enjoy some of these secret little spots. Pack a picnic and pull out the bird-watching binos (yeah right—maybe just an iPhone?) and go be one with nature.
Here are six of the best secret botanic gardens and parks on the Sunshine Coast for you to start enjoying:
Noosa Botanic Gardens
You know that giddy-type feeling you get when you stick your hand into your back pocket and find a $20 note? That's the feeling you get when you stroll into Noosa Botanic Gardens. Situated on the shores of Lake McDonald, it's hard to believe this 8-hectare garden of native and exotic plant species was originally just farmland—and then a dump site! The Greek-style amphitheatre over-looking the water is just perfect for a little concert by the lake (which are known to take place!) and the large lawn and picnic areas are the perfect invitation to throw out a rug and indulge in a little wine and cheese platter. Ooh—how romantic! Guess we should probably also warn you about the snakes—we've spotted a few here in summer.
Where: Lake MacDonald Drive, Cooroy
Maleny Botanic Gardens
If you've never been to the Maleny Botanic Gardens, then put 'em at the top of your list for next time you go cruisin' the Sunshine Coast Hinterland. Do they have 14-acres of lush gardens complete with meandering paths, lakes, and waterfalls? Of course. Killer views overlooking the Glasshouse Mountains? Yes. Tasty tea, jam, and scones? Hell yeah! And above all that, they have a massive bird aviary with a bazillion species of cheeky cockatoos, exotic parrots, macaws, and more—just be sure you're okay with getting super close and personal with these guys before getting in that cage. They do have a little admission fee as it is a privately-owned garden, but it's totally worth it.Open seven days, from 9am to 4.30pm, impress your out-of-town visitors by taking them here. We just had to include this spot of our list of the best botanic gardens on the Sunshine Coast.
Where: 233 Maleny-Stanley River Road, corner of Mountain View Road, Maleny

Maroochy Bushland Botanic Gardens
Walking on the wilder side of the botanic garden variety, Maroochy Bushland Botanic Gardens are set on 112 hectares brimming with natural bush, forest, creeks, and lagoons. There are a number of short walks for you to stroll along and spot possums, koalas, sugar gliders, water dragons, goannas, and an endless list of bird varieties—this app will help you decipher their calls. There's also an interesting sculpture garden and a fully operational Arts and Ecology centre. Take a picnic rug (and maybe some mozzie repellent!) and enjoy the natural and peaceful setting. Sounds pretty cruisy, right?
Where: Palm Creek Road, Tanawha
Buderim Forest Park
Also known as the hidden jewel of the mountain, Buderim Forest Park is a little gem of a spot. Tucked within subtropical rainforest with wooden boardwalks, bush tracks, a cascading waterfall, and a perfectly perfect watering hole to cool off in, we wouldn't blame you if you decided to go on a beach-strike and set up camp here all next summer. Get your nature fix, then hit up Harry's on Buderim nearby, for a super special lunch feast. Date-worthy? You betcha!
Where: Lindsay Road, Buderim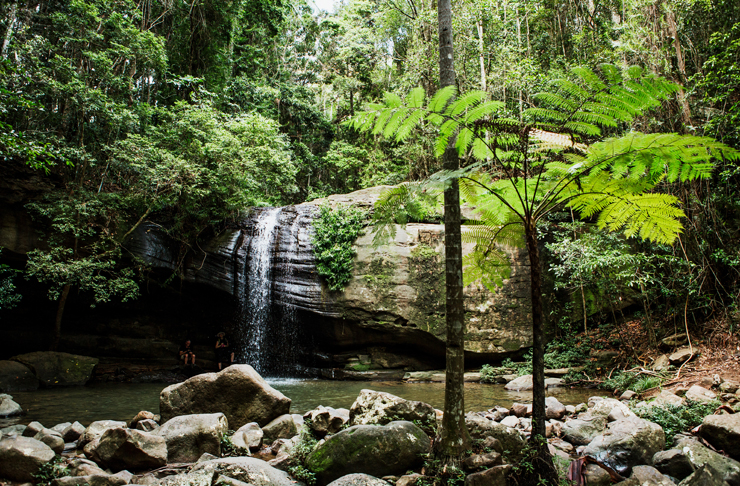 Ben Bennett Bushland Park
A secret pocket of wilderness on the outskirts of Caloundra, Ben Bennett Bushland Park sprawls over 19 hectares. There are several gentle winding tracks to bumble along and admire the wildflowers, majestic gums, and tallowwoods; or just park on a bench and dig your nose into a good book. Even better, this park is dog-friendly so you can bring your small dog called Bear along too. This is a tropical oasis hidden among the urban sprawl that we definitely want to keep as our little secret.
Where: Queen Street, Caloundra
Mary Cairncross Scenic Reserve
Okay, so this hinterland gem isn't really a secret, but it would be a crime if we spoke about gardens without mentioning this spot. Mary Cairncross Scenic Reserve is the last surviving example of the rainforest habitat that once covered the Blackall Range. The 55-hectares of subtropical rainforest is dedicated to maintaining the biodiversity of the area; and is essentially a living museum of unique plant and animal species. Which is pretty awesome. This little slice of natural wonder is like a secret garden on steroids. Go there and then post your pics—hashtag marycairncross
Where: 148 Mountain View Road, Maleny
Want to get out and about? We've got The Most Incredible Day Hikes On & Around The Sunshine Coast. What about the 50 Best Things To Do On The Sunshine Coast. Love Noosa? Here's the 30 Best Things To Do In Noosa.
Image Credits: Trover, Brooke Darling and Amy Higg for The Urban List.