You've probably gone whale watching before, or at least stood on a coastal cliff searching for the telltale signs of humpback whales once or twice. But did you know that here in Queensland you can actually go swimming with whales? And you don't even have to travel far from Brisbane to do it.
The beautiful mammals make their way up the coastline from June until October every year, and with international travel restrictions still very much 'restricting' (sigh) it might be the perfect time to get up close and personal with the big gentle giants—if you dare. Here's where you can swim with whales in Queensland so that you can have the heart racing, mind blowing experience of getting in the water with these big, graceful creatures.
Where Can You Swim With Whales In Queensland?
Sunshine Coast
Sunreef at Mooloolaba are only a quick one and a half hour drive from Brisbane city and offer the ultimate opportunity to jump in the deep blue and swim side-by-side with the glorious humpback whales. They'll provide all the gear, all you have to do is have the courage to jump in. Don't worry, you won't be thrown right into the deep end—with the help of guides you will be led into the water while being attached to a floating rope that's hooked to the boat for a chance to get nice and close. So get out the GoPro and get swimming.
Gold coast
Head South to Cooly Eco Adventures on the Gold Coast, where the professionals will guide you in the water with only 10 other friendly swimmers. Not only will you be able to get 30 metres from the beautiful Humpbacks migrating through the continental shelf from Antartica, you'll be provided with commentary on the history of the area. The perfect combo of information and adventure if you ask us. Wanting to lock in this experience with just yourself and a few mates? Cooly Eco also offer private charters, ideal if your wanting to book a unique birthday celebration swim.

Hervey Bay
Hervey Bay offers not one, but two swim-with-whales experiences. Hop on board an intimate guided tour of the stunning creatures with a maximum of just 20 others at the Hervey Bay Dive Centre. They've thrown in snacks and lunch too, so you won't have to go hunter gathering to find your own. Alternatively, opt for Hervey Bay Whale Watch and Charters, who provide the option to add on a whale swim to their whale watching tours while on board if they happen to spot a passing pod, but you will need to pack your own mask and snorkel for this one. The drive may be a little longer to Hervey Bay, but this is the perfect excuse for a weekend getaway, stopping off at Tin Can Bay for some dolphin sighting too. Just a suggestion...
Cairns
If you'd prefer to take your swimming with whale experience to a whole 'nother level, why not head off on a four-night minke whale experience in Cairns? This incredible excursion stops off at up to five snorkeling spots every day, where you'll get a chance to hang out with the beautiful minke whales for two hours once spotted. Even better, this getaway offers the chance to spend some quality time with all the other extraordinary marine life while swimming in the colourful Great Barrier Reef.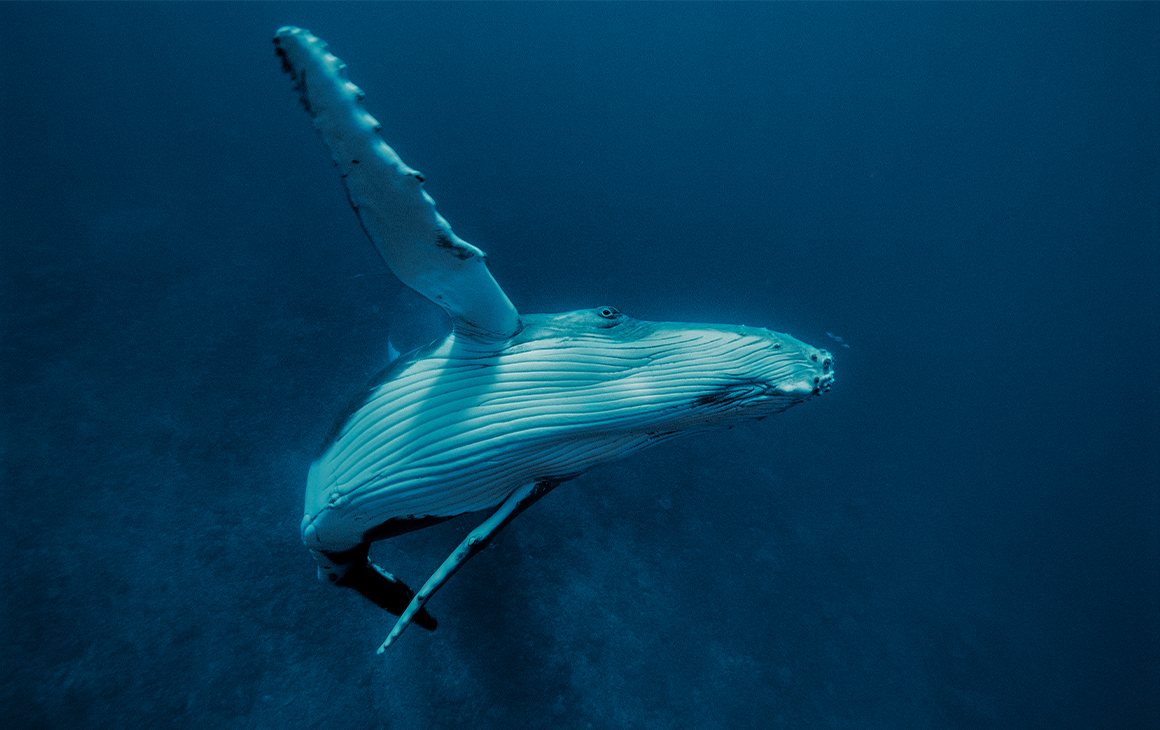 What You Should Know About Swimming With Whales
During whale season, spotting and swimming with whales is highly likely on a tour, but it can't be guaranteed—these are wild animals after all. Keep in mind that you're entering their habitat—it's a privilege to swim with these creatures and there are some strict rules in place, for your safety as much as the whales. For that reason, you won't get right up close and personal with them—your guides will keep you at a distance. You'll also need to be a decent swimmer, as you'll be heading out to deep waters to spot the whales, though swimming with the whales will only go ahead if the conditions are safe. Be sure to check out all of the guidelines, rules and requirements with your chosen tour company before you book, but lock in your tickets soon because this bucket list adventure tends to sell out.
If you prefer to stay dry, here's where to go whale watching near Brisbane.
Image credit: Ullstein Bild/Getty, Alexis Rosenfeld/Getty, Barcroft Media/Getty