If you had a particularly stressful iso and are now dreaming of chilled vibes and sea breezes, we advise you to make your way to Cairns and Great Barrier Reef. This region is known for its no worries attitude, which we could all use a bit of right about now. The wide-open spaces and immense natural beauty where the rainforest meets the reef are sure to make you forget all about the claustrophobic, quarantining nightmare of yester-month.
Pack your togs, a pair of thongs, and a smile, we've teamed up with Queensland to take you through all the spots you need to hit up on your relaxed holiday.
Things To Do
SLIDE ON YOUR FLIPPERS FOR AN OCEAN SAFARI TOUR
Hop aboard an eco tour with Ocean Safari and fill your day snorkelling above colourful coral reefs, meeting an array of marine wildlife, and soaking up views of the rainforest on the mainland. There are a number of tour options to suit your vibe like the Reef and Rainforest package that'll have you sleeping in a safari lodge on your overnight adventure. Sign us up!
While away your day on a riverboat tour
Enjoy a relaxed, tropical cruise down Kuranda River. This stunning spot is home to all manner of wildlife which you'll get to see up close in their natural habitat, including crocodiles, turtles, snakes, fish, and local native birds. You can also enjoy a leisurely two-course lunch onboard as you listen to the fascinating commentary all about the river's life and history.
Stroll amongst the treetops
Truly immerse yourself in Queensland's tropical rainforests at the Mamu Tropical Skywalk. Nestled amongst the trees in Wooroonoon National Park, the Canopy walkway transports you safely atop the rainforest so that you can fully admire and respect the natural surroundings without damaging the land as you go.
Take risks in the world's oldest rainforest
Feeling the need for something extreme after months of staying safely indoors? AJ Hackett has you covered. Venture into the world's oldest rainforest just a short drive from Cairns to find Australia's most intense adrenaline-junkie hub. Partake in bungee jumps, jungle swings, and BMX bungee jumps from 50 metres above the glorious rainforest. Not ready for that much extreme? They also boast Cairn's highest lookout which is free to climb up to and, more importantly, safely climb down from—no bungee jumping necessary.
Immerse yourself in the local culture
Soak in the local culture of the Port Douglas Daintree Region with Walkabout Cultural Adventures. You can either spend a half or full-day as your Aboriginal guide shares with you the cultural connection the people have with the region and land, teaching you how they survived and thrived in harmony with the environment.
Where To Eat
Dundee's Restaurant on the Waterfront
For a seafood platter that will keep you satisfied into next week, head to Dundee's Waterfront Dining. Their goal is to celebrate modern Australian cuisine with an experimental and downright delicious menu featuring everything from tender Aussie beef to kangaroo, crocodile, and emu served up in gourmet dishes. Dundee's also has a location in the Cairn's Aquarium where you are surrounded by walls of marine life as you dine.
Ochre Restaurant and Catering
Known as the most highly awarded restaurant and catering company in Cairns, The dishes served up at Ochre are things of pure beauty. While definitely worth a feature on your Insta, they also pack tonnes of flavour, making daring culinary choices with sustainably sourced and grown Australian regional produce.
Nunu
Truly one for the chilled traveller is Nunu. The epitome of beachfront dining, Nunu boasts unbelievable views of the Coral Sea. You can even sometimes book a table on the beach itself and feast on unique, award-winning Australian dishes, surrounded by palm trees while you dig your bare feet into the sand.
Oaks Kitchen & Garden
Why stop at dining out when you can take the flavours home with you and enjoy them forever? This is possible thanks to Oaks Kitchen & Garden where they make it their mission to share their love of Southeast Asian cuisine with all who drop by. Whether you are there for the authentic Thai cooking classes or the chef's table experience, make sure you check out their vibrant gardens that are teeming with many of their fresh ingredients.
Where To Drink
HEMMINGWAY'S BREWERY
With two waterfront gastro-brewpubs in Port Douglas and Cairns that showcase local provenance in vibrant settings, Hemmingway's Brewery is the perfect spot for a relaxed lunch. Whether you've got the time to pull up a stool and soak up the ambience of this local favourite or you're just grabbing a six-pack to go, one thing's for sure, Hemmingway's craft brews will not disappoint.
Barbados
For the perfect unity of luxe vibes and natural beauty, hit up Barbados Port Douglas. This much-loved cocktail bar has been serving up the prettiest cocktails in the area for over half a decade, winning the title of Best Bar at the Tourism Awards. After their COVID-hiatus, they are soon to return with more cocktails, disco parties, and freshly shucked oysters.
Jimmy Rum's Mixing Lounge
For a different type of cocktail experience, head to Jimmy Rum's in Port Douglas for a unique, dimly lit bar. This is the place to go for luxurious touches all over the bar as well as truly unique decor, exotic tunes, and most importantly, cult-status cocktails made by expert bartenders. Seriously, try their Lava Chill cocktail now and thank us later.
Mt. Uncle Distillery
Nestled in the shadow of Mt Uncle itself and operating for nearly 20 years now is Mt.Uncle Distillery. Unique for producing a range of premium spirits and liqueurs, Mt. Uncle strives to incorporate and base their recipes off as many local ingredients as they can source. On top of the world-class drinks, you can also enjoy the unique distillery grounds that not only show off the local landscape but are home to a litany of peacocks, alpacas, donkeys, and goats.
The Conservatory Bar
If you plan to travel through Cairns, The Conservatory Bar is a local haunt you must add to your to-do list. With a hefty wine list, this is the ideal spot to meet up with friends and enjoy the comfy vibes, unique decor, live tunes, and iconic grazing boards.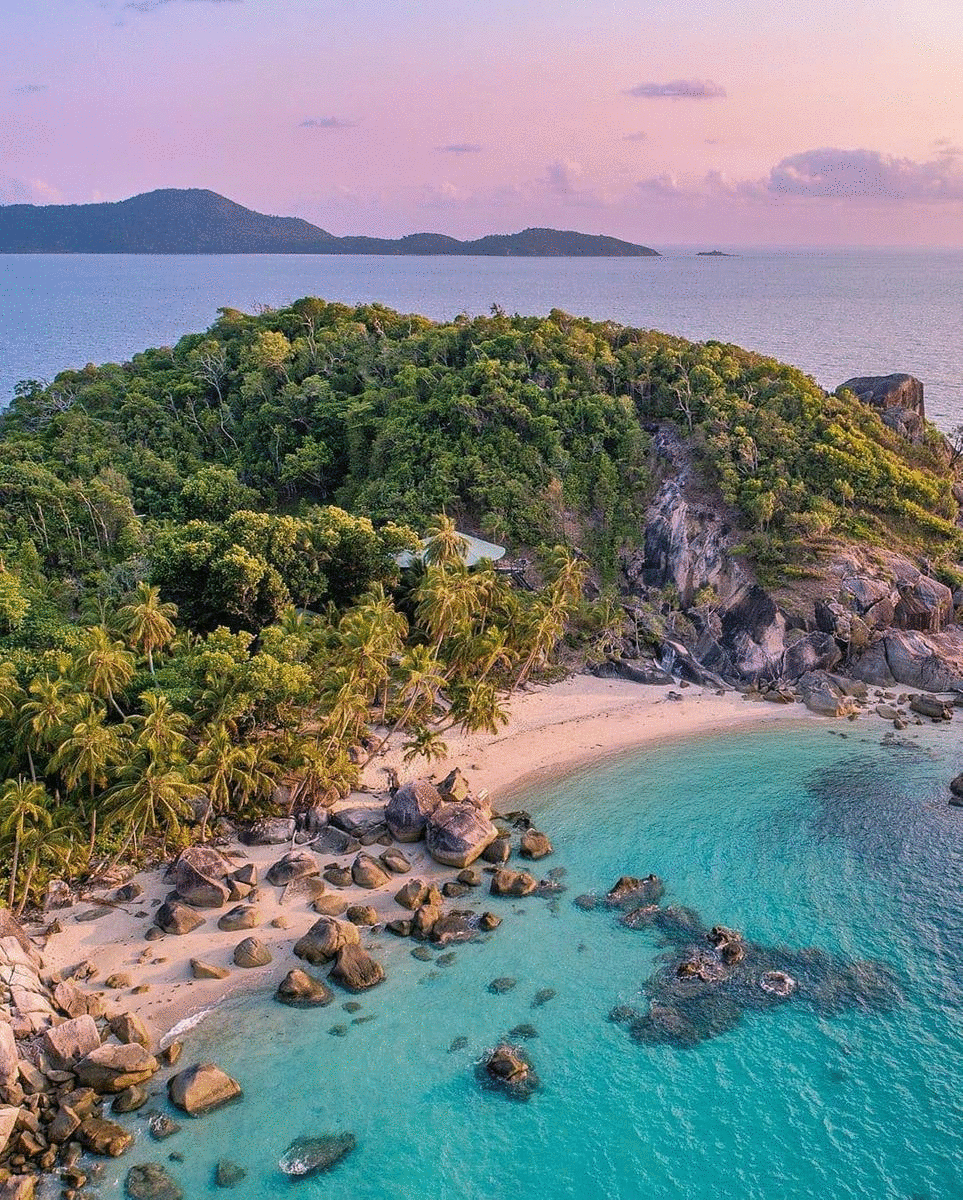 Where To Stay
By The Sea
If you're looking for a beachside resort in Port Douglas that is also in the heart of the town, look no further than By The Sea. Both the beach and the town centre are literally on your doorstep, giving you amazing sea views and easy access to the vibrant Port Douglas community atmosphere.
Cobbold Village
Heading further inland? Cobbold Village offers everything you need for a relaxed outback holiday. Whether you're camping, caravanning, or renting a cabin, you can stock up on the social interaction you've been missing in iso by gathering around the community campfire, or set out on your own adventures and explore the stunning landscapes that surround the village including the iconic Cobbold Gorge Walk.
King Reef Resort
For an award-winning stay on the coast, book a beachfront cabin at King Reef Resort. Roughly halfway between Townsville and Cairns, this is the ideal stopover on your next coastal road trip. You can spend the day exploring or just relaxing on your beachfront verandah, spotting dolphins, rays, and turtles as they play by the shore.
Rose Gums Wilderness Retreat
Let's face it, 2020 so far has been pretty stressful. Know what will take that iso stress away? A luxurious weekend away in a treehouse overlooking the Malanda wilderness. Rose Gum's tree houses offer sweeping views, wood-burning fireplaces, massive baths, and total privacy. All essential ingredients for the ultimate relaxing weekend.
Thala Beach Nature Reserve
Calling all eco-travellers, we have found you the ideal stay that both celebrates and respects its natural home. Set upon a private headland between Cairns and Port Douglass, Thala Beach Nature Reserve has carefully placed their deluxe eco-accommodation in naturally ideal spots throughout the resort's 145-acre property. Experience ultimate star gazing, nature walks, and comfort in this sustainable and eco-friendly environment.
The Riley
Looking to take your tropical getaway to the next level? Well, this five-star luxury resort can absolutely fulfil all of your holiday dreams. Here, you can spend your days sipping cocktails on the rooftop, tucking into Mediterranean-style fare at the restaurant and relaxing poolside. Clearly, The Riley is a holiday in and of itself. Now, where's that fluffy robe?
Not only is a getaway to Cairns and Great Barrier Reef the perfect excuse to live your best life but you'll also be supporting businesses and locals who have been doing it tough over the past few months. Make the promise to holiday here this year by joining our 20 For 20 Challenge.
Queensland is good to go, so let's get out there! And remember, always be COVID safe and check operator details and opening times prior to travel.
Editor's note: This article is sponsored by Queensland and proudly endorsed by Urban List. Thank you for supporting the sponsors who make Urban List possible. Click here for more information on our editorial policy.
Image credit: Tourism and Events Queensland, Tropical North Queensland Instagram