Sydney's home-grown craft brewery scene is something we can all take a great deal of pride in. But that doesn't mean we don't have room for our interstate friends who want to join in and spread the hoppy love to thirsty Sydneysiders.
Redfern is now the newest home of Western Australian brewing royalty, Gage Roads, which is this week opening up a microbrewery on Regent St under its innovative venture, Atomic Beer Project. The project is a nod to the history of Gage Roads' core range classic, the Atomic Pale Ale, and their love of hop-driven beers.
Led by head brewer Nick Ivey, the venue is located in a renovated mid-century warehouse and will be brewing all of its own beer on-site—so you know it's as fresh as fresh can be. In fact, to accommodate the brewery's small space, the team decided to skip the kegging process and simply use its bright tanks as giant kegs, poured directly into your glass. "It's also about guaranteeing quality," explains Ivey. "The less you have to move beer around, the better it is for it, and when our beer gets chilled down cold, it stays cold for its entire life."
Ivey, who relocated to Sydney in September last year to spearhead Gage Roads' newest project, has had a long journey to his new home and brewery. With a hospitality background, he started out like so many by building his own home brewing set up and slowly getting his qualifications. Since then, he's delivered kegs, cleaned tanks and scrubbed brewery floors, before getting an opportunity in Gage Roads' packaging line team and eventually working his way up the brewing ladder over several years. Now, he's in our fair city and helping deliver its latest attraction.
Don't come to Atomic Beer Project thinking you've got it figured out as the typical Sydney brewery—the Western Australians are bringing a different flair. Firstly, you'll be able to pair that Atomic Pale Ale with a South-East Asian-inspired menu from head chef, Jordan McLeod. He'll be serving up bites and share-style plates from his experiences working in Pan-Asian kitchens around the world, such as grilled king prawn skewers, massaman curry, glazed BBQ chicken, or stir-fried tofu.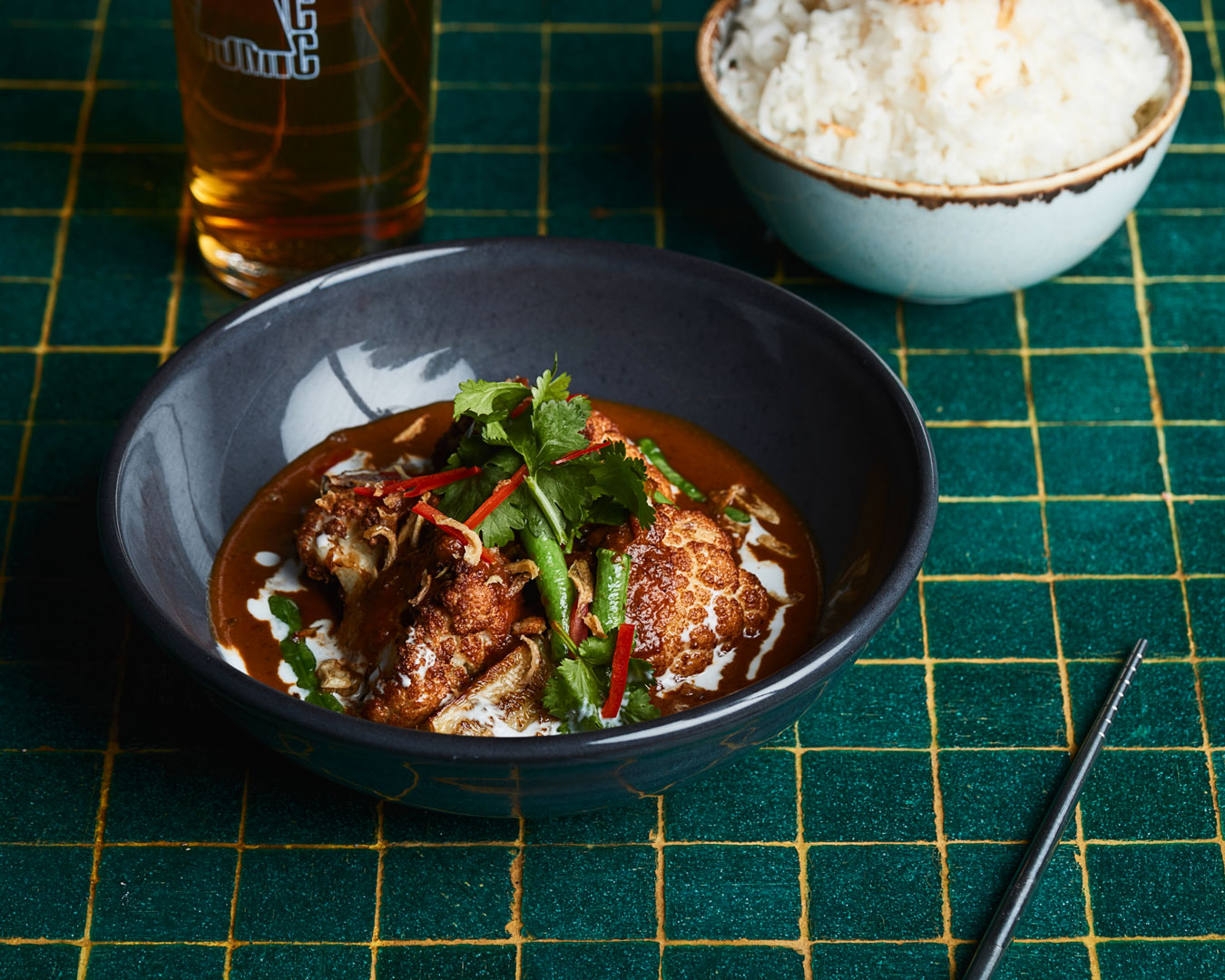 As for pairing that unique menu with the beers on tap, Ivey says it's a perfect match. "I think hoppy beers go amazing with South-East Asian food—it's got so many bright and fresh flavours," he says. "If I'm going out and getting a nice hot Thai curry, I'll pair it with a pale ale every day of the week."
The aesthetics of the venue are also really exciting, with the tanks and brewers in full view for interested punters who want to watch and imagine exactly how the beer they're sipping on came to be. "When you walk past on Regent St, if you look in through our big front door window, the first things you see are gigantic brewing tanks," says Ivey. "When you're standing at the bar, you get a square view right up on the viewing platform so you can see me up there doing my thing."
Pops of colour run throughout the new microbrewery too—including a custom-built 12-metre-long bar in glowing lime green (a reference to the colour of hops, of course). Gage Roads worked with Promena Projects construction (Tayim, Bopp & Tone, Brix Distillery) and design studio YSG (Hotel Collectionist, Edition Coffee Roasters) to design and build the space.
Finally, while Atomic Beer Project can only sell beer that's made on-site, they've got an extensive all-Aussie wine list and are only dishing out local spirits from Sydney's craft distilleries. Despite having made their way from the other side of the country, we get a sense that Ivey and this team have deeply embraced Sydney's hospitality culture and are already fitting in perfectly.
"Part of the reason we came here is that we love so much of what we saw in this area and we want to be a part of that and support it as much as we can."
The brewery will be open seven days a week from Thursday 24 September. Details on pening hours are here. You can book yourself a table here.
Want to get to know Sydney's brewery scene a bit better? This is the ultimate Marrickville brewery crawl.
Image credit: Steven Woodburn