It's fair to say Marrickville ain't the prettiest suburb in Sydney. Made up of large areas of abandoned warehouses and tired industrial estates, it has long been a site for artists, visionaries, and strange goings-on. This all makes Marrickville the perfect place to start a revolution in beer. If you don't know already—this suburb is the beating heart of the brewery scene for Sydney and probably NSW itself.
Each of the breweries here have what's known as a "taproom" where experimental brews are trialled and where aficionados can be found sipping fresh new flavours or revamped classics.
And while you don't need an obscure beer festival shirt to enter one of these specialist beer haunts, they can be a little daunting to begin with. So, we've done the heavy lifting (and beer drinking) for you and, with the help of The Crafty Pint's froth guru, Judd Owen, we can say this right here is the definitive guide to the Marrickville brewery crawl.
Due to the opening times, you'll have to set aside a whole Saturday for this one. We recommend starting before 1pm to get around them all. Grab some comfortable footwear and your best drinking buddies, it's about to get hoppy.
Batch Brewing Company
44 Sydenham Road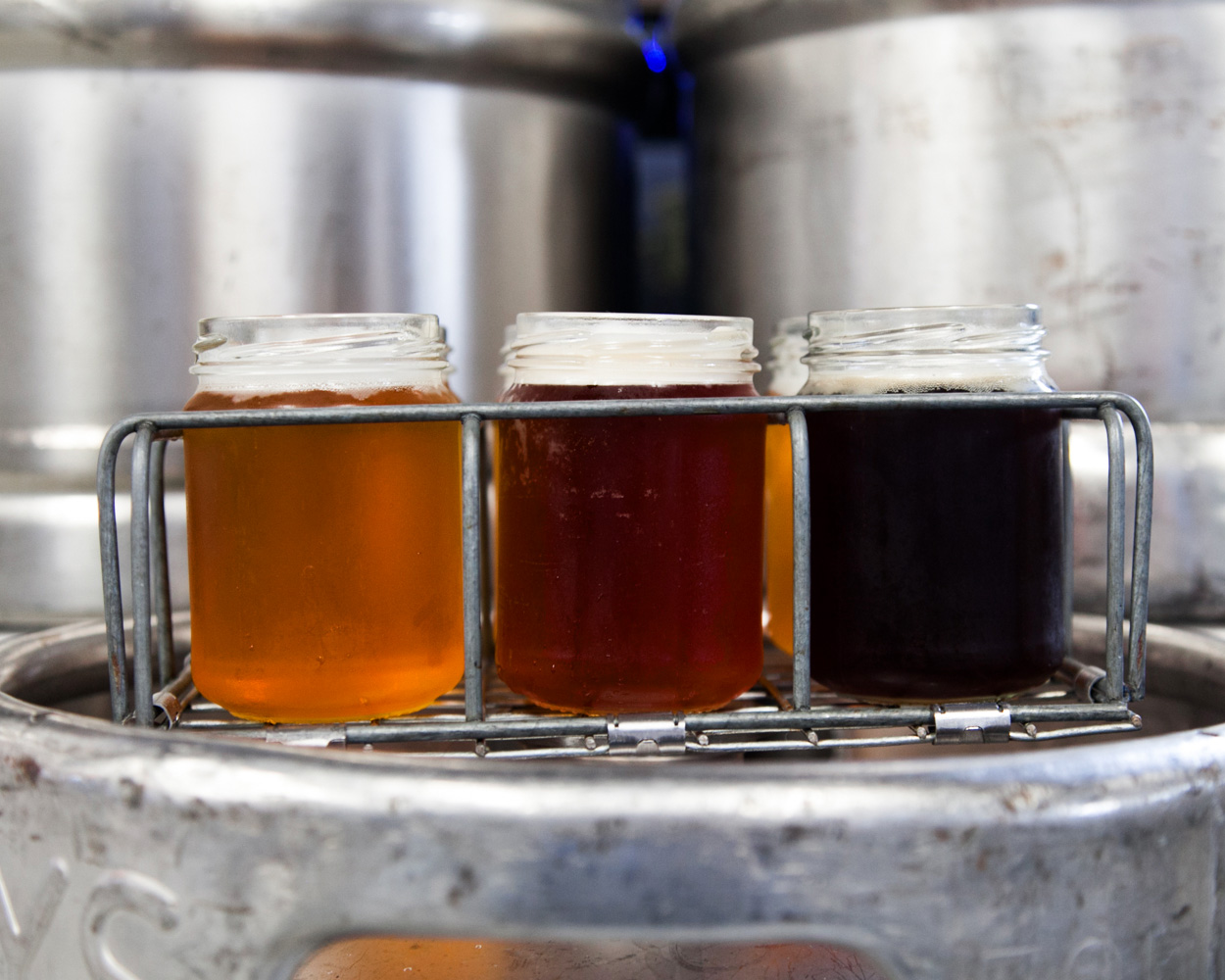 To begin, we're heading to Batch. This vast warehouse space is perhaps the epitome of the Marrickville brewery. It's all wood-pallet furnishings and draping vines, paired with a delicious range of regular brews. As the name might suggest, these guys focus on small-batch brewing and are passionate about sourcing sustainable and ethical ingredients from Aussie producers.
Batch was founded by two Americans, Chris Sidwa and Andrew Fineran, back in 2013. It's one of the originals that helped to show "small, locally focussed breweries could be viable", says Owen, paving the way for others. Cheers lads, we raise our glasses to you.
Grab a tasting crate for $15 and tuck into the offerings from one of the food trucks parked out front to get yourself off to a good start. The crate is a fixed selection that gives a good idea of what Batch is about. It includes their famous Pash the Magic Dragon, a superb passion and dragon fruit sour, runs through lager and a couple of pale ales to finish with Elsie, the creamy milk stout. Delish.
It's usually fairly busy here so you may have to wait to get in. It also gets really hot on sunny days as the tin roof offers little insulation. All the more reason to finish up and head across the road and down Cadogan street for the next stop on the tour.
Stockade Brew Company
25 Cadogan Street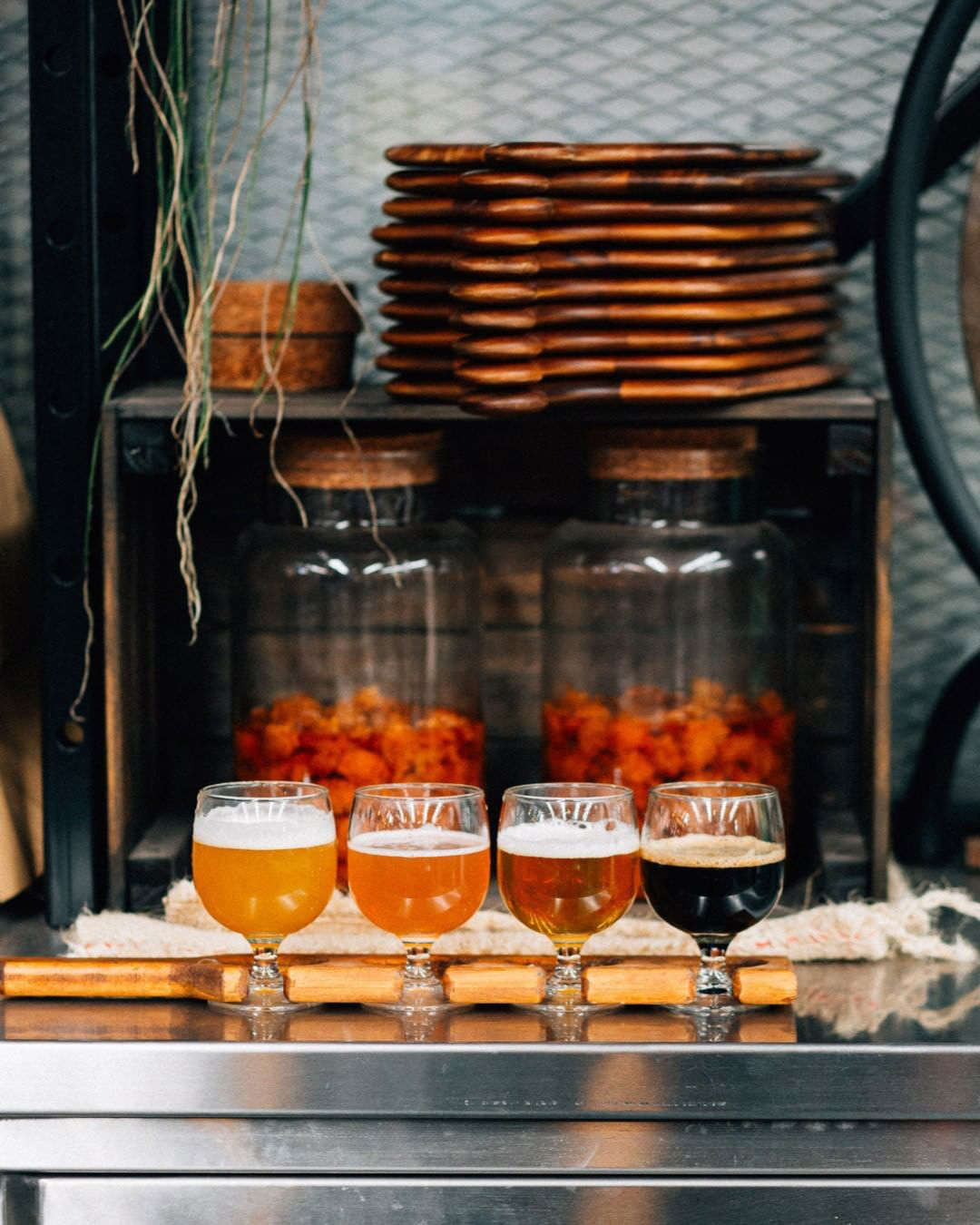 Stockade is a relative newcomer to Marrickville but they have been making waves within the craft beer community for some time. Anton Szpitalak launched his first range of beers in 2015 after a number of years brewing for industry contracts and the group finally opened their own space in May 2018.
Stockade do six house beers and one apple cider focusing on big juicy flavours. Their Hopsplicer Grapefruit XPA is a must and the Mr Fruju Tropical NEIPA packs a real wallop of flavour. The more experimental limited-edition beers here are also really good—Stockade is known for its beer experimentations. Right now they have a Farmhouse Rye Saison that is super smooth and rounded in texture and a Nelson Sauvin Gose that is also a definite go-to.
Stockade also has a selection of beer "hoptails"—our favourite is the Espresso Martini, made with trophy-winning Old Money Imperial stout.
Surrounded by fermentation barrels and their groovy art deco pastel kegs it's a must-do on the brewery crawl. If you've got time, you can also book a 14-person tasting with one of their resident experts who will talk you through the latest creations. You can grab food here too (from food trucks) if you missed it at the last stop.
Now, turn left down Saywell St and zig-zag your way to something completely different.
Poor Toms Gin Hall
6 Chalder Avenue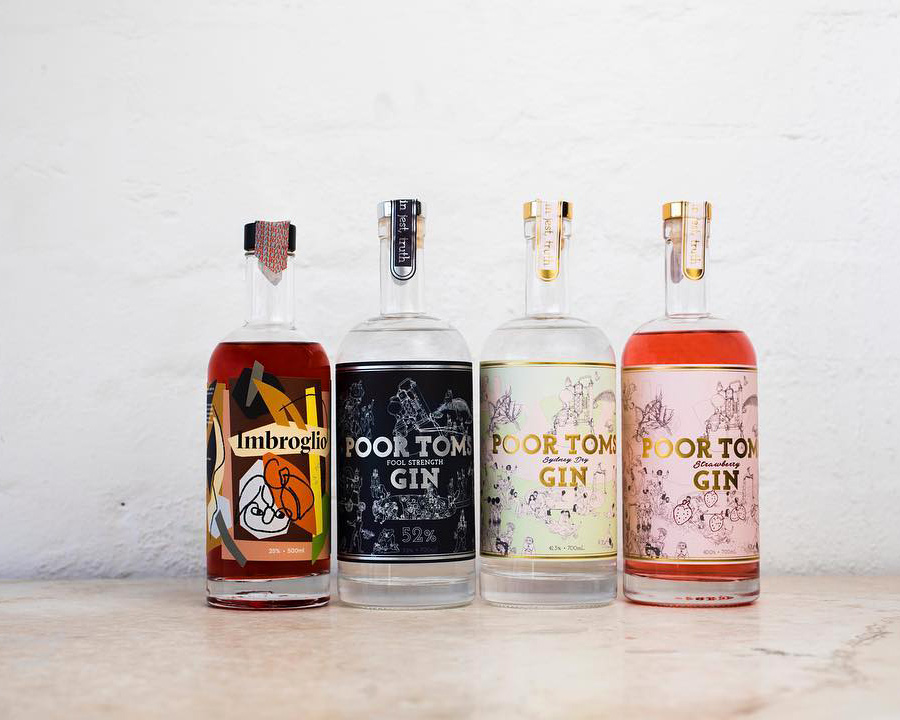 You won't find any frothy cold ones at Poor Toms. What you will find however is a big, beautiful open space draped in greenery and some of the best gin Sydney has to offer. It's the perfect palette cleanser to give your tongue time to recover from all that hoppy goodness.
Poor Toms was always intended "to feel less like a gin shop and more like a bar", their distiller explains to us. They achieve this by having American-inspired sandwiches loaded with provolone and DJs spinning mellow tunes in the background.
Gin inquisitive punters should try their Sydney Dry, which is the gin that began it all back in 2015. They describe it as a "snapshot of what we felt was Sydney" and liken it to a "harmonious white wine". The flavour profile is crisp and balanced with floral notes: "We use green apple, chamomile, and native strawberry gum to give it a eucalyptus component".
With their Fool Strength Gin they "just went balls-out and made the best London Dry style gin we could". The Strawberry Gin is also excellent and bars were tripping over themselves to stock it when it debuted. If you fancy something a bit different, they rotate their cocktail list constantly to show off the diversity of their spirits.
Finish up and head down Chalder until you hit Victoria Road. Hang a left and make your way over to the next Marrickville institution.
Sauce Brewing Company
1a Mitchell Street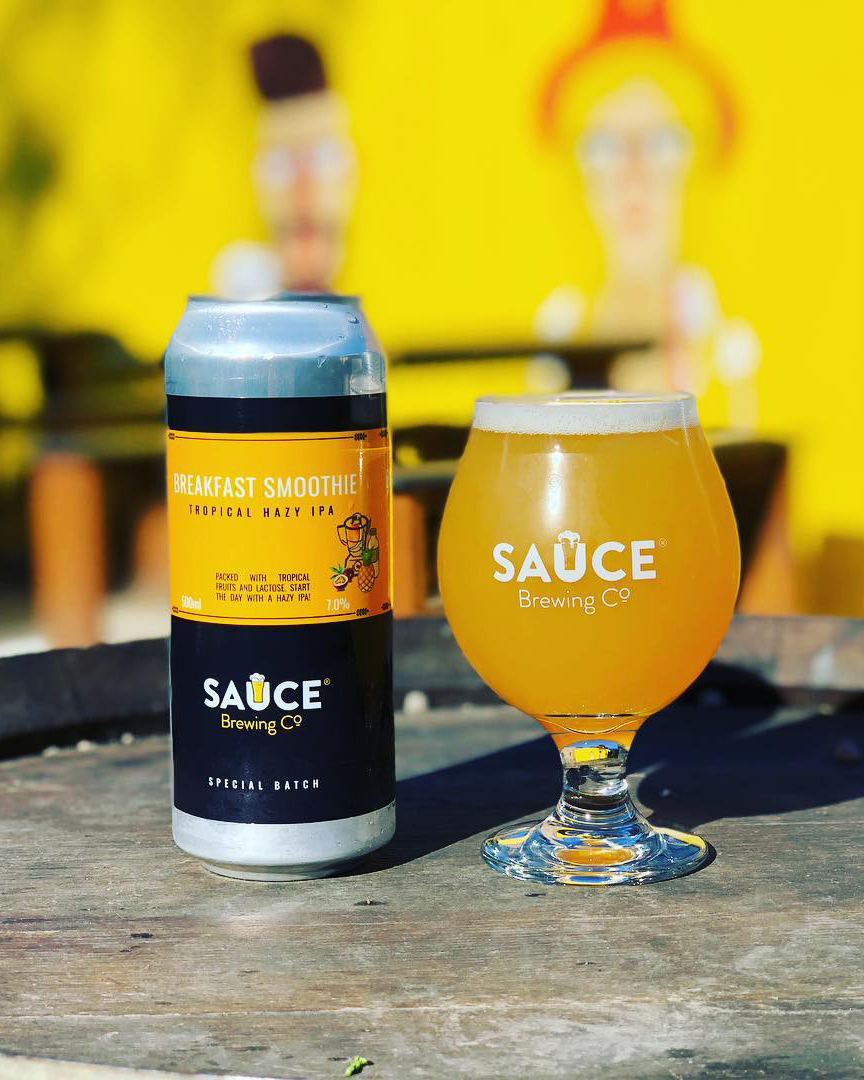 Sauce are slingers of hoppy beers, which are always best fresh. With their large taproom, rotating roster of food trucks and enormous beer garden, Owen reckons they're one of the best in town: "a good taproom has to be more than just a place for beer geeks to grab whatever's new. The best ones are community-minded, so having food and being child-friendly is a big plus".
They are a friendly bunch down here. One of the brewers, Kurt, was kind enough to talk us through the 12 taps (all beer, one cider), before hanging with us in the beer garden, laughing about beer and fawning over the local dogs.
"Saturday is our busiest day for sure," he said. "We've got a 250 person capacity and from 3pm until 6pm, it's usually at its peak". The beers are "always approachable" but they've got "more interesting stuff for people who want something different".
He's not wrong. They recently had a smoked ham and pineapple sour which would certainly fall under the "different" category.
Everyone is doing some variation of a fruity sour wheat beer at the moment but Sauce's Peach Berliner Weisse is up there with the best. The Victoria Road Bitter—named after the brewery's neighbouring street—is their take on the pub classic and it's a definite winner. As Kurt explains, they're not trying to "reinvent the wheel", just offer the most drinkable beverages around.
Their big flavoursome ales are also great so make sure you sample the Bubble and Squeak, the Sabrillo, and their flagship Hop Sauce. Now, bottoms up, we've got two more to hit before the night is through.
Wildflower Brewing & Blending
1 - 13 Brompton Street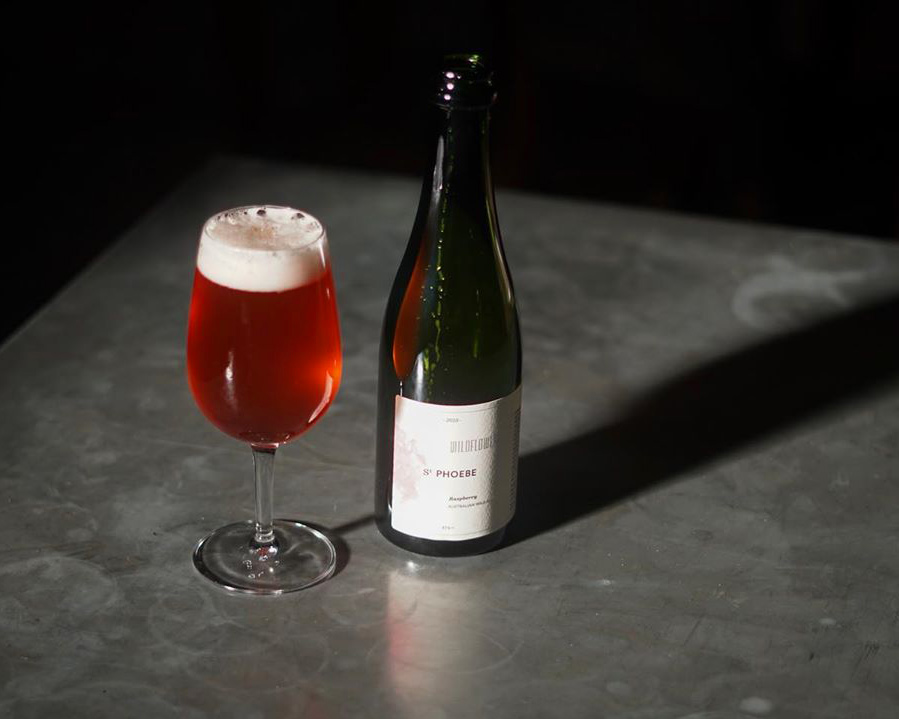 If you haven't been here before, you're in for a treat. "Wildflower Brewing and Blending produces some of the best, most acclaimed wild ale in the country," explains Owen and he's not wrong. It's all ferments here but with balanced profiles that they describe as "table beer", which is designed to unseat wine in gourmet circles.
Wildflower moved into their former metal foundry in 2016 and opened the cellar door in 2017. They pride themselves on small releases and low profile. The taproom, for example, is only open 2pm - 6pm on Fridays and Saturdays so make sure to factor that in. Despite this, they have amassed an incredible cult following, with all their new releases being snapped up by bars across the country in minutes. Their St Phoebe Raspberry Wild Ale was named best drink in Australia at the inaugural Drink Easy awards in 2019. Cheers to that.
We sat down with Chris Allen who co-founded the place with his brother in law, Topher Boehm. "We make what's called cross-culture beer," Allen explains. They take "native indigenous yeasts" from wildflowers in NSW to start their fermentations, which are stored in the barrels that line the room. Their two tap styles are the Gold and the Old Amber. Everything else they sell is a variation on these.
"We feel like our beer is approachable to not only beer drinkers but to people who are not necessarily beer drinkers," Allen says. "Making a balanced beer is what we strive for" and they consider it "more as a fermented beverage." Allen tells us that "people have been really supportive of trying it" and are always surprised how much they like it when they do.
Wildflower isn't catering to the big sloppy brewery crawl market so best behaviour when you come in. The next joint, however, is perhaps the king of the crawl so just round the corner up on Enmore Road is where you can let it all hang out.
The Grifter Brewing Company
391 - 397 Enmore Road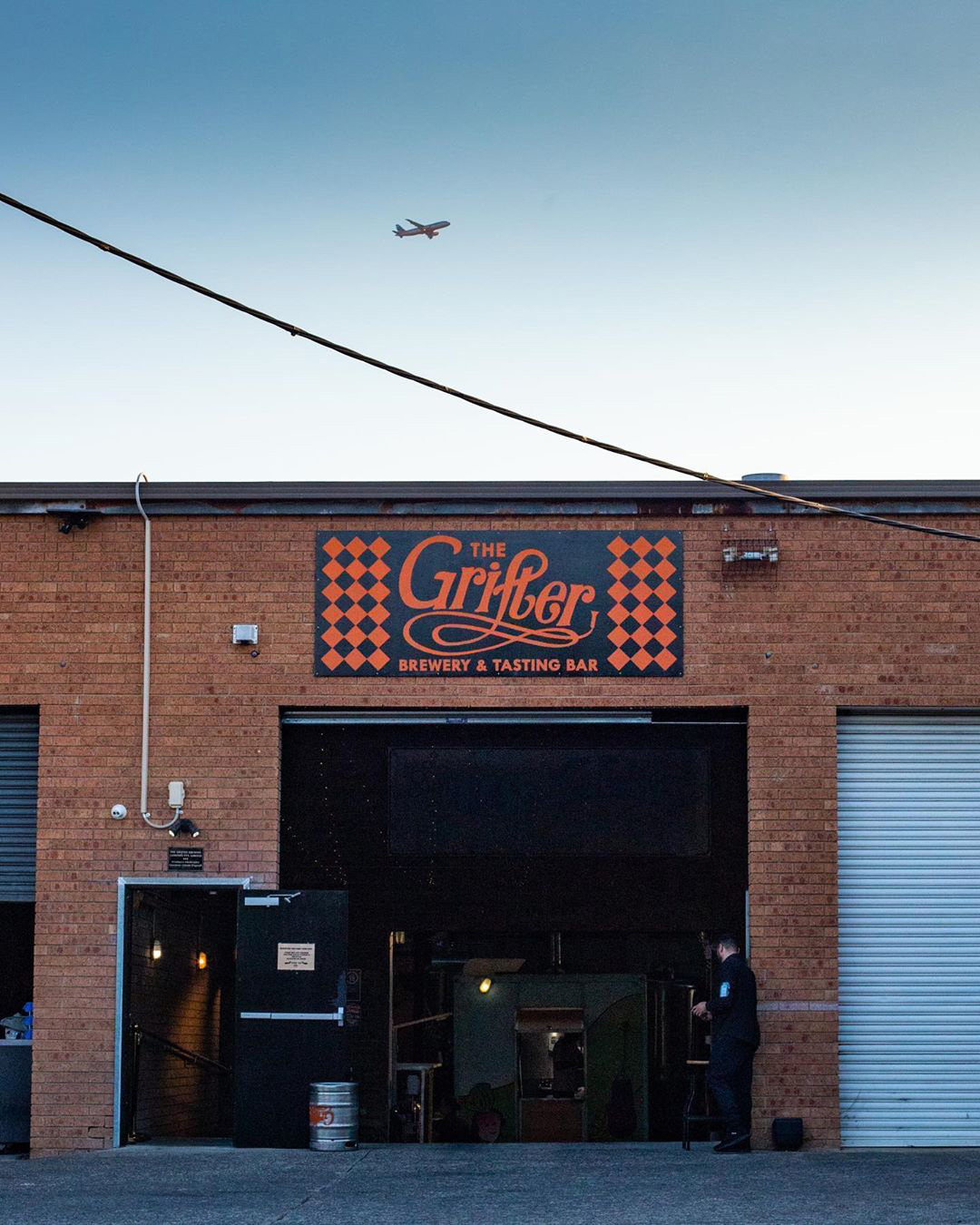 If you've never set foot in a brewery before, chances are you already know and love Grifter's beer. They started life renting space in the Young Henry's Brewery, but have now evolved into their own beast entirely. It can get busy here on a Saturday especially but it's totally worth the wait if you have to queue.
Once you get inside the space rolls down a little slope before opening up into a massive warehouse space where all the Grifter classics are on tap as well as their more off-the-wall creations you struggle to find elsewhere. Grab a four-beer tasting paddle or two to sample the 10-tap range and sink into some of the corner seats to slurp your selection.
Our personal favourites here are the Pink Galah, which is so popular it sells out in local bottle shops as fast as they can restock it. It's a pink lemonade sour—and we will go out on a limb and say is the best sour in the region (if you like your sours to punch you in the face and make you shout, now that is a sour!). Grifter also takes the highly-subjective prize for best stout with their oatmeal Omen, a dark creamy boy loaded up with malty richness.
Food trucks can be few and far between here as we've been a number of times without seeing them. If you need to eat, and, lets face it, you probably should, you can stumble into the Vic on the Park, which is right next door and has live music on Saturdays (so you can dance off those bevs). Congratulations, you've made it. Now make sure you drink some water.
Prefer a gin crawl? No problem. These are Sydney's best gin bars. And while we're at it, you should also suss out Sydney's best wine bars.
Image credit: Wildflower, Frederica Portentoso, Stockade Brew Company, Poor Toms Gin, Sauce Brewing Company, Wildflower, Grifter