If there are two things people from Sydney love, they are an ice-cold frothy and a scenic road trip.
So what better way to combine the two than by hitting up the greatest breweries around NSW? From tiny timber beer havens in Bellingen and a winning Blue Mountains spot to microbreweries in old-school pubs and a boot-scootin' brewpub in Australia's country music capital, there are plenty of schooeys to be had around the state.
Of course, you'll want to find a place to stay while you're touring around in search of cold ones—so we've thrown in some epic Airbnbs for good measure, too.
Thirsty? Check out these epic breweries around NSW that are definitely worth the road trip.
Bellingen Brewing Co
Bellingen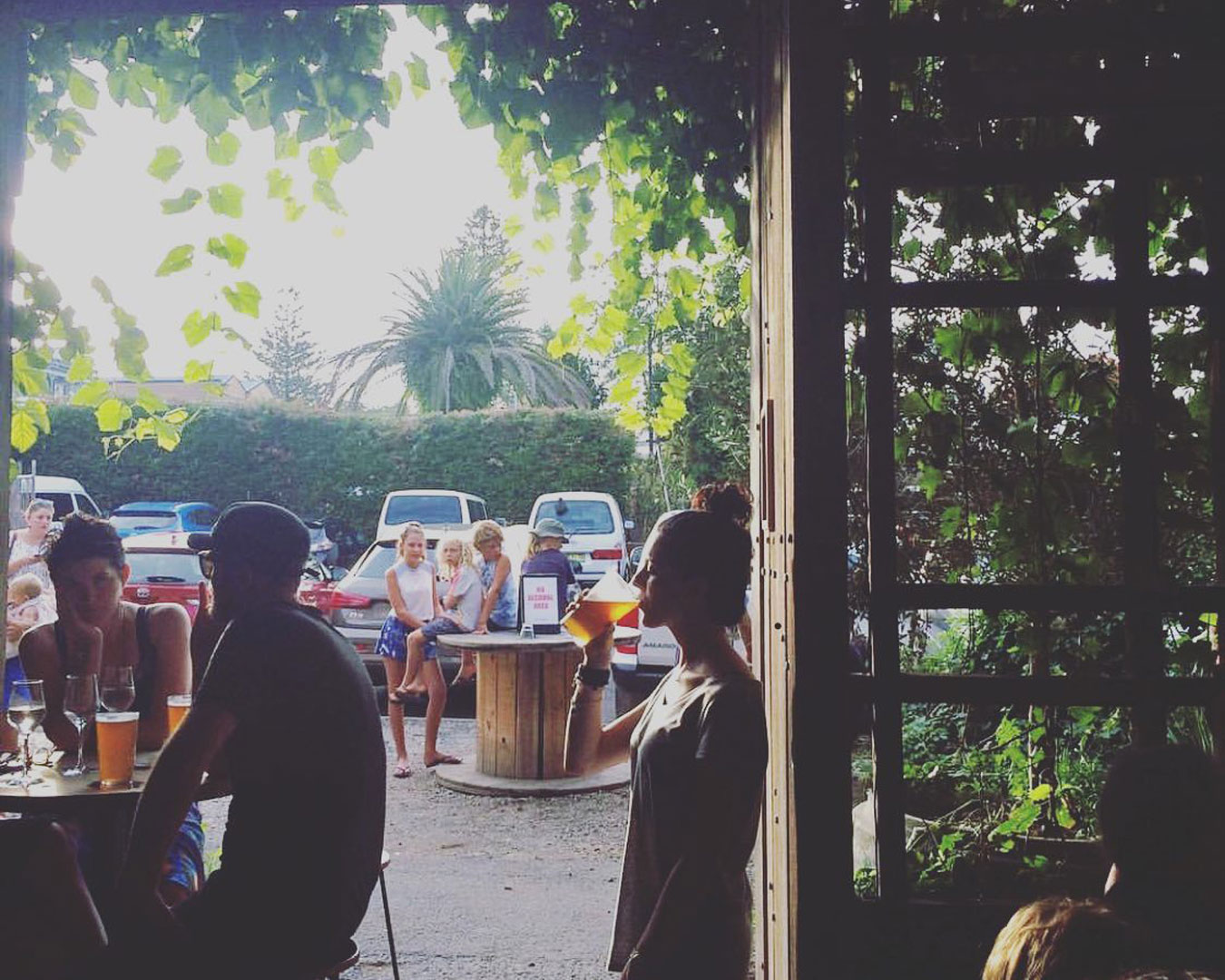 If you've never stopped into Bellingen while road tripping the NSW mid-north coast, you're missing out on one of Australia's cutest, most welcoming towns. And after a day of exploring the surrounding national parks, waterfalls, beaches and ancient rainforests, you'll no doubt want to nurse a coldie—which means hitting up Bellingen Brewing Co. Located by the Bellinger River, the brewery was put together with mindfulness for environmental impact, built sustainably from local timber and salvaged materials. It's also decked out with lush greenery which really adds to the laidback nature of the space.
Aside from the brews, it does a few cocktails and natural wines, plus there's the occasional gig going down on a weekend for maximum vibes. But there's one thing that makes this brewery bar special—the pizzas. The large woodfire pizza oven is the first thing you'll spot (and smell) as soon as you walk in. Don't plan to drink here and go for dinner elsewhere—this is the spot for both. Just remember it's only open Thursday–Sunday, so plan accordingly.
Travel time: 5.5-hour drive from Sydney
Where to stay: This spacious six-person retreat or this sleek cottage in the heart of town
Mountain Culture Beer Co.
Katoomba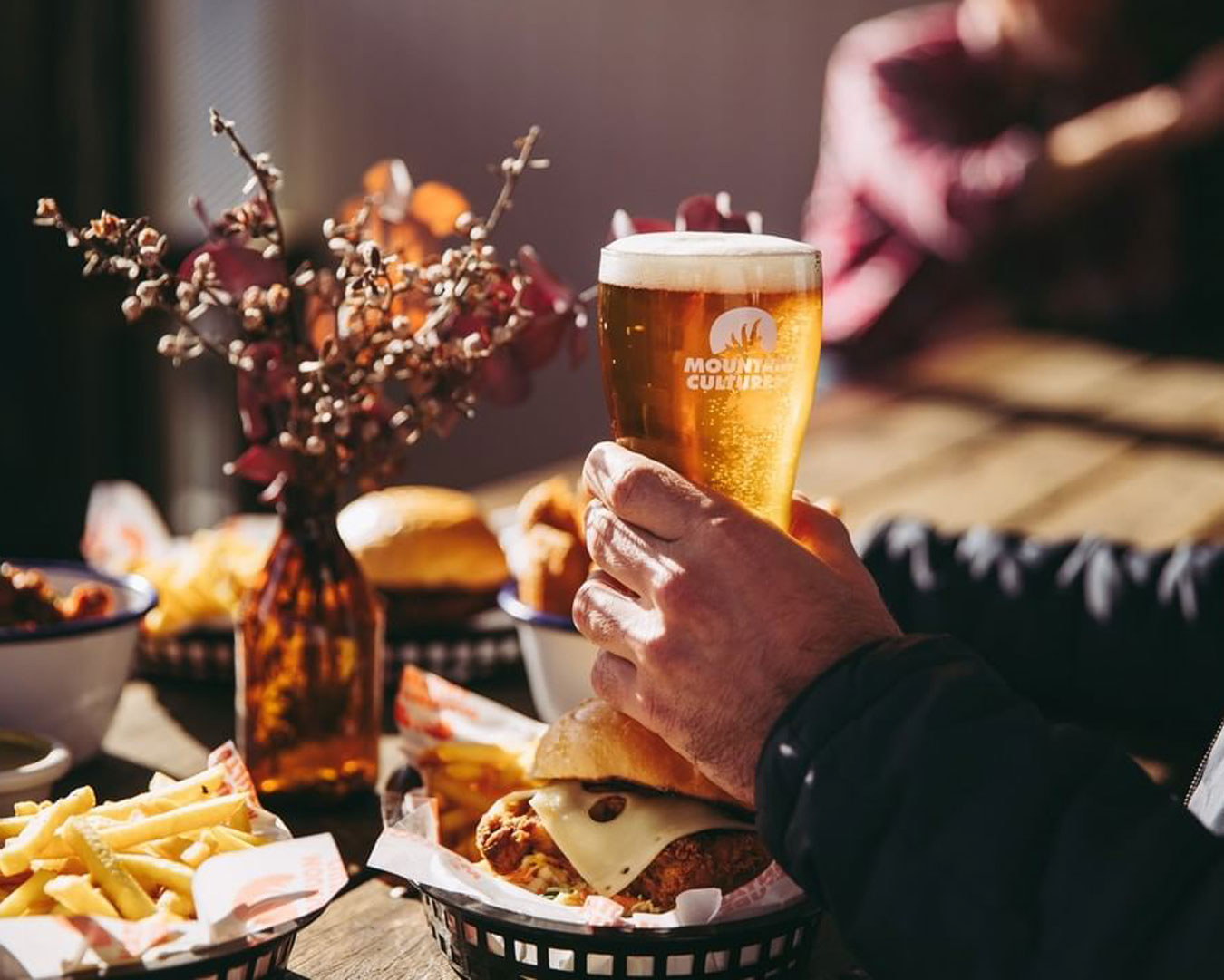 A beeline from Sydney to the Blue Mountains will lead you straight to the heavenly estate of Mountain Culture Beer Co. in Katoomba. Back in the day, this brewery used to house The Echo, a local paper around these parts for many years. After that, it took some time as a "dancing saloon" (read what you want into that) and as a trusty Civic Video store (RIP). In 2017, this building was totally transformed into the Blue Mountains' very first brewpub and since then, it's been an absolute institution. If you love big beers, chances are you've had a couple of Mountain Culture brews. Now, it's time to sink one right at the source.
If you don't fall head over heels for the building's inter-war free-classical architecture, the brewery's core range will do the trick. There's a "moon dust" stout, a double red IPA, a pale ale, lager, a tropical session ale, and NEIPA. Or, go for one of the wacky limited brews like an oat cream IPA or a smoked NEIPA. The food is simple, stomach-lining stuff—think fried pickles, burgers and chips—which will bode you well with these hoppy concoctions. Best of all, Mountain Culture is open seven days a week.
Travel time: 1.5 to 2-hour drive from Sydney
Where to stay: this cosy couple's cottage or this luxe studio in Leura
Dangerous Ales
Milton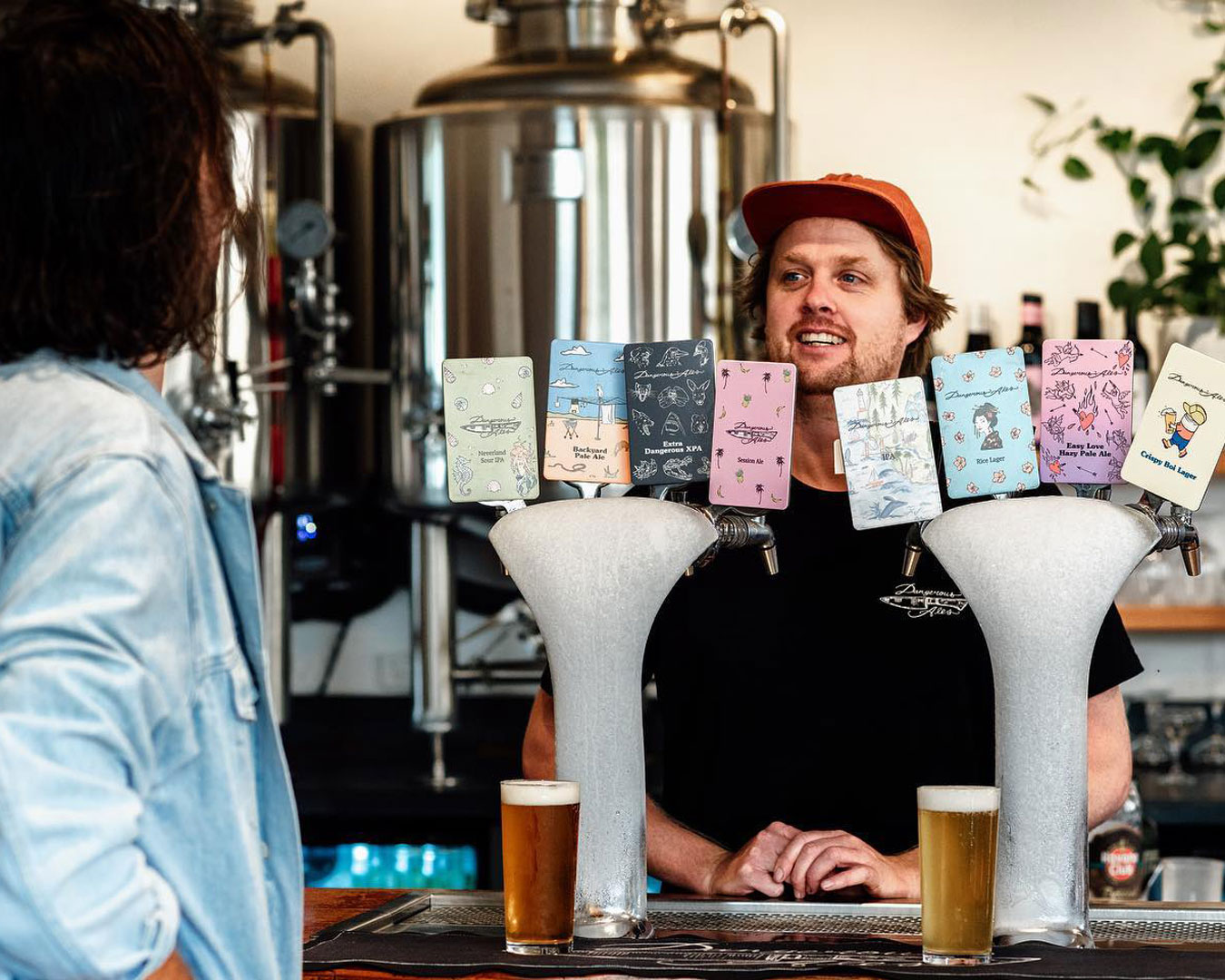 Cruise down to the South Coast and you'll come across the food- and wine-abundant town of Milton. There are bakeries, cafes, wine bars, a couple of charming pubs and even a microbrewery in a pub. Dangerous Ales is housed within the revamped Milton Hotel and brews up some cracking sours, hazy pales and easy session ales. It's a small family-owned operation—but god does it punch above its weight. Pull up a stool at the bar as Damo pulls you a new limited release to try, or park up out on the deck if the sun's out. Then, you can roll over to the pub bistro, which serves up exceptional pub grub. Just be sure to pick up some slick merch and a couple of four-packs before you leave—these tasty brews aren't all that easy to come by.
Travel time: 3.5-hour drive from Sydney
Where to Stay: This stunning two-person farm stay or this quaint cottage closer to town
The Welder's Dog
Tamworth
The Welder's Dog set up shop in Tamworth back in 2017 and it's been a darn good time ever since. Bringing good brews and live tunes under one roof, the brewpub is the second location of this NSW craft brewery, with the OG digs in Armidale and a newer one in Inverell. The Tamworth outpost, though, is a rowdy time—and if you tee up your visit with the annual Tamworth Country Music Festival then even better. The crew here are mostly known for championing local producers and being a community hub. Plus, the beers are bloody good. Whether you're a larger drinker, fancy a piney pale, or think the sound of a boozy pea flower lemonade does it for you, you're sure to find a bev (or few) that you like.
Travel time: 5-hour drive from Sydney
Where to stay: This four-person villa-style stay or this cosy condo
Flamin' Galah Brewing
Jervis Bay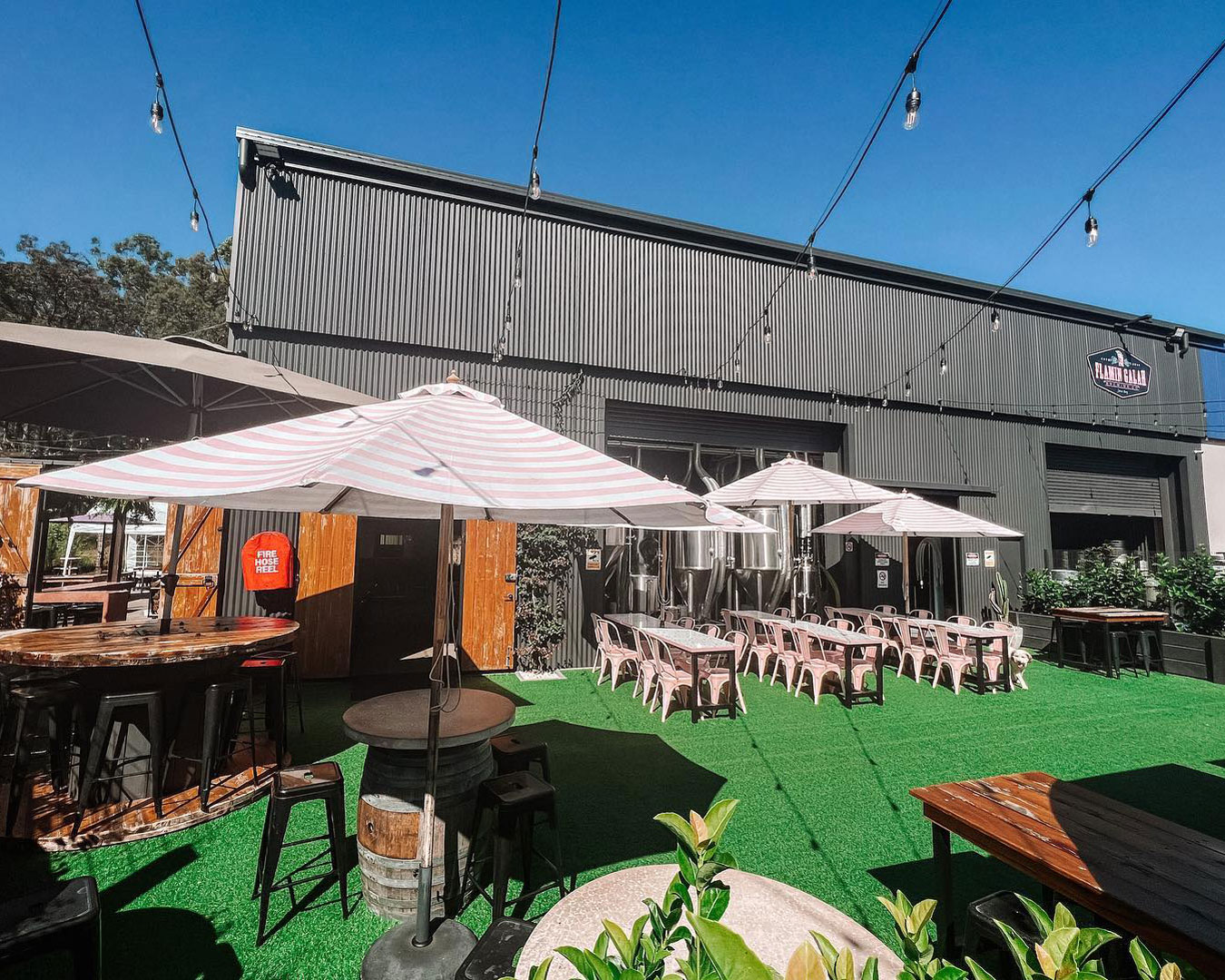 With a name like Flamin Galah, you know you're in for a good time at this Jervis Bay brewery. Located close to the mouth of Currambene Creek on Scallop Street, Flamin Galah Brewing Co. was started by local legends Sam and Claire Hewson. At the moment, their core range is made up of seven different craft beers—a Flamin Galah Pale Ale, a Pilot Neipa, Cosmos IPA, Iwatake IPA, an XPA, a Hooroo Hazy Neipa, and a Pink City Raspberry Ale. While the brewery has big plans to open a brewpub and taproom later this year, for now, you'll find a pretty buzzing growler bar perfect for all the heavy sampling. Adventurous craft beer fiends will want to go straight for the Goodnight Irene Lattice Biscuit Stout—a creamy, sticky vanilla combo of deliciousness inspired by Claire's grandmother's age-old lattice biscuit recipe.
Travel time: 3-hour drive from Sydney
Where to stay: This jaw-dropping wilderness hut or this luxe AF four-person cottage
Eden Brewery
Mittagong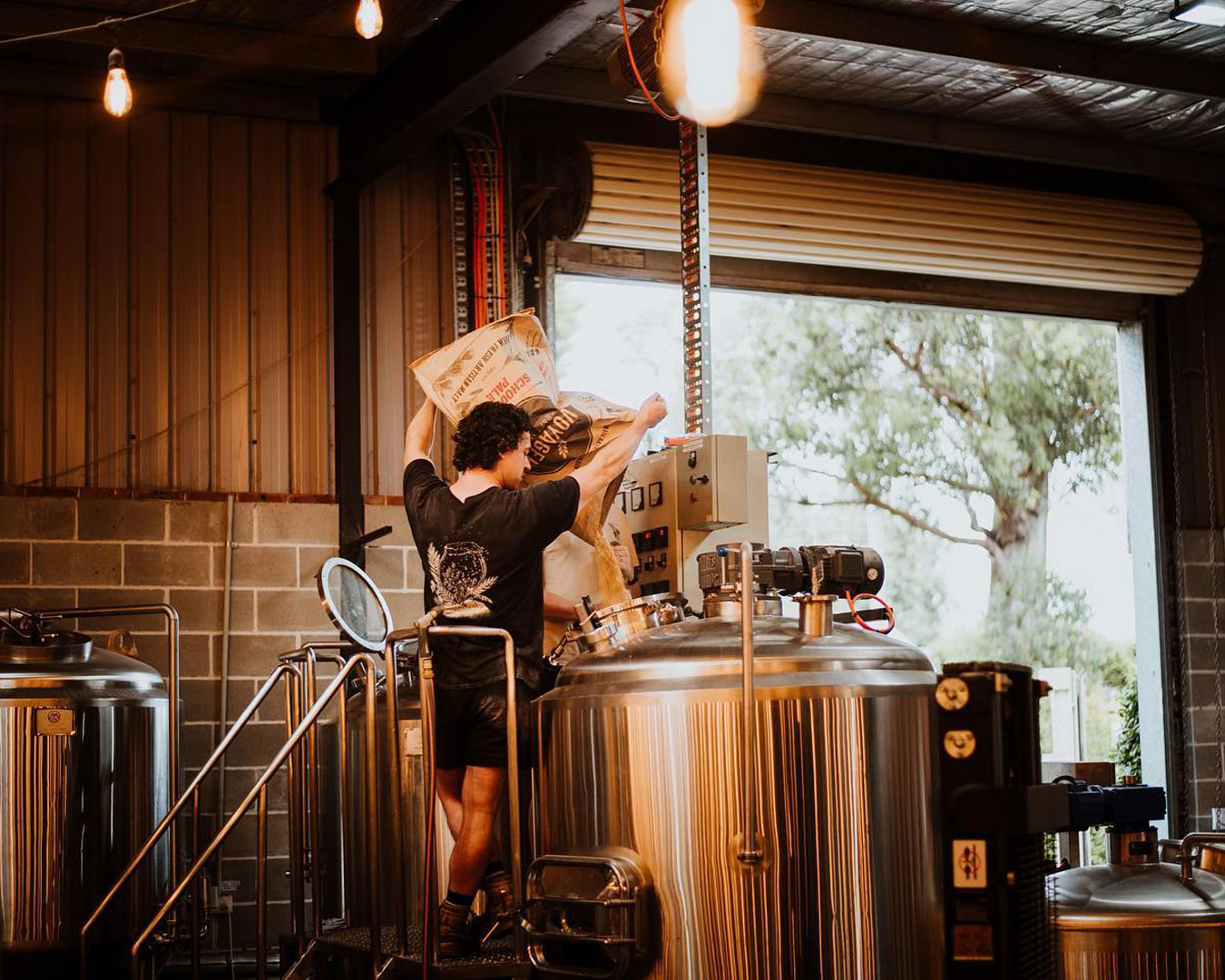 Eden Brewery is a beer haven and burger bar all in one that has to be a pitstop on your next road trip. This beauty is a great little place to stop off at when you're driving around the Southern Highlands and is all about sharing a beer in a super relaxed atmosphere (no beer snobbery allowed). The beer tastings truly go off here. Catered for beer aficionados, wine lovers, and hey, even VB drinkers, there's everything from private tastings to full-blown brewery tours and customised paddles. Eden Brewery's core range is made up of a unique Belgian wheat beer, a kottbusser (best enjoyed with a schnitzel or pretzel), an XPA, and an IPA. When you do swing by though, you'll want to make sure you definitely hit the gingerbread ale, preferably in a takeaway growler.
Friday nights are a big vibe here with local live music kicking off from 8 pm. You'll also find a rotating line-up of food trucks parked up most weekends. These guys also donate 10 percent of their profits to Oxfam to help provide clean drinking water to those in need. On top of this, Eden Brewery operates entirely on 100 percent green renewable energy so you can swig back a cold one with peace of mind.
Travel time: 1.5-hour drive from Sydney
Where to stay: This cute-as guesthouse for four or this tranquil cottage in historic Berrima
Bay Road Brewing
Gosford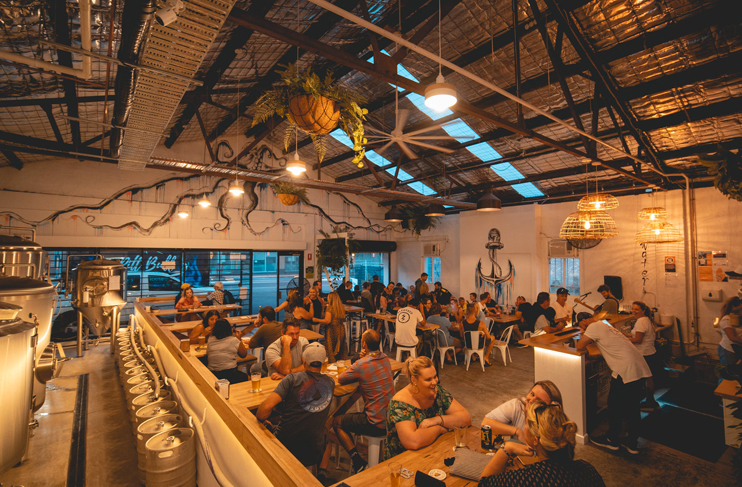 When you're making your way up north from Sydney, you can't go past Bay Rd Brewing. Located in Gosford, this microbrewery and taproom was quite literally put together by a couple of old mates back in 2018. Sporting big coastal vibes, Bay Rd is famed for churning out more experimental types of beer, meaning the team here likes to play a little with your usual expectations of what beer could be.
One of the best parts of Bay Rd is that it's completely dog friendly and the space stretches out into a big light-filled warehouse featuring ocean-inspired street art on the walls and tropical indoor plants. The core range includes a pale ale, an IPA, XPA, and a tropical rum porter that's known to sell out quite early (so you'll want to be quick off the mark with this one and get in stat). However, the big stand out has to be the "My Name Is Red" double sour. This guy is a hit of candy raspberry that goes down so well on a hot day, and you'll most likely leave with more than a few.
Travel time: 1.5-hour drive from Sydney
Where to stay: This laidback holiday house or this six-person apartment right on the water
Six String Brewing Co.
Erina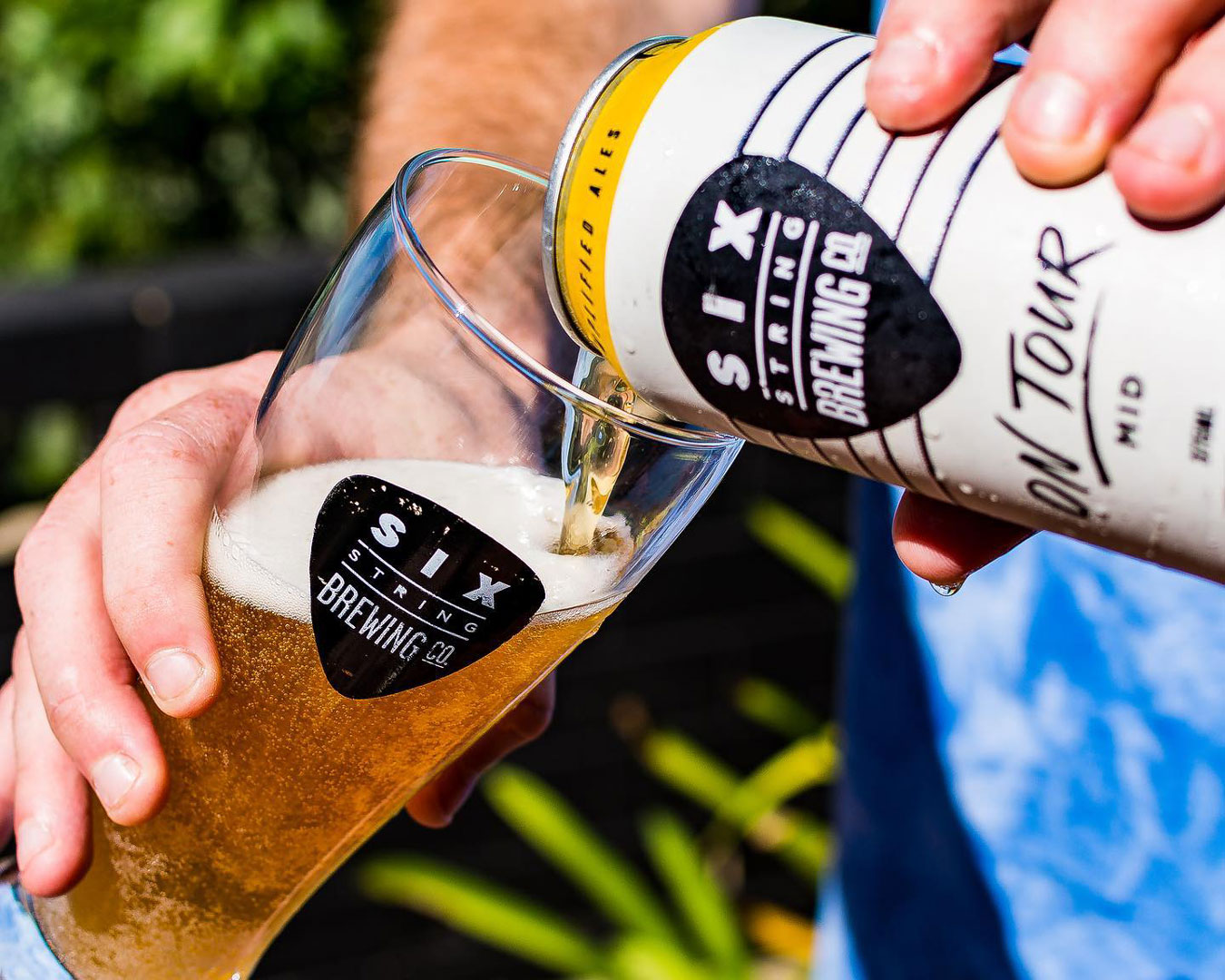 If you're heading up to the Central Coast, a hydration stop at Six String Brewing Company is a rite of passage. Launched back in 2012 by Chris Benson (an avid homebrewer) and his mate Adam Klasterka, this dynamic duo has always put a big focus on pulling out full-flavoured, or "amplified" ales.
Boasting mega line-ups of live music and beer, this all-in-one brewery features a taproom with 12 loaded beers. This is obviously the place to be if you're keen to hear more about Six String Brewing Co. The hands-on-deck will take you through the entire brewing process and you'll get to touch, smell and taste the ingredients and sample the brewery's beers. You'll also get to check out the 4800L fermenters (filled with a triple brew).
The core range here is pretty packed to the rafters with a "true blue" Aussie bitter, a chilled-out XPA, two IPAs, a coastie lager, two pale ales, and a pretty groovy on tour mid-strength perfect for hangs at the beach, festivals, or a road trip even further up the coast. To soak these bad boys up, you'll want to steer your bellies towards the BlackBear BBQ inside Six String Brewery. The menu consists of locally sourced produce, smoked over Ironbark for up to 15 hours and that means you'll be able to order up everything from tender burgers to juicy buffalo wings.
Travel time: 1.5-hour drive from Sydney
Where to Stay: This quiet semi-rural cabin or this unique yurt stay
Murray's Craft Brewing Co.
Bobs Farm
It's been dubbed the "beer and BBQ capital of Port Stephens"—so look alive. Located a little further up towards Nelson Bay is Murray's Craft Brewing Co. and, believe us, it's worth the two-and-a-half-hour drive. The Murray's team has been going strong creating off-beat, naturally crafted beers since 2006 (and have a heap of accolades in the process). While the craft beer here will certainly change your life, the brewery grounds are a real showstopper. Murray's Craft Brewing Co. shares its digs with Port Stephens Winery, the region's oldest vineyard, so you'll be in for some pretty picturesque scenes. The taps max out at a juicy 10 beers plus there are bottled specials to go around too. Every day, you'll also find a brewery tour that kicks off at 2.15pm.
The core range here is pretty standard but there's also an epic "Coco Hops" which translates into a coconut porter. Made with roasted coffee, four other specialty malts, and lashings of coconut, this one is worth the road trip alone. Every day, the team in the kitchen fires up the in-house smoker and wood-fired oven to knock out everything from ribs, steaks, and burgers, to tapas-style share plates, pizzas (which have Murray's XPA hand-mixed into the crust for the ultimate crunch), and desserts.
Travel time: 2.5-hour drive from Sydney
Where to stay: This super-luxe house with a pool and ocean views or this sleek modern house
Staying in Sydney? Check out the best breweries in Sydney.
Image credit: Bay Rd Brewing, Bellingen Brewing Co, Mountain Culture Brewing Co., Flamin' Galah Brewing Co, Eden Brewery, Destination NSW, Six String Brewing Co