If you've ever been to Spain's San Sebastian, you'll know it's pretty much a perfect city. Located in Basque Country (there's your first clue), not only is this coastal city famous for its stunning beaches, honestly—some to even rival Australia—but it's also a beloved foodie destination, making it an absolute bucket list travel destination for anyone with, well, an appetite for the best damn seafood in the world.
From tapas-style eating known as pintxos, a heap of Michelin star restaurants and fresh produce markets, it doesn't take a genius to realise that a trip around San Sebastian is a dedicated food safari. On top of this, the seaside haven is home to a 60-year-old restaurant called La Viña which just so happens to be the home of the tastiest burnt Basque cheesecake (or, "tarta de queso") ever. It's so good, people literally fly in just to grab a slice.
Made with butter, heavy cream, cream cheese, eggs, sugar, and vanilla, this easy-to-make but hard-to-master cheesecake is what your wildest cake dreams are made of. And while we may not be able to jump on a plate and hit the white sands of San Sebastian any time soon, you can find a few authentic recreations right here in Sydney.
Here's where to find Sydney's best burnt Basque cheesecake.
Black Cream X Messina
Delivery Only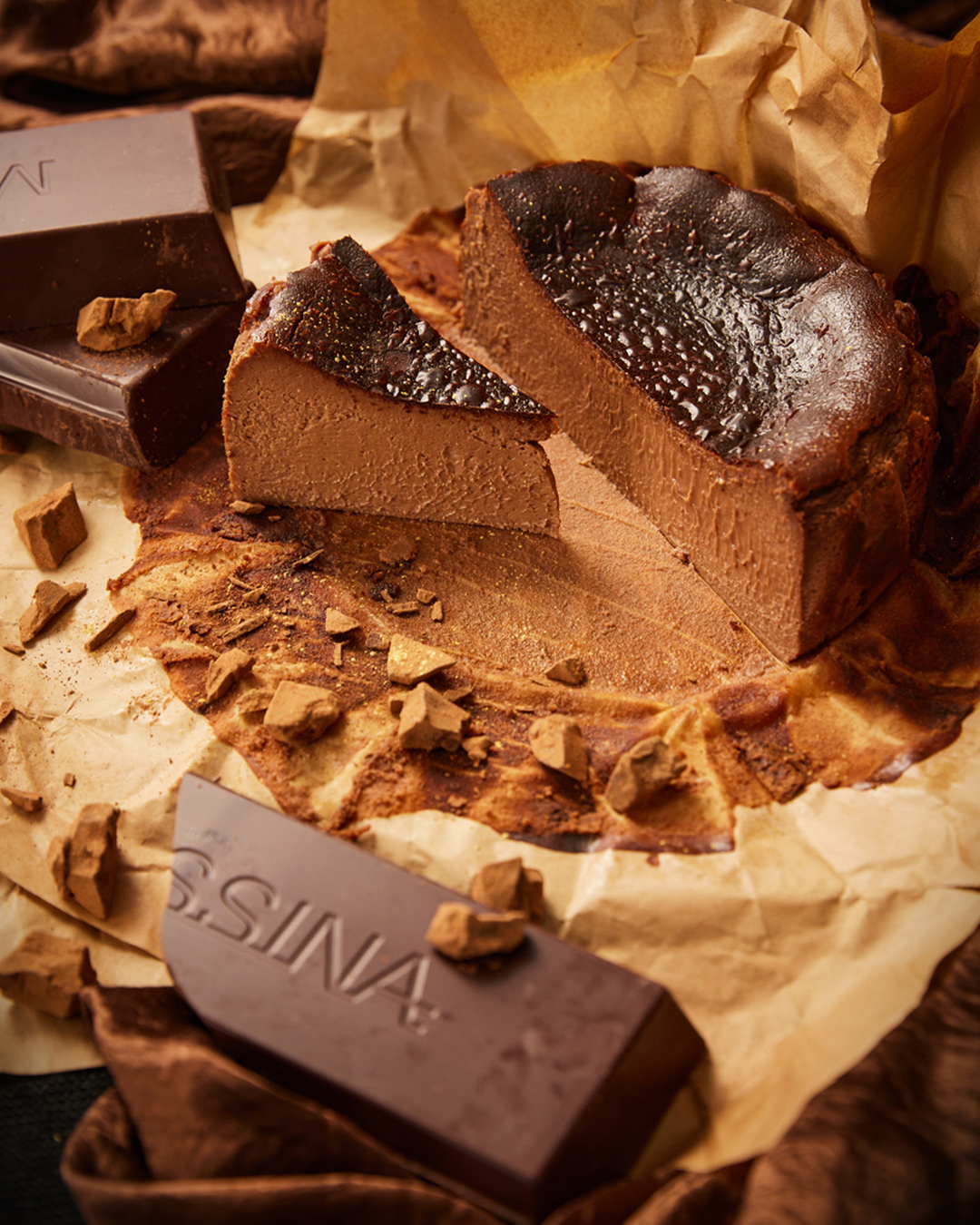 If you know anything about Sydney's burnt basque cheesecake game, you'll know that Black Cream is one of the best in the biz. It's one of Sydney's online bakeries that naturally saw huge uplift during the state's lockdown period, unsurprisingly—the people of Sydney wanted burnt basque cheesecakes delivered straight to their door 24/7.
So, where does Messina come in? Well, after touring Messina's HQ, they decided to start experimenting with Messina's couverture chocolate—an extra silky and creamy batch of chocolate containing more high quality cocoa than your staple chocolate from the store (which you can actually buy from Two Providores). The result? Their Messina chocolate cheesecake—"The Black". Order yours here.
Get Me Baked
Delivery and Pick-Up Only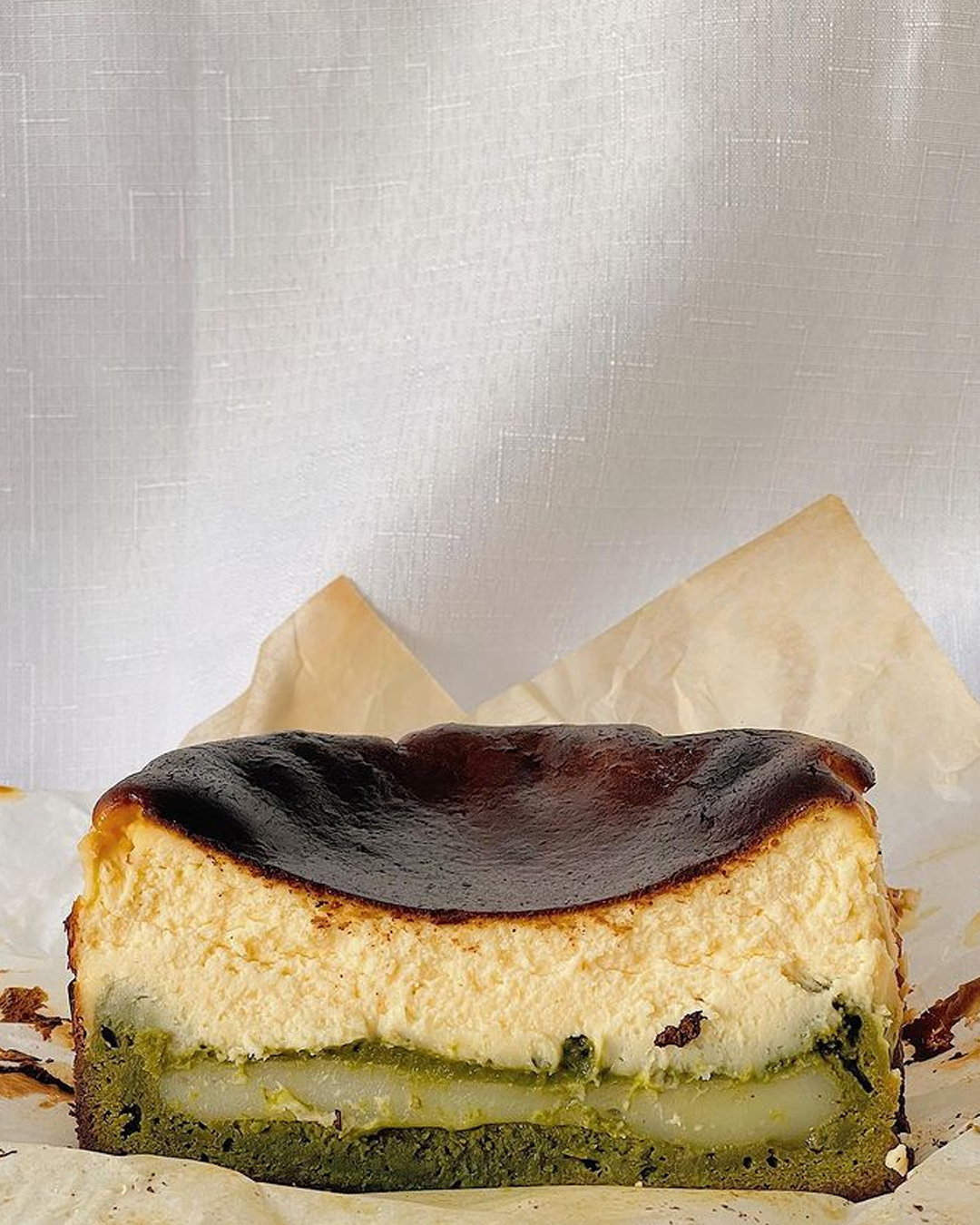 If you thought there was only one varietal of the staple burnt Basque cheesecake—you would, in fact, be wrong. Get Me Baked is pretty much the answer to your deepest, darkest dessert cravings. Brownies with mochi? Check. Baked boxes of matcha cookies? Check. Burnt Basque cheesecake? Absolutely. On that note, the BBC situation here is pretty damn special because it combines a burnt Basque cheesecake with an almighty brownie base. The standard bases look like Biscoff and Nutella but you can really go hard on the sweet stuff and also opt-in for a mochi twist in the flavours chocolate, matcha, or hojicha. Cakes come in half ($28) or whole ($50). You can order yours here.
Master Baker
Villawood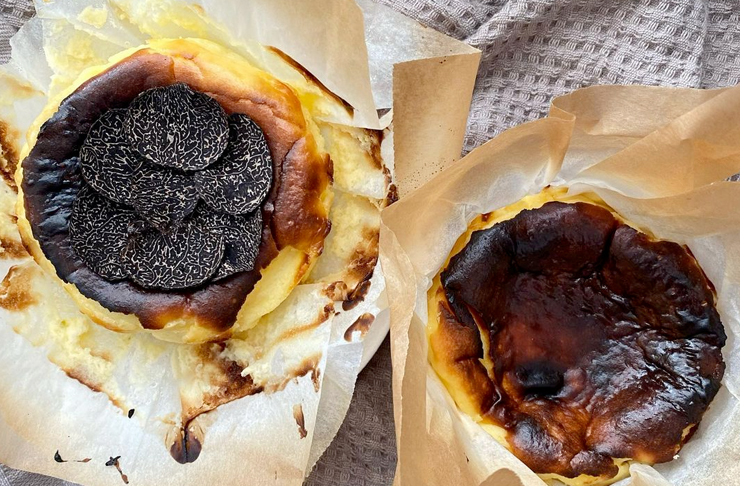 Let it be known that the burnt Basque cheesecake affair created at Master Baker (who also goes by the name of Maria) is one of the creamiest in town. However, bringing one of these silky treats into your life is no UberEats affair. The only way to order a burnt Basque cheesecake is to slide into the mysterious Master Baker's DMs and request a cake from there.
You'll be able to go choose anything from a full-blown cake to smaller tart-size burnt Basque cheesecakes. If you're ordering at the right time of year, Maria even creates speciality truffle burnt Basque cheesecakes. Keep an eye out on her Instagram for pre-orders and dedicated pick-up dates from Maria's HQ in Villawood (delivery not available).
Jiggle Cheesecake
Carlingford
It goes without saying that a shop that specialises in the holy sweet treat that is cheesecake should absolutely have burnt Basque cheesecake on the menu, right? Exactly. Jiggle Cheesecake is a goldmine of the famous Japanese "jiggle" cheesecakes with a rainbow of flavours including matcha and chocolate cakes. However, when you've got a hankering for the golden burnt goods, the burnt Basque cheesecake here is, simply put, delicious.
Moist and packed with rich cheesy goodness, this crustless cloud of deliciousness gets baked at extreme temperatures to deliver a delicate caramelised coat. Underneath this, you'll find the silky, smooth baked cheesecake texture you love, and hey, it's not unheard of for people to finish a whole one of these cheesecakes on their own. These cakes are available for delivery and come in two sizes, six, and eight inch-wide cakes.
15 Centimetres
Delivery Only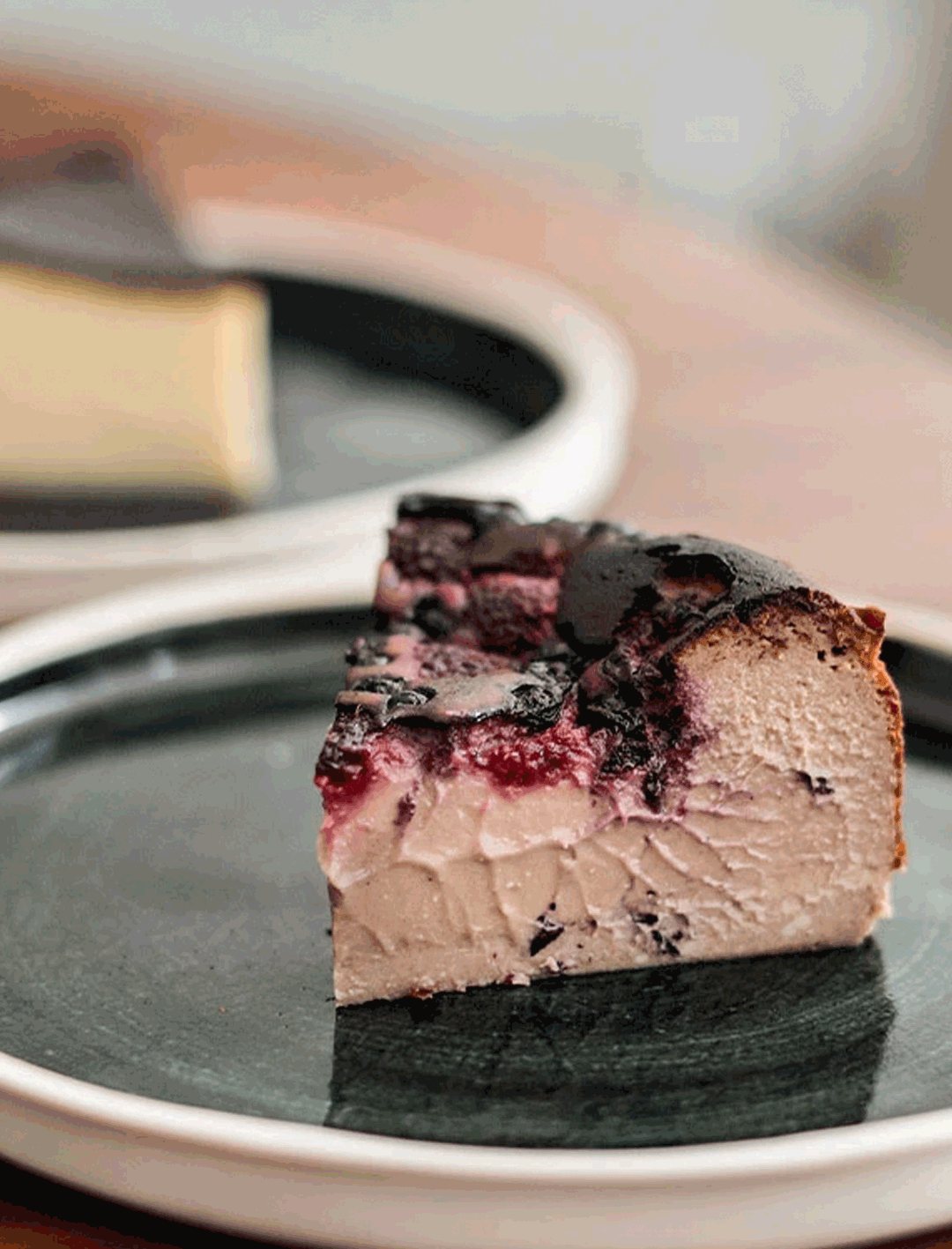 This Japanese artisan cheesecake heaven is basically a floating cheesecake factory with no hard HQ and to be honest—the more mysterious the better. While its exact location is hidden, 15 Centimetres is known for churning out Sydney's best Basque cheesecake with a myriad of great flavours and twists to get around.
As the name suggests, the cakes here go for a standard 15-centimetre cake tin size, or in other words, 15 centimetres of pure happiness. The original burnt Basque cheesecake here forged 15 Centimetres' pastry success, repping a rich Basque batter known for its gooey-ness and a toastie casing with that iconic caramel shell. Elsewhere on the menu, you'll find a tangy Tahitian lime take on the Basque, a bitter "Yame" matcha basque, as well as a wild berry and chocolate burnt Basque cheesecake loaded with Belgian dark chocolate, premium milk chocolate, and wild blueberries. The best part? These cakes can be delivered right to your door (or picked up from 15 Centimetres cafe partners—Qube on Bay Cafe in Ultimo and Savage Cafe in Artarmon) and also tick the box as gluten-free.
Wild Flour
Redfern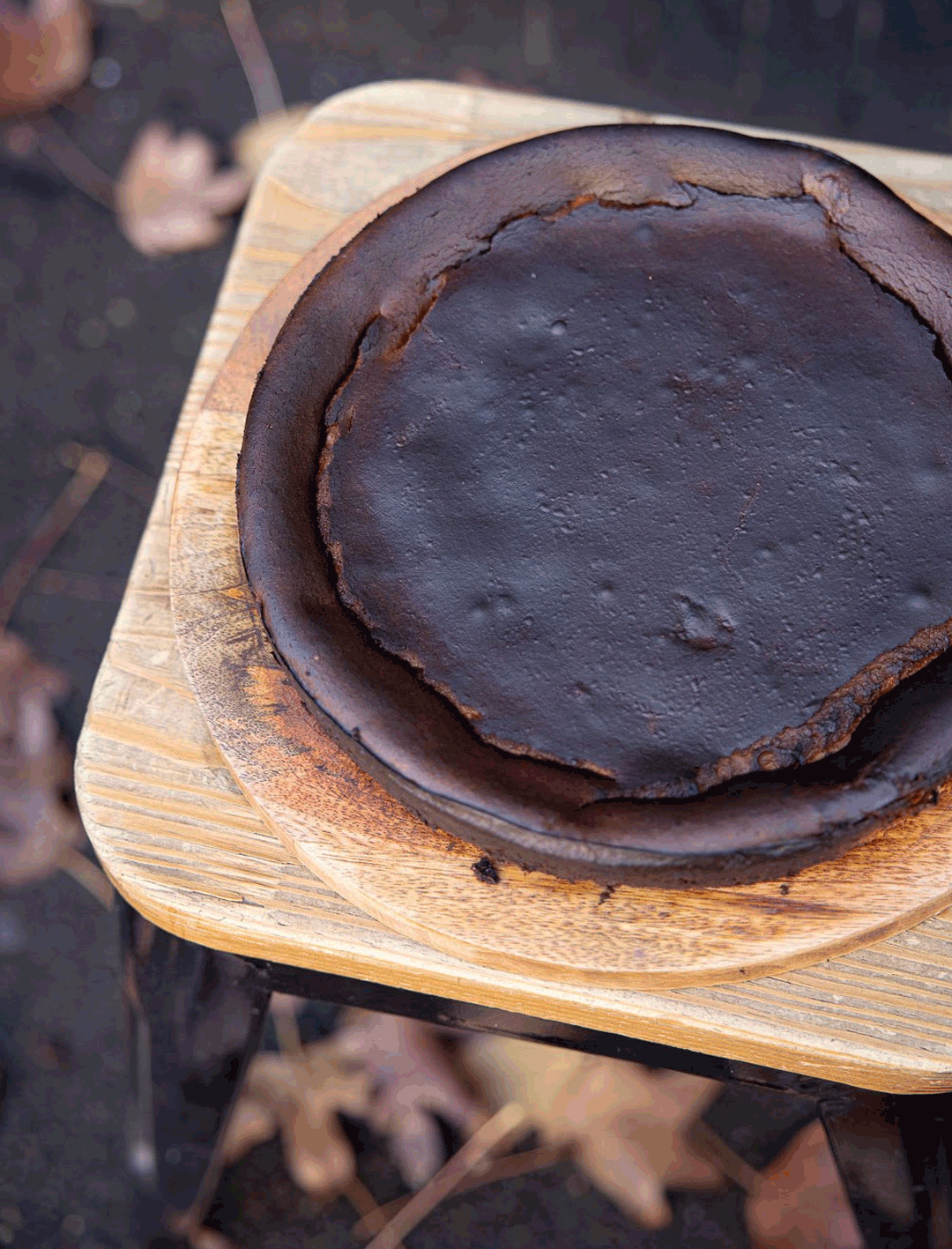 If you like your burnt Basque cheesecake with a bit more bite and chewiness, the morsels at Redfern's Wild Flour cafe are calling your name. This joint knows a thing or two about house-made pastries, cakes, and sourdough and sports a Middle Eastern all-day menu you'll want to take advantage of on the weekends, not to mention there's a big range of board games so you can channel your inner child while you get your sweet fix. When you've got BBC on your mind, the flourless (and therefore gluten-free) cheesecakes here are pretty next level, think a mix between a creme brulee and thick cheesecake. There are two size options here, one that services six to eight people and another that serves 10 - 12.
Now, check out where to find the best regular cheesecakes in Sydney.
Image credit: Black Cream, Black Cream, Get Me Baked. Master Baker, 15 Centimetre, Wild Flour