It's that time of year: bust out the Mariah, slap on a (seasonally inappropriate) Christmas sweater, load up on mince pies and pause your cheesy Christmas movie binge-fest because it's time to head out for some Christmas lights.
The Best Christmas Lights In Sydney's CBD
NOËL Sydney
Botanic Gardens And Macquarie Street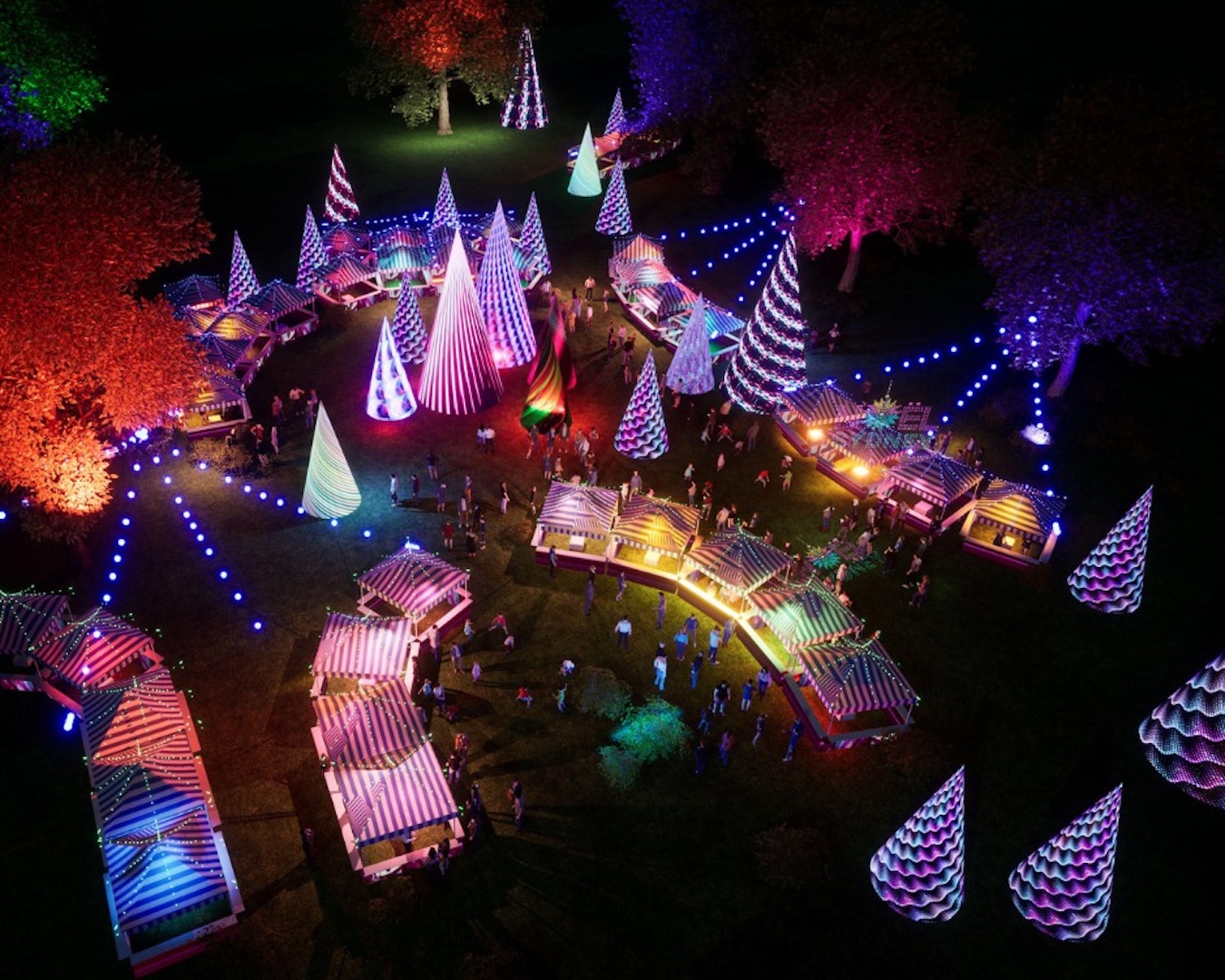 The team who have done the unmissable light show at St Mary's for the past decade or so are setting their sights on an even bigger Christmas spectacular this year, bringing a brand new and magical Christmas celebration to Sydneysiders across 16 nights in December. Running 6pm–11pm between 9 and 24 December, The Royal Botanic Gardens will host enchanting Christmas markets, a digital Christmas forest with pop-up bars and food stalls, a light trail sharing the tale of The Nutcracker and nightly entertainment. There'll even be a spectacular nightly dancing drone show. Learn more here.
Pitt Street
Once again, Pitt Street Mall will light up underneath a canopy of Christmas trees. Expect thousands of LEDs and nothing short of an extravaganza of photo opportunities.
Martin Place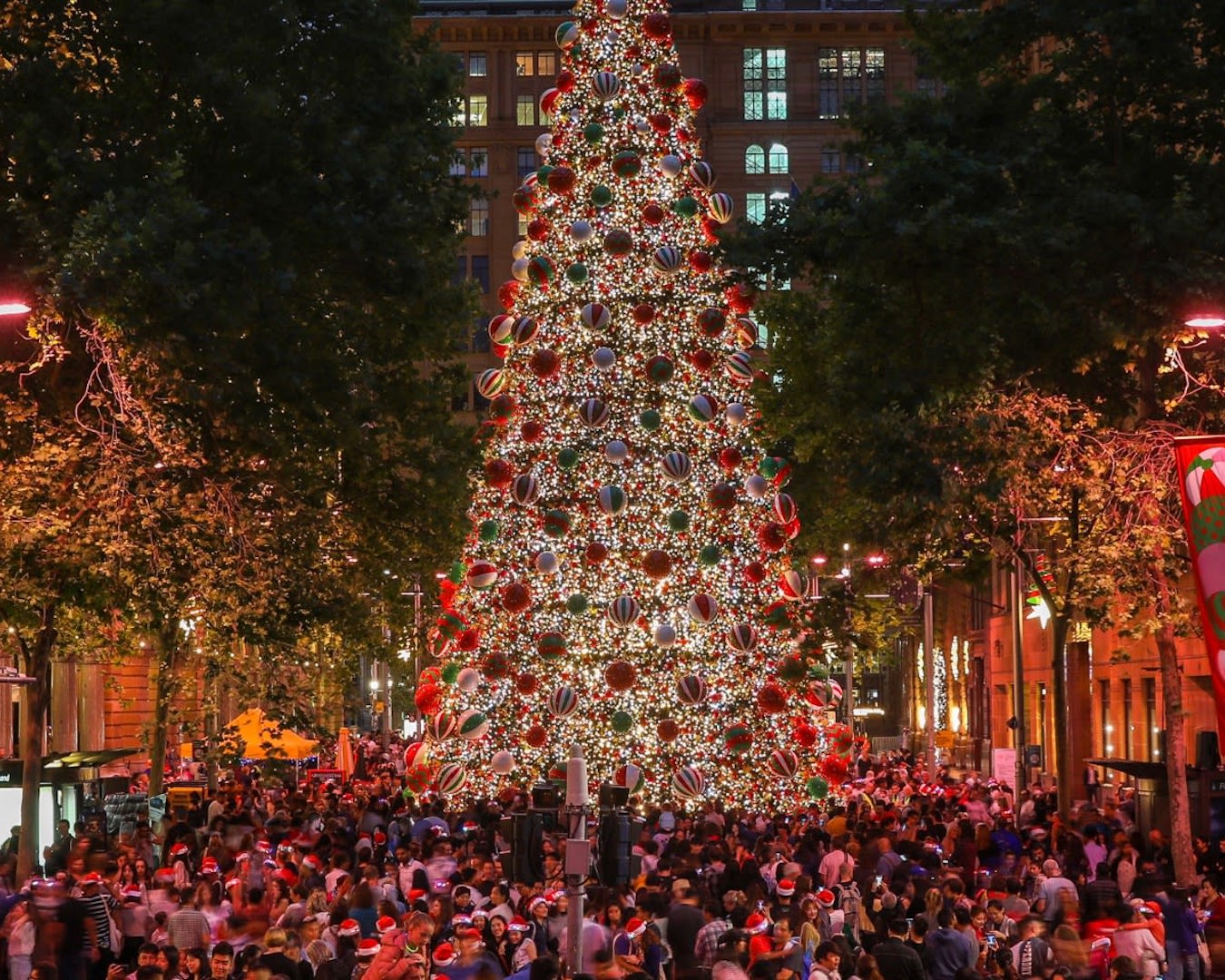 With a jewelled light installation, bring the fam down to see thousands of twinkling lights that adorn NSW's tallest Christmas tree. If past years are anything to go by, it'll be decorated with more than 110,000 LEDs, a 3.4-metre star (which changes colours) and a casual 300+ shining baubles.
The QVB
The QVB is known for its massive indoor Christmas tree—a stellar spot to take a few snaps and of course, take in all the lights. Last year's tree was Wollemi Pine decorated with over 130 ornaments. The main entrance at The QVB will also be pinned with 7000 lightbulbs.
The Best Christmas Lights In Sydney's North
Farmhouse Ave, Pitt Town
A magic (and massive) Christmas lights display with over 50,000 LEDs, interactive snow play and loads of colour. This year the theme of this colourful and fun display is Christmas Disco to encourage a little more boogie in us all, and funds will be raised for Lights for Kids and the Sydney Children's Hospital.
Ryan Ave, Hornsby Heights
Don't miss this cheerful house layered in over 25,000 lights. The feature here is a four-metre-high giant white Christmas tree! Tastefully created, this display is a great stop to add to your Christmas lights trail.
Excelsior Avenue, Castle Hill
This year's display is even bigger than last year, and unfortunately their last at this location—so, naturally, they're going out with a BANG! Kids of all ages can connect and interact with the display, with so much to see and do! The owners spend over a month setting up and have been doing so for the past 15 years, raising money for HeartKids and 22q Foundation Australia. This unmissable display runs nightly till 10:30pm through to 31 December.
Lockwood Street
A brilliant Christmas light show awaits at the end of Lockwood Street, with thousands of strands of lights pumping sparkles up the house and down the front lawn. Admire the performance as the LEDs dance to the tunes, and you might even feel like having a little dance yourself! Keep your eyes out for the three Lego Men on the side fence, as well as the lightbulbs that love to have a sing-a-long. This one runs to 10:30pm nightly, up until NYE.
Special Mention: Christmas Lights Spectacular
Hunter Valley Gardens, Pokolbin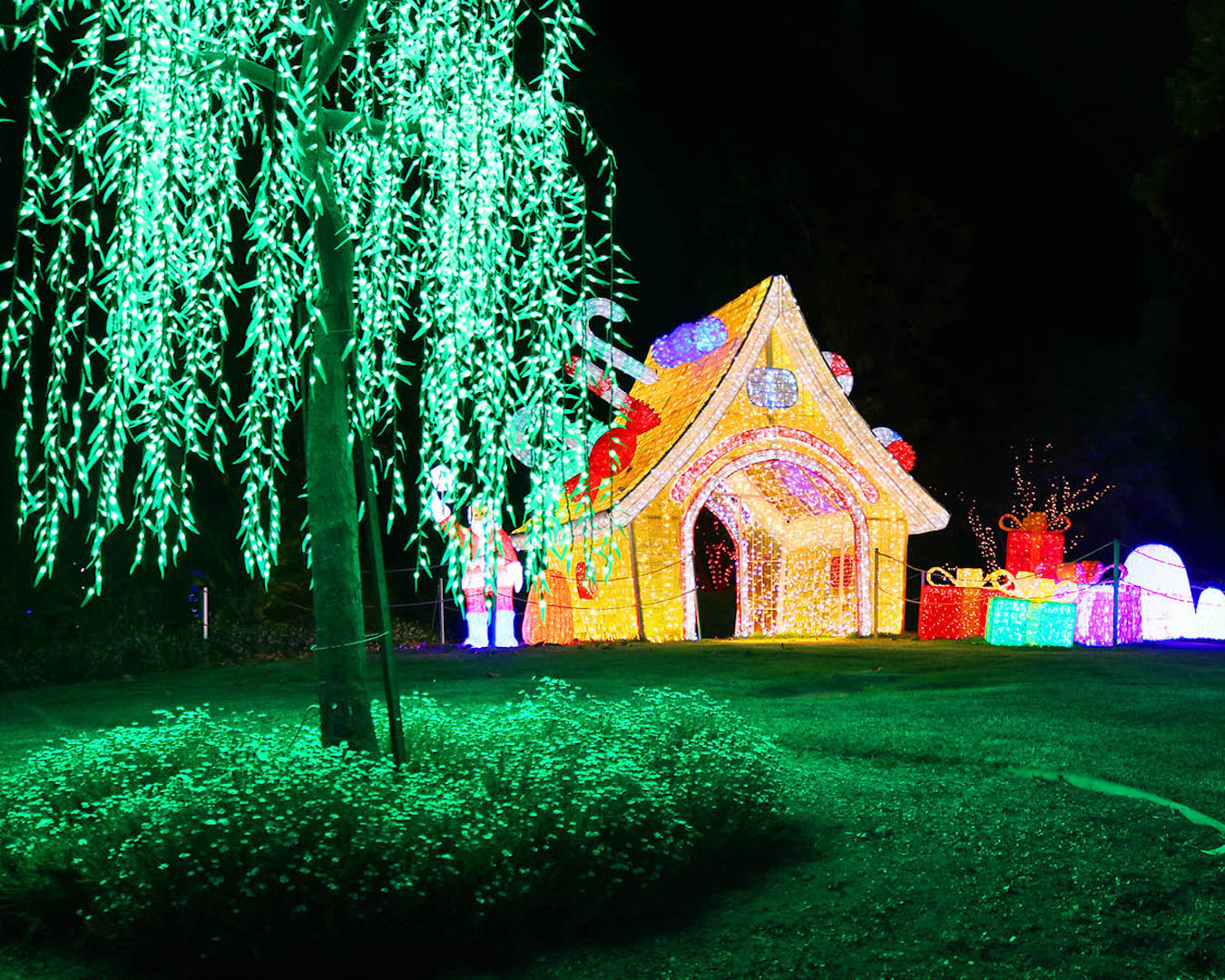 Jump in the car to experience the Southern Hemisphere's largest display of Christmas lights, with over 3 million lights illuminating 14 hectares of breathtaking gardens. As well as the light displays, the Christmas Lights Spectacular has a traditional Venetian carousel, a 35-metre-long slide, 1 14-metre-tall Christmas tree, and spinning teacups and a Santa's letterbox for little ones. Don't miss the rocking elves performing Christmas bangers on Thursdays and Fridays, and singalong carols on Saturdays and Sundays, and treat the fam from the pop-up food and beverage stalls. The Christmas Lights Spectacular runs until January 26, and you can get tickets here.
Magic Grove, Mosman
This mega light display has inflatables up and about during the day for kids to play with, including their famous massive Santa (depending on wind conditions). At night, there's lights ,music and cheer for all, with festive contraptions, bubble machines, and lasers also in the mix. This one starts at 6pm and goes until 10:30pm nightly.
The Best Christmas Lights In Sydney's East
Waratah Street, North Bondi
An annual head-turner, this North Bondi home is back at it again with a fun and dynamic display. You can expect English village displays, a Christmas archway, firecracker icicles, inflatable kangaroos, illuminated trains, sleighs and more! The lights are burning bright until 28 December, running from 7:30pm until 10:30pm every night.
Avoca Street
It's the street that put Bondi on the map for banging Christmas lights in Sydney and it does not disappoint. Around 50 houses join in and light up (yes, 50!) with some even synchronised to music. It's an amazing spectacle you don't want to miss that's well worth the car trip.
The Best Christmas Lights In Sydney's South
Mt Annan
Simple but awesome, this computerised light display at 8 Lochview Crescent is sure
to impress. The roof and arches are lined with bright colourful LEDs dancing in time
to your favourite tunes. The light show kicks off a little earlier here, running from 7pm to
10:30pm up to New Year's Eve.
Walseley Crescent, Gledswood Hills
These guys have been at it for over a decade. Taking over a month to set up, this display is sure to delight young and old alike. Walk down the driveway through a sparkling LED arch and you'll find a GIANT Santa chair where the whole family can get their pictures taken. So many colourful decorations and characters line the yard, but the owners tell us the best thing about this display is when Santa arrives with the RFS!
Holt Road
One of Sydney's best Christmas light displays can definitely be found at 162 Holt Road in Taren Point. You'll find music, moving features, a decorated roof, walk-in displays, bubble, and smoke machines and, yes, those are laser beams. There's a whole lot of photo opportunities, plus a snow pool and life-size Santa too.
South Circuit, Oran Park
An interactive display that caters for all ages, this spot even has an ice cream van that rocks up on weekends (but if you're visiting mid-week the owners might hand out a sneaky lollipop or two)! Now running for over a decade and supporting Light For Kids, these guys have inspired nearby houses to get in on the action as well, so a walk around South Circuit is truly magical from 7pm onwards.
Jubilee Avenue
Don't skip this large Aussie-themed display in Beverley Park, complete with snow machines and a musical show, plus plenty of lights and decorations. Kicking off nightly between 8pm and 10:30pm, you can catch it till Christmas Day.
Chamberlain Road, Padstow Heights
Featuring a gigantic blow-up Santa Clause, LED candy canes and an endless display of fairy lights, this house is one to hit on your nighttime Christmas light safari. The owners take a month to set up and just love doing it to make families happy and raise money for the Cure Brain Cancer foundation. If you're keen, you'll just need to message the owner for the details here.
The Best Christmas Lights In Sydney's West
South Street
It's Christmas lights chaos down in Tempe! There's so much to see and do including life-sized LED characters and scenes. The owners tell us the best thing about this display are the snow and bubble machines, and they've also got a fancy Santa chair that you can take some awesome Christmas selfies in. Lights are running every night throughout December, with the bubble and smoke machines making an appearance on Friday, Saturday and Sunday nights from 10 December.
Palena Cres, Saint Clair
This street sure is a feast for the eyes! Lights and decorations cover front lawns, wrapping around trees and slithering up the sides of multiple houses. The owners have spared nothing here with Nativity scenes, moving characters and music.
Bishop Street, Cabarita
If you're looking for a street with multiple displays then we recommend Bishop Street where many householders are getting into the Christmas spirit for 2022. Our favourite house here has its lights synchronised to music.
Cumberland Road
There's only one place you'll need to look at here, and it's number 72. This house sports a medium-light display with nativity scenes, roof decorations and window displays.
If you're a Christmas lights fanatic and keen to make a night of it, make sure you head over to Christmas Light Search website where you can find loads more to explore this festive season on their Sydney Christmas Lights Map.
Planning Chrissie lunch? Here's our top pick of restaurants open on Christmas Day so you don't have to cook.
Image credit: Christmas Lights Spectacular, City of Sydney, Christmas Light Search