We've reached that awkward period in November again when people start to question how Christmas has arrived so quickly. It's understandable—between post-lockdown celebrations, working back in the office, and visiting faraway family, it's easy to forget that the silly season is well and truly upon us.
But there's nothing to fear, because if you're a tad behind on the Christmas preparations, here's a list of some of the best restaurants in Sydney serving lunch on Christmas Day. Besides, there's no need to feel guilty for not feeling like cooking for twelve again—it's a great excuse to support some local restaurants that have been out of action over lockdown. Whether you're wanting to go all out in a fine dining experience, or would rather opt for a relaxed meal, we've got a line-up of venues that are sure to make your day that bit merrier.
Here's what's open on Christmas Day in Sydney this year so you don't have to cook, as well as all the pre-December 25 dining specials if you're planning on celebrating a little earlier too.
The Langham
CBD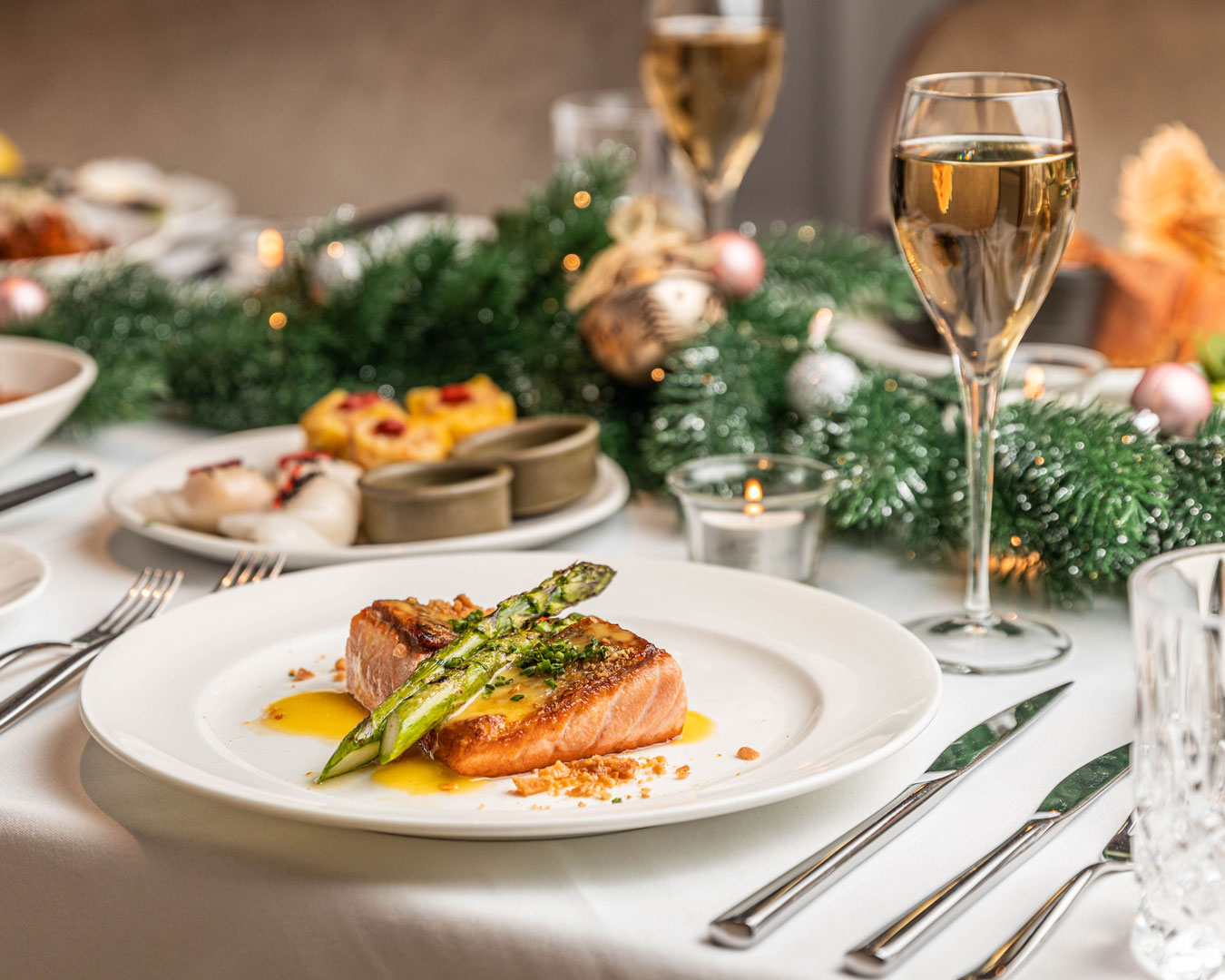 It's one of Sydney's dreamiest five-star hotels, so you better believe The Langham is back again this year hosting its annual Christmas extravaganza. For those looking to host an early Christmas party, their Festive Luxury Buffet is running from Wednesday 1 December through to Thursday 23 December at the starting price of $108. Alternatively, opt for The Langham's Festive Afternoon Tea running until Wednesday 5 January, and for the same price you can indulge in high tea treats like double-smoked turkey breast sandwiches, caramelised shallot and goat cheese tarte tartin, and a festive cocktail.
Lunch and dinner events on Christmas Eve will also be held at $248 per person (drinks are extra). On Christmas Day, a team of chefs will be specially curating a lunch and dinner menu with prices ranging from $248 to $398 per person (the latter including a drinks package, yes!). While you're there, make sure to check out the miniature gingerbread Christmas village on display in the grand lobby—just try not taking a sneaky bite out of it.
Head here for all Christmas bookings.
Sheraton Grand
CBD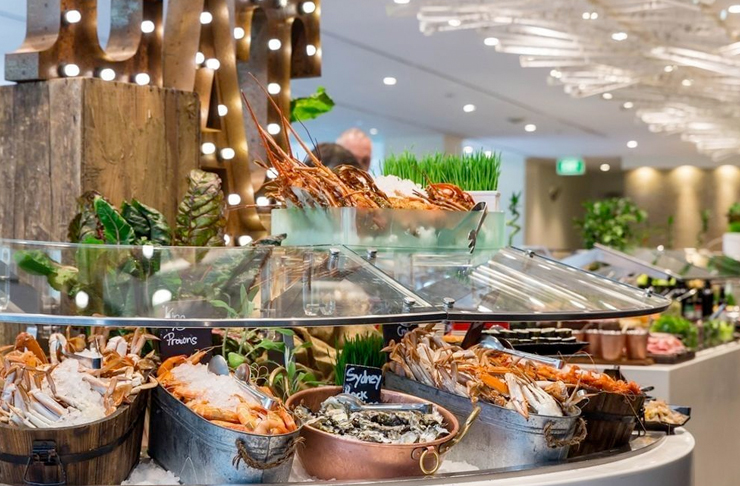 One of the most sought-after Christmas Day venues in town, the Sheraton Grand will once again be releasing bookings to its coveted Christmas lunch. For $325 a head for adults ($190 for teens and $162.50 for children), enjoy a three-hour sitting that will feature live entertainment and an inclusive beverage package. Get ready to be up to your eyeballs in fresh seafood, antipasti, and fresh salad, as well as all your traditional Christmas staples and desserts of course. There will even be a sushi and sashimi bar and live cooking stations to watch on in awe. Bookings are available here.
Alternatively, for those with more of a sweet tooth, book The Gallery's Christmas Day High Tea service and enjoy an array of festive homemade sweet and savory delicacies. Prices start at $89 per person, but we think spending $109 is justified when you receive a glass of Moët.
Bookings are here.
The Neilsen
VAUCLUSE
Lap up the spectacular scenery of Shark Beach as you dine in one of Sydney Restaurant Group's best venues, The Nielsen. For $225 per person ($95 for children under 12), you'll be treated to a three-course set menu with plenty of choice—we're eyeing off the tuna tartare, smoked eggplant, and spiced date pudding. We guarantee you won't leave hungry, as snacks, bread, olives, and sides are also all included in the package.
Bon-bons and Christmas decorations will also be adorning the venue to help you get into the festive mood with family and friends. Head here to book.
Mejico
CBD
Perfect for large groups of friends or work parties, Mejico will be offering a $99 per head Christmas package come December 1st. Showcasing a selection of their chefs' favourite dishes, expect ridiculous amounts of guacamole, fresh seafood and premium wagyu beef to share with the table. You'll even get to settle in with a cocktail on arrival. If that isn't enticing enough, Mejico will be serving their famous churros and even a margarita cheesecake – giving Christmas the perfect Mexican twist we didn't know we needed.
For more information and bookings, head over here.
INDU
CBD
Another restaurant adding its own flair to Christmas this season is INDU, renowned Southern Indian and Sri Lankan dining spot right in the heart of the city. From December 1st, INDU will open bookings for its $99 per person event, and it's sure to not disappoint. Featuring a specially designed four-course menu and sparking cocktail or beer on arrival, all dishes are curated with fresh local ingredients showcasing the finest of Southern Asian culture.
It's also perfect for large groups, so make your way over here for reservations.
Kid Kyoto
CBD
If you're a Japanese Izakaya enthusiast, why not try Kid Kyoto these Christmas holidays? Offering $75 per person for their classic menu or $85 for their deluxe, the head chefs from the Merivale establishment will be showcasing a selection of their personal favourite share dishes. Head chef Rhys Watson-Lamb is guaranteed to astound all guests with the Trust Me menu, featuring impeccably market-fresh ingredients and Japanese culinary precision.
If that's not enough, some killer Japanese whiskies and sake is sure to get everyone feeling jolly. Head over here to make bookings or inquire about their private dining room.
Osteria Coogee
COOGEE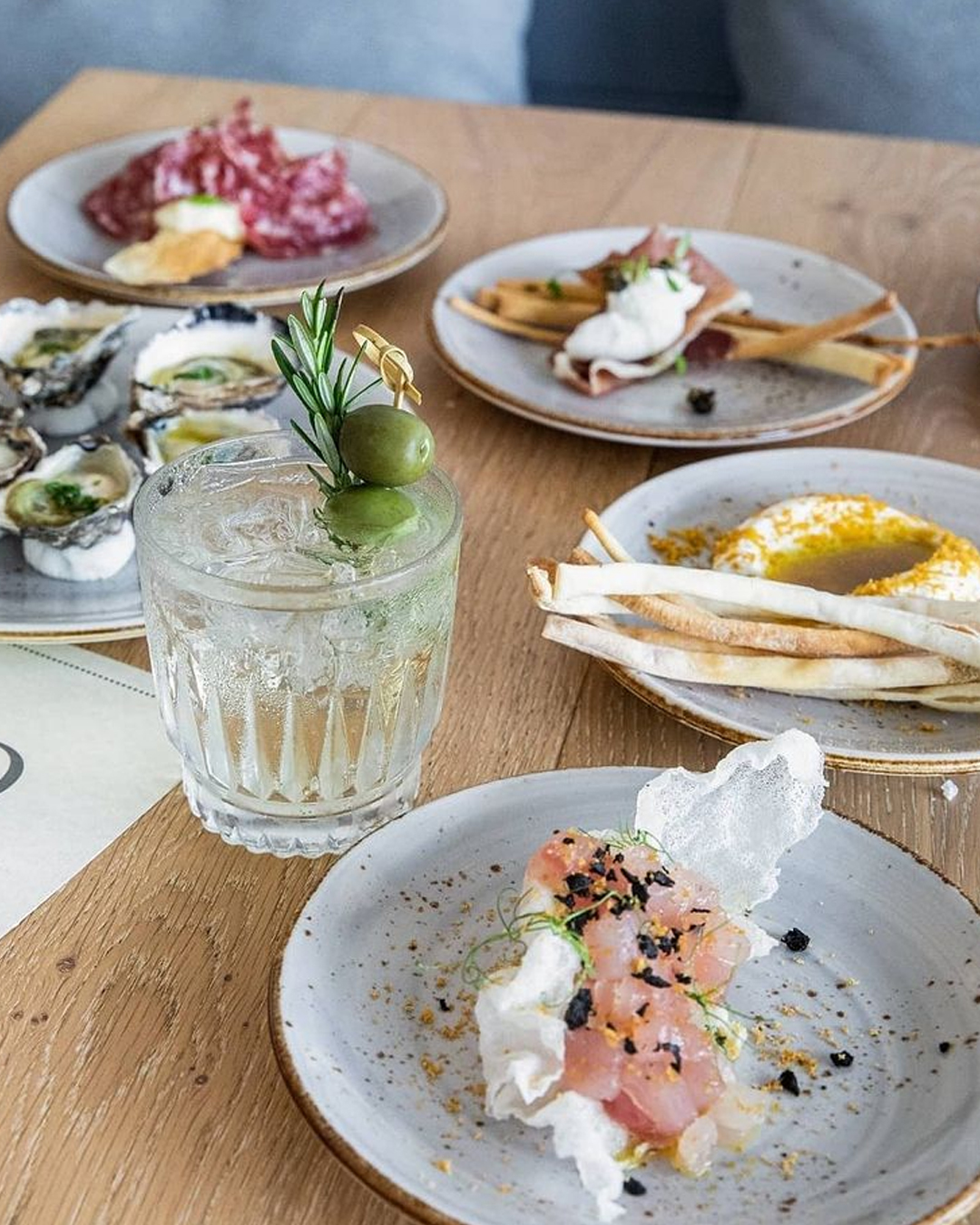 Christmas should be shared with families, and so should Italian food. This festive season, flock to Osteria Coogee for a decadent feast by the sea. Starting at $70 per head for the Mangia set menu or $90 for the Mangiamo package, the Osteria chefs will be highlighting the most seasonal Australian produce through the lens of traditional Italian cuisine.
Burrata, porcini mushroom gnocchi, spinach ricotta dumplings and of course, tiramisu, will all be featured on the set menus. Plus, if you're a fan of Italian cocktails, look no further than their killer cocktail list – featuring a Sicilian Margarita and Negroni.
To view the menu and make bookings, head over here.
Foreign Return
SURRY HILLS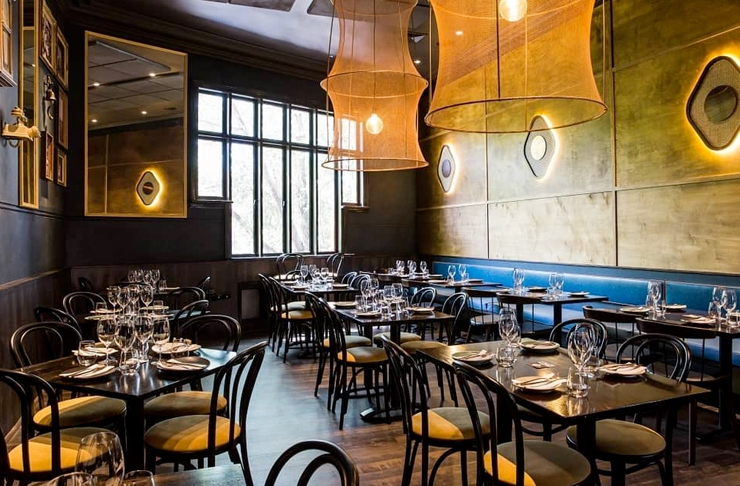 Situated in the heart of Surry Hills, Indian restaurant Foreign Return is making its unmissable Christmas lunch debut this year. Running from the last week of November to Christmas Eve, the restaurant will be offering a Christmas banquet available to groups of 8 people or more for $79 per person.
Enjoy your own private lavish dining room as you feast on turkey Musallam, smoked cheese, chilli naan and a selection of grilled plates and seasonal curries. The modern Indian fare can also easily cater for vegetarian options, and the Indian-inspired cocktail list (we're looking at the Saffron Fennel Old Fashioned) is a must-try.
Head over here for reservations.
Kitchen by Mike
CBD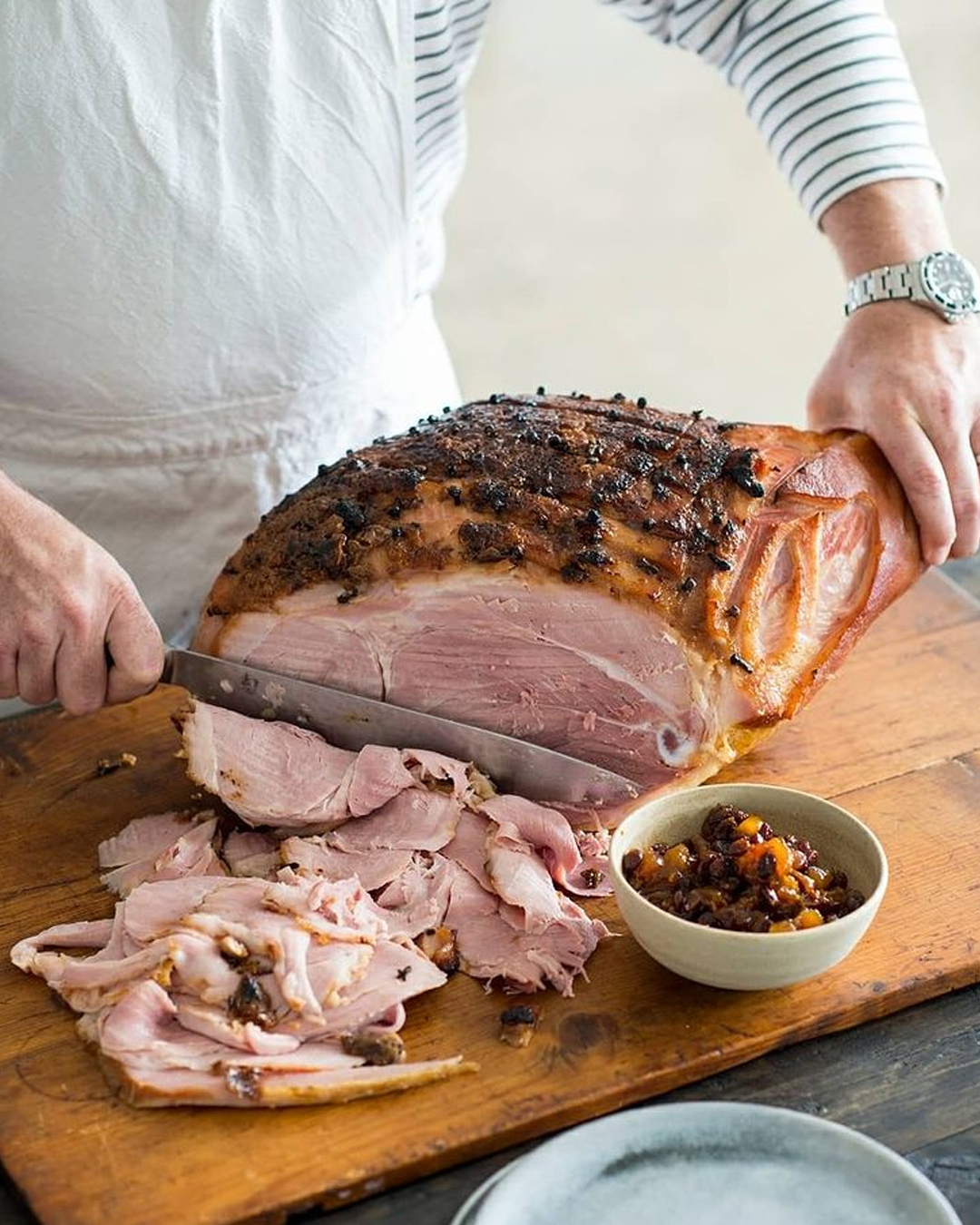 Going against tradition this year is Kitchen By Mike, offering guests the exclusive use of their whole venue to host up to 92 guests. Yes, you heard correctly, the venue is opening its entire kitchen, bar area and dining space to those looking for their next Christmas party venue.
For $80 per person, the Christmas Feast Menu includes Mike's famous sourdough bread, chicken liver pate, spit-roasted chicken, glazed leg ham alongside salads and Christmas pudding. If that's still not enough food for you, opt for the $100 per head Christmas Premium Menu that seriously takes it up a notch (think tuna tartare, roast turkey and beef skirt steak).
The lunch hire offering will run daily from November 15 until December 24, head over here for more information.
Above Par
CBD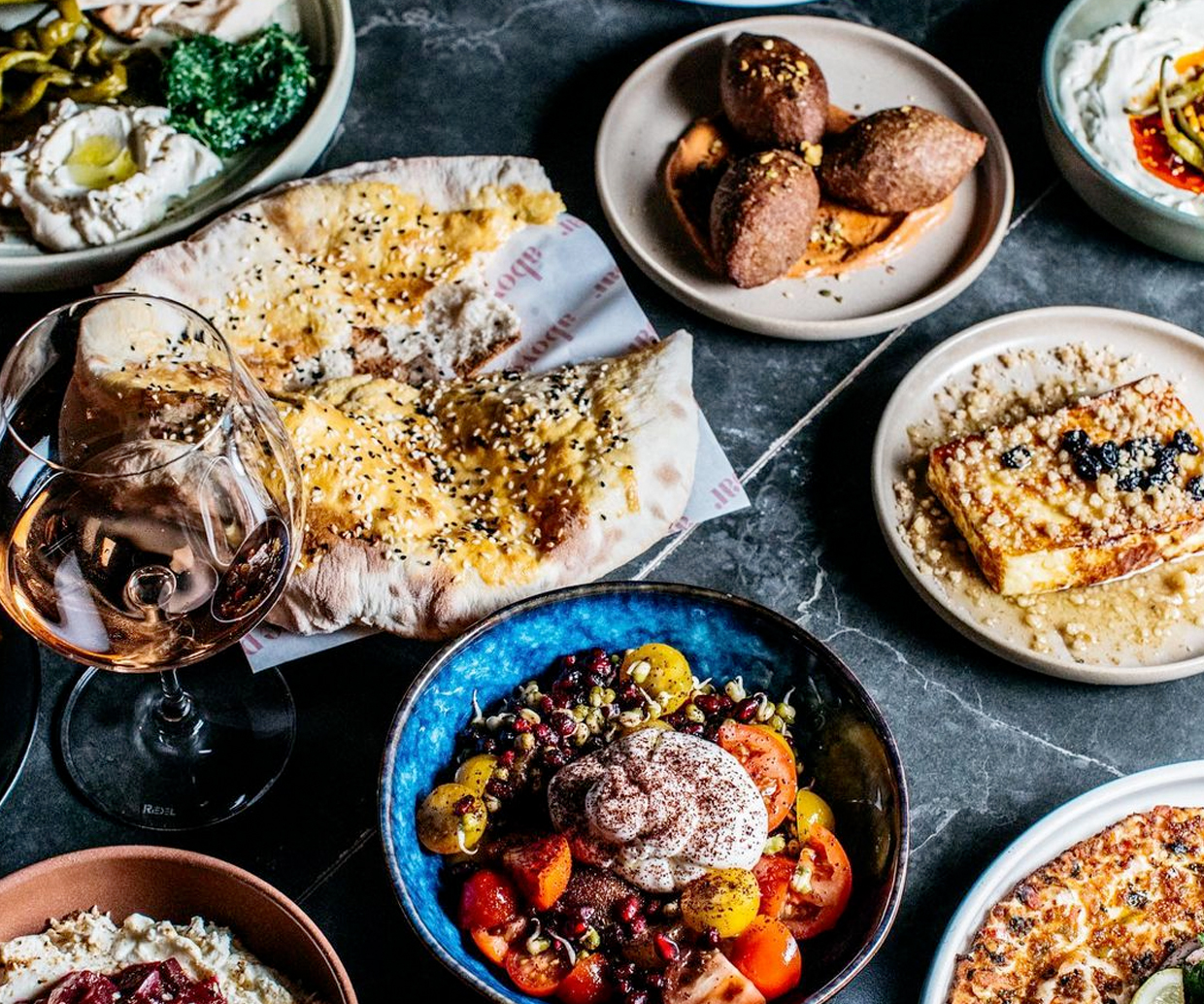 Escape to Istanbul this Christmas with the Christmas set menu by CBD Middle Eastern eatery Above Par. For just $79 per head, indulge in treats including babaganoush, fattoush, lamb kofta and pan-fried halloumi. Complementing the set menu is Above Par's range of over 150 bottled wines and Middle Eastern-inspired cocktails that are sure to make the season all the more jolly. For bold and punchy flavours right in the heart of the CBD, look no further than this venue for your next Christmas dig.
Head over here for bookings.
Epicurean
BARANGAROO
You probably have seen the Epicurean buffet all over your Instagram by now, but this Christmas, you too have the opportunity to experience all of its lavishness. For $110 per adult ($55 for children), Epicurean at the Crown Sydney will be serving festive lunches between 22nd November and 23rd December.
Alternatively, opt for their Christmas Eve dinner running at $220-$250 per person. Wanting to really splash out this Christmas Day? The venue will be taking bookings for Christmas lunch at $450 per adult ($225 per child), as well as dinner for $300 per adult ($150 per child). Whichever seating you choose, the Epicurean will of course be serving its classic international cuisine buffet, fresh seafood and a glass of champagne.
For more information and to make a reservation, head here.
Woodcut
BARANGAROO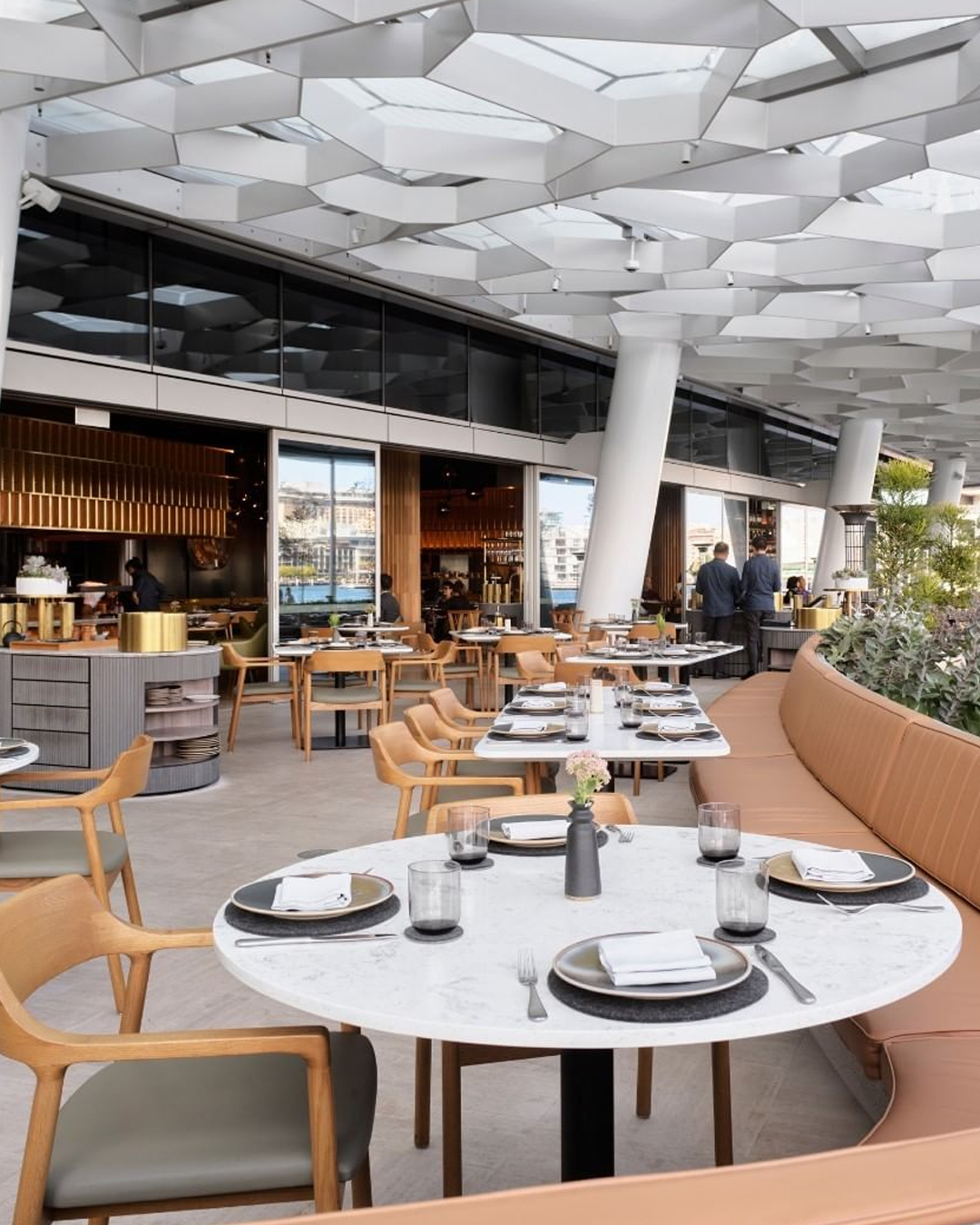 Another Crown Sydney venue serving up a seriously elevated dining experience is Woodcut, offering both Christmas Day lunch and dinner seatings starting at $450 per adult ($200 per child). For groups under 9 people, enjoy the full à la carte menu championing Australian produce cooked with wood, charcoal and steam.
Otherwise, those with groups over 10 can opt for the set menu carefully curated by head chef Ross Lusted. Immerse in the theatre of the open kitchens and dine harbourside on the terrace as you lap up all its merriness.
Head over here for bookings.
A'Mare
BARANGAROO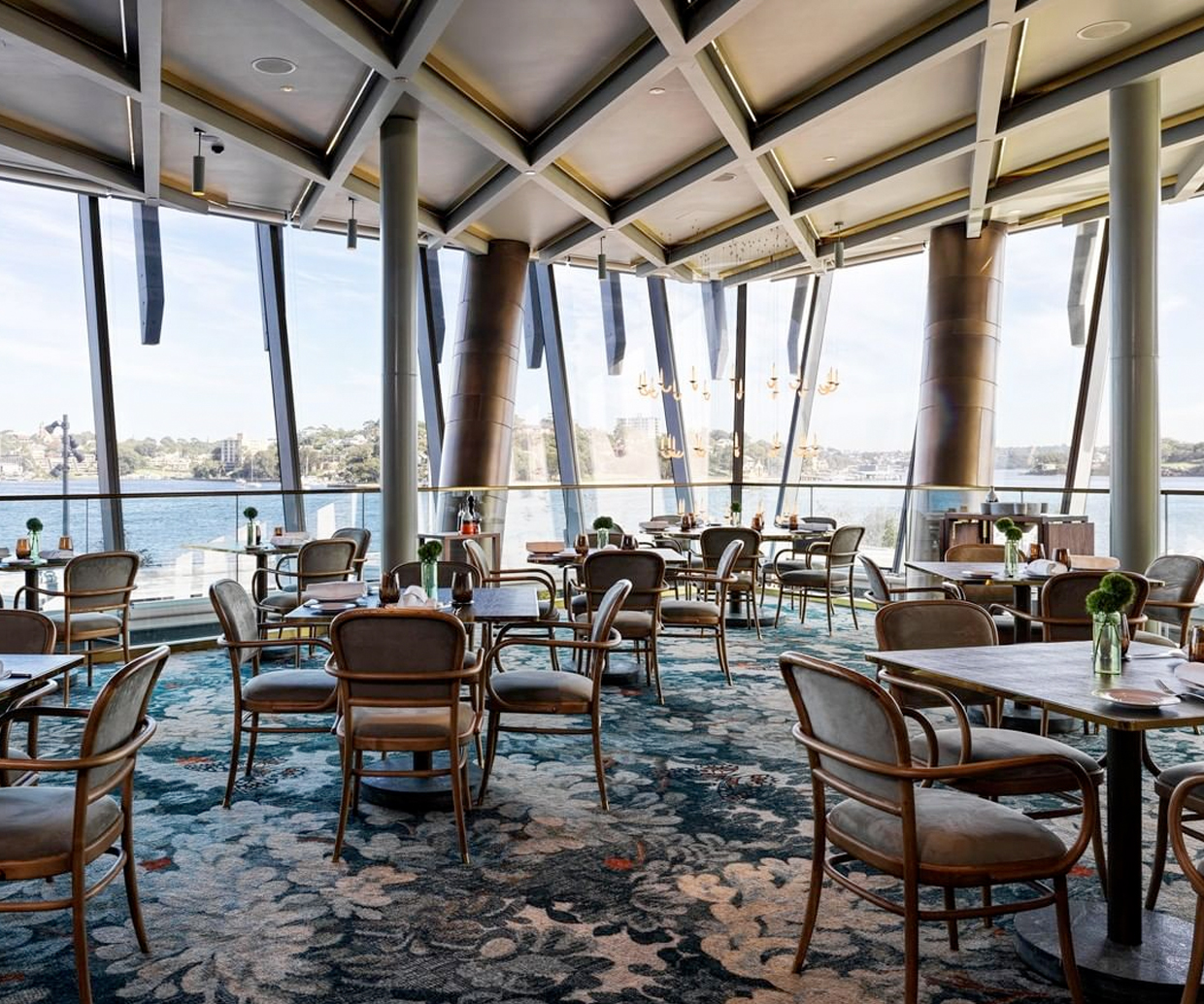 If you're looking for Italian extravagance, look no further than the Crown Sydney's a'Mare. Hosting Christmas Day lunch for $450 for adults ($199 for children), head chef Alessandro Pavoni is dishing up a five-course share menu to indulge in with family and friends. Paying homage to the restaurant's Italian seaside roots, expect plenty of seafood as you sit just metres from the Barangaroo foreshore. For an additional $180 or $300 per head, you can enjoy either the classic or premium matching beverage packages (and surely have fun trying to make back your money's worth in the process).
For reservations, head over here.
The Winery
SURRY HILLS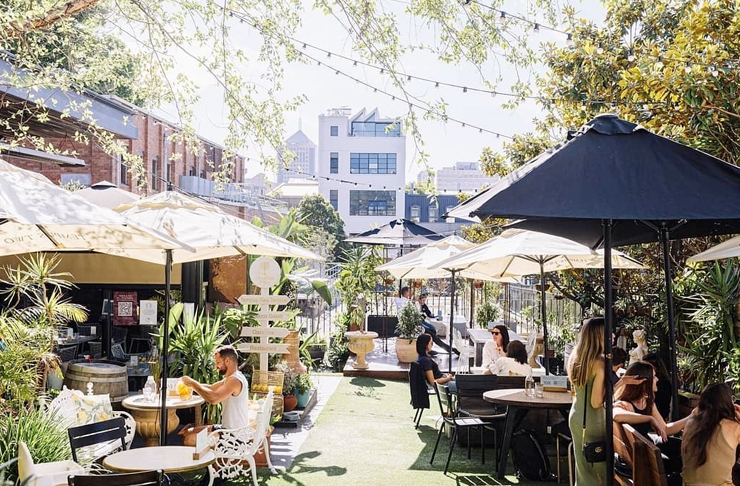 One of Surry Hills' treasured venues will be kicking on this Christmas Day with two lunchtime dining options guaranteed to suit everyone. From 12pm til 3pm on the 25th, you can opt for the $110 per person ($50 per child) three-course set menu featuring oysters, tiger prawns, roast chicken and of course a cracking pavlova. For those wanting lunch paired with bottomless booze, add on the three-hour standard or premium beverage package for $49 or $89 per person respectively.
Alternatively, make a booking for The Winery Laneway's Orphan Christmas, held across two lunchtime seatings this Christmas Day. It's the perfect option for those who can't get home to family for Christmas, offering a relaxed garden setting to enjoy a classic Chrissie BBQ and meet some new mates. It's only $60 per person (including children), but if you want to make it that bit more special, you're welcome to add on the two-hour beverage package for $110.
For more information and to make a booking for either event, head here.
Hello Auntie
DARLING SQUARE & MARRICKVILLE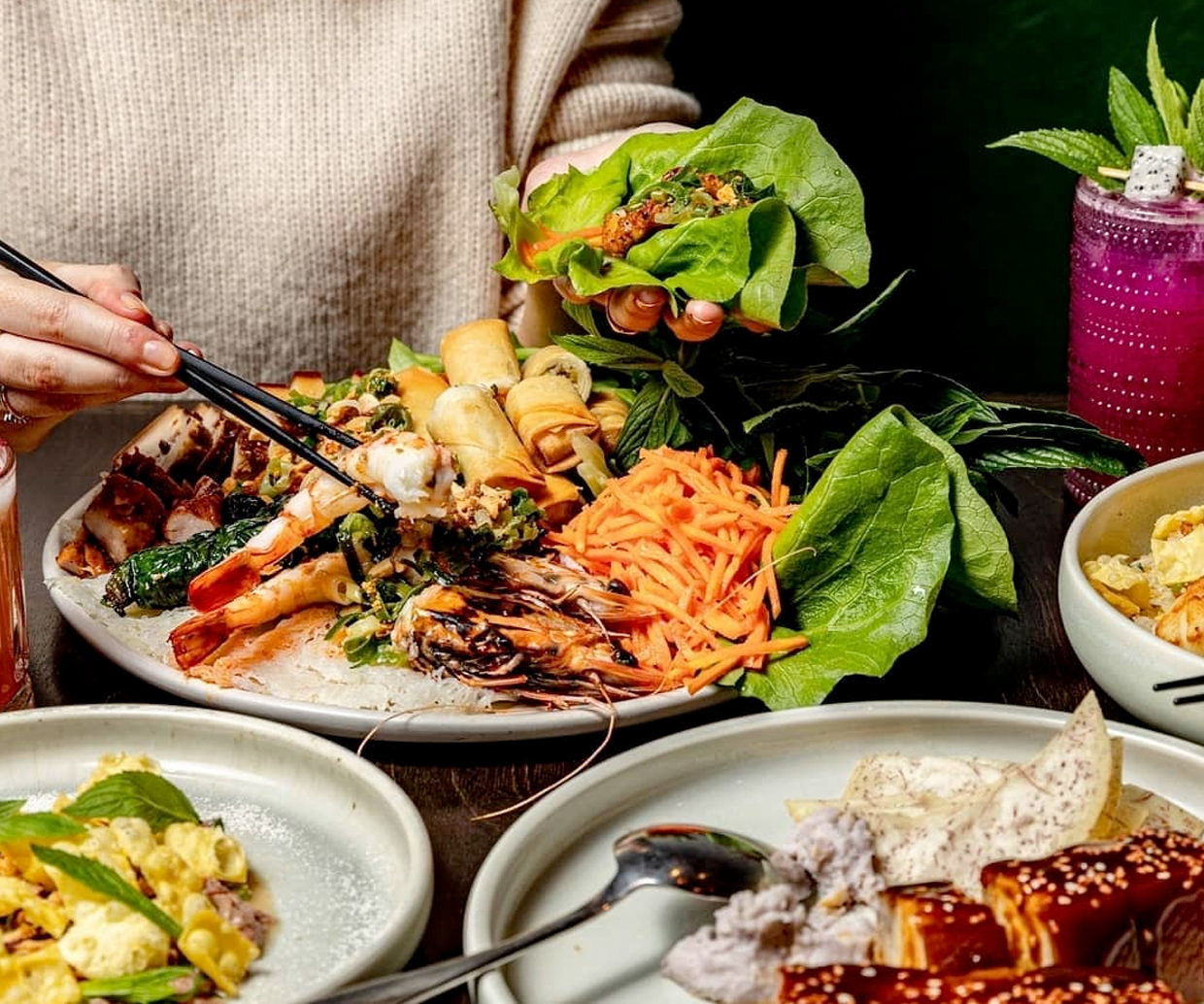 For Christmas with a Vietnamese twist, visit Hello Aunty in either Darling Square or Marrickville for Christmas banquets and drink packages available for groups of 10 or more. The perfect option for office parties or large groups of family and friends, restaurant-goers can choose between two Feed Me Banquets for just $60 or $79 per person.
Both options include crowd favourites such as Dau Hu Chien (fried tofu) and Tom Nuong Toi (King Prawns with smoked capsicum oil). Standard and deluxe beverage packages are also available to wash down all that garlic, ginger and shallot. Each venue is also available to hire out for those looking to host larger Christmas events.
For bookings, you'll need to email the restaurants directly to personalise your party's package: for Darling Square head here; for Marrickville head here.
Botswana Butchery
CBD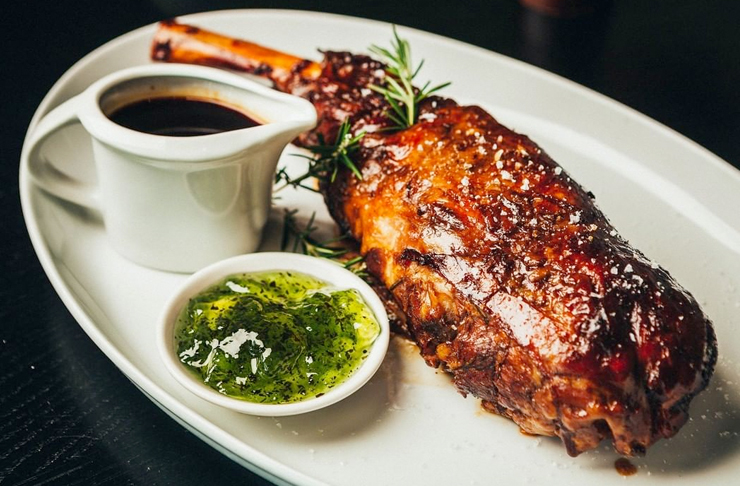 Soon-to-open import for across the ditch, Botswana Butchery might have opened its doors just yet, but they've already announced their Christmas debut plans for this festive season. From noon til 5pm on Christmas Day, the venue will be offering a four-course set menu for $200 per adult ($70 for children). Championing the best of Australian and New Zealand meat, seafood and wine produce, it's the perfect venue for those looking for relaxed and fun dining in a premium atmosphere.
Aside from the oysters, beef tartare and peach pavlova, Botswana Butchery will also be serving an extensive wine list to suit all palettes. Alternatively, pre-purchase a bottle of GH Mumm Grand Cordon for $130 or Perrier-Jouët Blanc de Blanc for $280 to start the celebrations on arrival.
For bookings, head here.
Pier One Sydney Harbour
CBD
Seaside institution Pier One Sydney Harbour will also be serving some indulgent Christmas specials this year. For $349 per adult ($199 for teens; $99 for children), head straight to the Luxe Christmas Buffet for smack bang views of the Harbour Bridge and a buffet that will have you rolling out. Aside from the live carvery station serving hot roast lamb and beef striploin, there'll be plenty of oysters, tiger prawns and Balmain bugs to go around.
Not only will there be an array of Christmas desserts also on offer, but tickets are inclusive of a three-hour beverage package. Alternatively, The Gantry will be offering a spectacular four-course Christmas Eve dinner for $799 per person, Christmas Day lunch for $349 per person with matching wines, and Christmas Day dinner for $799 per person.
For more information or to book, head over here.
What are you waiting for? Get into the Christmas spirit now with Sydney's best Christmas lights.
Image credit: The Langham, The Langham, Sheraton Grand, Kid Kyoto, Osteria, Foreign Return, Kitchen By Mike, Woodcut, A'Mare, The Winery, Hello Auntie, Botswana Butchery